NAME TAG
A SPECIAL SPACE IN MY SPACESHIP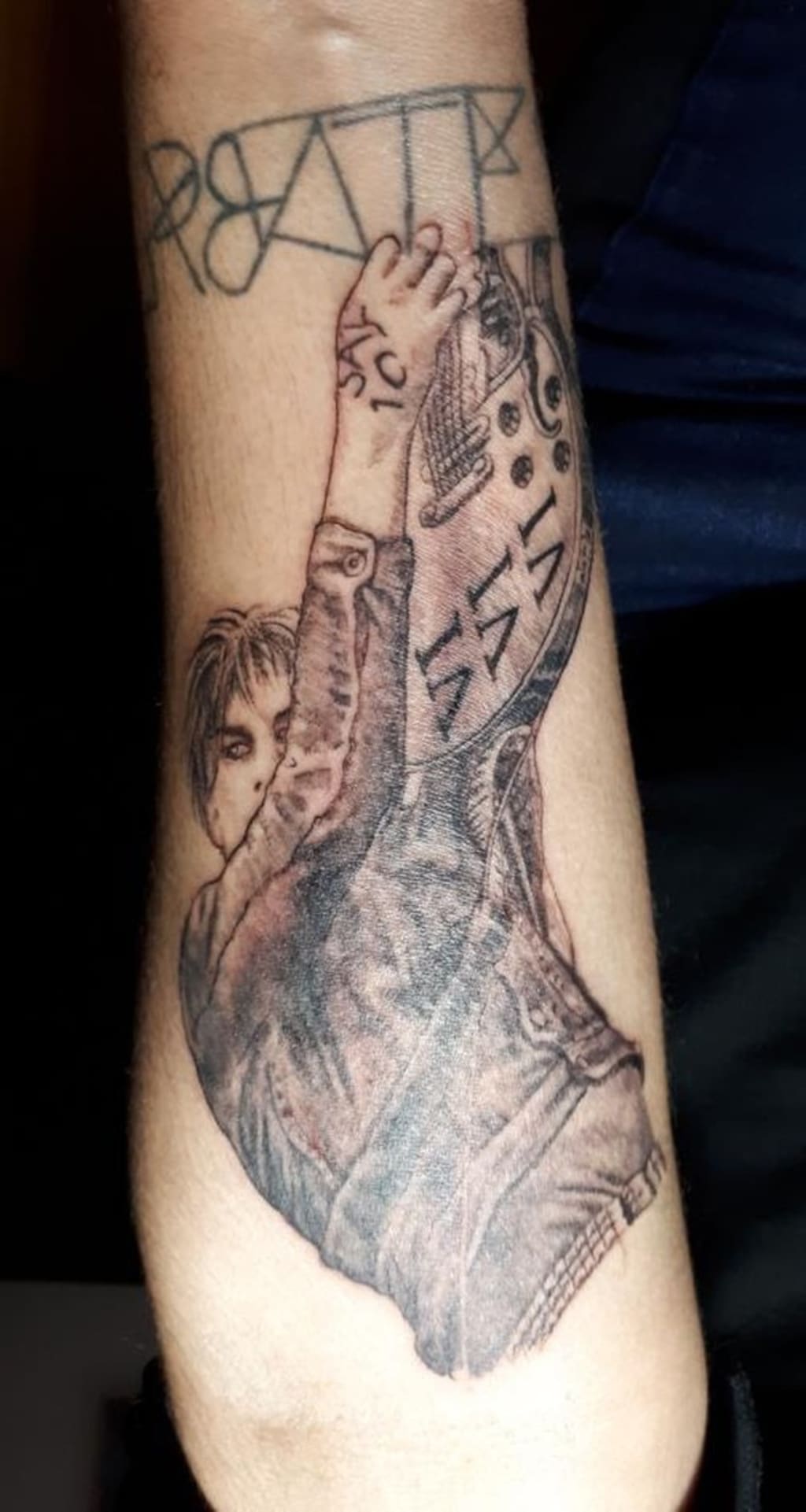 Intuition is such a wonderful thing, so mysterious and so magical. Someone who has a very special space in my heart was distant yet again. SIX-TEEN months earlier, in another one of our many distant eras, my king started our connection back after I showed him I had tattooed his name on my left wrist. He was genuinely in awe and flattered.
The previous days before getting his name inked on my skin, I was going crazy finding a way to communicate with him, to get his attention after he had distanced himself for a month now. My kid had designed a "logo" for his name a couple of months before and I really liked it. I knew I had to have it tattooed on me one day.
Somehow I remembered about it and I knew I had to get that tattoo done immediately. So I did and I sent him a video and photos... to my surprise, he replied and we continued to talk.
NOT MY FIRST RODEO
It was May 2018 and my intuition was telling me that he was about to distance again. I knew I had to do something quickly. His texts were starting to get very sloppy and I was getting annoyed! So, I decided to kill him with kindness. This time I just knew I had to get a tattoo of him again. So I decided to get tattooed one of my favourite photos of him . I contacted my tattooist and made an appointment for a few days after.
THE JUDGEMENT DAY
Due to unforeseen circumstances AKA my procrastination; I was 20 minutes late for my appointment. Luckily my tattooist let me in and advise me it would take 3-4 hours. As soon as the image was on my arm; I was very thrilled and I couldn't wait to see it all done. I can manage and take pain very well. I have been to the point of almost bursting into tears when I got done 2 of my finger tattoos. If you hear me complain, it means I'm in excruciating pain!
This was not painful at all but my right leg started to shake about 30 minutes after I started getting tattooed. It was the most annoying thing, I couldn't control my leg and the shaking was driving me insane that I almost quit! I was hoping it would go away but it never did. Four and a half of the most annoying hours I've ever spent in my entire life.
I sent him a photo of it an hour later, you could see it was freshly bloody done. He opened my message immediately but didn't reply. I did not know what to think when he didn't reply... I got in the shower and 20 minutes later, he vaguely responded. "WOW! I don't even have a tattoo...".
UGH. What was that supposed to mean? I just reminded him that one day he needs to tattoo my name on his beautiful skin and told him my story about it. He didn't open the message.
SWEET DREAMS ARE MADE OF THIS
I went to bed really happy because I had a good feeling about my king. Somehow, I had the need to wake up at 3:33 am and check my messages. I couldn't see his profile anymore; I logged into my other IG account and I could see his profile... HE HAD BLOCKED ME!
I was confused but I was not surprised. By this time, I knew this is how he rolls; avoiding feelings and reality at all costs. I was upset not because of his behaviour but because he had the nerve yet once again to ghost me just like that. So I texted him by iMessage and I told him I wish I knew what happened and why he kept acting like a doofus. At this point I wasn't expecting a reply and I was expecting him to block me on his iPhone too.
NEUTRON STAR COLLISION
I decided to go back to sleep which was easy as I like to sleep when I'm not happy. I woke up just before 10 am and I was surprised to see the he actually replied! I couldn't believe it. I opened his message and he had written me a bible. A bible that had no purpose because it was unnecessary. He just elaborated more on his previous justifications and excuses for himself just to tell me that he doesn't manage his social media himself and that the tattoos of him on me were uncomfortable and hard to even process!
ME, MYSELF AND I
That's right. Everything I do, I do it for me and no one else. Even when I tattooed his name and his photograph on me, I did it for me; not for him. Yes, the reasons may have been me wanting him to react to this majestic act of flattery; but at the end of the day that was not guaranteed. What was guaranteed is that no matter if we're in contact or not, his image and his name are always present. I truly love and enjoy looking at my tattoos of him. I feel proud and alive.
A SPECIAL SPACE IN MY SPACESHIP
The space he occupies in my spaceship is a gigantic and magical one. I can't even describe it. I have never ever regretted carrying his name and image on my own skin. I've had one of my most, if not the most amazing journey with him and I know he's here to stay. Maybe not in this lifetime, maybe not in this galaxy.
LOST AND FOUND
Everyone that knows me knows about him, and many that know him; know about me. Everyone who knows us, know we belong together and even if I didn't have his tattoos on me, his name is written all over me. Even without his name tag, I know who I belong with. We will never end up in the lost and found because our hearts will always find each other.
P.S
I did reply his bible with my own bible. I was clear about getting the tattoos done for me and not for him. I was also clear that it was my last time contacting him to stop his aggravation. I genuinely wished him well and I was ready to depart. The coming days were a living hell just wondering how I was supposed to get over him. But I was determined and focused to do so. Five days later while I was on the toilet he messaged me on IG. I didn't open it but obviously; I was thrilled. After finishing my business, I sat down on my couch and opened his message... He said at first it was intense to see the image of him on my arm but that he loved it and was flattered and appreciated my love and support. That was it.
I never doubted his feelings anymore after this. He had first to unblock me to be able to message me, and he actually had the guts to contact me instead of running away as previous times.
The next time we met in person, I was wearing one of my favourite jackets so my arms were covered. I was not even thinking about the tattoo or showing it to him in the flesh. I was mesmerized to be with him as always. About an hour later, he pointed at my arm and asked me to show him. I showed him and asked him to gift me his guitar...The next day, he actually gifted me my favourite of his guitars, the one on my tattoo. UGH.
NAME TAG
It took him Five days to realize I was actually his. I guess some people have OCD and need to double check because baby, I was born with your name written all over me! The whole universe knows it and our love is written in the stars above. Now let's make below our above. I saw you had my name tag the first moment you looked at me in the eyes and gave me your beautiful smile. Yes you can still tattoo my name on you; so go ahead and tag me along.