My Struggle With Mental Illness
By: Christina Trautman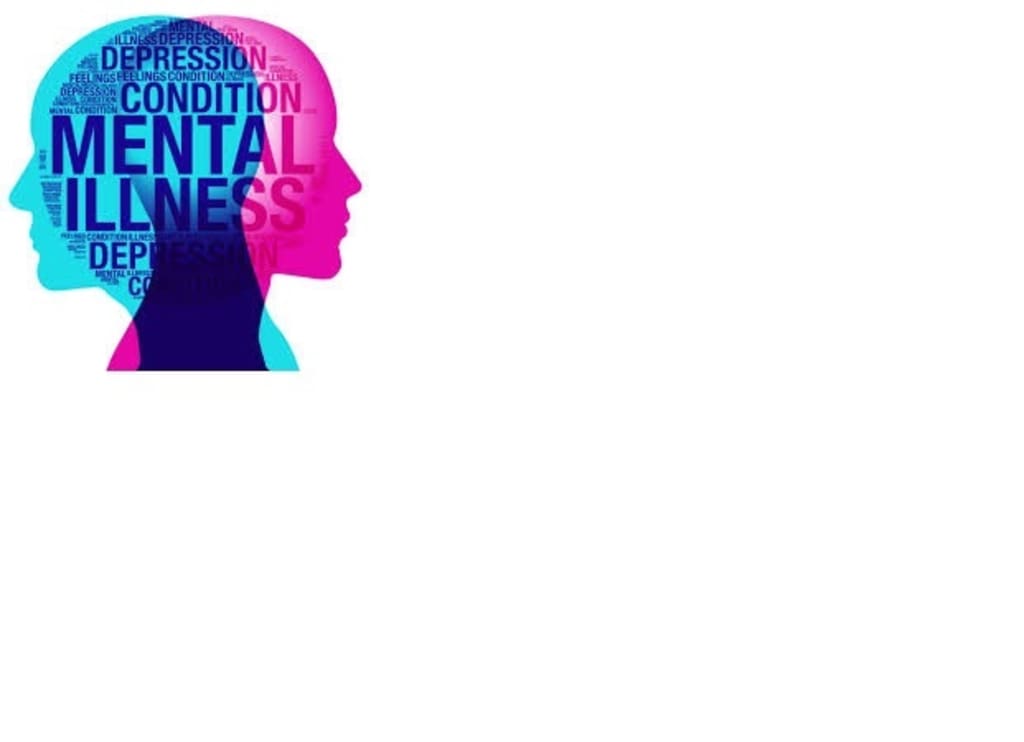 Not my picture i didn't take picture or draw picture
What does ADHD, Bipolar 2 Disorder, Anxiety, Chronic Depression, and C-PTSD all have in common? They're all mental disorders that have helped in the deterioration of my life. That is at least until I decided to take back control.
My first mental diagnosis was Attention Deficient Disorder also known as ADD or what they call ADHD nowadays. I was roughly eight, and since my parents didn't believe in medication I passed my classes without actually learning anything minus the basics (thanks mom). Don't get the wrong idea my parents did love me unconditionally, but they didn't exactly know how to handle me. My dad often out of his love would get frustrated and say things like, "Christy learn to use your head for more things than a hat rack" or "Why can't you be more like your sister." Not to mention on a daily basis my older cousins (I was the baby in the family)were telling me how nobody loved me and how worthless I was. What happens when a child hears all this her whole childhood?\ She believes it. I grew up having low self-esteem/self-worth and I felt alone. It'll come as no surprise I was diagnosed with depression by the time I was twelve. To add fuel to the depression fire both my parents at fourteen due to health issues lost their jobs leaving us to live off five hundred dollars a month. My dads chose to cope with marijuana and alcohol, but I want you to know my dad was a good man, as well as, a flawed man.
By the time I was eighteen I had a douchbag boyfriend that I stupidly wrote a checkbook full of bad checks in order to be the provider he wanted. You see I didn't believe I was enough to love, so I tried making myself important by being a monetary necessity. Jokes on me all it did was get me arrested, and my uncle by marriage decided repayment was sex. I didn't agree so he raped me causing my anxiety to take control of my life. So how'd I deal? I didn't i ran. I started working with a traveling magazine crew, I thought running away would solve everything and make everything in my head okay. Out of sight out of mind. Right?
Wrong, because after having my oldest daughter at twenty-one my depression fell further than ever down the depression rabbit hole. I went to the doctor they diagnosed me with chronic depression, and gave me an amplifier to my antidepressant. Something still didn't feel right, and within a year I went through every antidepressant amplifier there was. It wasn't until they prescribed Wellbutrin a depression drug in class all on it own that it finally made a dent in my depression. I still felt something wasn't right, but since everybody including the doctors just looked at me like I was crazy I started lying saying Wellbutrin was keeping my depression at bay. While at home I barely cleaned my house and getting out of bed was a real struggle. Once the father of my older two children and I split all my energy went to working and trying to take care of two small children. I made it look like I was succeeding, but inside I was feeling worse than ever. So, what do I do? I start a relationship with a sociopath Narcissist, who does nothing but talk about how fat/unattractive I am, along with stealing my money to support his drug habit. A drug habit that gets him addicted to methphetamine. Which brought out the socionarcissist that hit, raped, held me prison on multiple occasions, and isolated me from everyone including my kids. It was an eight year relationship, but it wasn't until year five or six that I gave up and totally lost myself. You could look in my eyes, but an empty shell looked back. For years I perfected the fake smile making everyone believe I was okay when I was dying inside, but I couldn't smile anymore. I know I was stupid to stay, I left several times, but being the abused woman cliche' I always went back. My only reprieve was when he was in jail, and it was during those jail stint bits of my soul would renter my body slowly bringing me back to life. It was during the last jail sentence in our relationship I began seeing a therapist, and after explaining my never ending depression problem she suggested I look up Bipolar 2 disorder. At the time I didn't know there were two types of Bipolar. However, upon learning about it I goog led the symptoms, and lo and behold I had ten of the symptoms. The following day I made an appointment with the Mental Health Clinic, and began medication right away. Six months later I was in a horrible car accident forcing me to move back in with my mother. It was a blessing in disguise, because that accident gave me the strength to leave my ex for good. Shortly after ending the relationship i was diagnose with C-PTSD Complex Post Traumatic Stress Disorder. Quick recap to date I've been diagnosed with ADHD, Chronic Depression, Bipolar 2 Disorder, Anxiety, and C-PTSD. Getting out of a toxic relationship along with getting all necessary medication everything's fine, and my life can move on. Nope! I left my job to become a preschool teacher failed at that, the kids and I constantly talked about how much my relationship with my ex hurt them. Seeing the damage I caused in them I felt so much shame and self loathing i ended up in such a depressive state I could no longer make myself get out of bed. My head and body were disconnected my head would say, "you have to get up," but my body couldn't move. Therefore, I missed Clinic appointments and ran out of refills on my medication, and I went medication free for nearly two years. Drowning in guilt and pain, and not wanting to lose anymore time with my kids I managed to force myself to make a call to the Mental Health Clinic. I explained the situation, and was back on my medication. Along with some new medicines, and this time it worked! I'm back to living again. I'm cooking, cleaning, bathing, and spending time with my kids. Things that for two years I was rarely able to do. I can't work until I get a complete hip replacement, but I've started the proceedings to return to school. I can't wait to become my dream of being a preschool teacher. I still have bad days, but my mental illness no long controls my life. I see the light at the end of the tunnel, and you can to. If your reading this and struggling know things can and will get better.