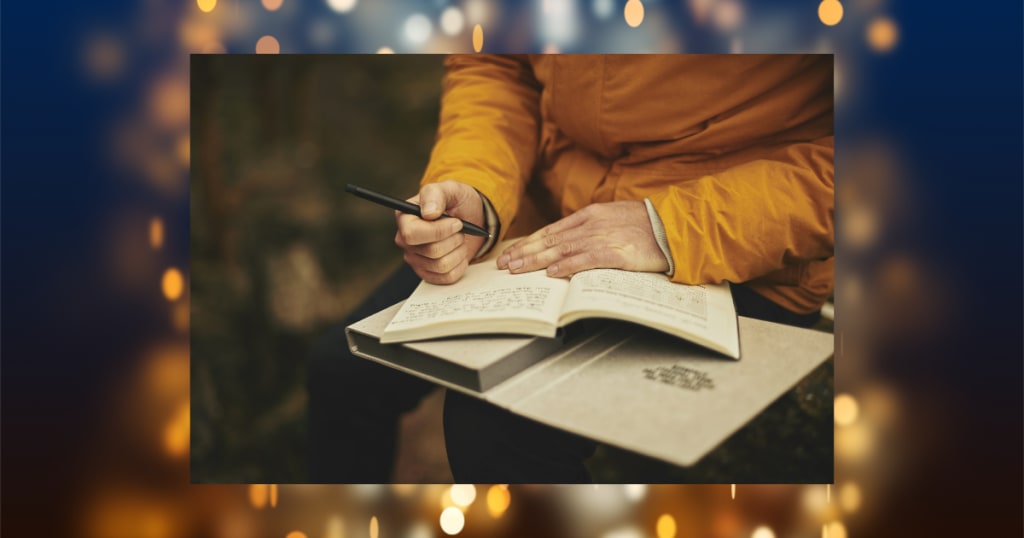 By Pexels from Pixabay
I was working full time at Stein Mart. It was December just before Christmas. I was smoking with my husband and brother-in-law outside underneath the stars after a long day of work.
"I'm not happy. I don't like the life I'm living.", I tell them because I feel like I can open up to them.
"Well, then do something about it.", responded my brother-in-law.
"Yeah...", my husband agreeing with his brother snorting.
"I don't think they understood me... Then again I'm not sure how to elaborate on what I'm feeling."
I told them, "I don't want to live in Texas."
No response from either of them.
My husband never asked me about how I was feeling or what I was thinking about after that moment.
Christmas day arrived and my mother-in-law gave my husband a book by Joel Osteen about how to manifest the life you want. I felt curious about this book. I noticed he never bothered to open the book, so I took the book and read it nonstop. I then wrote in my journal every day using the exercises from the book. I poured my heart, soul, and belief into what I wrote in my journal every morning before going to work, during my lunch break, when I came home from work, and just before going to sleep. I was manifesting my way out of Texas period.
I had no idea where I wanted to go or what I wanted to do but I knew that I did not like my life in Texas.
One evening my husband I were visiting my family sitting in their living room when I received an instant message from our friend about the opportunity to move in with them in Michigan.
"Whoa!!! My manifestation is working!!!
My husband seems hesitant, "Oh... huh... maybe. We'll talk about it later."
I felt ecstatic!
As my husband drives us back to his mom's house that night, I tell him I really want to move there.
"Well, we'll ask them questions about the move.", he says.
"Ok, but we are moving."
He had me asking questions to our friend about the move through instant messenger. She gave us all the good high lights about the area and about why there would be a cheap room available. I felt like my work was really paying off!!!
I think because of how excited I was after reading our friend's details about the opportunity of this move, he decided to agree to make the move to Michigan.
I felt so nervous about money. I was the only one making the money. I told him I am only spending money on gas to drive to work and back to your mom's house. "This move is happening."
"Ok... I get it. This move is happening.", he said as he was looking at the map and calculating how much money it would take to drive out there.
As I continued talking with our friend about the move, she listed the names of people who were living there. I remembered having a conversation with her in Florida as she was talking about their high school friends. After she mentioned one of her friend's names in the conversation I had the thought, "I know him... ". That didn't any make sense to me. I had that moment again when I read his name in the list of our roommates. My heart started to skip some beats and I started to feel butterflies in my stomach, and really just all around my body. "But why?", I thought to myself. "This feeling doesn't make any sense to me. I'm married. Just forget about this feeling." I decided to try to shake that feeling off of me. I needed to focus on the move.
These moments of remembering someone before having met them in person was bizarre to me.
As my husband was driving us into Michigan on February the 14th, I saw snow for the first time in my life. I felt so excited!
"Wow... These people put out fake snow on the road and the parking lots? That's intense...", my husband said sounding really surprised.
"No... that's real snow. We're in Michigan now. It has been snowing here."
"Oh! So that's what real snow looks like!"
"Apparently so... Neither of us has seen snow, yet I can tell the difference between fake snow and real snow?..."
We parked onto the driveway filled with snow. I felt nervous and excited! Two, out of four, of our roommates were there to greet us as we moved our stuff into our new bedroom.
As I walked from my bedroom through the hall into the kitchen, I recognized his soul again. I read his name on the white board in the kitchen of our new home. My heart skipped a beat. "Really?... This feeling inside of me is ridiculous. What's going to happen when I actually meet this guy?..."
I walked downstairs into the basement and sat on the couch with some of my new roommates and my husband watching them play a video game.
"Can I really do this? I just moved here from Texas with just the money I saved up from working at Stein Mart full time being transferred to the Stein Mart in Michigan part time. I am the only one working. I know I wanted to leave Texas that badly, but can I really make this work? My husband doesn't have any plans to get a job. How am I going to build a good relationship with my new roommates?"
I stop to inhale, then exhale, "Ssshhh…. You can do this…"
Later in the afternoon my heart skipped a beat and I felt wild butterflies inside all over my body, just driving me crazy, as I saw him for the first time walking from his bedroom through the hall toward the kitchen. He was just a regular guy, yet I felt my life change in an instant just being in his presence.
"Huh… I really don't get it. I'm married and having the most intense feelings about a guy I don't know. I have never felt this way before about anyone. Why would this happen to me?... Well, don't tell anyone. No one will understand this. You don't even understand what's happening to you right now. You're just going to have to continue ignoring what you're feeling when you're around him. Act like nothing is going on."
I remember feeling really disappointed when I heard he was going on vacation to visit his friend. I really didn't like that he was leaving even for a short amount of time. No, this didn't make any sense to me considering I made good on the promise I made to myself. I acted like nothing weird was going on with me. I felt absolutely insane for having feelings for this guy.
When he came back from his vacation, I felt happy again. I wanted to celebrate. I went with my husband and our roommate to get alcohol. I felt like it was safe to say, "Now life feels good!", once we arrived at the liquor store, but somehow my husband caught on to why I was excited.
"Why?! Because Dean is back?!"
I was really shocked because I didn't talk about him and really tried to act relaxed around him when he came back. I don't know how my husband noticed a difference in me. And the funny thing? He and I never talked about that moment or about our roommate. I don't think my husband liked talking about uncomfortable stuff with anyone. Isn't that what married couples did though? Talk about things to help each other grow in a healthy and strong relationship?... I guess not.
I started working at Stein Mart thinking about him. Thinking about how weird my life was feeling now that I knew he existed and how I was feeling about him. I didn't even know him, but I couldn't stop thinking about him.
One night I came home from work in my baby blue hoodie, black dress pants, and my hair down. Everyone seemed to be drinking already. Dean seemed to feel really sad while hanging around the kitchen. Everyone else was downstairs in the basement playing video games. I felt nervous in his presence, as he and I has never been alone in the same room before, and I didn't understand I preferred us being alone. I enjoyed being alone with him and I wanted to get to know him.
fact or fiction
About the author
I write about the stories in my life that helped me heal. I write to help someone feel like they are not alone and can finally begin to heal as well.
Reader insights
Be the first to share your insights about this piece.
Add your insights