Looking for Mr. Right on a Dating Site
Millennial Dating Woes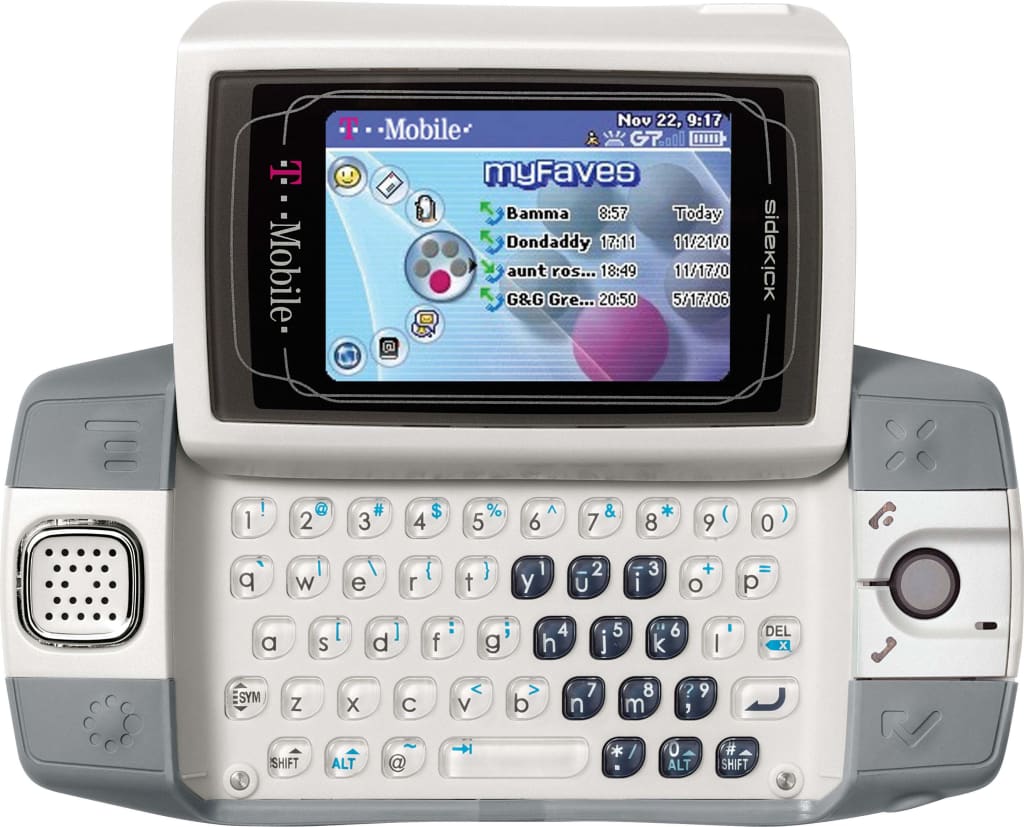 It was summer 2007. I'd recently graduated high-school and was freshly single. My long-distance boyfriend of two years dumped me shortly after prom; He said it was because he'd had a change of heart about moving to Georgia from New Jersey, but to this day, I believe we broke up because I didn't give it up prom night.
Needless to say, I was oblivious as to where to go, to meet guys at 18. Dating, in general, was foreign, so I decided to try online dating. What harm could it actually do, right? After getting an encouraging pep talk from my best-friend Jessica, I signed up for a free site. I set up my profile, wrote a cool tagline, equipped with the best photos I had from my T-Mobile sidekick. It wasn't long before I started receiving messages from possible prospects.
A lot of dudes reached out to me, some I ignored, some I deleted. Out of them all, I may have had a decent conversation with about five. Of the five were Terrence and Brandon. Terrence was my first choice, he was sexy! I'm talkin' 6'2, nice build, nice haircut, nice teeth (uber important) and a buttery brown complexion. We planned to meet at the mall, but for unforeseen reasons that didn't happen. Long story short, he was psycho! I confronted him about standing me up at the mall, and he got upset and came clean about living with his baby mama. Talk about dodging bullets. Relief is beyond what I felt.
Inevitably, that left Brandon. He wasn't as attractive, but he had a smart mouth like me, so I enjoyed our conversations. He was also in college in North Carolina; that gave him double points because my Dad's side of the family lives in Charlotte. Brandon wasn't as attractive as Terrence, but he wasn't butt ugly either. His profile said he was 6'1, he had a beard, light-skinned and he was kind of chubby. He didn't smile in any pictures, which was a sign to me. Teeth are my thing, what can I say? I had braces for two years of my life for a reason okay?! He wasn't necessarily my "type" of dude, but I figured, what the heck, try something different, get a different outcome, and that I did.
Based off of his profile pictures, it appeared he knew how to have a good time. There were countless pictures of him and friends (deliciously handsome friends might I add) at random parties and restaurants. All in all, he seemed really cool, and he kept me laughing during our conversations, which was a plus because I am super silly, even goofy at times.
We'd only talked, well texted, for about two days while he was home in Georgia, and he was scheduled to go back to North Carolina that Sunday. He wanted to meet up the Friday we met but I came up with an excuse. I remember him telling me, he came home often on buddy passes, because his Mom worked for Delta. For whatever reason, his flight got canceled Sunday, and he asked to meet up again. A ball of nerves, I obliged.
Getting home from KFC with my Mom, I put on my cute brown and turquoise flower shirt, black jeans, and black flats, and accessorized with turquoise earrings and a matching necklace. I check my cornrow braids and do a once-over in the mirror before walking downstairs and out the door. My Mom agrees with me going under the condition that I bring him back to meet her before we go out. I get in the blue mini-van and head towards the apartment complex entryway. Waiting in line, I text him "on the way" and he calls. I instantly get nervous because we've never spoken on the phone before, but answer anyway.
"Hello."
"Hey, you left yet?" he asks.
"Still in my apartment complex," I say, still slightly nervous.
"Wait, don't come yet…gotta take a shower, you don't want me all sweaty, do you?"
"No," I say turning around
"I'll let you know when I'm ready"
"Okay."
We hang up and I wait anxiously in the house. About a half hour later, he texts me, and I leave. I'm fine the twenty-five-minute ride to pick him up, that is until I reach his house, which is directly across the street from Kroger. He tells me to park in the Kroger parking lot, which is weird. I text him I'm outside, and moments later I see a front door open. A wide body emerges in baggy denim jeans, an oversized airbrushed tee, and a fitted hat. It's Brandon—bigger—but Brandon no less.
He gets in the car and we both speak. It's an awkward silence the rest of the way back to my house. Luckily, the radio covers the would-be muteness. Once we reach my house, I can tell he's nervous by his tortoise pace from the car to the front door. My mom surprisingly takes it easy on him, only checking his license, where he's from, asking about school, and where we're going. We decide to go to the movies. Horrible first date idea, might I add. There's no way you can get to know someone in the dark, with strangers, while a movie is playing. I digress.
Brandon seems to loosen up a little after we get back in the car. So loose that he feels comfortable enough to change the radio station. I give him a look but say nothing. I'm gonna play it nice; first impressions are essential. He asks why we are going to the movies by my house and I explain that it's close and nice. We joke here and there as we make our way to the theatre. He doesn't think the theatre is close enough. I point out my job as we pass it, and he makes fun that it's an old lady shop. I insist that a check doesn't have an age as my rebuttal.
The movie theatre is surprisingly packed for a Sunday. There are a lot of families out today, but teenagers are abundantly present as well. We begin to walk up to the ticket counter and I get a better look at him. He's taller than me, check. Yes, he's bigger than his pictures, but at least his personality is the same. We shall see how this goes. I ask what he wants to watch and he says Who's Your Caddy? I'm not really interested, but go along with it anyway.
He steps in front of me and orders the tickets. I wait for him and turn around to see three girls around my age or younger waiting. I move over to get out of their way. I see Brandon pulling his wallet out so I step to the side closest to the door. Afterward, he walks over.
"Ready?" I ask, putting my jacket over my shoulder
"You got yours?" he asks putting his student ID card back in his wallet.
"Huh?" I ask, confused and shocked.
"You didn't get your ticket?" he asks again.
"Oh I… umm, OK," I say turning around, embarrassed.
I go back to the ticket counter flustered. I thought this was a date. Never the less, I pay for my ticket. As I walk away ,I hear the same three girls laughing behind me. One girl says, "Wow, he didn't even pay." I try to ignore them and keep walking. I am so discombobulated I forget to use my student ID card and my member rewards card. Too late now. I shake my head and walk towards the door. Once we're there, I linger and Brandon doesn't catch an ounce of a hint, so I open the door myself. I hear the girls laughing once again. This is getting worse by the minute. This is strike number three.
He asks if I want anything from the concession stand and I think, Why, so I can pay for that too? But quickly say "no." I follow him to a seat in the back on the left side of the theatre. My entire mood has been altered and I'm completely over this date. This is a hell date. The movies start and I can't even focus. Meanwhile, Brandon is laughing and having the time of his life. I can't decide if the movie isn't funny because I had to pay, or if it isn't funny because it's just not good.
Every once in a while, I look over at him. He's so freakin' happy, and I am beyond disgusted. Not once has he asked if I'm OK, if I like the movie or anything. The audacity of him to invite me out, expect me to pick him up, and not pay for anything. No gas money, no ticket money, no nothing! If I were half the person I am, I'd have acted like I was going to the restroom and left him there stranded.
It seems like the movie takes forever to end, but once it does, I'm out of there. I am eager to get to the car, and he's a chatter bug once we are in. To be in college, he sure can't take a hint. I peel out of the parking lot, secretly wishing I'd been courageous enough to leave when I had the opportunity. I say little to nothing the entire trip back to his place.
I get him there as legally fast as I can. He says something before getting out, but at this point, he might as well be Charlie Brown's teacher. I don't even wait for him to walk up the stairs before I am turning out of the Kroger parking lot. On the way home, I vow to never put myself in that predicament ever again in life. I am instantly mad at myself for allowing it to transpire the way it did. I am worthy. I desire and deserve more.
Unavoidably, Brandon texted me the next day, which I ignored. I ended up deleting him in my phone as well as on the dating site. A few months went by and he randomly messaged me on the site asking what happened. I explained that it was rude of him not to offer gas money or pay for my ticket, and he was offended that I expected those things. I expressed that those things happen on a date, and we could never come to an understanding. Needless to say, we never spoke again. Moral of the story, know what you deserve and own it!
#MyWorstDate
dating
I'm a lover of all things within the creative realm. I am currently writing my Memoir. My favorite color is Gold.
Publishing credits: Chicken Soup for the Soul: The Cat Really Did That?
Z Publishing's Georgia's Best Emerging Poet's Anthology