Let's Be Free
From a white privileged Midwest USA perspective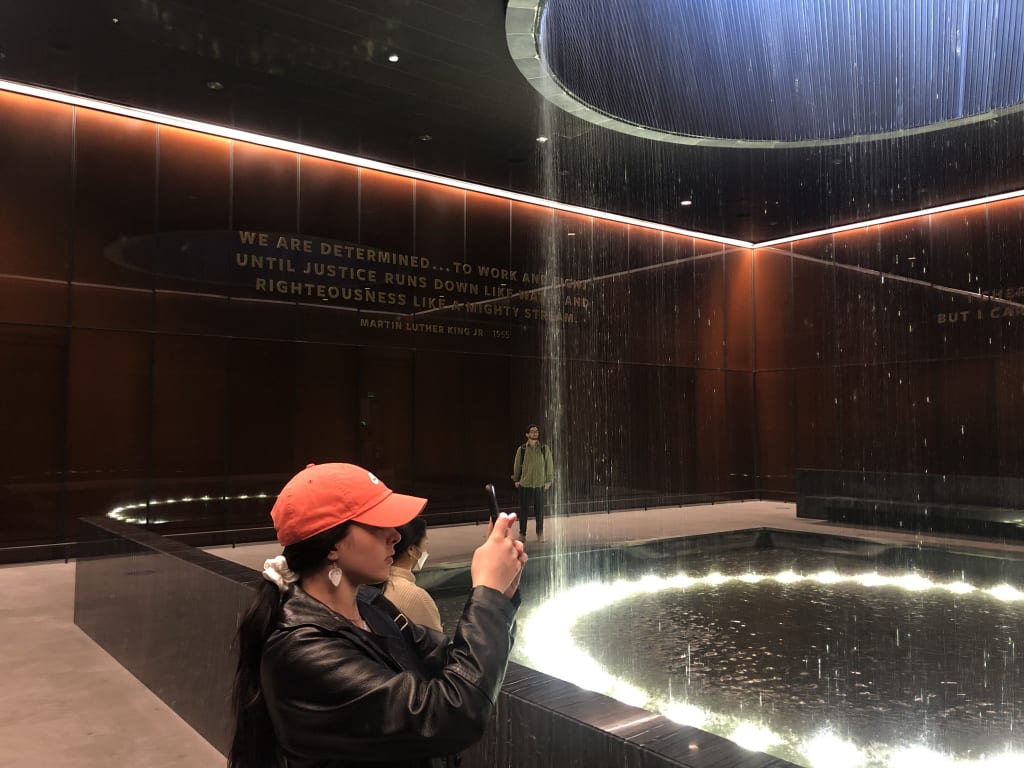 Daughter & son @ the Museum of African American History and Culture in Washington, DC
I grew up not having to worry about freedom. Born in the mid-60s, in a quiet Midwestern (mostly caucasian) community, attending a parochial school through eight grade, then high school and college thereafter; I, now, raise a family with four grown children. We were not a rich family—by any means—as my parents divorced when I was in fifth grade due to schizophrenia which my father sustained following the Vietnam War. Since my mother worked long hours at the local hospital as an EKG Technician, we (her four children whom she raised much on her own) had a run of the neighborhood throughout the day and most of the evening during the summer months. These were my first experiences with what freedom meant to me.
Fast forward another 45 years and I would have to say that I am grateful by still feeling a strong sense of freedom in my daily life. My wife and I both work. We have put some funds away for our future retirement in about 5 to 10 years, and we have seen two of our grown children moved out and married. The other two 'babies' of the family are transitioning through college and seem to be following a good coarse for self sufficient independence. In fact, I just finished a Spring Break trip with my youngest son and daughter to Washington, DC—touring Fredericksburg and Spotsylvania Nation Civil War Military Park, Harpers Ferry, and other points of interest. Following visits to the National Museum of the American Indian and the National Museum of African American History and Culture, I was inspired to write the following poem/song called 'Society' as a summary of what freedom means to me:
Society
Longs to be free
But it has strings
on you and me
.
And if we're to dance
the Freedoms Dance
We must draw upon
these cards of chance
.
Will power and greed overcome
sovereignty?
Will prejudice and hate destroy
our unity?
.
Thus, these chords
we choose to play
and this script
we choose to write
becomes our song
for others to sing
.
As Society
Longs to be Free
while it has strings
on you and me
Let's Be Free!
.
The Washington, DC trip—as with the poetic song above—reinforces the fragile nature of freedom and peace in our society. Whether in reference to past sufferings of Native American Indians, African Americans, present day Ukrainian citizens, and so forth—so many opportunities for societal disturbances of peace and harmony exist in the world; in the past, present, and future.
The strings referenced in this poem are the all too often moves in a 'game of chess' within our society. Where we are sometimes caught in the middle of a position made by leaders and their political aspirations, and how they may not in congruence with morality. For leaders that desire a cohesiveness of peace for their country, then there is a reasonable chance peace may follow. However—if self interest, imperialistic aspiration, and blatant dominion of power and greed are their motives—then the reckoning of peace will likely follow.
For those of you who live in a democratic society that value the freedom of speech, we have the opportunity to Let OUR Truth Speak, as reflected in the following poem:
We have an open invite
called upon in life
to take our stand.
.
This stand we take
and the voice
we communicate
is like the mirror
we hold up
to reflect
and self illuminate.
.
Do I like what I see when peering
into this looking glass of fate?
Do I believe what I hear
from my voice so near?
.
Let my truth speak:
Through growth, grace,
wisdom and courage,
Let OUR Truth Speak!
Now, image what this type of writing would reflect if you were trying to let your truth speak in an a society where freedon of speech isn't a protected right. See paragraphs below from www.NPR.gov, March 17, 2022; "Putin's warning to anti-war Russians evokes Stalinist purges":
"The Kremlin doubled down Thursday on recent statements by President Vladimir Putin that Russian society would benefit from what he called a 'cleansing' of 'scum and traitors' who align with the West in its criticism of the war in Ukraine.
The reference evoked terrifying memories of the mass arrests of the Stalin era — when repressions were justified for 'cleansing' Soviet society of traitors — and it followed new laws criminalizing criticism of what the Kremlin calls its 'special military operation' in Ukraine."
After reflecting upon this piece, I feel the First Amendment to the United States Constitution and it's protections of freedoms for it's populus (including freedom of religion, freedom of speech, freedom of the press, the right to assemble, and the right to petition the government) is what freedom means to me.
Knowing that I have the opportunity to express this granted freedom, I offer the following poem as I pray and continue to hope for a peaceful resolution to the ongoing conflict with Russia and Ukraine:
ONE WORLD
What's it going to take
for our own human race
to think not as one
province, state, or nation
🌎 but as One World 🌍
to ensure wholistic preservation?
.
Will if be the next Covid strain
or this global warming crisis?
Realizing we are engrained
in isolated political systems
but if, and when, we encounter
the next worldly disaster,
will those institutions even matter?
.
Picture all the possible
(🇺🇸🇷🇺🇺🇦🇨🇳🇵🇱…) flags becoming one.
What would your One World flag
look like, when it was done 🏳️?
A final parting thought to help maintain a free and peaceful society:
In this imperfect world
what diet of today's
indigestion, yielding confusion—
is needed for a more
temperate constitution?
humanity
About the author
Many poems and posts I write have a nature theme, with family or faith frame of reference. I hope you enjoy.
Reader insights
Outstanding
Excellent work. Looking forward to reading more!
Top insight
Heartfelt and relatable

The story invoked strong personal emotions
Add your insights