I Want to Have a Beer With Scott Brison
But I'll settle for a glass of wine, if need be.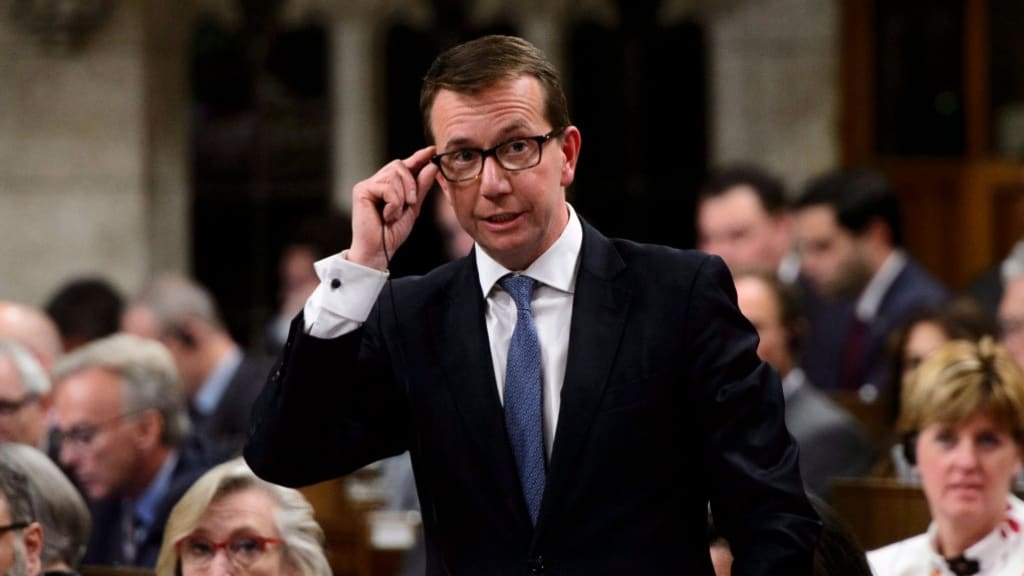 I'm officially non-partisan. Let's make that clear right off the hop.
I'm a federal public servant up here in the area north of the 49th Parallel, and specifically out here on the East Coast of Canada, so I don't play favourites or actively promote or endorse any particular candidate.
But here's the kicker: Scott Brison is a retired federal politician.
And it's not the politics, per se: it's the person. And hence, the story.
He was once a young up-and-coming Conservative (or Tory, as they say) and that's when he was first elected to represent the fine folks of Kings-Hants (the valley area of Nova Scotia) in 1997.
And then in 2003 - wait for it - he crossed the floor and joined the Liberal Party.
Now, that's not uncommon in Canadian politics. It happens on occasion.
If you are a follower of American politics, for context, such a move is akin to an elected Republican suddenly having what the French call a "crise de conscience" and opting to join the Democrats - AFTER being elected as a Republican and THEN completing his/her/their term in office as Democrat. It's even more noteworthy in this case: because in this scenario, the member goes on to be re-elected by his faithful supporters in his floor-crossed role… for 16 more years.
There's something else that draws my attention and appeal to Mr. Brison.
After a few years in public life, he "came out" and spoke his truth and shared that he is openly gay - while a member of Parliament (although not the first in Canada - that was Svend Robinson) and while he was still a member of the Conservative Party.
Let that sink in.
He went on to became the first openly gay Cabinet Minister in 2004.
Let's remember that gay marriage in Canada was only and finally legalized in 2005.
Then Mr. Brison married Max St-Pierre in 2007.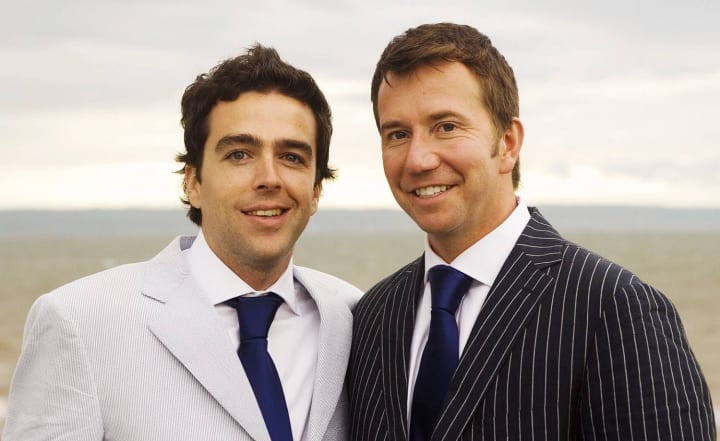 Their wedding photo served as my personal computer screen saver just so my kids could see them as an example that love is love and that as long as two people care about and respect each other, it doesn't matter what gender or sexual orientation they embrace.
In August 2014, they had twin girls, Claire and Rose. Obviously not by any conventional method but via surrogate. (For someone like me who, no disrespect to my children, got pregnant when thinking about how NOT to, his/their journey to parenthood is astounding - and a story no doubt shared by many Canadians.).
He retired from political life in 2019, but his retirement speech in Commons touched me deeply. Among other things, he said that when he was first elected in 1997, a family like his would not have been "legally recognized" in Canada. Looking back upon his career, he saw the living proof of good government in his family.
So think about THAT for a second. To be grateful to have a family legally recognized... because PRIOR TO 2005, in this century, within the last 20 years.... it would not otherwise have been.
WHOA.
And ever since, I've followed him on Instagram.
He seems to have a wonderful sense of humour, a fondness for sunsets, and appears to be an excellent baker of bread. He loves his partner and his daughters fiercely and he continues to stand up for the folks in his former riding, his home province and his beloved country.
Plus I hear he can sing a mean Conway Twitty tune.
And I bet he can crack some pretty corny jokes (although my heart hopes for some raunchy ones too!).
So yes, my appreciation of Mr. Brison goes beyond the political - although it can be said that the personal IS political.
I just think he's a pretty sweet dude who looks like he's probably a lot of fun at a party.
Hey, maybe I'm fan-girling him just a little bit, but at 48 years of age, I'm not afraid to be bold.
What have I got to lose?
I'm not campaigning for folks to set me up to meet the guy. But if it happens, OK! Although he does seem pretty approachable... and in quaint, down-homey, rural Nova Scotia, it likely wouldn't be too difficult to arrange a "chance" meeting.
But that's not (just) what this is about.
I have an affinity for the down-to-earth, "aw shucks" kind of folks who also know a bit about challenge and adversity… and who rise above it all to make things better - not just for themselves but for others.
Not to be all cheeky and sentimental, but I've got a bit of a soft spot for Conway Twitty tunes as well.
So there it is - out of the blue and into the red but focused on the black and white: that's an item on my bucket list.
I want to have a beer with Scott Brison.
And I don't care who knows it!
***************************
Shelley is the mother of 3 adult children who lives in Amherst NS with her partner Hal and their two dogs. If you like this article, please pass it on! And if you really, really like it, feel free to leave a heart or a tip.
And if you know Scott Brison, tell him that I say hello!
Check out some of the other talented Vocal Creators here on this platform.
Thanks! xo
About the Creator
Ms. Carroll is a 40-something year-old veteran public servant and mother of three adult children. She and her partner Hal live in Amherst NS with a sweet, anxiety-ridden rescue dog. Shelley loves running, red wine, and laughter.
She/Her
Reader insights
Be the first to share your insights about this piece.
Add your insights