Barely Scratching the Surface
All things considered...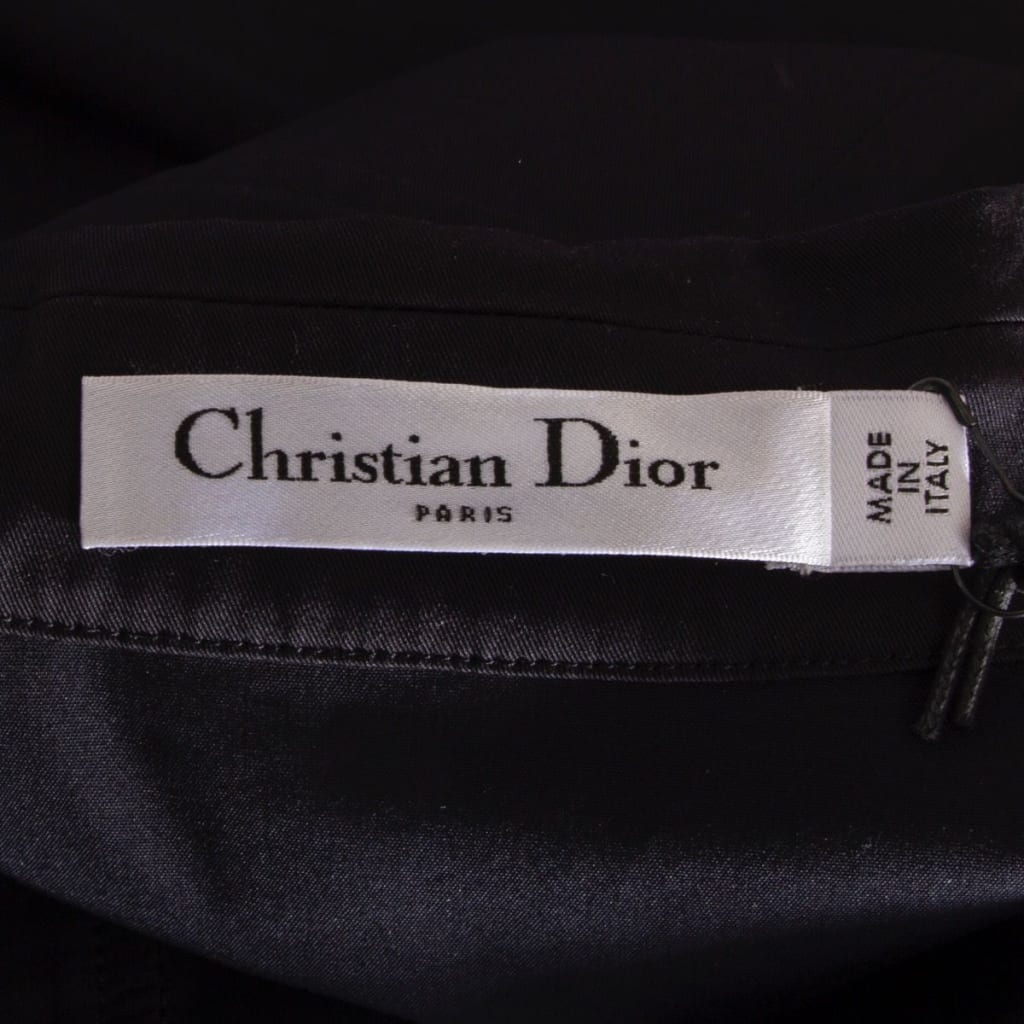 A sample label from the closet of a life well lived.
It was late August. The fabled Nova Scotia summer humidity was finally passing and the evenings were becoming cooler. The days were growing shorter although the sun still shone brightly between occasional periods of rain. The weather was still respectably t-shirt and shorts appropriate.
We arrived at her modest but well maintained two-bedroom home on a quiet residential street just after 9:30 am.
All 95 pounds of her met us at the door, happy to see us, welcoming us in.
She had the thermostat jacked up to Jeezus.
I will call her Greta Mae. After 91 years, she deserves her privacy after all. Nevertheless, her story is still one that ought to be told. We might all aspire to reach such an age. If we are lucky, we may someday face a similar fate.
Just as one cannot pack a lifetime into a few mere boxes, nor can her story merely be summarized in a few bullet points. But for the sake of brevity, I will highlight the following:
Born in rural northern Nova Scotia in August 1930, Greta was the fifth of six children.
She was the first in her family to go to college. Moreover, not just any college – McGill University in Montreal. It was there that she earned her nursing degree.
She returned to Nova Scotia to practice in her field of concentration and before long, she was a nursing supervisor, and then travelled throughout the province as a supervisor for Public Health.
Even more amazing, especially given the era: Greta was black.
She married once, but the love story was short-lived.
She never remarried and she never had any children. However, she served as a fairy godmother to her many nieces and nephews and a wonderful friend and neighbour to her colleagues and community members.
She attended the United Church.
She played bridge.
She travelled overseas.
She treated herself to fancy clothes and pretty jewelry.
She took care of herself – and anyone else who needed a hand or a listening ear.
In mid-July, after two years of worrying about living alone, selling her car, and experiencing the acceleration of her health and mobility deteriorating, Greta was diagnosed with the onset of dementia. The time had come to make some decisions – to leave her home of the past forty-plus years and to seek medical attention on a more consistent basis.
We had arrived to help her pack her things.
The decision was hers to make. She did so willingly, with acceptance, knowing that her own greater good would be far better served in a seniors' home. Naturally, the final decision did not come without concerns.
"What if the new people don't take care of the lawn?"
"What about my mail? Will I have the same phone number?"
"What about storage for all of my things?"
"Can I bring my TV?"
These are perfectly legitimate questions for anyone, regardless of age. These and many more would occupy her thoughts during her solitude and particularly in the quiet darkness of the midnight hours.
When we arrived, I think she was ready to move on. Albeit, not without the desire to say goodbye on her own terms.
While my partner brought in the boxes and called the various utility companies to discuss the accounts, Greta and I set to work on culling her bedroom closet.
I know it sounds simple enough, the intention being: We'll go through your things and put them in two piles – one for things you want to bring with you and one for things you want to give away.
In theory, it is a sound plan.
But have you ever borne witness to someone who is struggling to stay in the present moment yet conflicted about the past and anxious about the future? There is no time to rush. There is only time to stand there and appreciate a life well-lived…and to give her time to reflect on what each item means to her.
"Oh Shelley, I'm so ashamed… I used to spend so much money on beautiful clothes. It's like I had an addiction - an obsession - with fashion. Just look at this! Can you imagine that I used to wear this Christian Dior dress to church? And I used to wear these heels to work."
"Greta… why be ashamed! You've worked so hard… you deserve to have indulged yourself with little pleasantries. Look at all of these stylish and colourful clothes!"
They ranged in size from 10 to 16. It is difficult to imagine this slight woman with a cane ever having been big enough to fill those outfits.
She pulled out a sleeveless black dress with a reddish floral print.
"Oh look, I made this one. See how gathered it is at the waist? And it's layered. Oh, I made this one too! I just love the colours!"
It was I who felt ashamed… thinking we could do this in a day, in a morning.
It took us well over an hour to empty one closet.
I don't regret a single moment. I only regret how tired she was when we were done. We had barely scratched the surface.
"Are you tired, Shelley? Oh my soul, I'm tired. I need to sit down."
We fixed her a little snack – I warmed up quarter of a six-inch turkey, lettuce and tomato sub on whole wheat bread and poured her a little glass of cranberry-grape juice. She sat back in her favourite chair in the living room, ate her grand repast, and dozed off with a slight grin on her face – in spite of CBC News World blaring on the television set in the foreground.
It's a mind-bender: to downsize from a two-bedroom home to a single room.
True, her meals will be prepared, her laundry will be washed, her medications will be dispensed regularly. She won't even have to think about it.
How do you pick and choose from 91 years of memories and collected treasures? How do you decide what stays, what goes, or what matters most? How do you trust that, all things considered, you've determined what is best and then live with the decisions you've made? Especially when your body and your mind cannot be trusted to perform at the level you once knew – when they conspire against you and cause you to doubt not only yourself, but also the choices you have made to this point.
Isn't this so true for all of us? When do we ever get comfortable or have confidence in our choices?
Yet there she was – sitting in her chair, napping contentedly, trusting that in that particular moment, her body knew best. She surrendered to it, allowing it to replenish itself. On the other hand, maybe she was just content to not have to think for the time being.
Or maybe she was just thinking about that fancy red and black dress that she made all those years ago, remembering in some small way all of the fun she had in making it and wearing it. Perhaps dreaming of Christian Dior.
While she napped, I delivered the items she determined to no longer have any use for to the local thrift store. This was in keeping with her wishes.
Then we packed up the car and got ready to head back home. The job was by no means completed, but it was enough for one day.
"Thank you," she said. "Thank you forever and a million."
We had barely scratched the surface. But we were off to a good start.
Good lord willing and the creek don't rise, we will be back again for another round.
Perhaps the furnace might even be off the next time.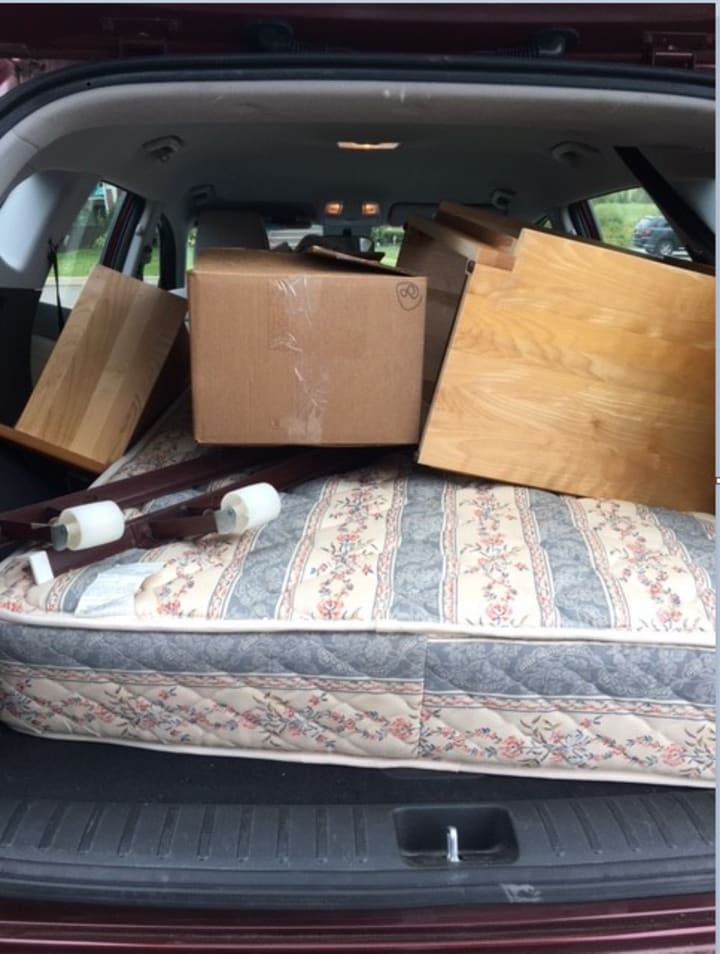 About the Creator
Ms. Carroll is a 40-something year-old veteran public servant and mother of three adult children. She and her partner Hal live in Amherst NS with a sweet, anxiety-ridden rescue dog. Shelley loves running, red wine, and laughter.
She/Her
Reader insights
Be the first to share your insights about this piece.
Add your insights