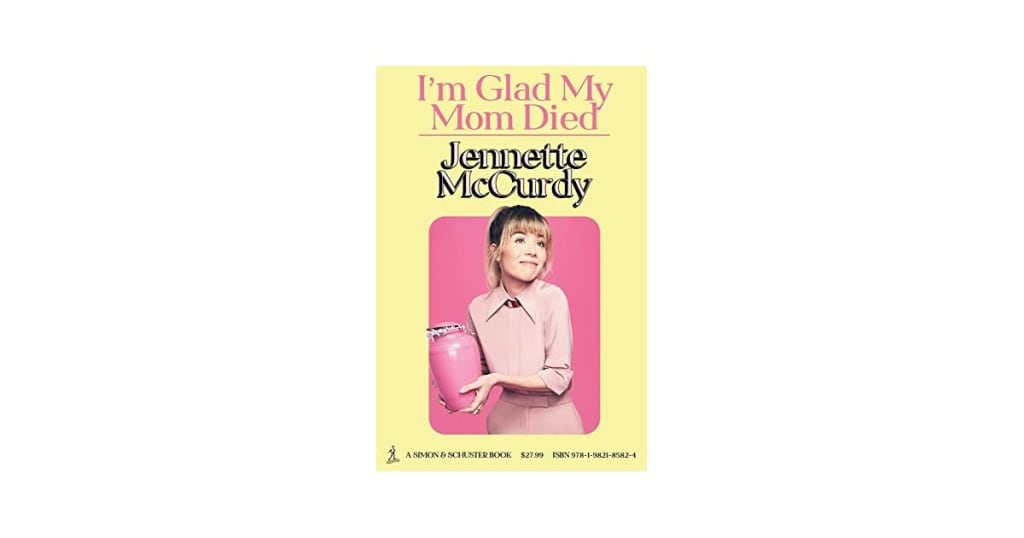 It's been just over a month since Jennette McCurdy's book 'I'm Glad My Mom Died' was released, and I don't think it's been talked about enough. I honestly think that there are a few reasons for this, not the least of which is that this book is hard to read. The book contains references to mental illness, psychological and sexual abuse, and is genuinely uncomfortable in its bluntness at times. But it is also a genuinely unforgettable read.
Jennette McCurdy is an American director, podcaster, former actress, and now writer. Jennette is most well known for playing Sam Puckett in the nostalgic Nickelodeon series iCarly. Jennette was one of the most memorable characters on the show. Since her time on the show, Jennette has been outspoken about the difficulties she had as a child actor, and then following her mothers death has released this book as a tell-all about her life.
This book is hard to read. The levity brought to the piece by the hilarious but biting comments that end off most chapters does little to dissuade the sinking feeling in your stomach as you read Jennette's blunt account of her childhood. They're meant as almost a punchline, but they hit you hard. Jennette captures the reader with her use of present tense, as opposed to past tense, and it works to immerse the reader in the piece. By taking on the present tense, Jennette is inherently taking on the child's perspective within the piece. That, and the detailed account of many different specific occurrences throughout her life, that feel as if they were written verbatim as Jennette experienced them, all work together to give a very real and genuine account of Jennette's life from childhood through to now - or thereabouts.
Jennette's writing style is somehow blunt without being expositional. From the outset as the reader, you can understand that Jennette is being emotionally and psychologically manipulated and abused by her mother, without her mentioning this. In fact, it isn't until near the end of the book that Jennette outright calls her mother a narcissist. Similarly, Jennette mentions OCD routines and habits but only mentions them by that name when others are concerned with her habits and call them as such. Her mother manipulates her into having an eating disorder and Jennette, although aware of the concerns, being a child, doesn't understand the gravity. Again, the use of present tense and the child's voice adds to this effect but the overall implication of this is further immersion and greater connection with the emotions of the book.
In her audiobook, which I also listened to, Jennette reads the book bluntly. Her writing style and reading voice perfectly align with each other. Her reading sounds almost emotionless, even as the writing should be full of emotion, but this lends to the bluntness with which she delivers the story, impacts the reader/listeners emotions even more, and also somehow makes the story more flippant than simply reading the book.
Although the title of the book and a lot of its content is blunt in its description of Jennette's mother, and terrifying to read as an adult with an understanding of what must be occurring, the book isn't as disparaging a novel as you would think. Young Jennette still clearly holds a lot of love for her mother even through the incidents that she describes. This is disheartening as a reader who can understand what young Jennette isn't seeing - including the abuse and manipulation of her mother. But through this, Jennette perfectly summarises the grief and relief that comes with losing a parent who abused her.
Jennette's book 'I'm Glad My Mom Died' is a difficult read, but it is worth it. While the book contains references to mental illness, psychological and sexual abuse, and is genuinely uncomfortable in its bluntness at times, it is a fascinating expose of childhood stardom. Jennette has finally shed the childhood love of her mother and has replaced this with a more balanced understanding of the world around her, and her place in it. Moreover, the manner in which she tells the story shows her personal growth so clearly that it feels like you watch her grow up.
Reader insights
Be the first to share your insights about this piece.
Add your insights