How To Prioritize Yourself
Putting yourself first is never a bad idea.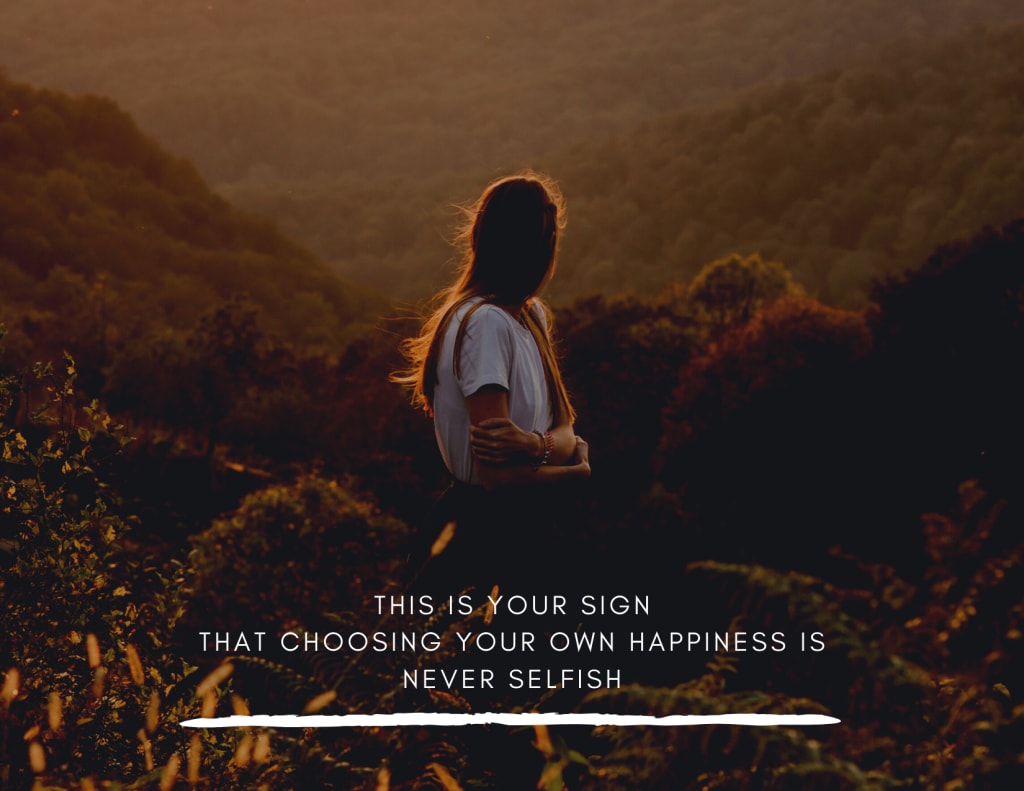 Photo by Dmitriy Ganin from Pexels
If you tend to put others before yourself it can be exhausting, as if nobody is on your team at the end of the day. You're so busy pouring out of your bucket to fill the buckets of others that you run dry.
One thing I've learned in life is that you can't love someone unless you love yourself first. You cannot give endlessly. You must replenish your reserves.
The reality is that oftentimes givers attract takers, and while you're busy taking care of others your own needs get pushed to the wayside. It's time for you to take better care of yourself and admit that you have basic needs as well.
It's human nature to be attracted to those who are happy and living their best lives. It's magnetic. The better care you take of yourself and your mind, the more positive people will be drawn to you like a moth to a flame.
Consider this your sign. Choose to do more of what makes you happy, and less of what doesn't. Do less of the things you're doing that go unappreciated, and invest that time into yourself. Once you do, you'll see amazing results.
What to do when putting yourself feels weird
Some people are better at being selfish than others. I think it has a lot to do with your childhood. For whatever reason, I have always been the friend who people lean on in their times of need. In reality, they need to see a therapist but I am free and they like to verbally vomit their issues all over me.
What I typically discover is that I put the needs of others before prioritizing my own needs. It's something I have been working on for a while, it's a never-ending process of self-love.
It can happen to the best of us, thankfully we can seek the help of professionals to give us the tools we need to succeed. Dr. Allan a Ph.D., LMFT, an assistant professor of couple and family therapy at the University of Colorado, Denver suggests:
Enlisting a designated person who can say, "You taking care of yourself is something I want for you." As he explains, "It's good to have people in your life who love, care, and support you."
Having friendships like these can help to hold you accountable when it pertains to putting yourself first. When you come across these types of people you should stick with them. It may feel strange at first because you're used to being the one who plays therapist for everyone around you but go with it.
I now have someone in my life who pushes me to focus on myself and it took some patience and learning on my end to figure out how to navigate this new type of friendship. One where my value wasn't based solely on how I could help them.
It's a freeing feeling knowing that you don't have to perform in order to be well received by those close to you. That nothing is expected of you besides being your usual self.
Setting Boundaries with a Friend
I have this one friend that I adore, she's hilarious and always has great stories to tell. She's been going through some tough times lately and now much of what she wants to discuss has negative undertones. She complains about the people in her life, tears them down in fact. She plays the victim when we all know she's not as innocent as she plays.
Recently she asked me to come over to grab lunch but instead, I spent the entire day helping her clean her house and played her therapist. I actually enjoy cleaning so it wasn't the worst thing in the world, but it felt a bit like a bait and switch.
She solely spoke about herself and her problems the entire day. Not once did she ask how I was doing, or about my life. Not a single time. So I cleaned her house, I listened to her problems, and I tried to be understanding because of all that she's going through. She asked me to run more errands with her and help with another project later in the day, and I made an excuse about having to get going.
Later on that night though I felt a bit used. I emptied my bucket to fill hers, without as much as a thank you. I realized then that it wasn't only her fault, but mine as well. I didn't set a boundary, and I let a taker ask me to give.
After that day she reached out again asking me for help with something else that was very overwhelming for her. I of course said yes because I wanted to be a good friend. When the time came for me to show up for her as I promised, I called and she didn't answer. She didn't even return my call.
I knew she was probably avoiding doing the thing she asked for my help with, and couldn't bring herself to even cancel or reschedule with me. I went ahead and did the online research and sent her my findings, said I tried to reach her to meet up that day but wanted to give her the help I promised anyways. I did this without expecting anything in return and in an effort to meet the obligation that I accepted responsibility for.
She got back to me later and said she typed out a text to cancel with me earlier in the day but "forgot to send it." OK, sure.
While I still adore her, I know now that she is a taker and I am a giver. I will be more protective of my time and energy in the future. I will not take on all of her negativity for the sake of being a good friend.
I will not put her needs above mine any longer. I could tell her exactly how I feel and why I won't be making much of an effort moving forward, but she's in victim mode and will surely make me out to be the bad guy. Hopefully she comes back around in the future with a more positive outlook and is more considerate of those who care about her, but I won't be holding my breath.
About the Creator
Miami based entrepreneur turned environmental non-profit founder. Forbes 30 Under 30 Honoree. Inc. Magazine columnist. Always learning.
Reader insights
Be the first to share your insights about this piece.
Add your insights