Hearts, Keys, and Puppetry Review
A mind-blowingly cohesive fantasy adventure given the format of the writing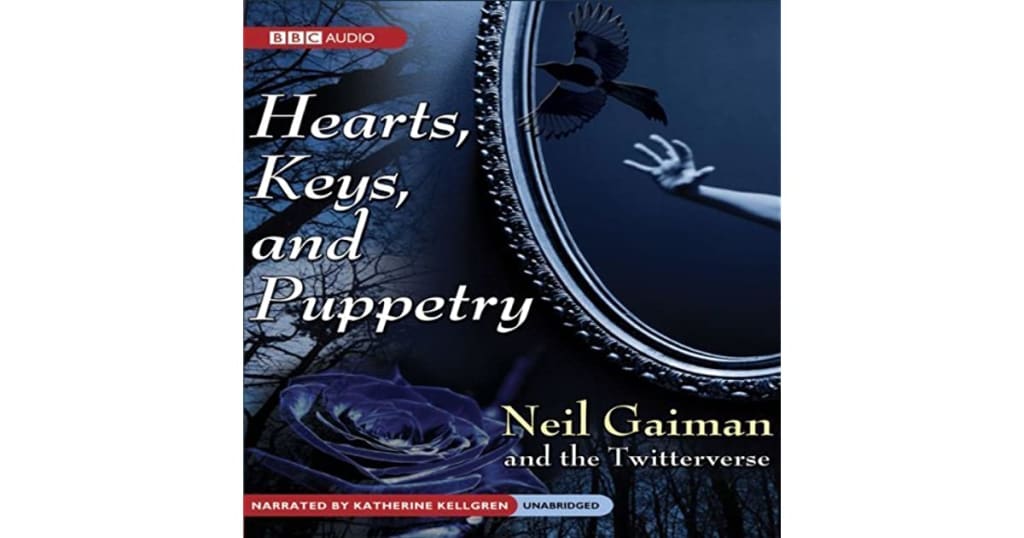 About a decade ago, legendary fantasy author Neil Gaiman asked his Twitter followers to help him with an intriguing idea. He tweeted out a single line and asked his followers to help him write a full fantasy story based on that opening line. What followed was a huge selection of these 140-character lines that were eventually created into an official BBC audiobook, and after hearing it for the first time all these years later, I personally believe that Hearts, Keys and Puppetry is a charming feat.
You could probably say that the story isn't the most original or unique fantasy tale ever in regards to its settings or storyline, but in my opinion, it's a story that doesn't have to be innovative. It's a story with various contributions that are often wholly aware of what this is, an experiment in collaborative writing where some ideas land and some ideas need a little more fleshing out. Somehow, through all of the unbelievably random story elements added by each member of this "interactive twovel," as Gaiman called it, everyone in this story manages to find their own way to create consistently likable chaacters, beautifully thought out settings, and a story that feels complete and wholly satisfying to listen to.
Perhaps a large portion of this cohesiveness comes from the incredible narrative performance of Katherine Kellgren, who does an absolutely phenomenal job at bringing every setting, character, and emotion to life. Her voice can be soothing at some times and sinister at others, emotional at all the right times, and with enough subtleties in her vocal patterns to make every character's personality come alive. She was the perfect choice for this story, and I would absolutely love to hear more of her performances.
What I personally love most about this story, though, is how its self-awareness can lead to some of the most unintentionally hilarious and creative moments of the entire story. Certain sections of the story will openly admit they are throwing out random elements of the plot to see what the next person can do to make them cohesive, and then the people next in line will somehow find a way to actually make them consistent with the tone and direction of the story. In my opinion, all of these individual statements flow so well they don't even feel like they come from hundreds of different voices, they all feel like they come from the same world and even have that same Neil Gaiman-esque style. Sure, his opening tweet set the tone of the story and established all of the characters and motifs that would be most prevalent in the tale, but I'm not sure even he could have predicted that so many people would be able to roll with his style so well.
It seems like a lot of people nowadays have mixed feelings about crowdsourced stories. However, in my opinion, if they're done right like Hearts, Keys, and Puppetry was done right, they can demonstrate the amazing and creative stories and ideas we can create if we all come together to create them. No, it's not the most unique fantasy story on the entire planet, and yes, the story sometimes struggles with tonal inconsistencies and the occasional switching of tenses here and there (thanks to this audiobook being unabridged and including the tweets that used the wrong tense). However, as a collaborative piece, this is absolutely worth the two dollars you need to purchase it as an Audible adventure. If you need a two-hour diversion into a fantastical world, I think Hearts, Keys, and Puppetry will absolutely satisfy you.