Good Grief and the Treasure Under the Coconut Tree
Little Black Book Contest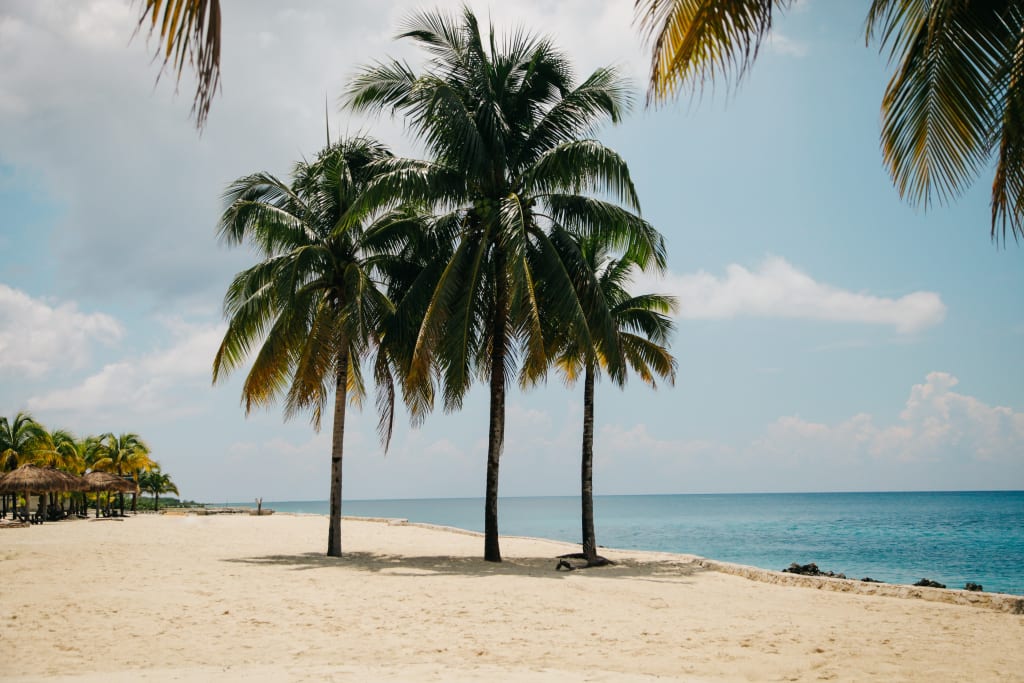 All that's left of him is here on this old blue boat. I'm reminded by the sight of it, how he could care for people and things, but also how he could run away from life on occasion. I guess that's how he ended up here in Belize City, thousands of miles away from a family that loved him. The paint is chipped and faded, but the functional qualities of the boat remain intact. It has the same stoic utility my grandfather possessed in droves and I imagine him beckoning Melissa and I aboard. He is gone now and this old blue boat is what remains.
"That's his?" Melissa asks.
"It was his," I say.
"What are you going to do with it?"
"I have no idea."
"Let's take it out."
The boat rocks slowly thudding against the pier like a metronome.
"Okay," I say.
Inside the boat we escape an onslaught from local vendors offering us everything from Coca-Cola to taxi services. Across the narrow creek the city center is bustling with activity. On the pier next to us a group of kids are kicking a soccer ball; their heavy footsteps make the wooden slats creak under the weight. One of the boys kicks the ball off the edge and three of them jump into the water after it. An old man runs over to accost them. He apologizes to us. He has the benevolent eyes and permanently burnt forehead of a fisherman.
"It's fine, they're not bothering us at all," says Melissa.
"What are you two doing aboard Good Grief? Did you know Ken?"
"Ken's my grandpa," I say.
"Oh, of course. James? He talked so much about you. Welcome. My name is Felix. When did you arrive?"
"We flew in this afternoon."
"Very well. Sorry to hear about your grandfather. Do you need anything? I own this dock. If you need anything just let me know."
"Do we owe you for keeping Good Grief docked up here?"
"No. Ken was a good man. An honest man. A rare thing these days. Keep the boat here as long as you like."
I thank him and Melissa asks if he can help us get out to sea. He unties the boat and nudges us into open water. Felix waves and we wave back.
I get it now. As the engine purrs, I get it. The boat. The freedom! We idle through Haulover Creek beyond the tributary, beyond the reaches of land into the seemingly endless stretches of Caribbean Sea. The water takes on a deeper hue of blue the further we go out and the sun remains suspended in an equally dazzling sky. I shut off the engine and let the current guide our direction.
"Check this out," says Melissa, holding up one of his t-shirts. "This might fit you."
She digs through his possessions: the clothes, the fishing gear, tools, maps, and documents. I find the saltwater smell and mild breeze as soothing as a warm bed in a cold house. The water laps against the underside of the vessel.
"James. Look what I found. It's his journal!" Melissa exclaims, startling me awake. "Look."
It's a little black notebook. She flips through the pages showing me the many times he wrote inside.
"Listen to this," says Melissa. "It's March of 2005. Today I bought a boat. I decided to name it Good Grief- an expression I am fond of using. A local man was moving inland and gave me a fair price. This feels like a stroke of good fortune. Perhaps Belize will be a good home for me. I find the people here to be incredibly friendly. I had my concerns that I might feel like an outsider- being that I'm an American- but so far these concerns have been unfounded. The generosity of people I have dealt with makes me hopeful and positive for the future."
"And this one," she says, growing more excited. "It's April of 2006. Well, in hindsight it was inevitable I'd eventually get caught up in a storm. A gale force wind brought it in from the east. Felix told me- Hey, he mentions Felix! - that the storm originated as a tropical wave off the coast of Africa. Good Grief handled the threatening waves with unmatched grace. She took on some water, but otherwise I have gained confidence in both her and I's ability to navigate at sea."
"It's June of 2006. I am starting to realize what great experts birds are at finding fish. I've seen their hunting skills almost every day now. Today I witnessed a Great Egret swoop down and spear a Glasseye Snapper in the shallow waters near Caye Caulker. And the other day, one of my favorites: the Red Footed Booby was able to spot squid from what seemed like miles away. The larger fish that I'm after are usually lurking near these areas. It's all about learning and listening to the many clues the ocean gives you. I am merely a student at sea."
"Wow," says Melissa. "His journal is fascinating. Do you mind if I continue reading?"
"I don't mind," I say.
She reads aloud and the words of my grandfather carry more significance as we drift south in his old blue boat. What felt somber- thinking of him- is now giving me a feeling of gratitude. This man lived life on his own terms.
"It's March of 2008. Today I chartered a fishing trip for a group of Americans. It was a success. The two guys each caught a Permit and the woman in the group managed to catch three! I'd never seen anything like it. It was quite the spectacle. In other, more disheartening news, Doctor Garcia says there's not much left we can do. He says the cancer has spread. I could get a second opinion in the States, but I think I'll live out the rest of my days here, in peace. It has been an enjoyable ride thus far."
"I'm sorry James, I can stop reading," says Melissa.
"That's okay," I say. "I like hearing you read his words."
In our silence a fish leaps out of the water and splashes down near the bow. Melissa has to stand up to avoid getting wet. We sit dumbfounded by the size of the fish and its proximity to the boat.
"It's like it wanted to say hello," says Melissa.
The sun sets fast in the due west and I steer the boat in that direction. I worry if we have enough gas as it never occurred to me to check the levels beforehand and the gauge appears to be stuck.
"James. Listen to this one. It's January of 2007. I know where it's at! Well, I think so anyway. Felix was the first person to tell me about the treasure. I thought he was full of you know what, but I did some research, asked around, and it appears the treasure under the coconut tree is real. An old Barron of British aristocracy was reported to have stashed some money off the coast of Belize. It turns out he left some clues. I almost immediately recognized the island he was describing. The island where you caught your first fish-"
"-Wait," I say. "Is that a clue?"
"I don't know," says Melissa. "He continues: It has become my dying wish to find the treasure under the coconut tree. I will go there tomorrow."
"Well- what does he write next?"
Melissa flips through the little black book but her dissatisfaction confirms my suspicion.
"I can't believe that's the last thing he ever wrote."
Darkness sweeps over the city as we touchdown against the side of the pier. Felix is there and I have a feeling he was awaiting our return.
"I was starting to worry about you two. I thought maybe you got lost or something."
"Felix!" I say. "What do you know about the treasure under the coconut tree?"
"What do you know about the treasure under the coconut tree?" he shoots back in disbelief.
We show him my grandfather's journal and as he gets to the entry about the treasure, his eyes light up.
"You know where it's at," says Melissa.
"I know where it's at."
"You know where it's at?" I ask, incredulously.
"Be ready at sunrise," he says.
The fishermen wake us up earlier than the sun. Melissa and I shuffle out of the small bed aboard Good Grief. Felix arrives with coffee and we go out to sea on his speed boat. The sun rises as we slide the vessel up onto a sandy beach. Felix jumps down and runs into the jungle. We follow closely behind, swept forward by contagious excitement. The three of us find ourselves standing with shovels under a coconut tree.
"It looks like someone has already been here," he says, looking at me. The dirt underneath the tree looks loose like it has been displaced and put back. "Well, let's get to digging."
We dig without speaking. Melissa's shovel strikes something and the metallic clash rings through the jungle like two swords colliding. Felix and I run over to help her unearth the object. It's a chest. We set it on flat ground. It's covered in clay. It has a dark brown varnish with a gold latch and British Insignia. The three of us stand spellbound.
"Someone open it," says Melissa.
"You have the honor," I say to Felix.
He undoes the latch and opens the chest slowly. Inside is a bundle of cash.
"What are those?"
"These are British Pounds. And I would guess that's about forty thousand U.S. dollars. We did it. We found it! Well, he found it. He must have dug it up before he-"
All of our glasses clink together above the dining table. Felix has invited us to his house where Fatima, his wife, cooks us a celebratory dinner of freshly caught barracuda, lobster, and Sea bass. We sit on their deck watching the whitewash drift ashore and their two children splashing around in the water.
"To Ken," says Felix.
"To Ken!" we toast.
Felix slaps me on the shoulder as we delight in our shared elation.
"Your grandfather did it buddy and I'm not talking about the treasure."
I laugh, but I know exactly what he means.