Eulogy for the Cottage
Selling the cottage is like losing a family member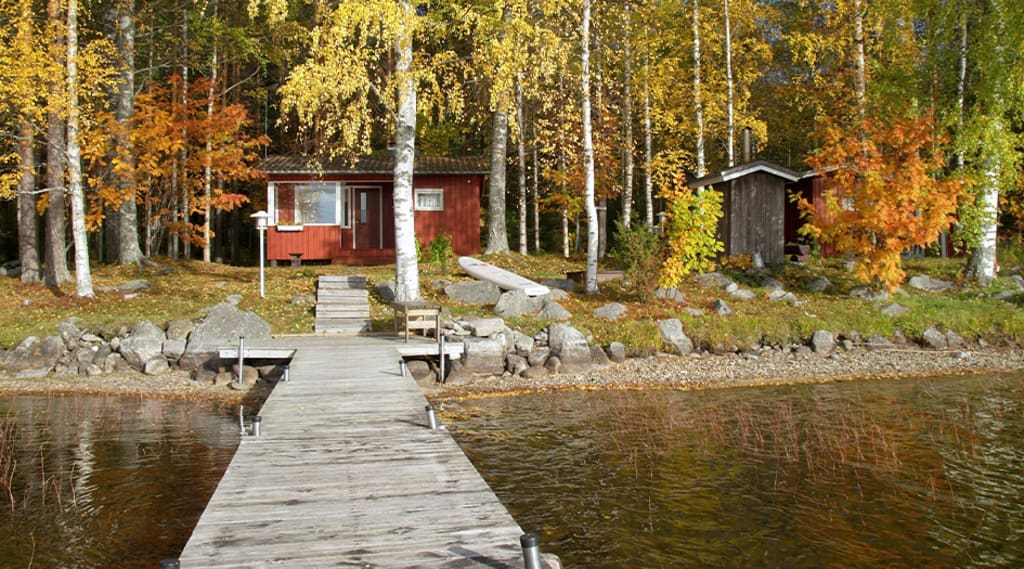 Dearly beloved, we are gathered today to mourn the passing of The Cottage from Doug and Kathy on this 31st day of July 2020.
While we know that The Cottage is leaving us, we can take some solace knowing that it is going onto a new chapter in its life with a family who already cherishes it.
In the end The Cottage was holding Doug and Kathy back. Holding them back from spending more time with family and from travel. The Cottage, as so many who have their own cottages know, gives, but it also demands so much. And unlike a child who grows and becomes independent, The Cottage is forever dependent on your and your rapidly emptying wallet.
The Cottage is about halfway between the hamlet of Lyndhurst and the village of Athens (for those unfamiliar with these communities you find them north of Brockville). After a winding drive along Lower Oak Leaf Road, you need to negotiate an even windier dirt private lane. The meadow at the laneway entrance quickly becomes a forest as the lane narrows. Every few feet there another smaller lane which branches off with sign boards naming cottage owners nailed to trees so you don't get lost. Pretty soon, you begin wondering if you took the right lane because Doug and Kathy's names still haven't appeared. But when you are about to give up hope, there's their sign and you know The Cottage is just a few more curves and one very steep driveway away.
When you power your car up that steep driveway, you first encounter the outhouse on your right. Straight ahead, through a stand of cedar, you can catch a glimpse of the lake. Once you get out of the car and have that much-needed stretch, you can see The Cottage just past a shed where the beer fridge and freezer are stored.
It's pretty plain, The Cottage is on this side.² Metal roof, smallish windows, dark stained wood siding. It's not until Doug, Kathy and their dog (long-departed Tia and now Sammy) come around to greet you and take you around to the front of The Cottage, do you understand the power of its attraction.
The Cottage is perched on top of a solid rock overlooking the lake, and there are no cottages on the opposite shore. None. Well just one - but it's hard to see as it's down through the narrows that divide Bass Lake in two. Plus it's set back from the water. Because of its own height, The Cottage provides a spectacular view westward through the narrows but its height also creates its biggest problem: the 45 stairs that face you every time you forget to bring something down to the water. And then 45 stairs back up because you forgot that third item.
Some might find an outhouse another challenge. It sits by the driveway and has a wooden locking device on the outside to prevent animals from using it. I suppose it could also prevent the more inebriated from access as well but it also was a source of great hilarity when my daughter locked me in one particularly warm afternoon.
Until the local municipality, The Township of Leeds and the Thousand Islands (permanent population of 9,300, thank you very much), allowed a septic system, the arrangement involved using the outhouse for day-time use and a composting toilet in the bathroom for nighttime use. At least one guest would be required to learn how to rotate the peat-moss-filled composting drum every couple of days. And until recently, reasonable cell service was only available in the corner of the kitchen behind the table that needed to get pulled out. Or on one of the docks, sometimes, if you leaned way out over the water.
But friends, we all know that every cottage has its quirks and we are here today not to pick those apart but to celebrate the joy The Cottage brought Kathy, Doug and their extended family from 2001 to 2020.
First and foremost The Cottage was always there for them. Solid as the piece of northern shield granite that it is perched on. It was the beacon of calm and serenity that pulled Kathy and Doug from a mere 30 minutes away where they live in Morrisburg, but also my family from Toronto and so many others from California and Montreal and as far away as Japan.
From its perch The Cottage has a series of vantage points as you negotiated those 45 steps down to the water. The screened-in porch on the top deck was the perfect spot to see the sun set down the narrow channel that links the two unequal halves of Bass Lake. The smaller deck partway down was home to a couple of chairs and an umbrella which, a wonderful place to look up from your book every so often and take in the scent of the pines and the gentle lapping of the waves.
There are about 250,000 lakes in Ontario and Bass is one of the nicer ones. First of all, it's spring-fed. Second, it is -- even in 2020 -- as close to pristine water you can find in the natural world, which means it is possible to drink from it. It's that clean. Finally, there are no public access points to the lake. Those three points mean that Bass never suffers from large crowds, massive changes in water levels or outside pollution, and the water is warm enough for swimming as early as late May and into October.
And once you descended those 45 stairs, swimming at The Cottage was special. It was here our daughter learned that swimming can be more than a crowded community pool filled with chlorine. It meant diving off the dock and swimming across the lake to perch on a series of rocks just visible above the water. Or clamoring up onto the tiny island covered in pine needles that had a rope dangling from a tree so you could swing out over the water and drop in because the shores dropped off so quickly. The occasional newbie found out the hard way that you need to let go of the rope over the water, otherwise you come crashing back into the tree that it was strung from.
The Cottage was also there for Kathy and Doug's extended family and friends. You just have to page through their guest book at over 200 names of people who visited.
For Karla, their daughter, The Cottage was the place where her university friends would gather for a weekend every summer. The last few years they brought their children with them. It became a touchstone for their relationship in an otherwise hectic and rapidly changing world.
For Kent, their son, The Cottage was a refuge where he could, like his grandfather, hop into his small aluminium fishing boat and enjoy the quiet pleasure of catching a bass. He had one particularly large catch mounted for display at The Cottage.
For one young guest, The Cottage was her first visit to a cottage ever. The Cottage introduced her to wildlife - frogs, fish, hummingbirds, water snakes and loons. Not to mention a variety of sports that I'll touch on later.
Bass Lake has been the home for a single loon family for well over a decade. Canada Geese try to take over the Lake, but the cottagers know that when geese arrive, the loons go. No one wants that -- the lake would not be the same without the loon's haunting call, a sound that almost defines the Canadian near north. So the cottagers have diligently scared away any Canada goose that touches down on the lake. The same common loon (by the way, that's a technical term, not a commentary on this individual) has made Bass her nesting spot. Tucked away in a marshy area most years she will introduce a single chick for the cottagers to admire. The years that she doesn't causes great consternation as there aren't that many loons left in southeastern Ontario. Loons like to be left alone, so the fact that this momma allows people in canoes and kayaks up close -- often as close as 30 to 40 feet, makes her presence incredibly special.
The lake offered more than swimming. It provided Doug and Kathy and their guests with a range of water sports. There was the canoe and the kayak. Kent's fishing run-about was great for a quick spin around the lake. There was also a windsurfing board -- but I never saw anyone on that and the Pepto Bismol-pink peddle-boat. Kathy's pride and joy. Weather beaten and eventually colour-worn, it provided Kathy with quiet reflective time to decompress from a stressful job she has now retired from.
But the greatest water sport at The Cottage always began when Doug would get a gleam in his eye, rub his hands together, and offer to take children tubing. For the uninitiated, tubing involves tying up a large inflated inner tube behind a speedboat. For the kids on the tube, it was the thrill of flying inches above the water's surface. And for Doug? It was the thrill of how quickly he could knock them off.
You've noticed that I've talked about the front of The Cottage - the part that faces the lake. But not the back when the cars are parked. There's a simple reason for that. The woods. The woods are filled with porcupines, the occasional bear and giant killer blood-crazed deer flies. Not like the common house fly you can knock out with a single swap. But gangs of vicious biting deer flies that have probably left local hospitals scrambling to treat semi-crazed victims covered in big red welts.
The woods also provided many opportunities for the dogs' need to get up close and personal with yet another porcupine. Doug and Kathy's free-ranging dogs have had more than one painful trip to the vet to remove many, many quills buried in their bodies and snouts.
The Cottage was a place of many community events for Doug and Kathy. Foremost for them was the weekly Friday Night Cruise around the Lake. Bolstered with refreshments they would join a small flotilla of boats cruising slowly around to wave hello and share a few words with others camped out on their decks.
Every summer there was a corn roast for the entire lake to bring everyone together. It also acted as an informal annual meeting for the cottage owners, the one time everyone on the lake would meet up and also taste the early local corn harvest. Corn, by the way, has been an important staple for rural eastern Ontario for as long as I can remember. The annual crop was greeted by everyone asking each other if they had their first feed of corn.
Thanksgiving was often the cottage-closing family gathering. The kitchen table, salvaged from the family farm many years ago, would be pulled out from the wall so at least 3 more people could be crammed in. No one ever did the calculations on how much extra room was needed for those dinner guests to squeeze out after the meal. Rumour has it, that over the years, at least two of them had to cool their heels after being stuck there due to excessive holiday eating.
Many New Year's Eve celebrations also happened there. The Cottage was a three-season place, so in winter there was no running water and it sure took a long time to warm it up. But New Year's Eve was a highlight of the social season. Bonfires on the shore, ice fishing and maybe a hot rum toddy, or three.
In recent years The Cottage has also become a place where Doug and Kathy have been able to spend time with their three grandchildren, Leah, Maryn and most recently Karson. It gave them a chance to bond by introducing them to swimming, peddle boating and more.
Friends, I've just touched on a few of the ways The Cottage has had a positive and lasting effect on Doug and Kathy. The Cottage has been a life changer for Doug, Kathy and their family and friends. It was a gathering point to enjoy each other's company in the beauty of the Canadian Shield. The Cottage may have passed on to others, but it lives on in many of our memories.
I hope that you will stick around and share a few of your own. Maybe it will stir some memories of your own important places. Thank you.