Dating Thin
Terrifying or Terrific?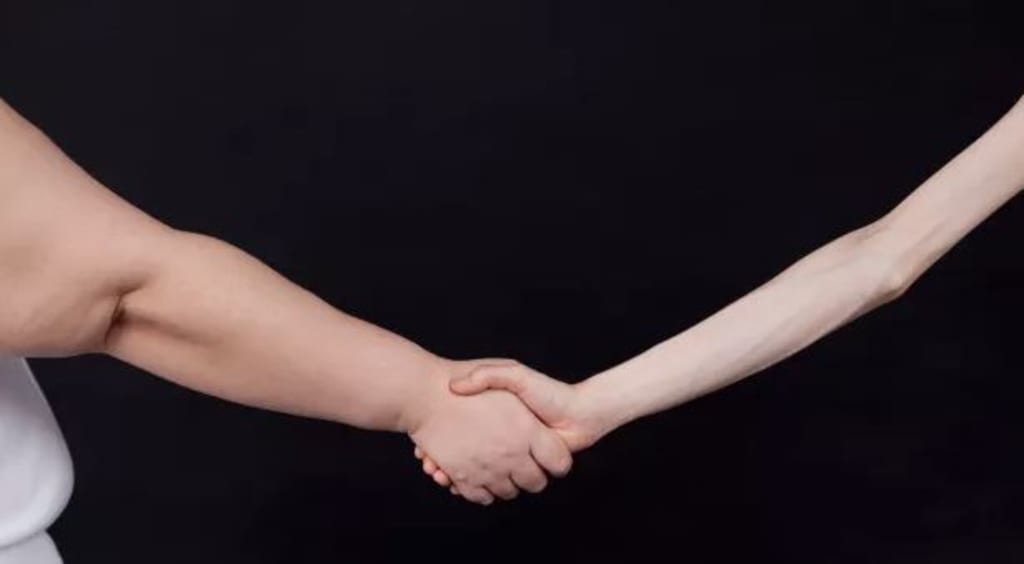 I've always been a big girl. It's not a sad reality, it's simply a reality, and I don't mind. I've gotten to be happy with my body. No matter what I look like, there's always going to be someone in this world who takes interest in me. And even if no one does, oh well. Life goes on.
One thing I noticed when I started dating was how many people were saying they only liked curvy girls or BBWs. I was talking to people who wanted to talk to me only because of my physical appearance. The only thing they found attractive about me was my body. I was thinking people would never find my body attractive, but there are people who simply want big girls.
I've got lumps and bumps and cellulite. Pudge and rolls and curves. My body tells quite the story after only 21 years and I love it. I'm appreciative to be alive and to have this beautiful body that I live in. I'm appreciative that other people find me beautiful, too. Growing up, I didn't hear it often enough how beautiful I am. I don't think anyone can hear it often enough.
It's awesome to have a partner who loves me AND my body. In fact, that's an understatement. I wish I could go back in time and tell 10-year-old me that I am lovable. That someone will want to kiss me and hold me at night. That it genuinely does get better and boys are the absolute worst. That I don't need to fret because love will come.
I've been in many, many relationships throughout my life. Most of those relationships have been with people who are thinner than I am. I do not have a specific body type that I am attracted to, it's just the way my hand has been dealt.
Dating people who are thinner than I am scares me. It always has. They say my size doesn't matter, but that doesn't stop me from being self conscious. I worry about crushing my partner during sex. Stretching out their clothes if I borrow a sweatshirt when it's cold. Taking up more room in the bed than they do. Noticing that my tummy and my thighs are bigger than theirs. Little, every day things that I shouldn't have to question or worry about when I'm in love.
It's been engrained in me that I am unworthy of love. That I should be with someone my own size, because you need to date in your own league. That someone who is thin could never love a beast like myself. So when I end up with people who are thinner than I am, it's confusing. It's terrifying. I almost don't know how to handle it, because I worry that it's just a colossal joke.
But if you take a look at couples all throughout the world, you'll notice that no two couples are the same. Some are the same size. One is tall, one is short. One is lean, one is portly. One is black, one is white. People vary so much, which means relationships vary just as much. There is no ideal look for a couple. Not even a standard look.
So why do I get scared about my appearance and what my partner will think of me? Why do I worry about how society will view my partner and I when they glance over at us?
The thin people agenda is very present in the world, and it looms over us all. We're surrounded by thin models, celebrities, sales associates, teachers, everyone in our sight seems to be thin. It's still a shame to be fat. I'm healthy and happy, but I'm told I'm wrong. I shouldn't be happy. There's no way I can be with how big I am.
I say it doesn't matter. Body, appearance, size, all of that. But that doesn't stop me from being internally terrified. I wish it weren't like this, and I wish I knew how to fix it. This is a time when there's a problem with the system, which trickles down to the people. People get a little too righteous and judgmental, all because of weight. All because of a number that honestly tells us nothing. We all deserve to be happy, but our size stops us sometimes, because other people don't like our size.
It's scary to date thin. No matter how big I am, I'm always scared to date thin. Thankfully, the love I get in return becomes worth it. The fear, the anxiety, the things I worry about kind of go away when that thin person loves me. They don't care about how big I am, so why should I? We've only got so much time, so who cares if I stretch out a sweatshirt or need a little more space in bed?