Crafting Hope
with creativity, care, and some cardboard and scissors.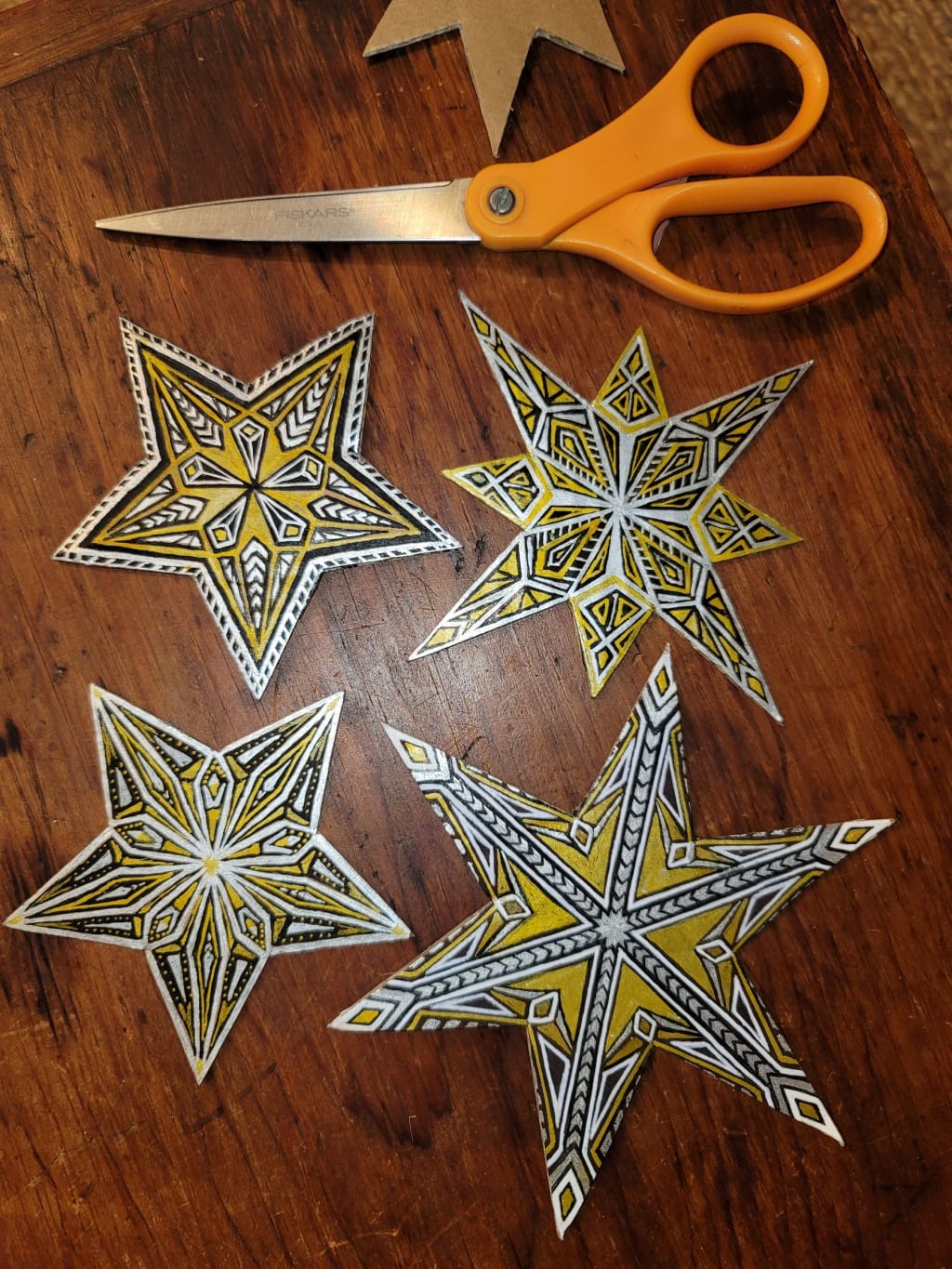 Hope Stars
Only three weeks after my return to work, following a lengthy medical leave for breast cancer treatment, the COVID pandemic shutdown sent me home again to ride out another crisis, waiting and hoping for the best. I was just bouncing back after a difficult year in survival mode. My husband died six years prior and my sons were serving in the military far from home, so I relied on the compassionate and loving presence of my friends, extended family, and colleagues, as I fought to endure chemo and recover from surgery. Their incredible support got me through the cancer ordeal. COVID ushered in a new round of uncertainty and fears with a health crisis on a global scale. As it continued with no end in sight, my eldest son convinced me to ride out the ongoing pandemic with him. Moving to his home took me far from mine and, with unexpected deployments, I ended up alone more than I anticipated. I decided to channel my creative energies in my time alone to make symbolic and uplifting holiday gifts for those I missed back home. With limited supplies at my son's house, I had to be resourceful. The accumulated cardboard boxes from pandemic deliveries provided raw material with potential. All I needed was my sharp Frisker Scissors, some paint pens, and markers. I cut out various five- and six-point stars and spent my evenings creating intricate patterned designs on each star, while I thought with hope for those I loved and cared about…and the world in the face of the pandemic. I found peace in the meditative and mindful task, and like all creative endeavors, it generated my own sense of hope, the very thing I wished to offer with my gifts. On the back, I wrote the word, "HOPE" in silver to stand out against the cardboard brown. It brought me comfort and joy to create the Hope stars, and I was excited to tuck them in the envelopes with my holiday cards, knowing they would bring a smile and sense of connection when opened.
As I cut and crafted, I was inspired with another idea for my colleagues. I work for Mt. Hope Family Center, an agency that provides mental health treatment and support to children and families coping with trauma and grief. When the pandemic hit and we were sent home to shelter in place, our team of clinicians worked quickly to adapt to working remotely from home. We learned to provide telehealth sessions and figured out how to address other needs we knew our clients would face. The pandemic added new stressors and challenges to our already difficult work. We rely on each other for support and did our best to remain connected throughout the pandemic. As the holiday season arrived, spirits were low, and we were sad the pandemic would keep us from gathering for our annual gift-swap party. The stars gave me the idea for keeping the tradition with an online alternative. We could send handmade stars by mail to be opened during an online celebration, bringing all of us together to share some holiday spirit. I figured everyone had scissors and cardboard (the only essential material other than a stamp and an envelope), and the effort would require no shopping or trips to the post office during this extra stressful holiday season. The blank star would be a blank slate to decorate on one side, however one wanted, with whatever they had available - be it art supplies or simply pen or crayons. I told my colleagues "anything goes" regarding the other materials and the design. The only other requirement was to add an inspirational quote of HOPE on the other side. Everyone was randomly assigned a person for whom to create and mail a star by a certain date. I hoped the happy task of creating a gift would gift my colleagues with the sense of peace and hope I experienced. We all gathered on Zoom and took turns pulling our stars from envelopes and showing off our colleagues' creativity and ingenuity, as people used what they had on hand, be it duct tape, nail polish or even wallpaper scraps. Each were thoughtfully personalized to the recipient and the quotes that were selected and recited uplifted our spirits. People spoke of the happiness they experienced while decorating the stars, grasping how even the simplest creative effort gave them a much need boost. The social distancing mandates did not keep us apart. The celebration brought us together and highlighted our agency's resilient camaraderie. Smiles abounded, filling our screens and spirits with the joy of our preserved tradition made even more meaningful and special in the trying times of the pandemic…made possible by creativity, care, and some cardboard and scissors.
By Lori Moore Newland