Book Review: Valen and the Beasts by G.J. Kemp
A Juno and the Lady Novella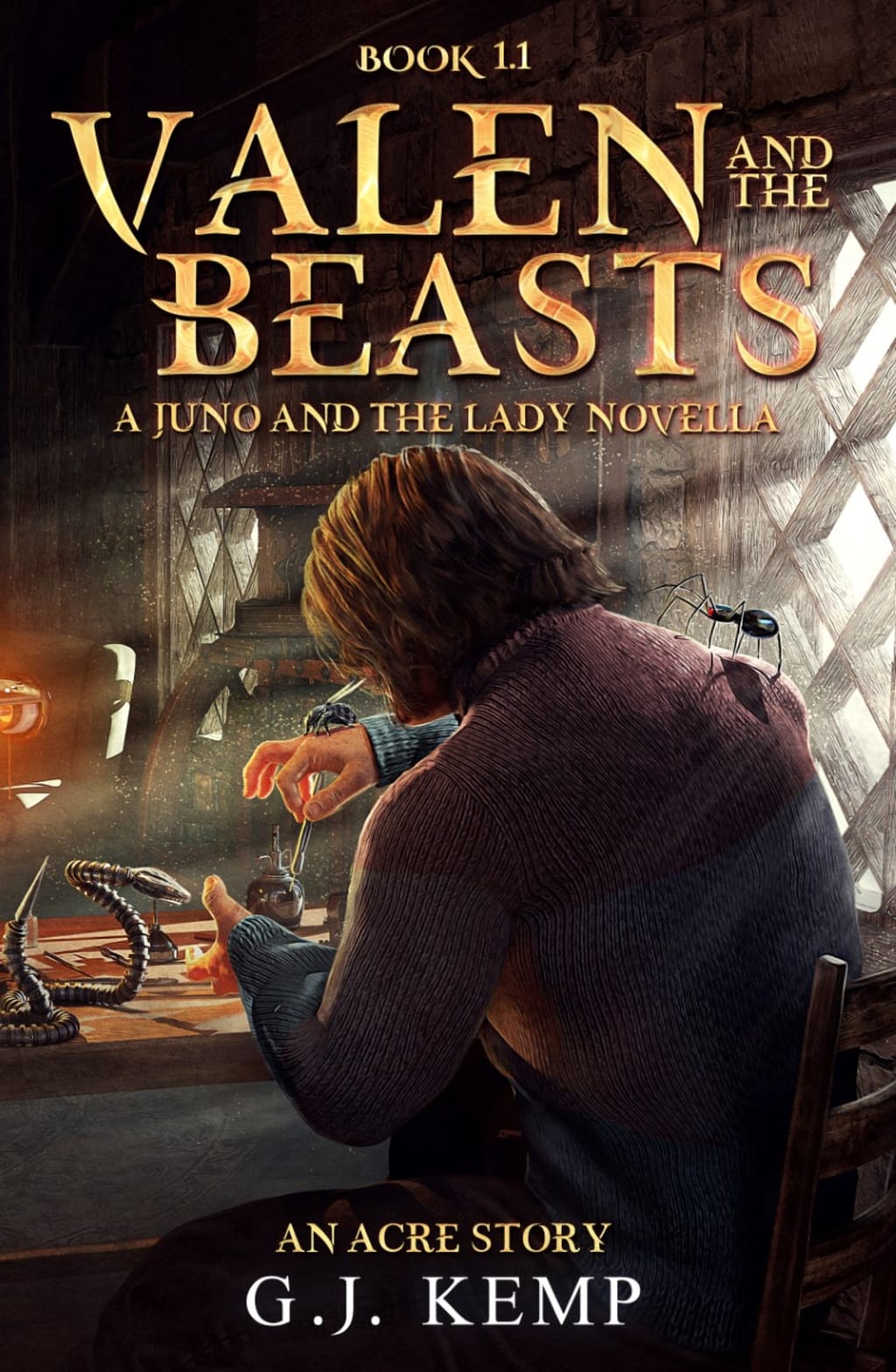 Valen plucked the glass box off the shelf and gently placed it on his desk. Inside, a set of handcrafted metal circles linked to form the body of his new beast. He closed his eyes and dreamed of the Fairacre residents buying his latest creations.

A commotion outside Valen's shop brings him back to the present. The Captain has caught the leader of the sewer rats and is parading her in front of Fairacre residents. Her fate will be determined by the townsfolk's demands.

Valen steps in to defend the leader.

A story of discovery, hope and courage, Valen and the Beasts is a journey of an outsider risking everything to stand up for the people he loves. Will Valen save the leader of the sewer rats? Will he show everyone his secret? Or will he buckle under the pressures of the old conventions?
GENRE: Young Adult Fantasy Adventure (age 11-18 years)
PURCHASE LINKS: Amazon | Barnes & Noble
ABOUT THE AUTHOR: A nomad at heart, GJ Kemp has lived in nine countries across Africa, Europe and the Middle East. His career has included working as a Divemaster in The Red Sea, a zookeeper in Israel, and a proofreader in Sweden.
Born with cerebral palsy, GJ has spent a lifetime trying to tie his shoelaces while standing up in the hope of not falling over. It is a constant challenge, but sometimes he occasionally succeeds.
Finding the love for writing later in life, GJ spends most of his free time going for walks and dreaming of story ideas. He hopes to one day have a small place on the oceanfront where he can walk his dogs on the beach.
Review & Recommended Listening
Valen and the Beasts is a novella in The Acre Series, which is currently comprised of two novels: Juno and the Lady, and Miles and the Soldier, released just last June 14th. Valen ties up to book 1, and is marked as such. Having recently read a novella for another fantasy book, however, I decided to do a little experiment and read Valen first, though I likewise have the first book on hand, along with a couple of cute bookmarks for both books. (Thank you, GJ!)
Valen works perfectly well as a standalone. It's short enough to be read in one sitting, but it already introduces many elements of the world, from the customs and politics of Fairacre, to our hero's special abilities. Valen, the titular character, is a big guy with a big heart for small creatures, crafted animals and sewer rats alike. I can definitely see why he earned his own novella. The beasts are his friends - a bee, a spider and a snake - though they aren't what you might be thinking!
It's a fast read, suitable for ages 11-18, and has a lot less flowery or complex prose compared to books on the "upper YA" spectrum. But it's action-packed and fun, even though Valen spends a bit of time in a place where he has nothing much to do, and relationships are formed notwithstanding the brevity of the material.
My Rating: ⭐️⭐️⭐️⭐️
Recommended Listening: As I mentioned in my open call for books to review, I'll now be adding a song to my reviews! It'll be one that either sums up the book for me, what I'd imagine in a trailer were it a movie, something that I associate with the story or one of the characters for whatever reason… or maybe even an original inspired by it 😉
You've got a friend in me

You've got a friend in me

You got troubles, I've got 'em too

There isn't anything I wouldn't do for you

We stick together and see it through

'Cause you've got a friend in me

You've got a friend in me
About the Creator
Filipino author, singer-songwriter and theatre actress. Loves writing fantasy short stories, composing songs for books, and reading SFF and YA. Also writes romance, horror and scifi. Married and based in the UK. www.mariesinadjan.com
Reader insights
Be the first to share your insights about this piece.
Add your insights