Book Review: Northern Wrath by Thilde Kold Holdt
A solid opening to The Hanged God trilogy, a Norse epic fantasy.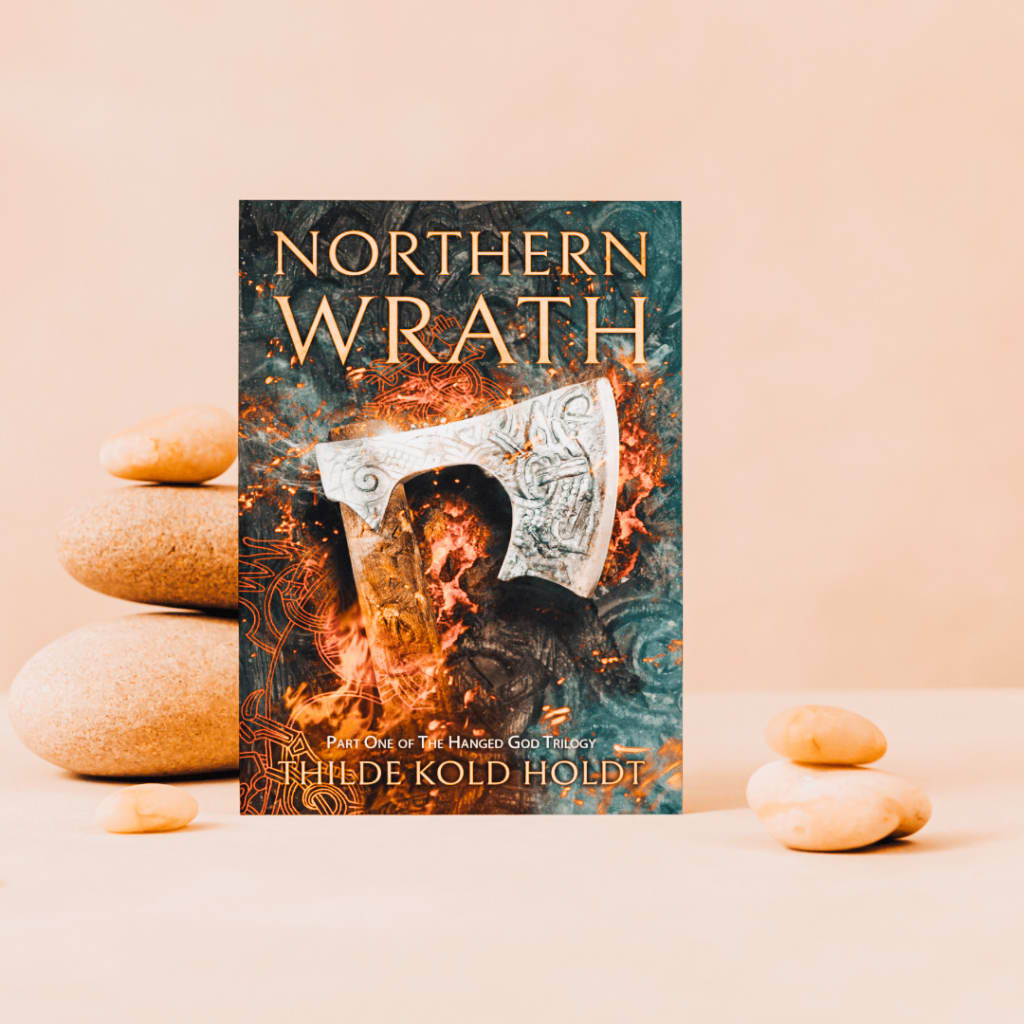 Following in the steps of Neil Gaiman & Joanne Harris, the author expertly weaves Norse myths and compelling characters into this fierce, magical epic fantasy.

A dead man, walking between the worlds, foresees the end of the gods.

A survivor searching for a weapon releases a demon from fiery Muspelheim.

A village is slaughtered by Christians, and revenge must be taken.

The bonds between the gods and Midgard are weakening. It is up to Hilda, Ragnar, their tribesmen Einer and Finn, the chief's wife Siv and Tyra, her adopted daughter, to fight to save the old ways from dying out, and to save their gods in the process.
GENRE: Norse Epic Fantasy
PURCHASE LINKS: Amazon
ABOUT THE AUTHOR: Thilde Kold Holdt is a Viking, traveller and a polygot fluent in Danish, French, English and Korean. As a writer, she is an avid researcher. This is how she first came to row for hours upon hours on a Viking warship. She loved the experience so much that she has sailed with the Viking ship the Sea Stallion ever since. Born in Denmark, Thilde has lived in many places and countries, taking a bit of each culture with her, and is currently based in Southern France where she writes full-time. www.thildekoldholdt.com
Review & Recommended Listening
I was a teen when I was first introduced to Norse mythology and I was simply fascinated by it; it's dark and outrageous and went to places Greek and Roman mythologies did not dare to go. Since then I've consumed plenty of Norse-related media, and I even co-wrote a novel, but it's hardly as well-written and well-researched as Thilde Kold Holdt's The Hanged God trilogy.
I'm halfway through the series as I write this review, and even at this point I can say the trilogy can almost be taken as historical fiction. It's that grounded and well-researched. The characters, in a way, feel like actual people of history, their lives and adventures a study of and glimpse into Viking culture and how it's been affected by the spread of Christianity. The uninitiated can learn so much if they give the book a chance, and those into Norse mythology (like me) will certainly find something to appreciate.
Of course, there's a fantastical side to the trilogy, which I thoroughly enjoyed. Northern Wrath is a solid opening, and it's more impressive if you take into account that this is Thilde's debut. It's an action-packed adventure with an intricate but exciting storyline, a lush cosmos, and so many interesting characters. The uninitiated will see worlds come alive before their eyes and find themselves fascinated by the rich details; those already into Norse mythology will be delighted by the surprises and twists that await them. (If you think you know how Ragnarok goes, think again.)
The story unfolds through multiple POVs — and I don't mean just three or four per the usual these days. That might be daunting for some, but I actually enjoyed getting to know all the characters, and the different perspectives weaved the story together in a way that kept it moving forward despite the complexity of the various plots.
The book is also long, which might also be daunting for some, but it's fast-paced with an easily digestible prose. There are Norse words used every now and then, but their meanings are easily deduced. The cultural and mythological elements are also skillfully weaved into the events, so there are no long and boring backstory and/or worldbuilding dumps, and there's no need to constantly open Wikipedia or do a Google search in order to proceed. Knowledge of Norse mythology will, of course, result in deeper understanding and better appreciation, but it is not required to enjoy the tale.
Plenty scenes get violent and gory, and there's a lot of talk about and focus on war and a life of war... but this is Norse mythology, this is a Viking story. The end of the world(s) too bleak for you? Alas, that's a recurring theme in this corner of the cosmos, and there'll be more of it in the next two books — which I can't wait to finish reading!
My Rating: ⭐️⭐️⭐️⭐️⭐️
Recommended Listening: As I mentioned in my open call for books to review, I'll now be adding a song to my reviews! It'll be one that either sums up the book for me, what I'd imagine in a trailer were it a movie, something that I associate with the story or one of the characters for whatever reason… or maybe even an original inspired by it 😉
I thought this song was fitting for the people of Ash-hill. It's in Danish and Old Icelandic, but I found an English translation of the lyrics, which goes:
We are Vikings, from the north, we are sailing from.

From coast to foreign land, we are fighting every man.

Æsir give us courage, to Valhal after death.

In the dark soil, we cheer joyfully.

That said my mother,

that I should buy

fley and beautiful years,

go away with vikings,

stand up in the letter,

steer animals knierri,

keep going to the harbor

chop man and another,

chop a man and another.

It knocks a big steel head

pimple on the way evenly

out with a little girl

anderr jotunn vandar,

a cool selling

they swear their names

Gestils swallowed with gusts

gandr or steel fire brandi.
About the Creator
Filipino author, singer-songwriter and theatre actress. Loves writing fantasy short stories, composing songs for books, and reading SFF and YA. Also writes romance, horror and scifi. Married and based in the UK. www.mariesinadjan.com
Reader insights
Be the first to share your insights about this piece.
Add your insights