Beck and call… the police… on Joe
Why do people prefer a male serial killer, to a female with flaws?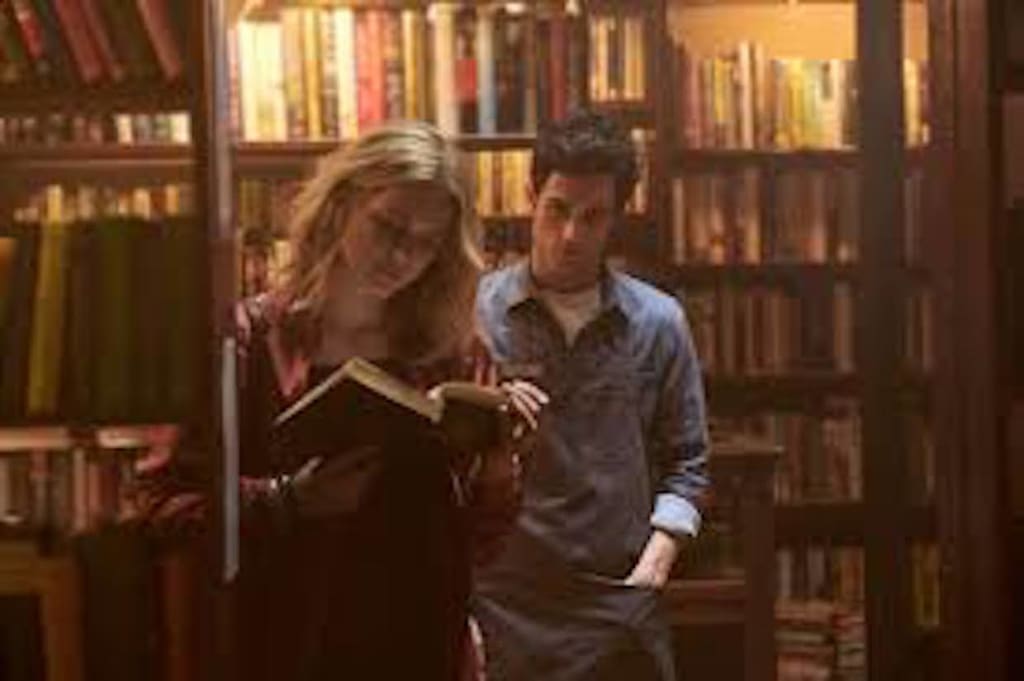 What is white knight syndrome? It is misogyny hiding in plan sight as chivalry. The idea that a male person is more adept at life and therefore needs to "save" women. In his previous role on Gossip Girl, Penn Badgley played a "sweet" stalker/writer named Dan Humphrey. And a lot of people are comparing his new character Joe, to Dan. Which is understandable. These guys do have some things in common. However, as far as we know, Dan never killed anyone. Or, you know, pleasured himself out on the sidewalk. But everyone is talking about these things, comparing Joe and Dan, and the conflict of Joe being a nice guy who happens to stalk and kill people. But is he really that nice? Even when he's being nice? When I first finished the series, I was still reeling from the natural high of emotions that I had been dragged through. Now that I have had time to reflect, I've realized a few things. Red flags and little moments that tugged this gnawing part of me during viewing. A part of me that knew, even if I hadn't known what Joe was doing behind Beck's back, something was off with this guy. And it was partly Penn's incredible acting, the sense of danger and instability in Joe's face. But it was also the way he described himself, the way he saw himself and the way he saw women.
I see a lot of people saying they don't really like Beck, she lied about her dad, she pretended to be a party girl and she cheated with a married man. Joe wasn't pushed away by these things, but he did try to "fix" them. When he first met her, he felt something, she was intelligent and could keep up with his wit and sarcasm. But when he started looking at her online life, the criticism started. She was too shallow, her friends weren't smart enough, they were too rich, too fun, too slutty and too basic. That assessment came after creeping her online profiles and listening in on one girls' night dinner. This man thought that he could know these real human beings that well after never really taking the time to get to know them. Every interaction we see between Joe and a female, we hear his criticism, even ones that liked him and didn't try to steal Beck away. When they had their "bachelor" viewing party, Joe comments "Sometimes I feel like I'm the only real feminist" and that struck a wrong chord with me. This is what typical "nice guys" do, they call themselves allies, and "support" women but what they really mean is that they think they need to save women. Beck needed to be "saved" from these girls, especially Peach, who took the brunt of his criticism and the rock that he found in the park. Anyway, Beck is good "enough" but she's not "good" enough. What I mean is, he approved of her enough to try to improve her. He thought he was being romantic. Fixing all her problems and getting rid of the toxic people in her life. And he did, I mean as bad as it feels to say it and as terrible as his methods were, they worked. Her life did improve with him manipulating every shadow of it. Which made it that much harder for her to see how terrible he really was. At the end when she is writing her story, we see that she felt responsible in part but it's really the patriarchy that is to blame. She always wanted to be saved like this, she was told over and over that she was supposed to. That to make her life good, all she needed was a good man, a prince to kiss her awake.
But she knows this is wrong that she's been lied to. Not just by Joe, but by society. Society made Joe possible, it not only impowered him into thinking the way he does about women. But it also made it easier for Beck to ignore all the red flags. It is a bleak story because it shows that there aren't really good men. We have men like Benji who use women and objectify them blatantly, the players. And that enables people like Joe to look like saints by just acting like a basic decent human being. All he did was not cheat and not hit her. The bare minimum kindness of Joe is seen as something very rare by Beck and her friends. And quite frankly, the viewers. We overlook him stalking her online and in person and him killing Benji. But then we see a scene of him making Beck pancakes and supporting her career, and all is forgotten. Beck even knows he stalked her in order to find her at the festival she went to with her Dad. It was barely mentioned and possibly even considered romantic. When did just not being a horrible person become so rare in relationships that people are willing to put up with just a little bit, then a little bit more? And fans, people I can't even begin to understand, like Joe more than Beck. Even people who aren't normally sexist. Maybe they can't quite put their finger on it but I'm going to spell it out. Beck cheated on her boyfriend, that is the worst thing she did in the entire show. Joe, stalked a stranger, jacked off in public, kidnapped and murdered a man he barely knew, manipulated a woman into loving him, killed her best friend (twice, kinda) and then Beck. Also, Karen Minty, a fan favorite. I wasn't into that plot point because she was just sort of boring to watch, but she did nothing wrong. But Joe while with her was almost just doing it to have someone. To him, she wasn't really a person either. He didn't care about her needs or wants, he spent the whole-time stalking Beck online.
But fans seem to mostly like Joe better than Beck. Why? Why is it that a cute, charming white man can literally be a serial killer (in fiction, and sometimes irl) and people still love him? But a female has to be completely flawless in every way and do nothing wrong at any time (like Karen) for fans to even tolerate her? This isn't the first time I've seen this happen with media either (PLL: Ezra and Alison). And another thing I don't approve of is people not seeing how Peach was totally toxic. Yes, she was entertaining and beautiful, but her behavior was terrible. I don't believe she would have murdered Beck, but she manipulated her and stalked her and tried to sleep with her while Beck was on drugs. We have been taught that we can only like women who are completely reliant on men and perfect. OR if there is a strong woman, she has to be gorgeous and entertaining and mean. She's there as a prop, a trope if you will. She can never be too real. She can have flaws, but they have to be cute and endearing flaws, or she has to be loud and sassy. There is no room for Beck in this society. She was a person just trying to live her dream, just trying to be happy, just trying to find real love. Yes, she was trying to fit in with her friends, yes it was hard to tell people about her dad, and yes, she made a mistake and slept with Uncle Jesse (don't tell me you wouldn't). Beck is one of the most relatable and realistic female characters that ever was. She wasn't the most likable or even the most interesting. She wasn't the perfect, strong feminist lead. She wanted a fairy tale, she wanted to be cared for, but she didn't want to be co-dependent. She was just trying to navigate and messed up a few times. And that's why people don't like her, real woman can't exist on television, because real women can't just exist in real life. We have to find something to be that society is comfortable with. And men like Joe can't handle that, they want us to be someone they can mold into what they see as the perfect woman. No matter how chivalrous someone is, it's not okay for them to manipulate you or your life. Even if it makes it better. It's not their place to fix women. Beck didn't need a man to fix her because she was just a human that made mistakes. Like she said, "my life is a mess but it's my mess". That hit me hard because I was caught up in the romance of it all at a couple points as a viewer (everythingship, aww) but she snapped me out of it when she spoke her truth at the end. And I know real relationships, maybe less murderous ones, that are a lot like this and because a man is the most basic level of decent in front of people, he is seen as the best most nice guy ever. Is that really where the bar is guys? Really? We should expect more from men and less from women. That might sound sexist against men but it's not and you'd know that if you were paying attention. Beck is every woman and Joe is every man. No maybe you don't stalk and murder people but the same low standards we have for Joe are the same ones we have for you. Dudes, Joe is YOU.