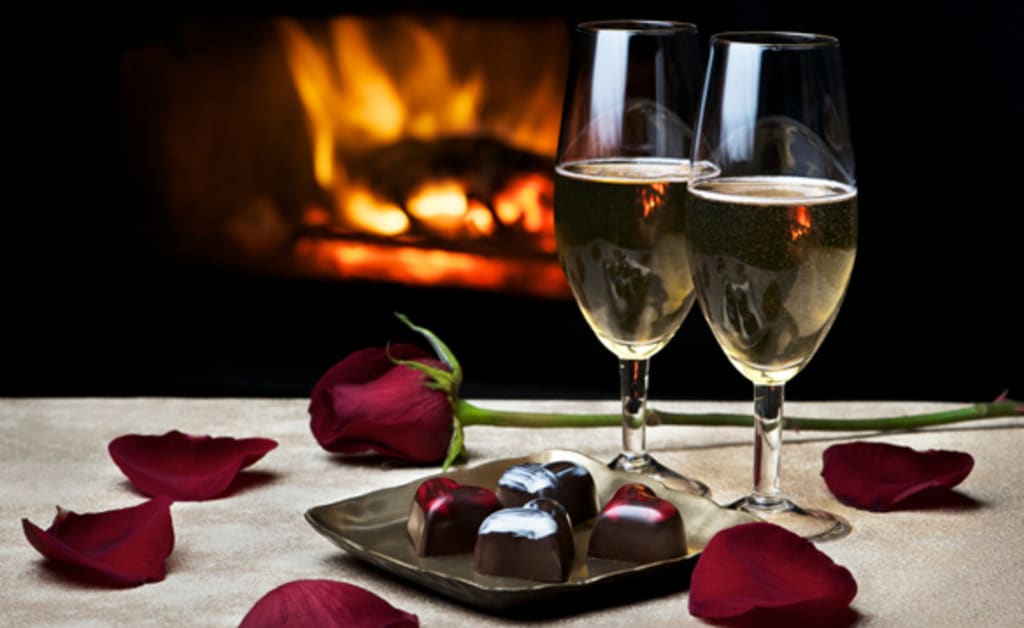 I've never really been on an actual first date except maybe once. However, I can piece together what a bad one would be.
On the way over, I was feeling nervous but assured myself I looked good. I'd gotten ready in time. Everything was perfect.
Once I got there, I went to our reserved table and waited a good fifteen minutes, then checked with the waiter if anyone had shown up. No one had.
Another fifteen minutes later, he hadn't texted about being late or why and walked in dressed like a douchebag. His neckline was off and scooped (not something a man should wear to a formal dinner), he was wearing jeans (I don't care if it was a Red Lobster, he knew it was a date), and sneakers that kind of passed for shoes. He had a goofy smile on his face that normally would've been charming but was rendered mocking because he was late. I couldn't tell if he meant it apologetically and didn't care since he was so late with no explanation.
As he sat down, he mumbled some sort of unintelligible apology. I sighed out my frustration and sat back down. I was at least going to get a meal out of this since he owed me.
His jacket, I figured he only put on to have someplace to put his wallet since it didn't go with the rest of his clothing.
It was navy blue, a blazer really, while his shirt was white and his jeans were pale blue. The slip-on sneakers were black. He'd put no thought into it. Even a douchebag would say it didn't work
His hair was just plain messy. Sexy messy, but still. You don't want to see that without sex first. There was no polish to his look at all. Even a studious actual douchebag look would've been better because it would've been an actual style.
He barely spoke and I was actually glad for it. When he did speak, it was about random stupid things that had happened to him, but with no structure, no conversation flow at all, really.
At this point, I wondered why I hadn't just stayed in and given myself a spa night, ordered in, and vegged out in front of the TV. Ah, the TV, my old friend that hadn't once let me down, as opposed to this winner sitting across from me.
I'd gone through all that early prep work for this. I had planned my preparatory schedule for this.
My revenge was to order the lobster as opposed to something less expensive that I'd originally been planning on. I also ordered pasta for the sole purpose of pigging out on it once I got home since the salad and lobster were enough to fill me up. He certainly wasn't.
He actually got less attractive and more gross as the night went on for all that he was handsome. I'll admit, it had been one of the motivating factors in my decision to date him. He'd been self-effacingly charming in the conversations leading up to the dinner, but once he'd made his faux-pas, that charm left. It didn't help that I hadn't said anything when he apologized. Well, he barely mumbled it. It didn't seem like enough of an apology to warrant a response anyhow.
At one point, when he got up to go to the bathroom, his buttcrack showed over the top of his jeans. The small of his back must not have been very sensitive because he didn't adjust them. Nice night not to be wearing underwear, a first date. I simply laughed to myself, feeling even better that I had at least dressed appropriately, rendering him even less gainly-looking next to me.
The man had the nerve to assume he'd get in the same cab as me at the end of the night, as though the date had gone well! I simply waited for him to get in the first on his own, did a flicking wave, then rode my cab home and treated myself to the spa night and TV I wished I'd enjoyed in the first place. The pasta was delicious.
dating
About the author
I write to give myself an adventure & if it's fun perhaps you will enjoy it too.
This is the link to my journalistic blog: https://www.tumblr.com/blog/franklynews
I only make money if you contribute, so please click the bottom button. Thanks!
Reader insights
Be the first to share your insights about this piece.
Add your insights