Aging and Friendships
My Birthday Essay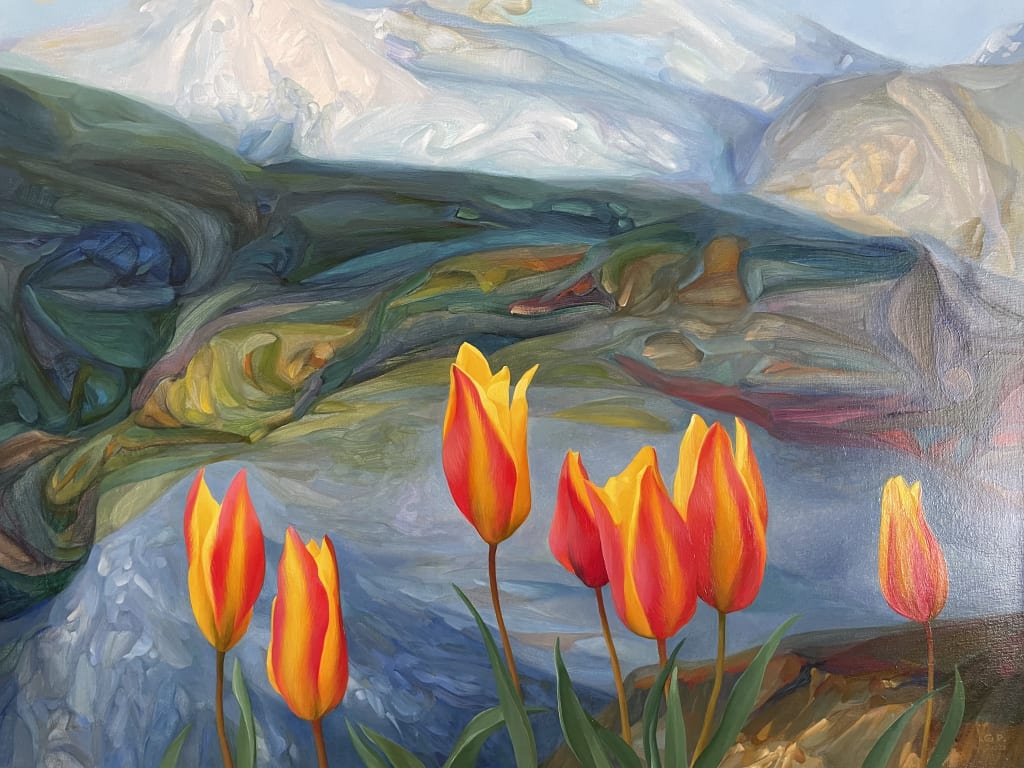 "Mountain Beauty" by Gelena Pavlenko
When I was 7, anyone beyond 17 seemed old. I remember how happy I was to be carried on the shoulder of a 17-yo high school senior, ringing the bell to start my first school year. He seemed so handsome! And so old!
Secondary school was tough, because kids can be unimaginably cruel to each other, but I'm happy to say that my best childhood friend I knew since we both were 3 and I went through thick and thin and are still in each other's lives. Just thousands of miles apart, but always on standby.
When I turned 17, anyone beyond 30 seemed really old and going downhill. I started college then and made more friends with whom we went through the incredible growth and pain of young adulthood. I am still great friends with four, and two of them are like arms and legs without whom I wouldn't feel whole. We had great dreams then, and 30 was such a long horizon! The Soviet cultural norms at the time dictated that a woman would have been long married by 30, with at least two kids. I was hoping to have at least 5. I love kids!
But I went head-on into work and studies. When I was 21, the Soviet Union collapsed, giving us, foreign language university students, unprecedented opportunities to learn and travel. At 24, I got a full scholarship to a Master's at the Central European University. Made more great friends there, many from other countries: Hungary, Ukraine, Lithuania, Serbia, Croatia, Czeckia, Russia and the US. With some we are still very close, with others just check in on each other from time to time. The bond is still there, but time and distance make it challenging to keep up with each other, especially as some of them became parliament members, ambassadors and university presidents in their countries.
When I turned 25, I started my second Master's abroad at Kansas State and was nowhere in the vicinity of getting married. Anyone beyond 40 then seemed really old. I was completely shocked to have learned that the first friend I made at KSU, a gorgeous woman from India, was 37. She looked my age and was just as curious and adventurous. Another friend was a US military wife, only several years older and had two young daughters (my mother's unfulfilled dream for me). The third friend, a strikingly beautiful tall woman from Minnesota, was slightly younger and played volleyball, which I did too, when I was young. The fourth was a Kansas native with a big kind heart and a family that almost adopted the two of us, internationals. We all clicked right away and became life-long friends. We are still very tight and keep our bond alive with reunions. And they all still look and stay young.
When I turned 30, I was teaching at AUCA and working like crazy. I made some great friends for life then too, both through teaching and research. With some, we wrote books and academic articles together. With others, managed academic units and graduated 7 classes of students. Many of my AUCA students have achieved a lot more than I did in my life. With quite a few, the teacher-student relationship transformed into a friendship and we are now simply on a first-name basis, no patronymic after my name.
I remember I was celebrating my 30th with my dear college friend and her then-husband who was much older than us. Completely oblivious to his experience, I started to complain that I was getting old and 30 was like a hump Wednesday, from then on you'd just grow old. My friend's husband then told me, "Are you crazy? I'd give anything to be 30 again, that's the best age to be, you are at your peak right now. One day you will realize it, looking back." That day is today, and every day after I turned 47. Oh, how much would I give to be 30 again!
When I turned 32, I had my first and only child. He renewed me and gave me so much energy and motivation that at 34 I moved across the ocean to start a PhD program. I was still young for a doctoral candidate, albeit a little intimidated by our 25-yo PhD students. I made more life-long friends at LSU and a very special would-be clan of seven became what can only compare to a family. I also realized I was in the right place: in academia, you see people of all ages, so no one is really very old if their mind is sharp.
When I turned 38, I graduated and got my first job in the US, at Georgia State University in Atlanta. Too old to start a 401K, so I knew I'd be forever too young to retire without being a burden on my son. That job was hard, and I made only one friend there, my mentor and colleague who left GSU (and a big hole in my heart) before me for a job in Texas. But we are still great friends, for which I'm grateful beyond words.
While settling in Atlanta, I decided my son would be my best investment in life and tortured him with the Russian school and swimming. Made more life-long friends along the way among the Russian school and swim team parents, making up for hardships at work.
When I turned 40, my son came home from school one day, shocked, and told me his best friend's parents were "really old." I knew the boy's parents, they were a couple of years younger than me and had two more older kids. I asked my son how old he thought his friend's parents were and he said, "I don't know, maybe 30." I said, "Ilia, I'm 40. If you think 30 is old, what am I?" He was shocked into silence, did some calculations in his head, and then said, in disbelief, "You had me when you were 32?" I nodded. "You never looked THAT old, mama!" My sweet little son.
When I turned 42, I overheard two of my female students at GSU discussing their third friend who was dating a "much older guy." When one asked exactly how old the guy was, the other rolled her eyes and said, "Don't know, like… 30 maybe?" "Oh, but that's REALLY old," the first one said. I just smiled and remembered myself at that age: Everyone beyond 30 seemed really old.
When I turned 43 and left my job at GSU, I discovered a whole new world of dissident writers, artists and publishers. I plugged myself into that world and made more great friends, some of whom I never met offline. Such is the reality of the new technological world we are living in.
When I turned 46, I moved states for a teaching job at a small liberal arts college in Pennsylvania. My son, who was 16 and starting high school, was kicking and screaming about the move. We had many tearful conversations about him losing his friends and me ruining his life. I promised him to keep our Atlanta house so that he could come back (which he did, for college). It nearly broke my heart then, and no assurances from me that if they are true friends they will be able to stay friends forever were helping. I was giving him my own examples of great friendships I developed throughout my life but when you are 16 and rooted out like that no reassurance would work. His world was falling apart. His 9th grade was a year of misery and begging me to go back to Atlanta. Until, that is, he made his own high school friends with whom he now visits at the first opportunity and travels around the country as a college student.
When I turned 47, I finally became an American citizen. "Finally" because my naturalization was delayed due to an unprecedented influx of applicants who decided to turn their green cards into voting cards for the 2016 election. My great friend, a newspaper journalist, editor and publisher from Indiana I had met while working back at AUCA, drove with his wife all the way from Portland, IN, to cry happy tears with me while I was citing my citizenship oath. I was particularly impressed with a married couple in their 90s who had immigrated from India in 1970s and lived here all that time on green cards. They had to give up their Indian citizenship to become Americans and regretted that they didn't manage to vote because just like in my case, their application processing took longer than expected. I remember watching them holding hands, thinking about how divided America became, and how old they were for this political BS. Old but very happy together.
When I turned 50, I finally registered major irreversible changes in my body. I wrote something about a woman's body after 45 being like a sandcastle: you spend a lot of time, money and effort to fortify it on one side, only to see it collapse on another. My son graduated from high school that year and I realized that many parents of his classmates looked my age or older. So having children in our 30s must have been a thing already among my Gen X, not just the Millenials.
Last year, when I turned 51, I had to console a college friend who was just turning 50. We both reminisced about how when we were young 50 seemed so far away and so unreal for us. Certainly, we'll never get to be THAT old, right? We will stay forever young. I'd love to go back in time and give that young me a knowing smile.
Also, last fall we hired a really young guy to teach in our department, and I overheard a couple of my students saying something like, "Finally, at least someone young!" I don't mind, I was there once, back when I started teaching at AUCA at 27 and felt so great about being close to my students in age. Now, I again made a couple of more friendships with people my age or only slightly older who became my family here.
Some people believe that you cannot make true friends in later stages of life, only acquaintances. Allegedly, all your friends for life come from childhood, adolescence, and college. Definitely not my case. When you have no close relatives in your new country, you build your family from friends. There's just no other way to thrive.
If you are my friend, you will stay my friend for as long as I'm around or as long as you want me in your life. Because I'm a communicator by training, when life's taking you out of my immediate orbit, I will do the work of keeping in touch, checking in with you by phone or on social media and dropping messages in snail mail and sometimes even little gifts of my knitted stuff and home-made jams. I will talk or message with you all night long when your country is on fire of a revolution or war. I may even track you down 20 years after we lost touch (something that happened this week, and I'm thrilled). I will write stories about you, telling the world about your humanity. If you are creative, I will translate and buy the books you write, purchase your art and jewelry pieces and proudly display them on my body and in my home, bragging to everyone about your talents and our friendship. I will also brag about your kids and their achievements. Because my friends here ARE my life.
All that said, my best friend is still my sister, who is 3 years and 3 days younger than me and lives with her daughter (my niece is also my God daughter) and my mother in Russia. We Skype often and I miss them so much my heart aches.
I turned 52 this week. I stopped coloring my hair last year, so now I look my age minus eye wrinkles (thank universe and mom for good genes), but plus above-the-upper-lip wrinkles. I try to smile more because that's when they disappear. I watch my mother age across the ocean (damn this pandemic, I haven't hugged my mom for almost three years), gracefully and with little complaints, and think that she is not really that old and I would love her to stay the way she is now for many more years. I'll catch up with her in three to four decades.
Aging is a moving target, folks. Stay sharp and young at heart.
Happy Birthday to me, 52 going on 53.
About the Creator
Avid reader and occasional writer of satire and dystopia under a pen name of my favorite wild cat.
Reader insights
Be the first to share your insights about this piece.
Add your insights