Online Dating
A New Way to Meet People Online
Raccoon City: Trash Panda Dating & Missed Connections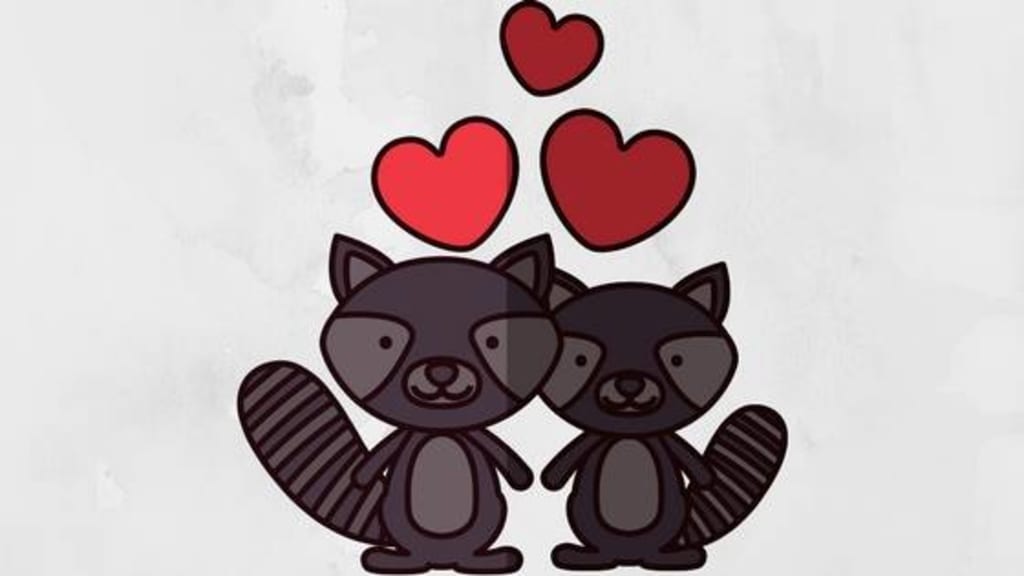 Raccoons In Love
Online dating has been a completely awful experience for me, until I found this group. I have had guys offer me money for sex, ask way too personal questions, and I have had people be just plain mean. If this sounds like the kind of experience you have been having with online dating, then I have some good news... there is a safe place to meet people and it is a group on Facebook. There is one catch however, you have to be from Toronto.
What makes the group such a safe place is the promise from the admins of the group. Here are the rules as stated by the admin...
"GROUP RULES:
1) CONSENT IS NEVER IMPLIED!!
DO NOT EVER ASSUME THAT SOMEONE AGREEING TO MEET UP WITH YOU IMPLIES CONSENT IN ANY WAY, SHAPE OR FORM. THIS APPLIES TO ALL GROUP MEMBERS.
2) To be very clear, consent in Rule 1 applies to every aspect of your communication and meetup with your date. NEVER assume anything about your date or the person you are chatting with.
3) Do not assume that anyone wants to talk to you. If they have not replied to your message, they are not interested. DO NOT CONTINUE TO MESSAGE, POKE, OR OTHERWISE HARASS THEM. If you've shown interest in the comments on their ISO and they haven't reached out, leave them alone.
ANYONE HARASSING, THREATENING, SHOWING AGGRESSION TOWARDS, NAME-CALLING OR DEMONSTRATING ANY OTHER UNACCEPTABLE BEHAVIOR TOWARDS ANY MEMBER AT ANY TIME, VIA COMMENT OR PRIVATE MESSAGE WILL BE BANNED IMMEDIATELY.
4) ANY MEMBER THAT CANNOT BE TRUSTED WILL BE REMOVED.
5) Do not ever assume that any member engaging in conversation with you wants to give you their phone number, call you, meet you or otherwise. If you've asked for their phone number or to go out on a date, and they've said no, that is your final answer! Do not continue to ask them. Rejection will be part of the experience of this group. Expect it!
6) A member agreeing to meet up with you does not mean that they have consented to anything beyond the activities of that planned meetup. If they have agreed to coffee, do NOT expect more than coffee. Member safety is our number one priority.
7) If you are concerned about a member's behaviour, PM the admins immediately. However, please know that the admins cannot take responsibility for who you meet. Similar to other dating forums, admins have not met or interviewed members and cannot know how a member will behave. PLEASE USE DISCRETION AND DATE SAFELY.
8) NEVER meet up with someone in a private space. Please keep first dates to public settings. Member safety is our number one priority but again, we don't know members any better than you do!
9) Understand that NO BACKGROUND CHECKS ON MEMBERS HAVE BEEN COMPLETED. You must be prepared to take responsibility for who you decide to meet up with and where. If a member is harassing you on this page, we will ban them immediately. Beyond that, please involve police immediately and notify admins so that the member can be reported to Facebook and respective authorities, and be removed.
**We will take accusations of sexual assault and rape very seriously. We will also take false accusations of rape very seriously. If any hostility is shown from either party, you will be banned. We will not risk destroying someone's life for the sake of a joke. This is your only warning.
10) All 'in search of' posts must show at least one current photo of you, your relationship status, and what you are looking for (e.g. single, married, in an open relationship, polyamorous, friends with benefits, etc.).
11) All posts must be respectful. TRANSPHOBIA, RACISM, SEXISM, ABLEISM, AND ANY FORM OF DISCRIMINATION WILL NOT BE TOLERATED.
12) No members will be excluded from any thread. You cannot post a question and expect only cis, white males to engage. ALL members are welcome to respectfully engage in all posts.
13) Do not shame anyone for their post. IF YOU'RE NOT INTERESTED, MOVE ON!
14) Please always be honest and upfront, but know that this isn't something admins can enforce. Do not lie to members but also don't assume that they won't be lying because we told them not to."
I personally vouch that this Facebook group is a safe place to chat and try to meet new people. The people involved in Raccoon City are very friendly.
Thank you so much for reading my article, I hope you enjoyed it. If you want to check out more articles like this one, please feel free to look a other ones I have posted on this site.