20 Unique Valentine's Day Gifts That Will Say More Than Roses
Roses, chocolates, perfume... it gets rather repetitive after a while. Stand out this year with a gift that is as different as she is.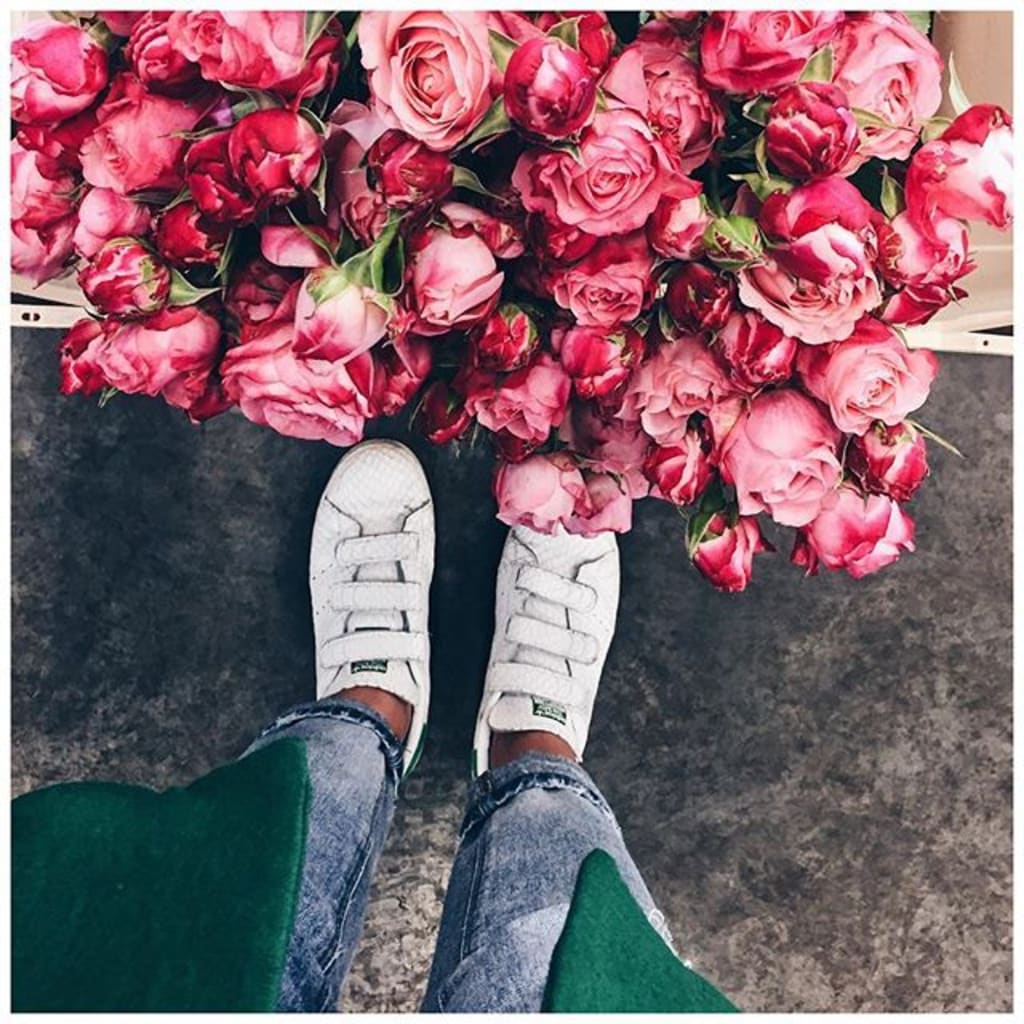 So last year you did a classic: roses and chocolates. The year before that you got her a pretty bottle of her favorite perfume and a nice candlelit dinner. And the year before that was home baked cookies and a box of lingerie. You're running out of ideas and there is only a week left before you're expected to do it all over again... well not to fear, my friend. If you're looking for something a bit more creative and out-of-the-box but still ridiculously romantic, try something from this list. They're sure to bring a bit more personality to your gift-giving this Valentine's Day. Side note: roses and lingerie are absolutely OK a second time around, of course. Get them, because who doesn't love a bunch of pretty flowers and some new underwear?! But at the end of the day, no one knows her like you do, so by adding a bit of personality to your gifts you'll be certain that
she'll brag about you
to all her friends on social media this year.
1. Heart LED Neon Sign
What better way to say "I Love You" to your loved ones than with a bright red heart? The LED home decor thing is a growing trend that compliments any room you decide to display it in. Not to mention this would look great as the back light to your romantic Valentine's Day night in, if you know what I mean. If you are interested in a variety of other LED displays, Urban Outfitters has TONS of different styles that are only available online as well.
Cost:
$72.00
Buy this here:
Urban Outfitters
2. 'Property Of' Personalized Panties/Boxers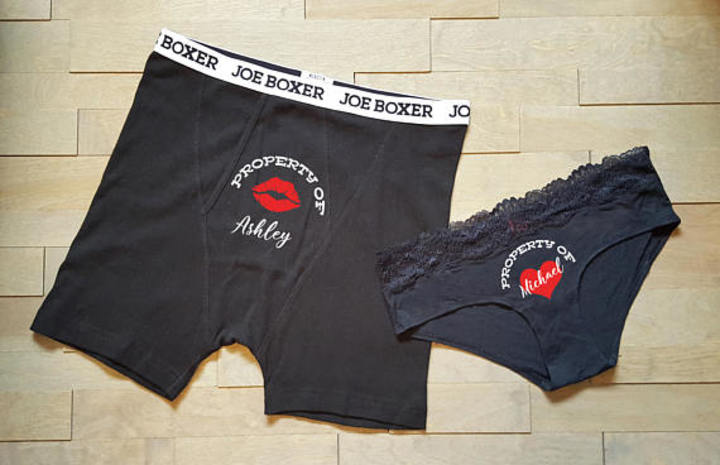 A twist on the classic Valentine's Day lingerie set, these are truly one of a kind! Personalize them with the name of your love, or perhaps your own name and they'll never forget who they belong to again!
Cost:
$42.95
Buy this here:
Etsy
3. Custom Funko Pop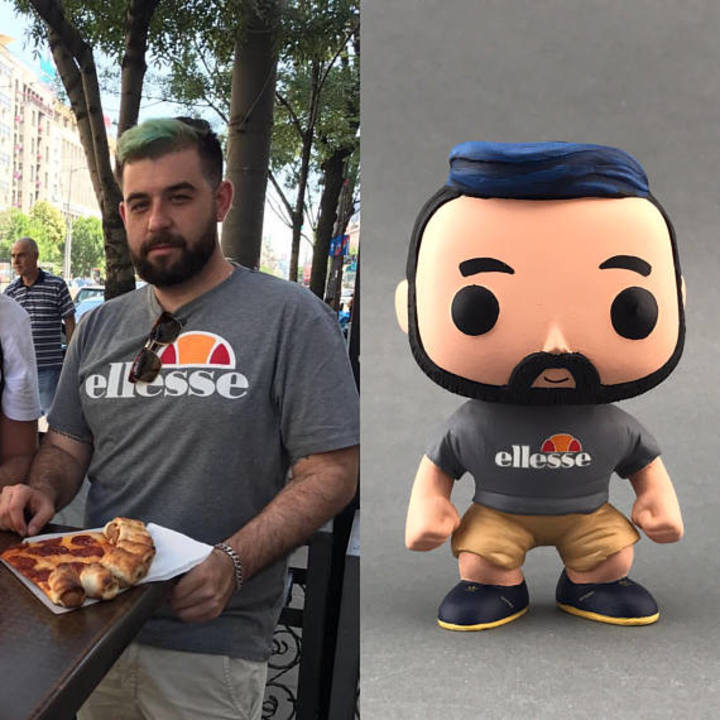 If your SO has always wanted to be a superhero, well, now then can be! Sort of, anyways. Create your significant other in figurine form and always have them available to you (or to them?!) whenever they are beckoned. Cost: $109.85Buy this here:Etsy
4. The Jerky Heart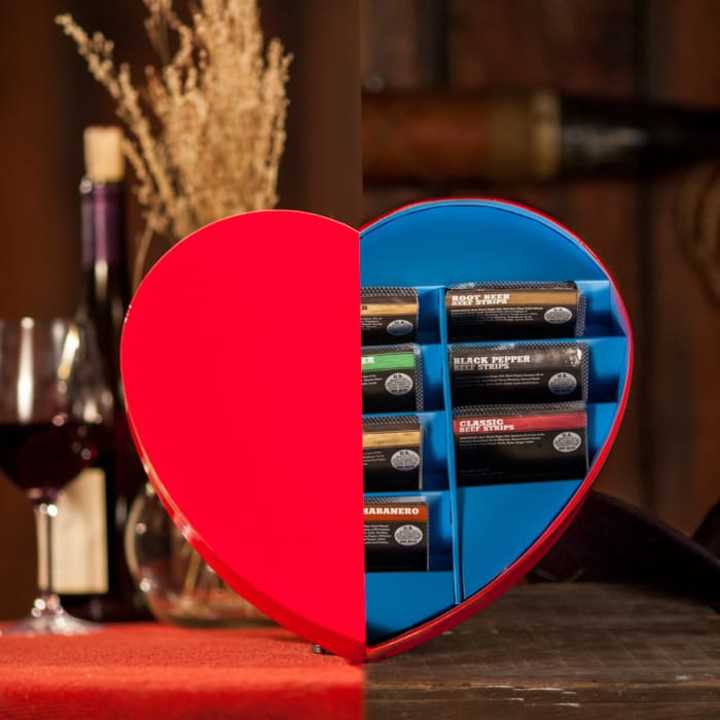 Spring the perfect romantic rouse with a sappy, heart-shaped box suggesting the tiresome chocolates of every year. But upon opening, his humdrum expectations and coarse, emotional exterior will be melted away by a passionate gesture of jerky. Put the "man" back in romance with a total heart-sweller that charms him in his most fluent language: savory, seasoned beef jerky. Yuuum. Definitely recommend checking out their website for other really great man-type gifts!Cost: $29.99Buy this here:Man Crates
5. Leather Lunch Bag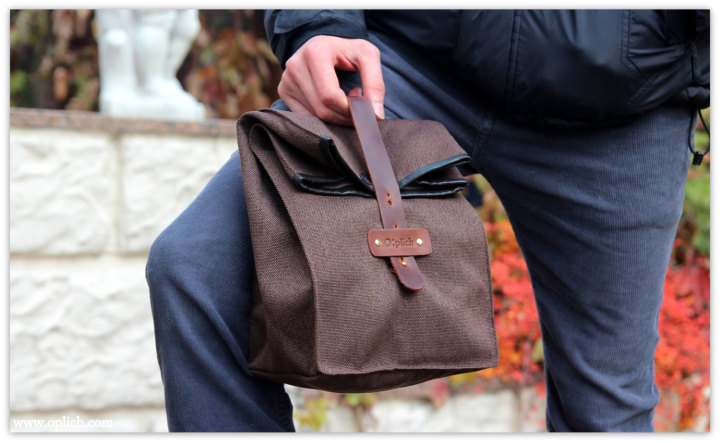 A waterproof lunch bag for your man on the go! Make him a delicious lunch he can't resist in this stylish bag! He'll have his beautifully made lunch and think of you all afternoon. Cost: $56.86Buy this here:Etsy
6. Love Poems Box Set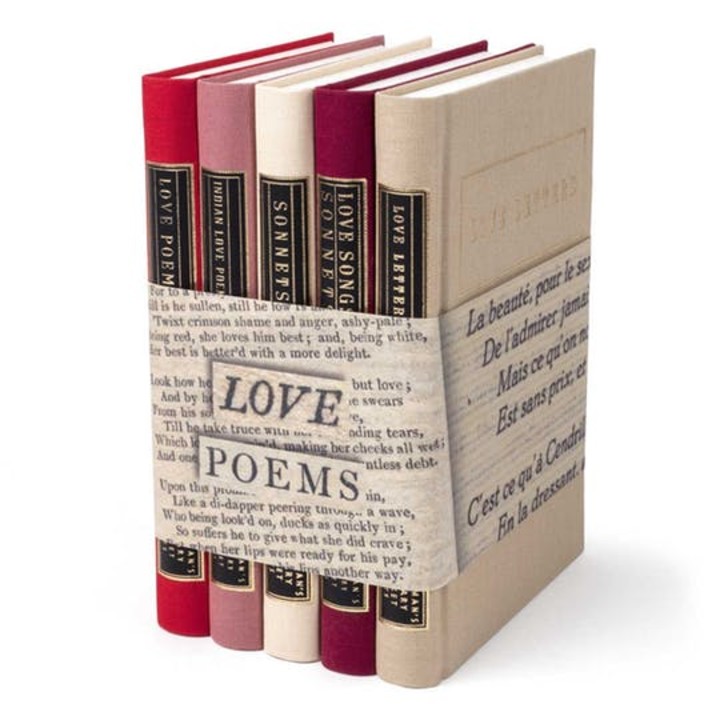 Not a poet, but still want to make her swoon? Try this box set of love poems and letters from the works of John Donne, Christina Rossetti, W.H. Auden, E.E. Cummings, William Shakespeare, W.B. Yeats, and other amorists.
Cost:
$85.00
Buy this here:
Spring
7. Stemmed Wine Glasses - Set of 2, Husband and Wife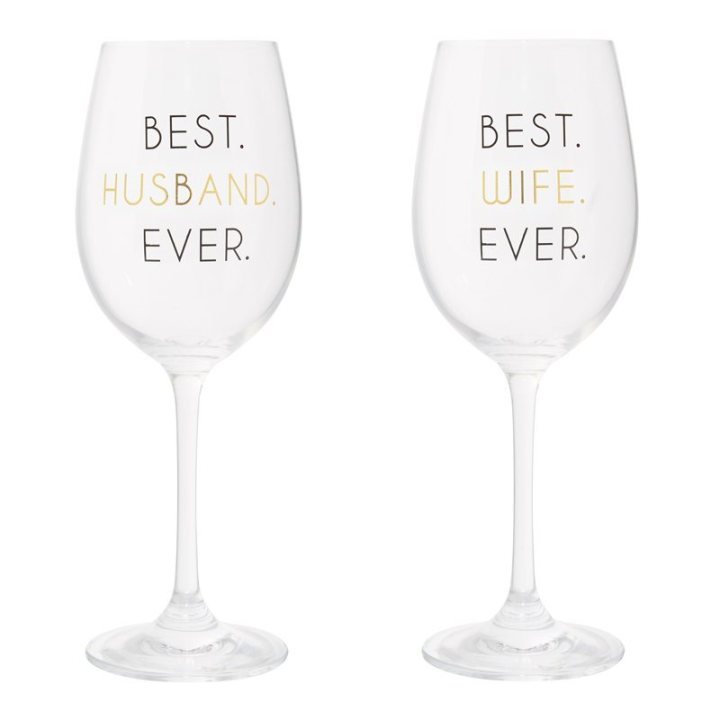 What a better way to have your wine than to reinforce you and your loved one that there is no better pairing than the two of you together? And in case only one of you is a wine drinker, Indigo also has other decorated wine glasses with phrases such as "You're my Person" on them as well. Glasses pair well with Merlot, steak, and mixed veggies. Cost: $29.95Buy this here:Indigo
8. Birchbox Subscription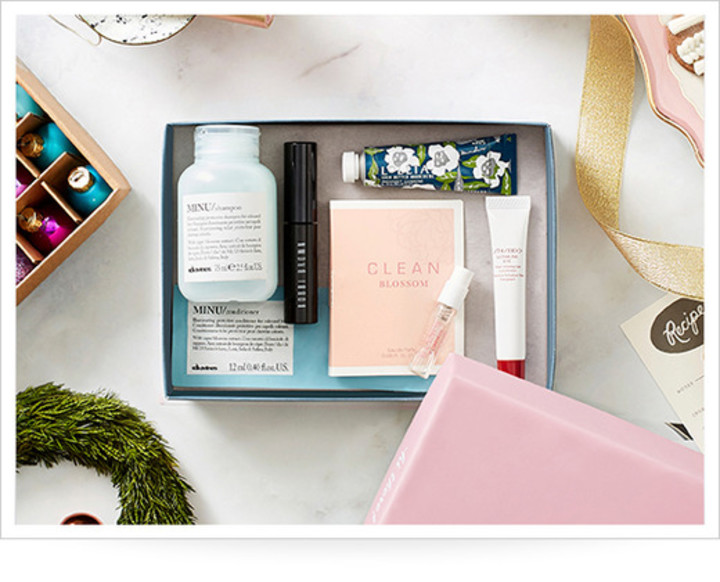 Meet Birchbox: the subscription service that curates a selection of beauty products for her each month that ship straight to her door. Not only will she think of you every time her package arrives, all you have to do on your end is enter her address. Can you imagine: Valentine's Day three times in three months and all you had to do was sit in front of your computer?
Cost:
$30.00 for 3 months (currently 20% off for Valentine's Day!)
Buy this here:
Birchbox
9. Salami Bouquet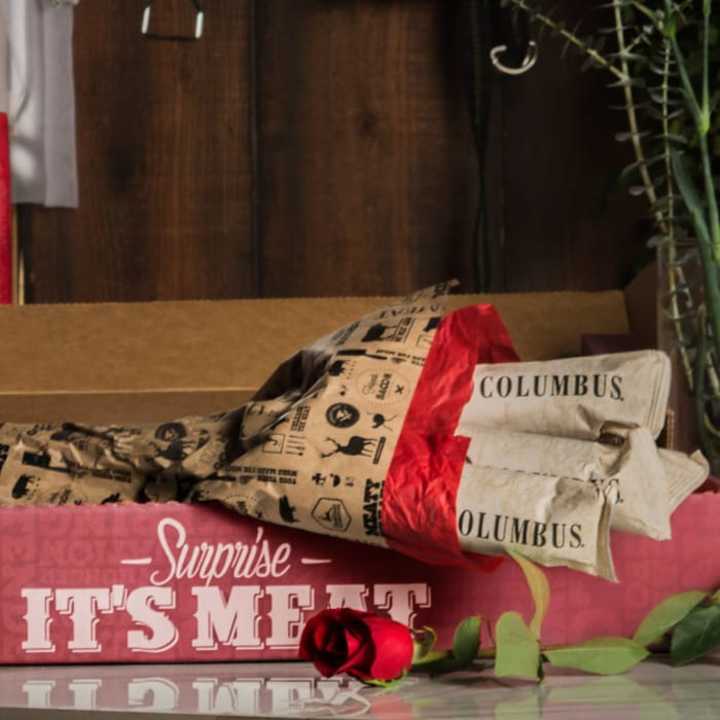 The best man-take on flowers possible! This delightfully delicious treat is great for the man in your life who loves his meat and could use a beautiful bouquet of them. Nothing a smile and a mouthful of meat couldn't fix! Cost: $59.99Buy this here:Man Crates
10. Intersection of Love Photo Print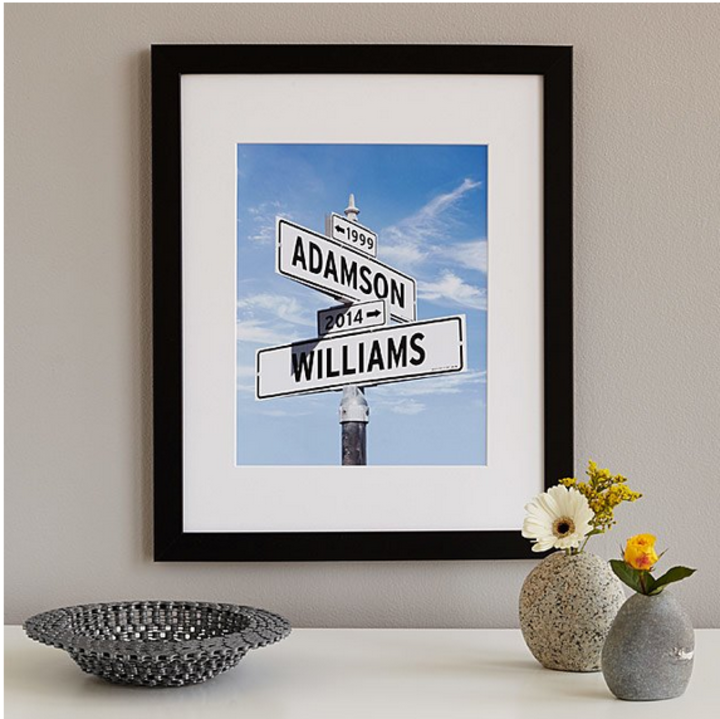 Commemorate a first date spot, or that first time you kissed with this pretty canvas for any crossroads in your life. These canvases come with a variety of frames to follow along with the years in your life as well!
Cost:
$125.00
Buy this here:
Uncommon Goods
11. Tiny Box of Date Nights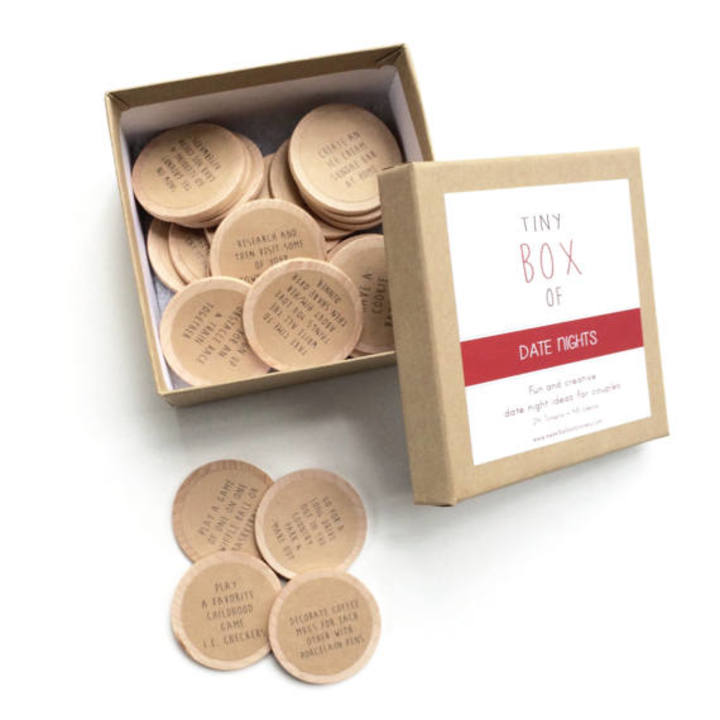 Always running out of ideas of how to spend time with your loved one? Get them this box and you will never wonder again! Each recycled kraft box measures 3.5 by 3.5 inches and comes with 24 solid wood tokens and 48 date ideas.
Cost:
$23.91
Buy this here:
Etsy
12. Hello Book Lover Subscription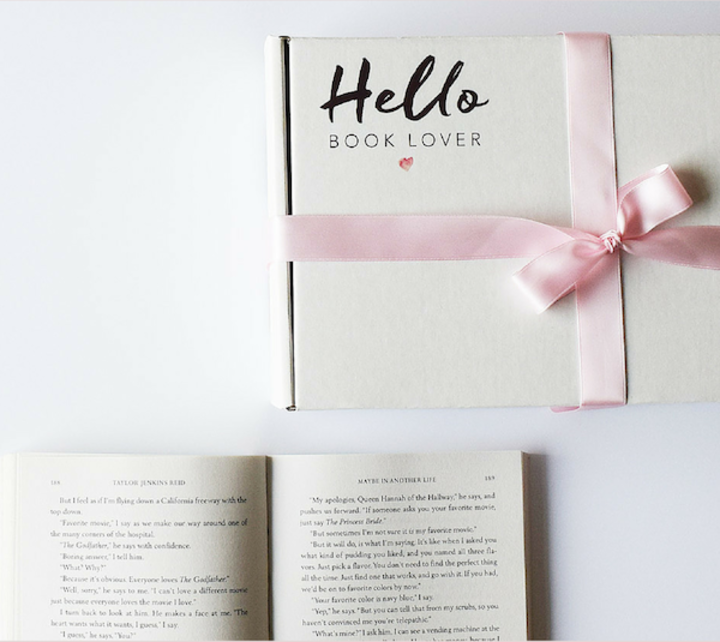 Gift the gift of enjoying Valentine's Day every month with your book lover and this great present that keeps on giving! Each month she will receive an exciting new book and a few pretty surprises delivered to her door! Treat her with this box and take time to simply relax knowing your job has been well done.
Cost:
$28.00 a month
Buy this here:
Cratejoy
13. Personalized Star Map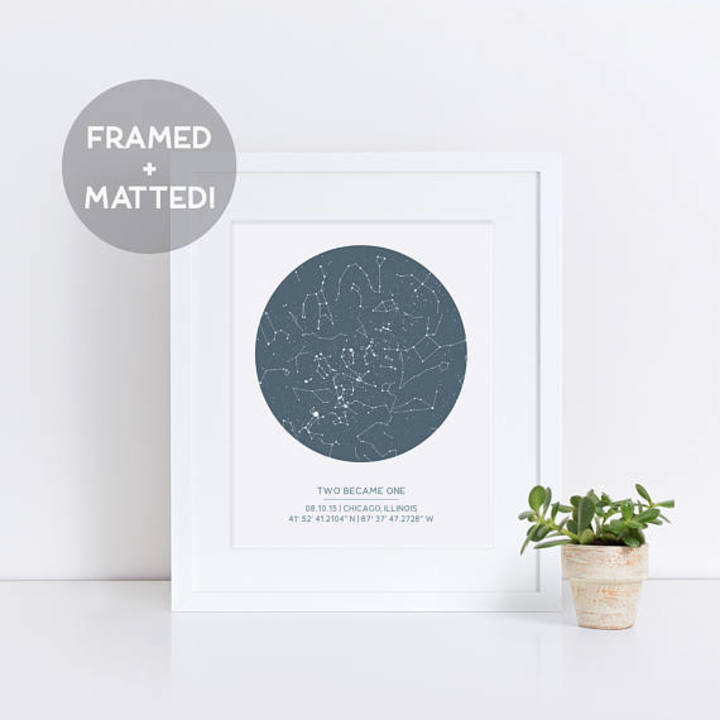 Your vision of romantic might be the night sky with this view of said night sky created from the date and location you provide. Can't get more romantic than this!Cost: $42.00Buy this here: Etsy
14. Back To The Roots Water Garden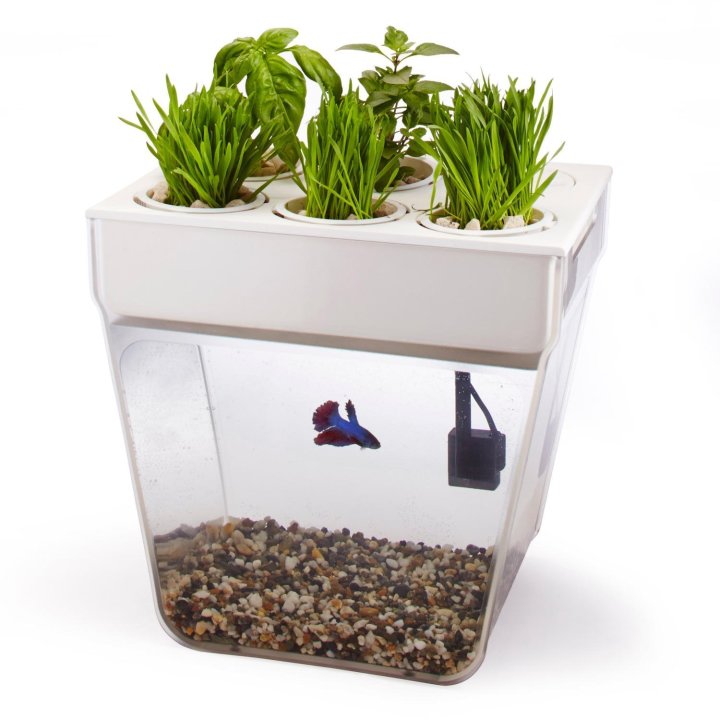 Who needs a bouquet of roses when there are aquariums that double as planters? Rather than giving her something that'll wilt in a few days, consider giving her a little greenery and a new scaly friend. If you're lucky, maybe both the top and bottom of your gift will last all year.
Cost:
$92.99
Buy this here:
Amazon
15. My Cinema Lightbox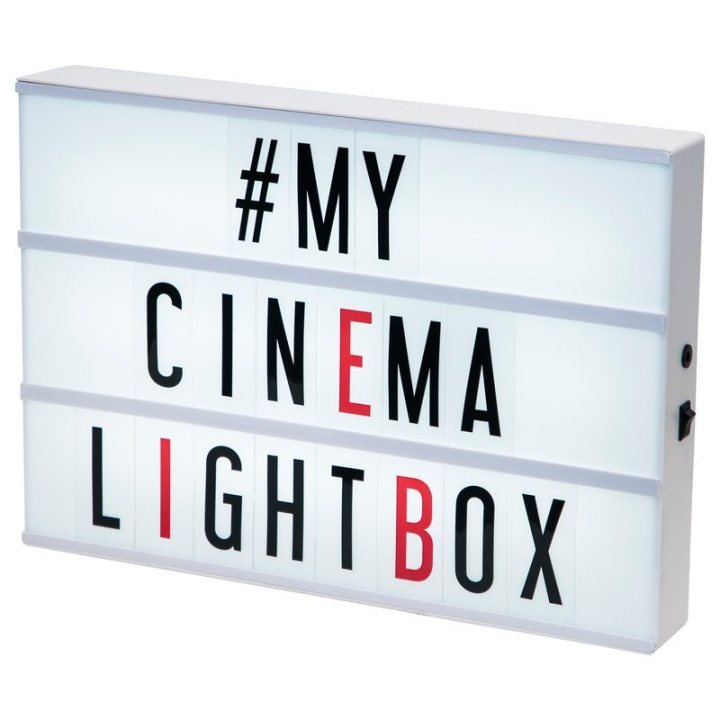 Inspired by retro cinema signs, The My Cinema Lightbox is a new way to show your creativity! Slide the interchangeable clear plastic letters and characters into slots on the front of the light box to create words and imaginative phrases. A great way to REALLY let your SO know how much you love them this Valentine's Day. Cost: $99.50Buy this here:Indigo
16. Polaroid Zip Mobile Photo Printer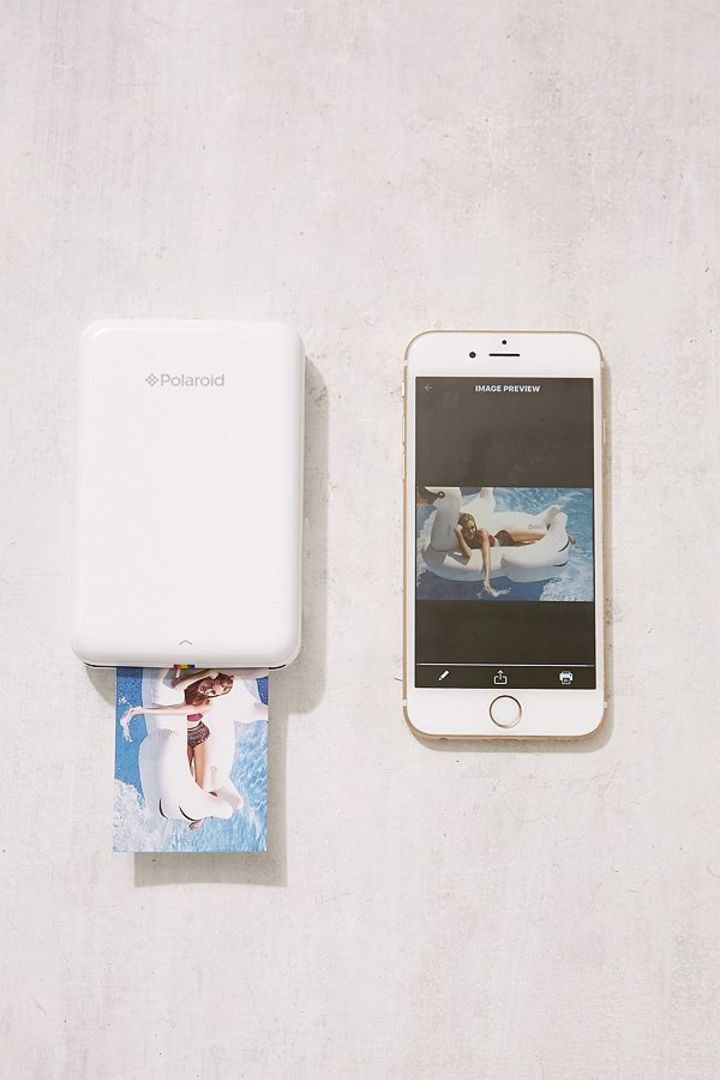 It's not enough for your SO to take 300 selfies a day. Why not give them the opportunity to print them right into the palm of your hand? A great gift for your special someone who is great with a camera, or would have lots of great photos to put up around their space. Maybe if you're lucky you get to keep one for your wallet too. Cost: $145.00Buy this here:Urban Outfitters
17. Secret Stash Personalized Flask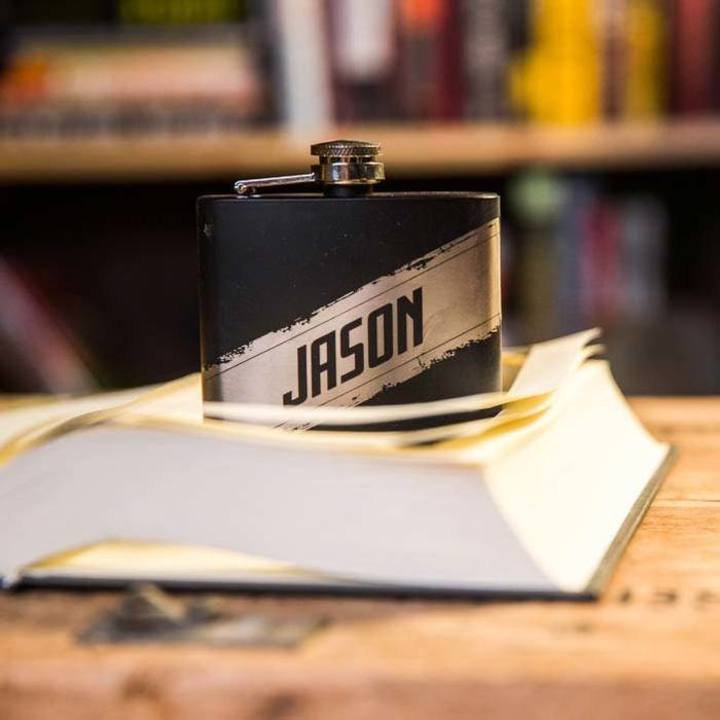 We've been told to judge a book not by its cover, but by the contents of its pages. Well, these pages conceal a personalized drinking vessel, so it's basically an instant literary classic. Housed within the pages itself is a sleek 6 oz. stainless steel flask. The only thing about this gift he'll have to read is his name.
Best of all, the book can be re-used as a "security-by-obscurity" safety-deposit book! Cost: $39.99Buy this here:Man Crates
18. Fondue for Two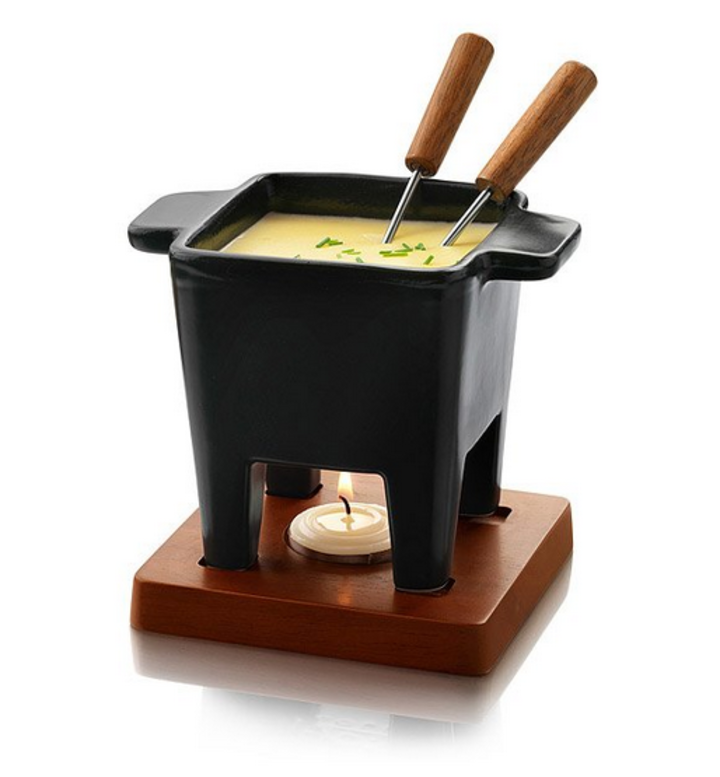 Make Valentine's Day your cheesiest date yet with this fondue set for your romantic date in. Feed great conversation with morsels of savory fondue from a handsome pot made for entertaining a party of two. A square ceramic dish optimized for swift melting fresh cubes of cheese with tasty extras like salsa, curry, or mustard, warms your ingredients into a decadent in minutes.
Cost:
$38.00
Buy this here:
Uncommon Goods
19. Towel Warmer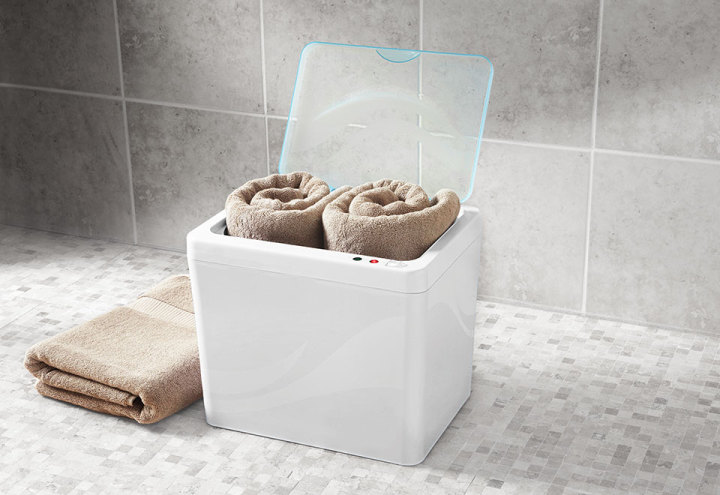 One of the best things about a nice warm shower is having your SO come into the bathroom after you've finished with your hot bath with a warm, fresh-out-of-the-dryer towel to dry you off with. Certainly can't get more romantic than that! With the towel warmer, you can save on your electricity bill and still treat your family and guests to the luxury of warm towels, throws and clothing! Don't be fooled by the size; this little box can hold up to two large towels all on its own. Cost: $119.99Buy this here:Sharper Image
20. Chocolate Xbox Controller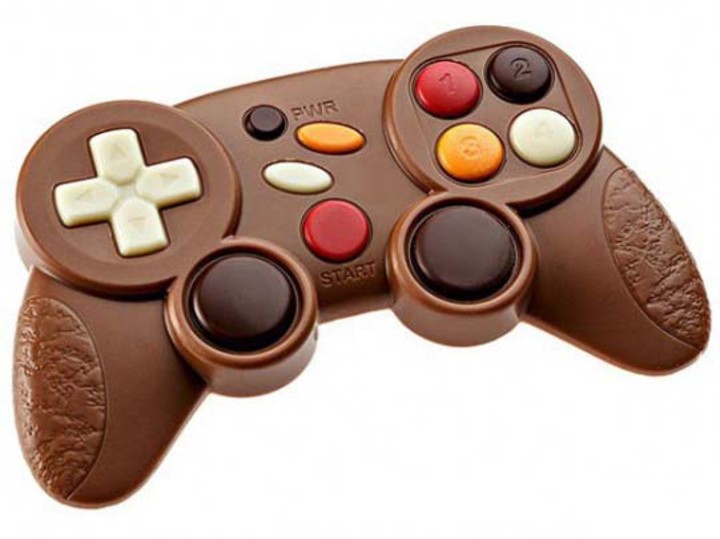 Can't stay away from the chocolates this year? Try the Chocolate Xbox controller for your bae who loves a little
Call of Duty
this year! Hopefully he remembers to brag to all his friends before it disappears into his gut.
Cost:
$36.00
Buy this Here:
Etsy