6 Types of People You Will See on Valentine's Day
This is a not-so-subtle breakdown of the personas and behaviors that are triggered by the ever-glorious V-Day.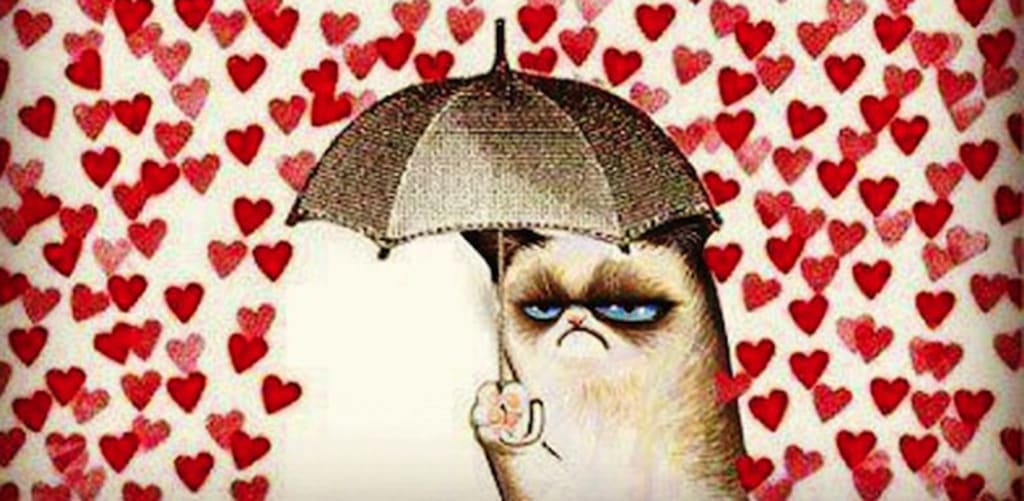 Valentine's Day: The time of year when the universe celebrates the obvious timely successes of Purdys, Hallmark, and Kleenex. In the advanced world of social media, it is this such once-a-year date that V-Day stomps into our lives with its Godzilla-sized foot, putting its scaly pressure on the boyfriends of the world to get their sh*t together without the help of Netflix-and-Procrastination, while the girlfriends of the world are pushed to post their cheesiest, most red-heart-filled photos showing just how in love they are with their masculine counterparts. Now, we all know how difficult it can be to navigate the dangerous waters of Valentine's Day. So, to make everyone's lives just a bit easier and perhaps also to prepare you for what's in store this chocolate-decorated season, I've compiled an organized list of creatures you might come across this V-Day for you to keep an eye on. Bonus points if you can spot one of each this 14th of Feb.
#6 - The Purist
"No, Harold! Valentine's Day isn't about what you get from someone or even what you give. It's about the time you get to spend together!"
Favorite Conversation Topics:
How spending time with your friends and family on Valentine's Day is what it's really all about, your friends, your family, your pets, and probably even you. They'll encourage random acts of kindness, handwritten crayon thank-you notes and lots of extra cuddles with your loved ones.
Products they'll be talking about: Nothing.Where to find them on V-Day: Surrounded by family, friends, and cuddly pets.
#5 - The Optimist
"Single on Valentine's Day? Don't worry! Spend time on YOU today! You definitely don't pamper and spoil yourself enough, Cheryl."
Favorite Conversation Topics:
Their take on being single (which is usually full of optimistic, single-person things you can do), Singles-Awareness-Day, anything to do with a spa or self-pampering, and the things they're wishing for next year on Valentine's Day.
Products they'll be talking about:
Spa packages, tequila (or wine, depending on your poison), online dating sites.
Where to find them on V-Day:
At the movies or the pool hall with other single friends.
#4 - The Lovebirds
"To my beloved darling, Happy Valentine's Day; you're the light of my life, the twinkle in my eye and the other half of me I didn't know I needed. I can't wait to get old with you, Gloria. You're my love, my everything, I love you!"
Favorite Conversation Topics:
Declarations of love for one another that are impossibly cheesy complete with photos of the two of them making out, the nicknames they have for one another, or "their song."
Products they'll be talking about:
All the romantic staples they got/have gotten in the past: roses, flowers, chocolates, poems, cards, and maybe even engagement rings if that happened again this year somewhere.
Where to find them on V-Day:
In each others' arms.
#3 - The Bragger
"Isn't Valentine's Day amazing, Kim?! Look what Brad got me: a Pandora Bracelet, a dozen roses, tickets to Italy, and dinner at my fave restaurant!"
Favorite Conversation Topics:
What they got from their loved ones and their phenomenally grand plans for the night, with pictures of said gifts from at least three different angles, in case you didn't get the picture.
Products they'll be talking about:
Expensive watches, luxurious trips, high end fashion and/or jewelry brands, travel booking sites, and large amounts of chocolate.
Where to find them on V-Day:
At their favorite high end restaurant, the luxury get away spa, the most exclusive of clubs... or perhaps even all of the above!
#2 - The Anti-Consumer
"You know Margaret, I've never liked the idea of Valentine's Day. It's really just another day for corporate companies to make a quick buck by coercing innocent people into buying frivolous things, after all."Favorite Conversation Topics: How Valentine's Day originated, the growing consumerism surrounding said date, and their passionate hatred of retail giants.Products they'll be talking about: Roses, chocolates, and cheesy heart-shaped cards, but in a way that discourages you from even considering let alone touching any of the above options. Where to find them on V-Day: Wherever you might find them on a regular day whether that be at home, at school or at work, although their breaks throughout the day will most likely be filled with hastily-typed blog posts about how much they hate the holiday and why Hallmark is responsible for the downfall of humanity.
#1 - The 'Forever-Alone'-r
"As a repeat-single girl, you'll note that we celebrate this godforsaken holiday by wearing a lot of black—black make up, black clothing, black shoes—while consuming mass amounts of chocolate, wine, chicken nuggets and pizza. Trust me, this is a win for
everyone
."
Favorite Conversation Topics: Their ex, the number of Valentine's Days that they've spent alone, just about any radio-famous Taylor Swift track (or preferred song about angst, emotions or their disgust with PDA) and their favorite ice cream flavor. Products they'll be talking about: Paperback romance novels from the corner store, whole boxes of Purdy's Chocolates, that cheesecake flavored Ben & Jerry's tub, delivery pizza, and dramatic Netflix shows like Jane the Virgin.Where to find them on V-Day: At home with a box of tissues and an old school VHS tape of Titanic or The Notebook on their TV, half a box of opened chocolates and a 10pm bedtime.