Whitney Houston: I Wanna Dance with Somebody - A Movie Review
'I Wanna Dance with Somebody' details aspects of the singer's life that I never knew about.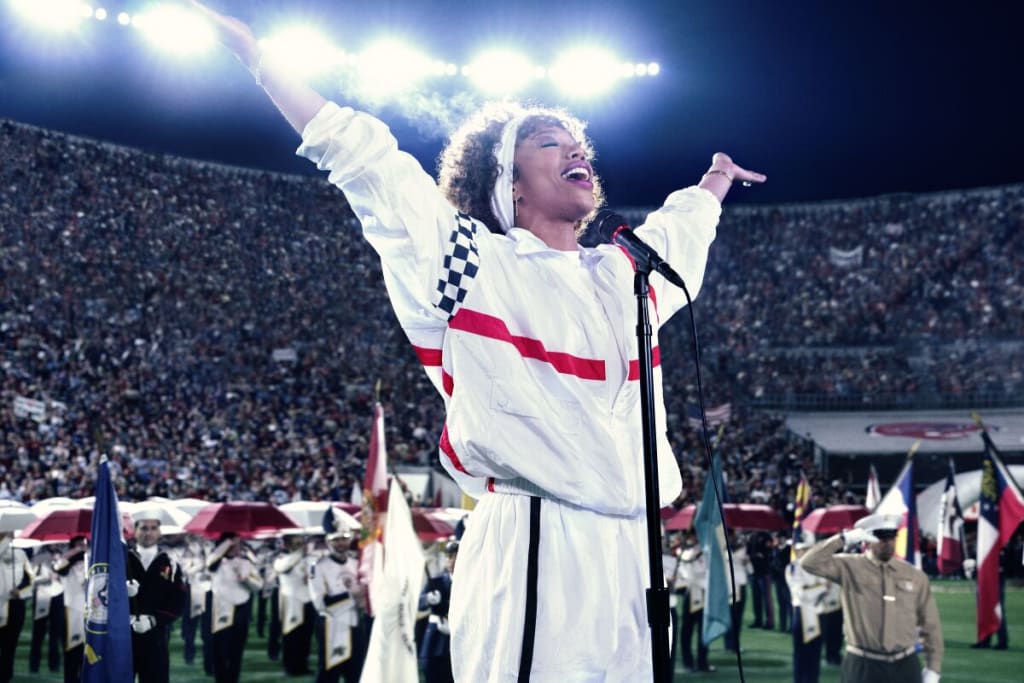 I wanna dance with somebody. With somebody who loves me.
Released to theaters in 2022, I Wanna Dance with Somebody illustrates the life of the talented singer, Whitney Houston. Facing struggles in her growing music career, Whitney abandons her passions for a more positive image. Fame and stress lead to her drug addiction.
We have needed a film dedicated to the late Whitney Houston's life for the longest time. I Wanna Dance with Somebody details aspects of the singer's life that I never knew about. Never stop fighting battles to make an impact. While the film is a beautiful work, it downplays most of Houston's life like her drug addiction.
I admit that I thought I was watching the real Whitney Houston on-screen. Granted, after viewing the film I learned that 95% of the late Houston's archive vocals were mixed with Naomi Ackie's voice. Ackie deserved a chance to recreate her own interpretation of the singer. Other than that, Ackie channeled the singer, emphasizing Houston's fighting spirit and love.
The film was a limelight for the people involved in the late Houston's life. Clive Davis is everything that an agent should be. Encouraging, patient, and seeking the best out of someone. We need more positive depictions of agents. Stanley Tucci was a highlight in the role, especially in his sarcastic deliveries.
I never knew anything about the relationship between Houston and Robyn Crawford (Nafessa Williams). Due to her groundbreaking career, Houston had to follow an example, particularly in her relationships. Williams was excellent in the role. Robyn was loyal.
More credits include Ashton Sanders, Tamara Tunie, Clarke Peters, Daniel Washington, Bria Danielle Singleton, and Jaquan Malik Jones. All these people had an impact on Houston's life, both positive and negative.
Exploring relationships, the film should have been more grounded on its focus. Houston had a loving relationship with her mother (Tunie) but a rough relationship with her father (Peters). The film counteracted segments as best as it could. With its long duration, most time is spent on the musical score often repeating concerts and song numbers,
Fans of the film Candyman (1992), may recognize Kasi Lemmons who was the director of this film. Lemmons succeeded in telling the story, but she downplayed topics and certain people in Houston's life, like her daughter. Houston's drug problem should have been more prominent.
I was disappointed that Bobbi Kristina (Singleton) was hardly recognized. I don't know anything about this relationship. She is present in scenes but we never see much interaction. Whitney and her mother have their own subplot so why not balance it out by showcasing what being a mother was like for Houston?
I Wanna Dance With Somebody is illuminated with stunning cinematography, costumes, and beautiful concert locations. Most of Houston's iconic moments were recreated like singing the National Anthem at the 1991 Superbowl.
I liked the segments involving her work on The Bodyguard. Recently, I just watched the film. Seeing it executed here brought a new meaning to the experience.
Lemmons spent more time redeveloping than implementing her own vision. Lemmons had the opportunity to dig deeper into Houston's personal affairs but the concerts overtake the film. The whole film is one concert after the next.
I Wanna Dance with Somebody is well worth the trip to the theater. I felt chills during some concert numbers. It's both a movie and a concert experience. Whitney Houston fans will enjoy this film. It's also a chance to learn who Houston was along with the impact she brought to the world of music.
About the Creator
Writing has been my passion since I was 11 years old. I love creating stories from fiction, poetry, fanfiction. I enjoy writing movie reviews. I would love to become a creative writing teacher and leave the world inspiring minds.
Reader insights
Be the first to share your insights about this piece.
Add your insights