The Five-Year Engagement - A Movie Review
I didn't enjoy some bits of comedy, but 'The Five-Year Engagement' has a good story.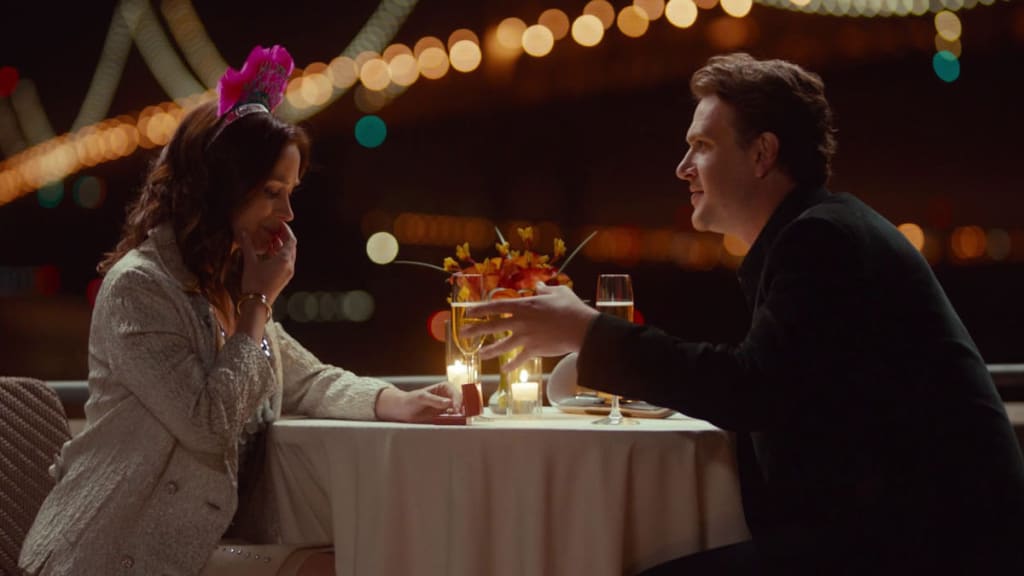 Problems will always exist. You have to make them work.
Following a proposal, The Five-Year Engagement is a 2012 film. Proposing to his girlfriend, Tom and Violet push their wedding off one year to explore their dreams. The following year, the date is pushed off again due to life circumstances. When is the right time?
Just like the premise, I was putting off watching this film not sure if I was going to like it. The Five-Year Engagement is an important film about love. Relationships are not always easy. All relationships have problems. It's all about how to manage them to make it work.
Jason Segal and Emily Blunt worked very well together. This film worked because of them. They established their relationship along with cute moments. I liked Tom and Violet's dynamic. Sometimes you have to make sacrifices to make relationships or life work.
We'll all have different opinions about the characters. That's the whole point of the film. This movie is meant to make you think about your own actions in any situation, regarding the person. I was annoyed by Tom's behavior and how he refused to be open-minded.
The supporting characters in this film are hit or miss. Most of them are just here for comedic purposes. Some characters are funny while others are forced. As I was thinking to myself, in films like these, side characters are important in the dynamics of the main characters. We can't focus on the main characters the entire time. Side characters add substance.
I didn't recognize Chris Pratt at first! I need to watch him in more comedies. For her role as Violet's sister, Alison Brie listened to British readings of her co-star Blunt to make her accent authentic. More credits include Mimi Kennedy, David Paymer, Jacki Weaver, Jim Piddock, and Adam Campbell.
There are several cameos in The Five-Year Engagement, some in the early stages of their careers. Cameos include Molly Shannon, Dakota Johnson, Mindy Kaling, and Kevin Hart.
Comedy has several definitions among audiences. The film could have been stronger if it focused more on the story instead of comedy. I laughed at a few jokes when they weren't forced. My favorite scene is when Violet and Suzie act as Cookie Monster and Elmo.
Improv goes too long in some scenes. There are sexual innuendoes that is not appropriate for some audiences. It was distracting from the main story.
Editing also plays into how comedy works. Likewise, the film falls under dark comedy, but it grabs your attention. With the film's runtime, it could have been shorter. It wasn't paced well, dragging out the ending.
As recognized in the story, where you live also plays a factor in your relationships. Restaurant scenes were filmed in actual eateries like MGM Grand Detroit.
Is change good? The film's main theme is love. Nicholas Stollar built up the dynamic between Tom and Violet. Falling under the usual rom-com tropes, The Five-Year Engagement presented a story that most couples can relate to. Not every moment in a relationship is filled with happiness so I am glad that Stollar recognized arguments.
Couples need to be honest. The scene where Tom and Violet discuss success is an important scene. Get married when the time is right. Nothing has to be perfect. You need to keep trying in relationships even if you're not sure.
Some moments of comedy weren't my favorite but I recommend that you watch the film. The Five-Year Engagement is a film for all couples to see on a date night.
About the Creator
Writing has been my passion since I was 11 years old. I love creating stories from fiction, poetry, fanfiction. I enjoy writing movie reviews. I would love to become a creative writing teacher and leave the world inspiring minds.
Reader insights
Be the first to share your insights about this piece.
Add your insights