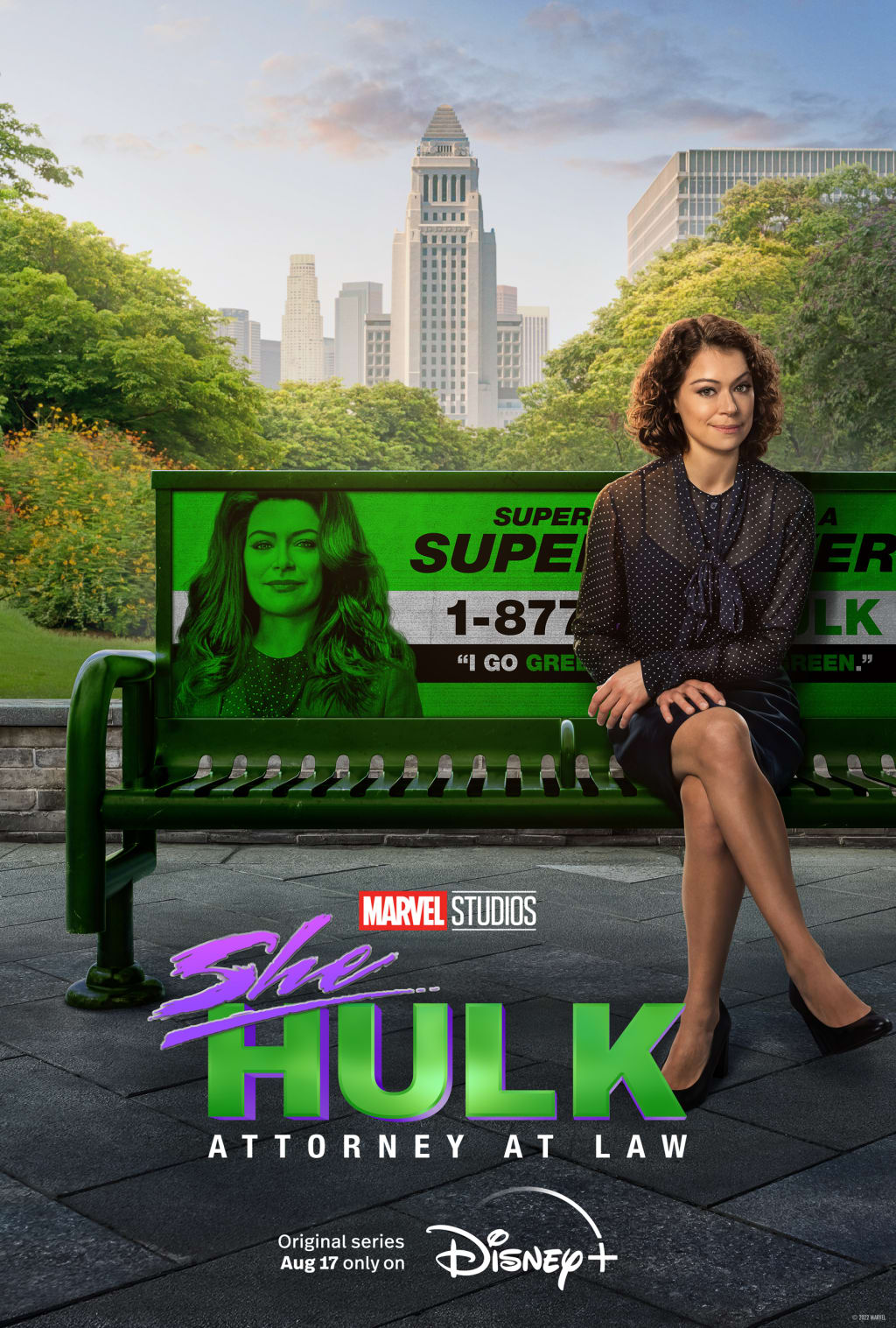 So I watched the first episode of She Hulk today and it was... fine. I must admit I've struggled a little with the tone of the MCU's Phase 4, and I don't think I'm alone in that. I mean Eternals, remember that movie?
I feel that Marvel is yanking it's way through a tough transitionary period Post-Endgame, and even a few years on the studio is hitting a few speed bumps along the way.
That's not to say that our first taste of She Hulk was bad by any means. The episode kicks off with Jennifer Walters ( portrayed by Tatiana Maslaney,) attorney at law, rehearsing her closing statement for what seems to be an 'enhanced-related' court case. Her law jargon and confidence are well acted and more than competent... then she breaks the fourth wall to whisk us back in time to explain how she became a 'hulk.' It works, kinda, maybe.
Now I'm not gonna say I have a problem with breaking the fourth wall, but... I do have a problem with breaking the fourth wall. With Deadpool (despite it quickly becoming annoying) he has the ability explicity listed as a super power. A fundamental part of his character is knowing he's a comic book character, so we can make some allowances, but within She-Hulk it just kinda makes no sense.
In any case, putting that aside, I did have a pretty fun time with the episode. We see how she became a Hulk, we get some funny (but not overplayed) scenes between her and Bruce Banner's Hulk, and we're treated to a bit of mindless, CGI, Marvel action along the way.
The show screams female empowerment, which I have no problem with. It's actually pretty refreshing to be honest, and changes up the monotony of the shows and movies so far. I mean, how many rich, orphaned, or otherwise underpriviliged guys are we gonna see become rich, orphaned, or otherwise underpriviliged super heroes with girlfriends? I still feel as though Marvel don't get the whole equality thing quite right in their own properties, but thats another story entirely.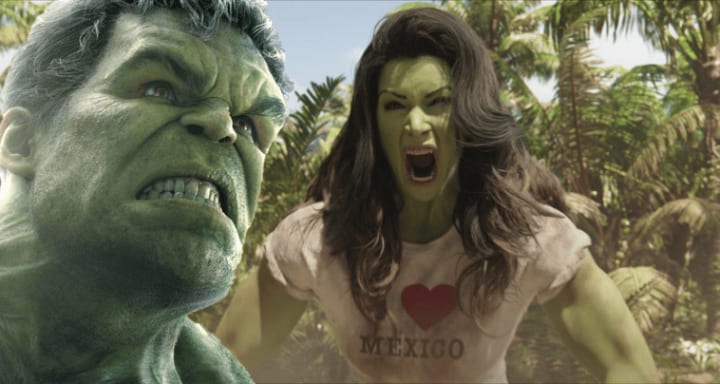 Now I don't feel bad about talking about characters other than Jennifer here, since Bruce is clearly a huge part of the first episode. So I'm just gonna go out on a limb and say I'm getting a bit bored of this moody baby hulk we've had since Thor: Ragnarok. At first it was played for laughs, but it's not really all that funny any more. We want the rage, man! Where's the big green monster we all know and and are scared to love? That force of nature that cannot be reasoned with! You know, the badass, city destroying, unaplogetic, mother-effing Hulk!!
That said, I did enjoy his reminiscing over Steve and Tony in this episode. It was nice to see Bruce as a man sorely missing his universe-saving buddies, and it shows him as a bit of a fish-outta-water. We can tell that he doesn't really know where to go now that his friends are gone, which is why he's so hung up on a sense of purpose.
I daresay that's why 'smart-hulk' is so important to him. He's effectively trying to fill the roll of himself, Stark, and Steve Rogers in one entity, clinging to the Avengers dynamic as we know it. And I hate to say it Bruce, but it's not manageable. You are gonna snap eventually, and we all cant wait to see it!
One final criticism I have (and its only a small one really) is that I feel Marvel have missed an opportunity to bring back that uncontrollable Hulking force missing from the current roster. If they had set this show up as Jennifer wrestling for control over her emotions, rather than having full control of herself from the outset, I feel it couldve ticked a few more boxes. But perhaps thats a point best kept for the end of series review.
For now, what more can I say without spoiling the show? I enjoyed the episode enough and am genuinely looking forward to more. I can't wait to see how much the Daredevil stuff is gonna be involved, and I think its going to be interesting to see Jennifer struggle to find her normal between attorney and hero.
What did you think of She Hulk episode 1? Let me know in the comments down below!
Read Next
About the Creator
Hey, I'm Arctic! Retired party animal, deep thinker, and writer from the UK. I'm sharing everything from sobriety insights to my most intimate, personal stories. From lifestyle hacks to opinion pieces, fiction and more. Expect it all!
Reader insights
Outstanding
Excellent work. Looking forward to reading more!
Top insights
Compelling and original writing

Creative use of language & vocab

Expert insights and opinions

Arguments were carefully researched and presented
Add your insights