Why Loki Is The best Disney+ Show In The MCU So Far
Is Loki A Hero Trapped In His Brother's Shadow?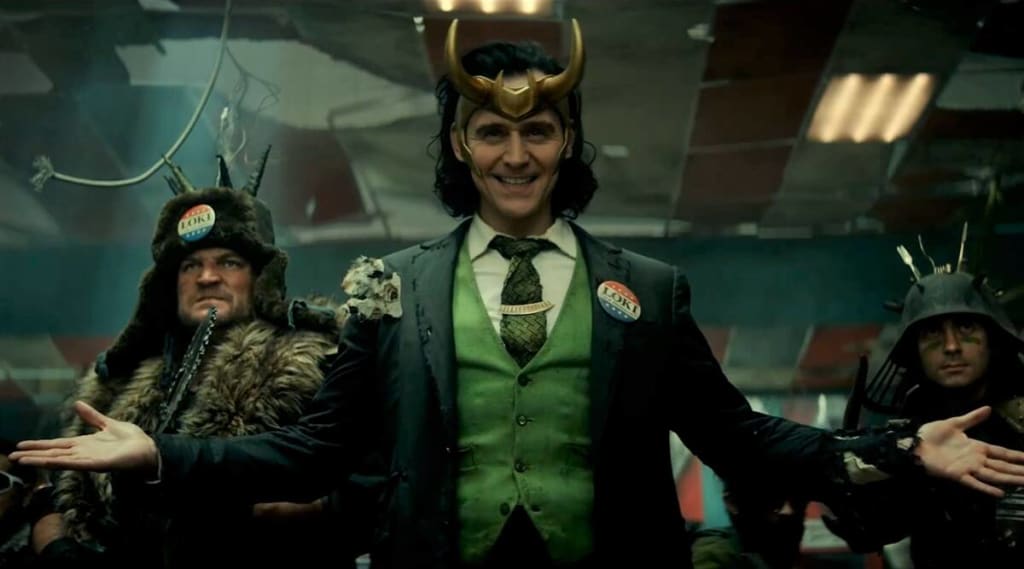 This article is a spoiler-free look at everything that's happened Post-Endgame
With Black Widow finally zipping onto screens worldwide, and the MCU racing ahead into phase 5 with Shang Chi & The Ten Rings, The Eternals, Spider-Man: No Way Home, and Doctor Strange's Multiverse of Madness, the world of cinema is in for some weird and wacky surprises. It's guaranteed to be nothing short of a spectacle! But the happenings on the silver screen right now have never been more important, and here's why.
After a ten year journey culminating in an epic showdown between Thanos and the entire roster of the MCU to date, it was no secret that a bit of time needed to pass while we let it all sink in. The world was not ready to understand how it could possibly get any better than that. I remember coming out of the cinema thinking "… where do we go from here?" And it really was a strange feeling.
We'd simultaneously witnessed a cinematic masterpiece unfold before our eyes and had a small piece of ourselves die at the same time. Like when your favourite Netflix series reaches it's last season, or you pour the final crumbs of a pack of Doritos into your mouth while fully aware you're gonna get more in your eyes than anywhere else.
In many ways, this last ten years of Marvel cinema have been magical, and will hold a special place in the hearts of those worldwide lucky enough to witness it unfold. I mean, who thought we'd go from Robert Downey Jr building a suit of armour in a cave (WITH A BOX OF SCRAPS) to interdimensional beings duking it out with super-humans and Demi gods? Or, perhaps even more strangely, that we'd sit on our sofas watching a raccoon shoot rockets alongside a sentient tree and a green-skinned assassin without batting an eyelid?
But as ever the world moves on, and so too does cinema. And if the upcoming releases and the Disney+ shows so far are anything to go by, we have another mind-blowing decade of Marvel cinematic masterpieces to enjoy. But before that, we needed some breathing room to wrap our heads around everything that culminated in Endgame, and the Disney+ shows did a great job paving the way toward another ten years of wild success!
The Importance of The Disney+ MCU Shows
Disney+ kicked it off with 'Wanda Vision' which set the bar for Doctor Strange & The Multiverse of Madness by treating viewers to a look at just how mind-bendingly powerful the Witches and Wizards of the MCU truly are. It opened our eyes to nexus beings and wacky, reality shifting magics that paved the way into the future of marvel by priming us for more otherworldly experiences.
Next up we had Falcon & The Winter Soldier, which grounded the members of the world's favourite superhero team in a reality we know and understand, while firmly cementing what the existence of enhanced beings among us would mean in our world. It bought to life the realities of the super hero lifestyle by surrounding our lesser-appreciated Avengers in a world much like our own: racial bias, inequality, grey areas, and questionable ethics. The show was… good. It wasn't great, but it had great moments and was entirely necessary with its focus on world-building, character depth, and it's sensitive insight to the unseen woes and struggles of our Avengers.
But now we have Loki, and oh my Asgardian Gods have we been spoilt! Each episode gets better and better, with the Time Variance Authority and their mysterious Time Lords, multiple realities and infinite branch timelines, mystical goings-ons and otherworldly madness. But more importantly we finally get an intimate dive into the psychology of the most under-utilised antagonist in the MCU. And hold onto your hammers folks, for Loki is… a hero? Let me explain.
Is Loki The Best Disney+ Series In The MCU So Far?
I'm of the opinion that Loki is the best Disney+ series in the MCU to date, and the reasons why are so multi-layered its hard to put down in a spoiler-free post like this. That's not to throw shade at Falcon & The Winter Soldier or WandaVision in any way either—Those shows were great and equally necessary in their own right. Saying that, I don't feel it's a simple character bias either. I have to restate that I'll be careful with what I say from now incase certain readers haven't stayed quite up to date with the God Of Mischief's adventures through time.
What I can say with total confidence is that Loki is as unmissable as it is enjoyable, jam-packed with action and consequence, mystical beasts and magical enchantments. It plays out like a straight-up Marvel movie, in that you'd not regret a second of it were it all strung together and broadcast in cinemas worldwide. The CGI is actually pretty great! No surprise there with Disney's budget but still… it's impressive. The story itself is epic and full of HUGE reveals that bust the MCU wide open with possibilities for the future.
But most importantly, the themes explored and the character depth pumped into Loki is unlike anything we've seen in the MCU to date. Not only are we exploring universal changes, branch realities, and love, but we get to take a deep-dive into the psychology of Loki himself. And what we find there is… quite beautiful. Beautiful and sad.
As the series unfolds we see Loki's journey with the TVA coincide with his journey of self-discovery and self-acceptance. With his own personal growth, we see the growth of his power run alongside his resolve to do something right. His want to do good. His need to help others, no matter how reluctant he makes himself out to be.
With his acknowledgement of his actions and mistakes, his courage grows. He becomes brave, selfless. These aren't new traits. Loki is, in fact… a hero. A hero in the shadow of his brother's systematic greatness. A man that wants to conquer and win for no purpose other than to have eyes on him to see all he is capable of.
Loki is driven by purpose, 'glorious purpose,' and behind the broad shoulders of Thor, he is unable to find any of his own. This is why we see him back-stab and sneak around, scheme and plot. He is full of resentment and desperation, burying his feelings of love and hiding coldly behind the persona he has created for himself.
But beneath the surface, not all that deep actually, Loki isn't a villain. Nor is he even particularly evil. He is a misunderstood orphan driven by a sense of purpose he hasn't yet found. He wants validation. Eyes on him. He want's for his father, and mother, to be proud. His brother to see them as equals.
And that's what's so great about the Loki MCU Series! We finally see Loki plucked from the timeline and removed from the shadow of the reputation he can't escape. We see a world without Thor on his case or in his way. We see his decision-making without fear of repercussion or the need to climb up on the shoulders of those larger than him just to be seen. We scrape away the surface issues of Loki and see what he does when shit hits the fan, and it is an absolute... Marvel... It had to be done at some point right?
We shouldn't be surprised there's more to Loki than meets the eye. We've seen him sacrifice himself and stand up for what's right a few times over now. When the people of Asgard were in genuine danger of annihilation at Ragnarok, he stopped messing around and fought alongside Thor, Hulk, and Valkyrie to save the day. Again, while his people were drifting through space, we see him attempt to kill Thanos even after his brother was downed, knowing his efforts were futile. But there's the pattern. His actions are always out of a want to protect or find a people he can call his own. A community. An orphan plucked from his homeland and raised as a secondary prince. A sidekick to a grander force destined to be King from the beginning.
When he wanted to conquer earth it wasn't to destroy it, but to find his home and his people there. To be loved, and seen, and respected. To have something to protect, to build. Purpose, Glorious Purpose!
The Loki show brings all this to the surface and tickles us with it, wraps it up in a blanket of action and adventure, and puts it on display for us all to see without comparing him to other the characters we know and love. We see some of the best character work put into a Marvel character so far... and it is truly magnificent.
And all that is why I can confidently state that Loki is the best Disney+ show in the MCU so far, and I cannot wait for the final episode to air on Wednesday!
* * * * *
Thank's so much for reading! If like me you believe Loki is a hero, take a leaf out of his book and go follow my Facebook and Instagram pages. I post all kinds of content and real life adventures to sink your teeth into! And if you're feeling particularly heroic, consider leaving a tip on this article to help in the creation of future content. Until next time...
pop culture
About the author
An avid writer from the UK with a passion for words! Whether I'm posting my musings to social media or creating longform content for the masses, You can bet I'm somewhere trying to make sense of this wonderful chaos we call the universe.
Reader insights
Outstanding
Excellent work. Looking forward to reading more!
Top insights
Compelling and original writing

Creative use of language & vocab

Easy to read and follow

Well-structured & engaging content

Excellent storytelling

Original narrative & well developed characters
Expert insights and opinions

Arguments were carefully researched and presented

Eye opening

Niche topic & fresh perspectives

Heartfelt and relatable

The story invoked strong personal emotions

On-point and relevant

Writing reflected the title & theme
Add your insights