Review - Spider-Man: Across the Spider-Verse
Miles Morales continues to be the best rendition of Spider-Man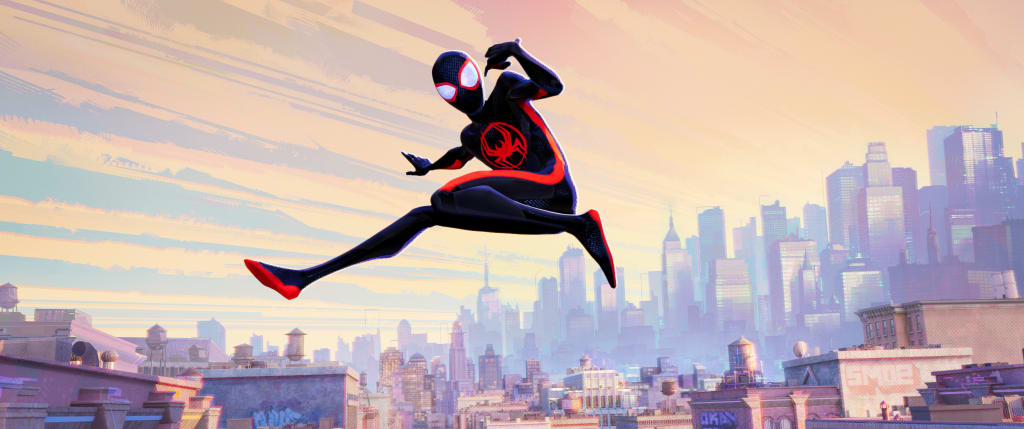 Miles Morales as Spider-Man (Shameik Moore) in Columbia Pictures and Sony Pictures Animation's SPIDER-MAN: ACROSS THE SPIDER-VERSE. Photo By: Sony Pictures Animation
Sequels are hard, especially when you're following up a film that blew people's minds with its animation and storytelling, and walked off with an Academy Award. But 'Spider-Man: Across the Spider-Verse' is able to pull it off. Mostly. The film is bigger, better, and yet more personal—somehow directors Joaquim Dos Santos, Kemp Powers, and Justin K. Thompson, and writers Phil Lord, Christopher Miller, and David Callaham make this expansive world that much more interesting while upping the stakes and introducing elements to the canon that will leave you desperate for more. If there's a universe where the 'Spider-Verse' films go on forever, I want it to be this one.
What is 'Spider-Man: Across the Spider-Verse' About?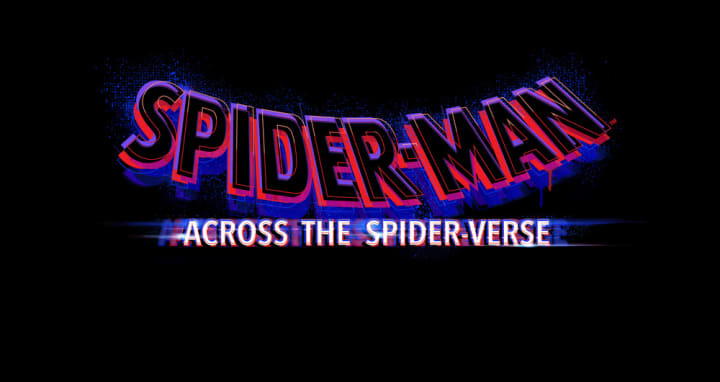 In the first film, 'Spider-Man: Into the Spider-Verse', Miles Morales (Shameik Moore) was bitten by a radioactive spider and, with the help of his interdimensional friends, Peter B. Parker (Jake Johnson) and Gwen Stacy (Hailee Steinfeld) he defeated Kingpin (Liev Schreiber), destroyed the universe-ending collider, and eventually became Spider-Man in his universe.
'Spider-Man: Across the Spider-Verse' takes place sometime later with Miles trying desperately to balance his secret life as a superhero while living up to his potential, and his parents' expectations. In another universe, Gwen is battling with loss and anger—both characters are also struggling to navigate life while missing each other, and knowing they may not meet again. But then Gwen finds a way to Miles, or so we think.
It's not long before Miles is embroiled in a multiversal fight alongside and against other Spider-People. Plus, he's got a new nemesis that just won't quit. Poor Miles just can't catch a break.
'Spider-Man: Across the Spider-Verse' is a Coming-of-Age Story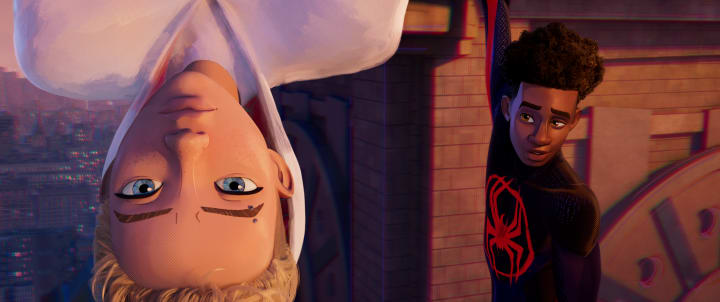 For a film that's chock-a-block with characters—just take a look at the posters and trailers—the main theme of 'Spider-Man: Across the Spider-Verse' is about Miles growing up and finding himself. He's still just a teenager, but he's also Brooklyn's hero, and he's got plans for his future. There are several tender scenes between Miles and his parents, Jefferson (Brian Tyree Henry) and Rio (Luna Lauren Velez), as both sides try to understand the other. These scenes are hilarious, but also heartwarming. One criticism is that these particular scenes, though emotional, did slow down the pace of the film. The first film was able to incorporate the emotional beats much better than 'Across the Spider-Verse'.
Coming of age is about making decisions, and sometimes those decisions include when to make a leap and when not to. I was impressed that the film didn't lean into the romance between Miles and Gwen; it would have stunted their growth as characters.
Gwen Has a Bigger Role in 'Spider-Man: Across the Spider-Verse'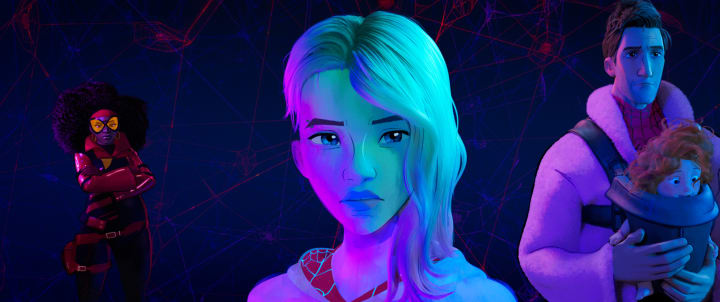 'Into the Spider-Verse' is near perfect, but we can all admit there wasn't enough of Gwen Stacy. This film series is about Miles, so it's not like we need less of him, but maybe we could have done with less Peter B. Parker. Gwen seemed to be introduced mainly as a love interest, but the film didn't lean into that angle, so that was a relief. But it wasn't enough for the sole main female character in the film.
'Across the Spider-Verse' gives Gwen a lot of screen time, and her own arc. She's a layered character who makes decisions for the benefit of herself and the multiverse. We learn more about her history and pain, and she plays a much more significant role in the central story. Most of these story elements are taken straight from the comics, and fans of Gwen will certainly be delighted with her characterization in the film.
The only thing that lost me was the colour palette and animation for Gwen's scenes on her Earth. They changed rapidly and I couldn't make out if they changed according to the mood or were trying to set the mood. This was the only time when I felt the animation hindered the storytelling. While it's understandable that the 'Spider-Verse' films play with comic book styles, including art styles changing mid-series or even mid-book, but it was an unnecessary distraction in the film.
No, I Will Never Tire of Cameos and the Multiverse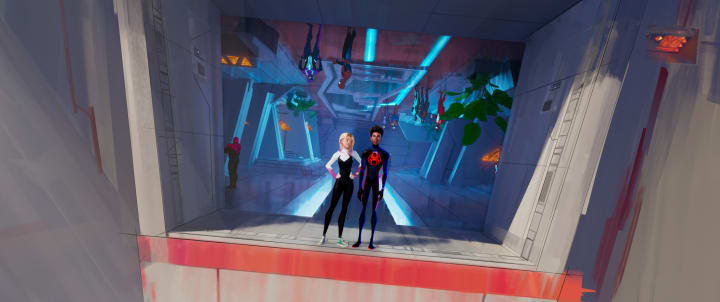 An implosion is coming—we will get tired of crossovers being in everything, everywhere all at once, but so far, I love it. I am not tired of it, and the hundreds of Spider-People and numerous cameos did not stop me from enjoying this film.
The central conceit of the 'Spider-Verse' film series is that the multiverse keeps colliding, and it's taken to a whole new level in 'Across the Spider-Verse'. The Spider Society scenes were jaw-dropping, there were so many characters and Easter Eggs, some you'll recognize, others, you'll be Googling. Despite that, the filmmakers do not lose sight of the fact that there's a story to tell. The spectacle of the multiverse can't obscure a bad story, and 'Across the Spider-Verse' doesn't have that problem.
We have a new villain who has an intriguing character design and backstory; an antagonist with a vendetta against Miles, plus a couple of new Spider-People who are so arresting, they deserve their own mini-series. The interactions and dynamics among these characters add so much depth to the story—you can tell there's history there, and there's enough to fill in the gaps without it distracting from the main story.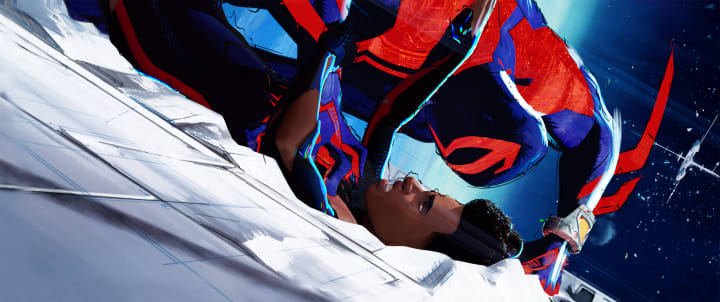 All the new voice actors in the film are fantastic; if there were Oscars given for voice-acting, Oscar Isaac would be a frontrunner. He's so compelling as Miguel O'Hara, capturing the humorous tone of the series while adding more emotionality to the character.
Daniel Kaluuya exudes charm and panache through his voice work as Hobie Brown. Irrespective of what he's starring in, Kaluuya has an uncanny knack for making you miss him whenever he's off-screen, and this film is no different. He is effortlessly cool, and we deserve to see more of Hobie Brown's antics.
Karan Soni voices Spider-Man India and brought a whole new level of humour and fun to the film. Spider-Man India's scenes were the best part of the film for me. The scenes were tongue-in-cheek without being regressive or offensive (which is always a problem when Hollywood portrays South Asian locales). The story still embodied the known canon of Spider-Man but with its own flavour. I'd honestly watch a whole series with Spider-Man India if I could.
The only disappointment was Jessica Drew. Issa Rae gives her a lot of personality, but Jessica's screen time is curtailed. She plays second-fiddle to Miguel, and her mentoring of Gwen happens mostly off-screen. Given how much Jessica was promoted ahead of the film, I was surprised that she didn't have a larger impact on the main story.
Miles is Magic in 'Spider-Man: Across the Spider-Verse'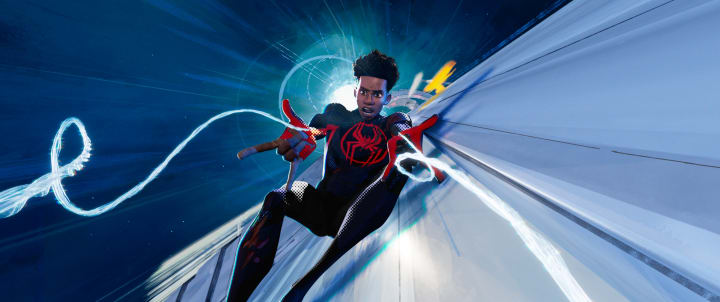 There are 250 Spider-People in 'Spider-Man: Across the Spider-Verse', up from just seven in 'Into the Spider-Verse'. I was concerned that Miles Morales, the first Afro-Latino Spider-Man on the big screen, would be a passenger in his own film. There were times when I found that Miles was being shunted out of his own story, but those moments are few and far between. Despite the glut of Spider-People, 'Across the Spider-Verse' still manages to focus on Miles's coming-of-age as he starts shaping his own future while balancing his life as a teenager and a superhero.
Whenever Miles is on screen, he is truly magic. A lot of it is down to the beautiful art and animation for Miles—he's an expressive character and spectacularly rendered. But more than that, Miles is relatable. He may be a superhero, but the problems and worries he faces feel very real. It was the same with 'Into the Spider-Verse', and that theme continues with the sequel.
Shameik Moore is excellent at voicing Miles; he can capture the irreverence of a teenager, the joy of being a superhero, the fear of loss, as well as the insecurity of feeling like an outsider. The combination of the voice-acting and animation makes Miles feel alive. You cannot stop watching this amazing character; he's a breath of fresh air.
Miles is an Afro-Latino character, and the film is ready to engage with his heritage, without leaning on tropes. Miles' family dynamics are very believable, and his delicate balancing act of pleasing his parents while living his life to the fullest will resonate with everyone.
What I like about Miles is that he feels so human; he's not perfect, he makes mistakes, he gets hurt. But he can also pull himself back up, with a little help from his friends.
That being said—the third act of this film is something to behold. You will not see the ending coming and it's going to make you want to watch the next film. Is there a part three? Wink wink.
Reader insights
Be the first to share your insights about this piece.
Add your insights