Mysteries and some movies
"Okay. Do you have the fingerprint testing kit? 'Cause I didn't pack mine. Is it in your bag?"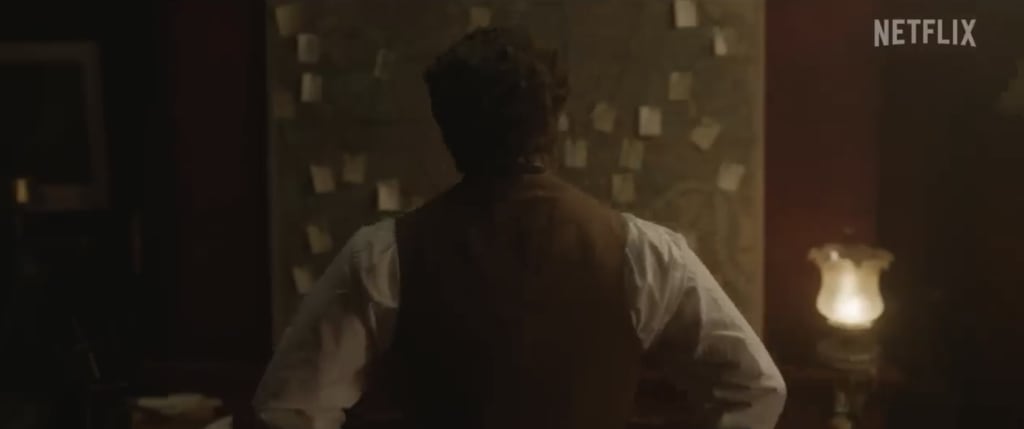 Image credit: Screenshot from Netflix on YouTube
Murder Mystery(2019), Enola Holmes 2(2022), In for a Murder(2021), 7 women and a murder(2022),The pale blue eye(2022), and, The perfumier(2022).
There is a spoiler warning and sensitive topics warning(including topics such as rape etc.) in effect! If you like this, you can get more of my articles when you subscribe to my account.
This is the second of my "…and some movies" article series, with this one focusing on mysteries. Mysteries involve you in the experience of unravelling elements to get the truth no matter the setting. The most popular type of mystery is the 'whodunit'. According to Wikipedia, "A whodunit or whodunnit (a colloquial elision of "Who [has] done it?") is a complex plot-driven variety of detective fiction in which the puzzle regarding who committed the crime is the main focus.". The 'whodunit' is also home to popular franchises like Sherlock Holmes and Knives Out. No matter what your classics are, you can always find some more, and I am covering the recent ones I've watched.
Murder Mystery
Summary
Nick(Adam Sandler), a police officer and aspiring detective made a promise to his wife Audrey (Jennifer Aniston)on their wedding day. With their forthcoming 15th-year wedding anniversary, she recalls this promise to go to Europe. They end up going but Audrey comes across an eccentric man called Charles (Luke Evans) who offers and succeeds to include them on his family boat. Taking this decision allows them to have numerous adventures as they strive to enjoy themselves, find the killer and clear their names.
Takeaway
Nick says, "Okay. Do you have the fingerprint testing kit? 'Cause I didn't pack mine. Is it in your bag?". He jokes about the classic detective ways of forensics as Audrey says they should check for fingerprints on the note slid under their hotel room door.
Audrey tells Suzi(Shioli Kutsuna), "No matter what you do, you're not gonna be safe. I'm telling you. One murderer always double crosses the other murderer.". She tells her thinking she's a co-conspirator and will eventually be crossed based on the mystery books Audrey has read.
Side-note
Grace(Gemma Arterton) said, "All women are actresses, dear. I'm just clever enough to get paid for it." which could lead to a bigger discussion about society and women's place in society but that aside.
Faves
Audrey(Jennifer Aniston), Charles (Luke Evans) and Juan Carlos(Luis Gerardo Méndez).
More details and my opinions about Murder Mystery are written in my "Murder Mystery 2 is coming out soon!" article.
Enola Holmes 2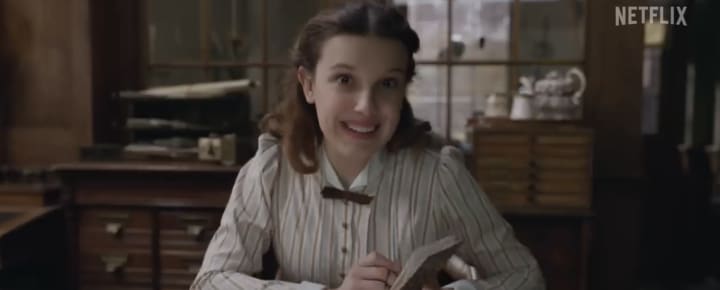 Summary
Enola(Millie Bobby Brown) embraces the success of her first case in the previous movie and opens her own detective agency. Bessie(Serrana Su-Ling Bliss), a young girl looking for her sister Sarah (Hannah Dodd)saves her agency and spirit. Enola's investigation into the disappearance of Sarah shines more light on her and subsequently lands her in trouble. Her case overlaps with Sherlock's (Henry Cavill)case and they work together trying to understand the missing money from the government and the importance of the missing girl.
Takeaway
Enola said, "Everyone thinks detecting is a profession littered with rules, but in truth, there's only one." and answers it with a memory of Eudoria saying, "Pull on every loose thread you find.". Enola followed all the loose threads with the help of Sherlock, Eudoria (Helena Bonham Carter) and Tewkesbury(Louis Partridge). Sherlock found his culprit and she found Sarah, it was a win for both Holmes'. Enola's life was spared with the retractable knife trick similar to the Knives out movie scene that saved Marta as well.
Side-note
Eudoria told Enola, "Too many people make it their sole purpose in life to fit into the world around them. This is a mistake. It's your path, Enola. Sometimes, you'll stumble. Sometimes, you'll fall. But no matter how lost you feel, if you stay true to yourself, the path will always find you again.". These words encapsulate the principles of Enola and her mother as she fights for women's rights in London.
Eudoria also speaks about their independence saying, "You, Sherlock, Mycroft. Strong, formidable, individual children, but, well, perhaps a little lonely. You will do very well on your own, Enola. But with others, you could be magnificent.". This independence is talked about during the Enola Holmes 2 cast interview on the Pay or Wait YouTube channel by Sharronda Williams.
Video credit: Pay or Wait on YouTube
Faves
Edith(Susan Wokoma), Eudoria(Helena Bonham Carter), Tewkesbury(Louis Partridge), Enola(Millie Bobby Brown), Sarah(Hannah Dodd), Sherlock(Henry Cavill), Mira Troy(Sharon Duncan-Brewster)…honestly everyone.
More details and my opinions about Enola Holmes 2 are written in my "Enola Holmes 2 continues to embrace individuality and independence with regulation." article.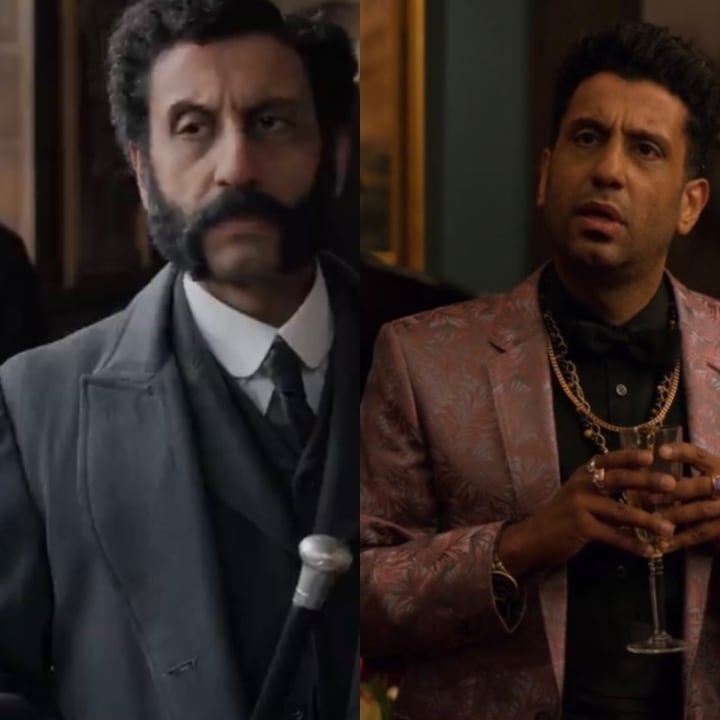 Adeel Akhtar plays Lestrade in Enola Holmes 1 and 2 and plays Maharajah (Vikram) in Murder Mystery 1 and 2.
7 Donne e un mistero//7 women and a murder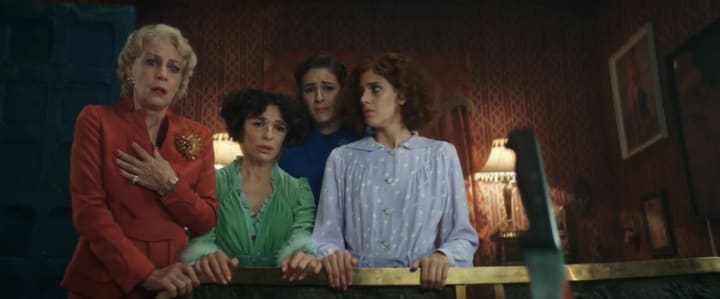 Summary
The patriarch, Marcello(Luca Pastorelli) of the family crafts a plan to test the love of the ladies. There are 6 women of different generations present to find out the killer before the eventually 7th joins to uncover the killer and their intentions. You have the two sisters and daughters of Margherita (Susanna and Caterina), the two sisters and daughters of Rachele (Agostina and Margherita), Rachele, Veronica(Micaela Ramazzotti) and Maria(the housekeeper) as the 7 women. Margherita is the wife of Marcello and Veronica is his mistress. They learn a lesson to appreciate his presence and effort before his death.
Takeaway
Susanna (Diana Del Bufalo)says, "Please try to focus. Every detail is important." as they try to figure out what could have happened. They consider any irregularities in his usual day. Maria (Luisa Ranieri)already deduced that the dogs that always bark at everything did not bark last night therefore the killer may have not been outside or could be someone that knows the house well. In a mystery every little thing is vital and can make or break the discovery, no matter how flimsy it may be, everything aids in uncovering the mystery. They ask questions pertaining to what has happened so far and who would benefit the most.
Side-note
Maria said, "The difficult thing isn't conquering a man. It's avoiding having your whole life revolve around him." as she tries to enlighten Agostina(Sabrina Impacciatore). She also tells her, "You must feel beautiful, you must.". After Agostina's transformation to Tina with the help of Maria, she said, "Women work miracles.". Margherita (Margherita Buy)said, "So women should help one another, they should not wage war." and Rachele (Ornella Vanoni)says, "Especially if a man asks you to.".
Rachele said, "No, it's not my legs, I'm a burden to everyone, you know.". She is bothered about her dependence on others for every little thing as she can't do anything. She is pushed in her wheelchair as Susanna jokes about her wait for death but Rachele says, "I want to see you at my age.".
Faves
Maria (Luisa Ranieri) and Caterina(Benedetta Porcaroli)
More details and my opinions about 7 women and a murder are written in my "7 women and a murder (of the man)" article.
W jak morderstwo//In for a Murder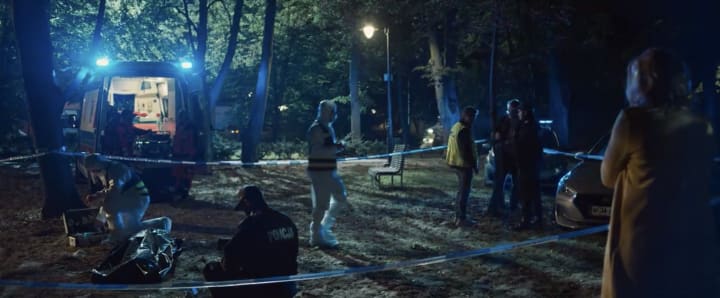 Summary
A stay-at-home wife and mother, Magda(Anna Smolowik) finds herself in the middle of a murder case that leads to something more for herself, the community and the murderer. As an avid reader of mystery novels and victim of a mystery, she pushes herself to find out more connecting her friend, Weronika's (Emma Giegzno)disappearance and the body in the woods. Both investigations are connected to each other and help her to overcome it and her trauma.
Takeaway
She uses time estimations of her arrival and Joanna's(Sandra Herbich) murder as well as her attire to determine the possible details of her death. She tells her friend and Commissioner, Jacek Sikora(Pawel Domagala). He asks her how she knows all this and she replies saying, 'Agatha Christie'.
Magda told Jacek, "You're rushing to conclusions if you ask me.". He did not explore deeper for the motives and connections in order to gain the actual truth. In mysteries everything counts and sometimes if it's too easy, it's probably wrong because it could have been orchestrated that way to throw you off. Like Eudoria said in Enola Holmes 2, "You stirred up a hornet's nest. You are onto something. Why else would they try and silence you?". Magda getting closer to the truth started feeling followed and was eventually followed to silence her.
Side-note
Robert Mazur (Piotr Adamczyk)said, "People heal themselves. I don't know. Maybe there is some positive energy or faith. Faith can move mountains.". He was a pseudo-healer unsure about the possibilities of his healing powers and business. He believed many things could be healed from within and some other things required another form of help beyond him as he rejected Magda when she came to him to find her missing friend.
The line "I mean, everyone was in love with Weronika" reminded me of the 'everyone loved Harris' line from the movie Evening and how their love for Harris intoxicated all of them.
Czerwiński (Szymon Bobrowski) said, "Everyone knows in this house even a mouse can't shit without you knowing about it" about Barbara's (Dorota Segda) power. This reminded me of the "Behind every successful man, there is a strong woman" quote as she handled the issues and is said to be the one of true power.
Faves
Elka (Olga Sarzynska)and Magda (Anna Smolowik)
More details and my opinions about In for a Murder are written in my "In for a murder encourages you to heal" article.
Der Parfumeur //The perfumier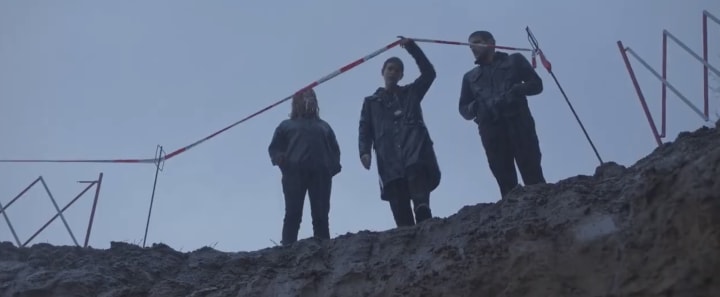 Summary
Sunny (Emilia Schüle)gets a change of scenery with a new job and new location. She hopes for happiness and longevity with her fellow officer and lover, Juro(Robert Finster). Her absence of smell haunts her so she strikes a deal with the perfumier who plans to make the perfect scent.
Takeaway
"We came up with nothing"- smart and strategic people leave little to chance but often have a slip-up or misstep as Sherlock in Enola Holmes 2 said. Regardless, they find the desired suspect.
Side-note
We learn the six basic scents and follow Sunny on her journey of re-discovering scents each day. Dorian (Ludwig Simon) says "Smells are feelings. Memories.". These memories came back as she said, The invisible wall had vanished. But with the smell, memories returned, and a curiosity.".
Faves
Tina(Sólveig Arnarsdóttir) and Rosa(Sina Martens).
More details and my opinions about The perfumier are written in my "The perfumier portrays scent as dangerously beautiful" article.
The Pale Blue Eye
Summary
Augustus Landor(Christian Bale), a retired detective is recruited to solve a murder that leads to a string of others in the U.S military academy. He enlists help from cadet, Edgar Allan Poe(Harry Melling) to infiltrate inner circles and assist his investigation as they both work to uncover the truth.
Takeaway
Captain Hitchcock(Simon McBurney) said, "Coincidence, is it?". There are barely any coincidences in a mystery, all things no matter how small are vital despite the degree of vitality. As Captain talked about the note given informing Landor about the incident of cow and sheep mutilation in the same manner as Leroy Fry(Steven Maier). The same manner builds a pattern and could lead to more questions that could help find this person.
Landor said, "We are closer. It's only a matter of time." when talking to Superintendent Thayer (Timothy Spall)about his progress and findings despite a second murder and mutilation. It often takes time but you eventually find out who you're looking for with everything you've found.
Side-note
Edgar//EAP said, "At times, I believe the dead haunt us because we love them too little. We forget them, you see. We don't mean to, but we do. I believe they feel most cruelly deserted and so they clamour for us.Perhaps it best we don't give that too much thought.".
"The air of concealed violence" is a remarkable way to describe a mystery, a murder mystery at that (by EAP).
Faves
Edgar Allan Poe (Harry Melling) and Mr.Huntoon(Brennan Keel Cook).
More details and my opinions about The pale blue eye are written in my "The Pale Blue Eye is hauntingly justifiable?" article.
Edgar Allen Poe was included in another mystery, the 2022 Netflix Wednesday series. In this first season, Wednesday worked to discover the truth about her ancestry, parents, school, the monster, pilgrims and her fast-approaching fate. You can watch it or watch a commentary on it by Lakia Jai Tv on YouTube.
I also got to watch the Velma series through Brittany reacts YouTube Channel. Velma works to discover the un-likability of her personality, her sexuality, her mother's physical abandonment, her father's emotional abandonment and the hot girls' murderer in her town. It was interesting to see the detectable characters uncover SCOOBI, to see Norville's lead-up to drugs, to see Fred's layered issues and to see Daphne's toxicity and toughness.
The re-direct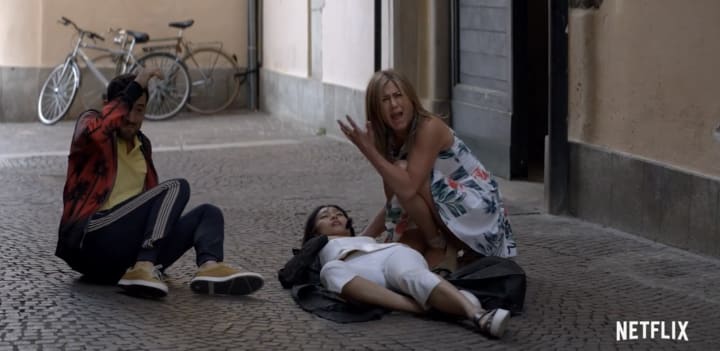 Most mysteries have a re-direct. There are some moments in mysteries that are included to confuse the audience and if you think about it, make no sense in their reality. For example, Why did Landor interrogate Edgar like that knowing full well that Edgar was innocent and he was the killer? These are often included to throw viewers off as a classic red herring. According to Wikipedia, a red herring is, "something that misleads or distracts from a relevant or important question. It may be either a logical fallacy or a literary device that leads readers or audiences toward a false conclusion.". Although some movies do not include it at all In The perfumier, there is no red herring or re-direct. It is a direct movie from the beginning to the end. Sometimes, you also get the answer early on. For example, Mira Troy's discussion with Enola about knowing all the rules and Juan Carlos being declared the killer by the Maharajah early on.
In 7 women and a murder, Susanna tells Veronica not to exclude herself and when Veronica says she just arrived, Susanna says she could have come back to lead them astray (like Hugh in Knives Out ) which led Caterina to show that Susanna was projecting her own actions.
Interrogation
"Don't bullshit a bullshitter."-Detective Frazier from Inside Man.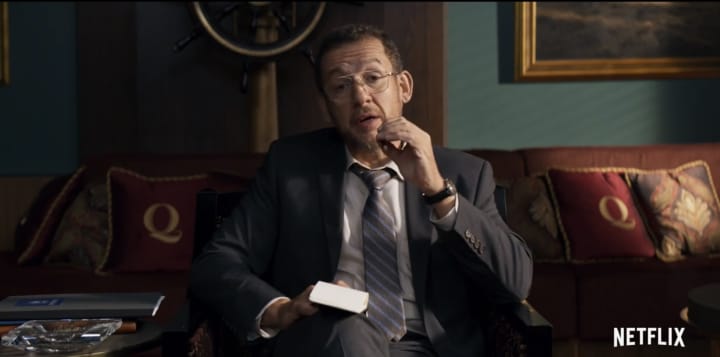 Detectives try different techniques to get the answers to back the clues they have, which could include more or less talking. Everyone has to come up with their alibi which as I learnt from the Loving adults movie includes sound as well. A lot of people lie including the detectives as well. 
In The pale blue eye, Landor says, "With enough patience, the suspect will often interrogate himself.". He tells Edgar who asks for clarification on a rumour about his career. Edgar asked if it was true that he once got a confession delivered with just a piercing look. Different things acquire different levels of effectiveness but what works, works.
Motives
A motive is the person's driving force, their reason for doing whatever they're doing.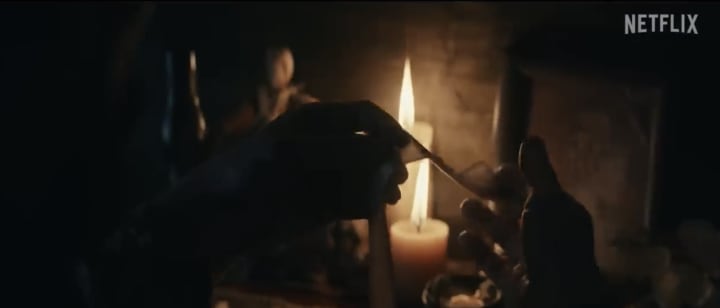 Murder Mystery
In Murder Mystery, Nick said, "That's all three motives. Money, love, revenge.". Juan Carlos said he convinced Grace to tell Tobey to kill his dad and "destroy this sick family in the name of my father.". Vikram, the Maharajah lets us know early on that Juan Carlos's dad used to race for Malcolm but lost both his legs when his safety was overlooked. He wanted revenge and to avenge his father's name.
The Pale Blue Eye
Patsy (Charlotte Gainsbourg)said to Landor, "You of all people know that the people we lost are always with us.". She says this as they talk about Poe saying his dead mother told him the words to write down when Fry died.
He knows this as his trauma haunts him and his memento Ribbon and clothes of his do as well. His daughter, Mathilde or Mattie(Hadley Robinson) was brutally raped by three cadets after the ball. She could not recover from it despite her dad's encouragement and took her life falling from a cliff. He saw this fall to her death. His wife also passed away from a sudden illness after they moved to their new home.
He wanted revenge to avenge his daughter and maybe also to feel at peace. After Poe uncovered this truth he came to let him know and said, "He must think God himself was on his side. Being engaged to solve the very crimes that he himself committed.".
The perfumier
This was interesting to me because it was different from the usual motives etc. People were killed to remove the sweat glands in armpits and pubic areas trying to gain skin or hair. This was about the "human scent and the pheromones it contains" as Sunny said.
In for a Murder
Barbara was Bruno's (Rafal Królikowski)wife but Weronika was the love of his life. Barbara told Czerwiński, "You have no idea how humiliating all that was. I was trying to have a baby with Bruno for many years, and then she comes along and gets pregnant. I knew about the affair for a long time.". This gave her motive, especially after she caught Weronika there when Bruno wasn't.
Usual suspects
There are stereotypes about who the killer or targeted person frequently is. This is often wrong and sometimes not. Despite being true sometimes, these are based on familiar mysteries in pop culture to understand situations.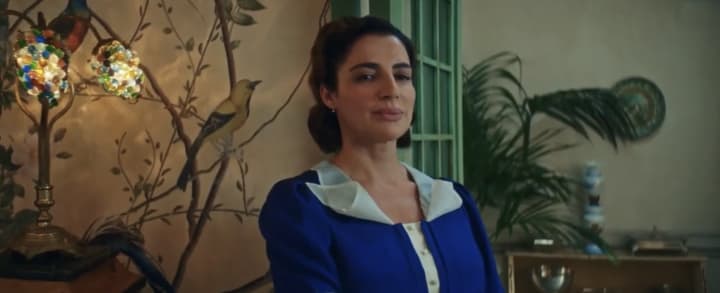 The Pale Blue Eye
EAP was attacked by Ballinger (Fred Hechinger)and said to Landor, "It's always been this way. People underestimating me. Friends, classmates, my very own benefactor. Everyone but my dear mother.". After his audible and flimsy threats to kill him if they fight again, he is a suspect in Ballinger's imminent murder. 
He was antagonized by Landor thinking he kills anyone that crosses him including Leroy Fry whom he actually knew. However, Poe said, "Mr. Landor. If I were to kill every cadet who had abused me during my brief tenure here, I'm afraid you would find the Corp of cadets reduced to less than a dozen. Now, if you must know, I've been a figure of fun from my very first day here. My manner, my age, my person, my aesthetics. If I had a thousand lifetimes, I could not begin to address all the injuries that have been done to me." He says, "Yes, I am guilty of a great, great many things, but never that. Never murder." Superintendent Thayer and Captain Hitchcock conclude he's the one to be told to the president before his name is cleared.
7 women and a murder
Susanna says, "Dissatisfied servants are always the prime suspects.". This is another way of saying "the butler did it" which is also the most dispensable person they deem among others. With this perspective, they speculate on Maria is the killer. However, she says, "What makes you believe I was dissatisfied?" which they don't answer as they reach again for another reason to conclude her to be the killer. However, she is unaffected by their attempts and states she has no motive to kill him. She also makes it clear that she is possibly the only one who doesn't, implying the ulterior motives of everyone else.
Veronica categorizes all the ladies when wondering if the killer could be, "The not-at-all heartbroken wife? The baby rebel? The devoted firstborn? Or the mother-in-law, drunk and miserly. Or the sister-in-law. Spinster? [Agostina says," Or the old flame? which Veronica does not repeat] [Or the newly-hired maid? (as Margherita says) which Veronica does repeat.]". Despite speaking to them about having no motive they still went back to the maid as a suspect.
Murder Mystery
"It's never the butler who did it.", Audrey says as Nick tries to conclude her reading by saying the familiar mystery trope that the butler did it. She says, "The most obvious suspect is never, never the killer." as she believes people are more complicated than that À la Gone girl.
She tells Charles Cavendish that his name sounds right out of a mystery novel and after he asks what type of character he'd be she said a bad guy with a name like that. His name and her immediate judgment, just like the immediate judgement of the butler, prove he is a red herring and will not be a significant suspect.
Juan Carlos using the stereotype of not being able to speak English ties into Mira Troy's belief, "It's remarkable what can be done when people underestimate you.". Being the true mastermind behind Malcolm's(Terence Stamp) murder, he's discovered before he said, "I've spoken English my whole life, you stupid idiots and a dozen other languages.". 
Enola Holmes 2
Mira Troy said, "I, take advantage? What were MY advantages? Treated like a common servant when I have twice the mind of your's. Any of your's. Why shouldn't I have a share of your Ill-begotten riches and punish you at the same time? Why shouldn't I be rewarded for what I can do? Where is my place in this….society? I am a Woman. I cannot join clubs, I cannot own shares, I cannot advance myself as they can. So, I found my own way.". Mira Troy had to find her own way as many marginalized people did and still do. They were seen as radicals to have opposing opinions and strong ones at that. She took benefit of her wits and underestimation. It was an electrifying performance and reveal of Miss Mira Troy.
Mystery movies could be simple or complex but no matter what your opinions and choices are, there is something for you.
If you enjoyed this, for more of my articles:
About the Creator
I write on various things: social issues, well-being, cinema and out of curiosity. For contact and all other things, click this. Inactive.
Reader insights
Be the first to share your insights about this piece.
Add your insights