Enola Holmes 2 continues to embrace individuality and independence with regulation.
"You know, I sometimes think I brought you up to be too independent."-Eudoria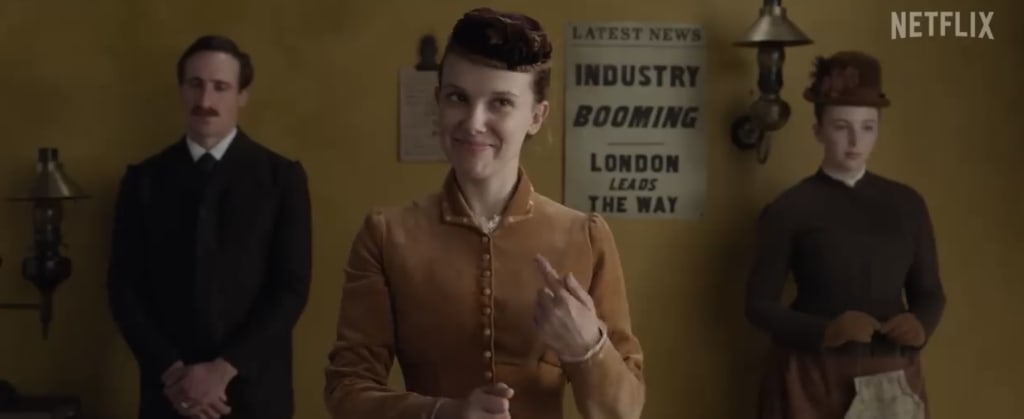 Image credit: Screenshot from Netflix on YouTube
During Women's history month, watching Enola Holmes is the surge of feminism and empowerment you need. Millie Bobby Brown, Henry Cavill, Louis Partridge and Helena Bonham Carter are the main cast members of Enola Holmes 1 and 2. The movies emphasize individuality and independence through Enola and Eudoria. However, the independence displayed is balanced out through working with others.
A spoiler warning is in effect! If you like this, you can get more of my articles when you subscribe to my account.
Summary
Enola(Millie Bobby Brown) embraces the success of her first case in the previous movie and opens her own detective agency. Bessie(Serrana Su-Ling Bliss), a young girl looking for her sister Sarah (Hannah Dodd)saves her agency and spirit. Enola's investigation into the disappearance of Sarah shines more light on her and subsequently lands her in trouble. Her case overlaps with Sherlock's (Henry Cavill)case and they work together trying to understand the missing money from the government and the importance of the missing girl.
Takeaway
Enola said, "Everyone thinks detecting is a profession littered with rules, but in truth, there's only one." and answers it with a memory of Eudoria saying, "Pull on every loose thread you find.". Enola followed all the loose threads with the help of Sherlock, Eudoria (Helena Bonham Carter) and Tewkesbury(Louis Partridge). Sherlock found his culprit and she found Sarah, it was a win for both Holmes'. Enola's life was spared with the retractable knife trick similar to the Knives out movie scene that saved Marta as well.
Side-note
Eudoria told Enola, "Too many people make it their sole purpose in life to fit into the world around them. This is a mistake. It's your path, Enola. Sometimes, you'll stumble. Sometimes, you'll fall. But no matter how lost you feel, if you stay true to yourself, the path will always find you again.". These words encapsulate the principles of Enola and her mother as she fights for women's rights in London.
Eudoria also speaks about their independence saying, "You, Sherlock, Mycroft. Strong, formidable, individual children, but, well, perhaps a little lonely. You will do very well on your own, Enola. But with others, you could be magnificent.". This independence is talked about during the Enola Holmes 2 cast interview on the Pay or Wait YouTube channel by Sharronda Williams.
Video credit: Pay or Wait on YouTube
Faves
Edith(Susan Wokoma), Eudoria(Helena Bonham Carter), Tewkesbury(Louis Partridge), Enola(Millie Bobby Brown), Sarah(Hannah Dodd), Sherlock(Henry Cavill), Mira Troy(Sharon Duncan-Brewster)…honestly everyone.
Usual suspects
Mira Troy said, "I, take advantage? What were MY advantages? Treated like a common servant when I have twice the mind of your's. Any of your's. Why shouldn't I have a share of your Ill-begotten riches and punish you at the same time? Why shouldn't I be rewarded for what I can do? Where is my place in this….society? I am a Woman. I cannot join clubs, I cannot own shares, I cannot advance myself as they can. So, I found my own way.". Mira Troy had to find her own way as many marginalized people did and still do. They were seen as radicals to have opposing opinions and strong ones at that. She took benefit of her wits and underestimation. It was an electrifying performance and reveal of Miss Mira Troy.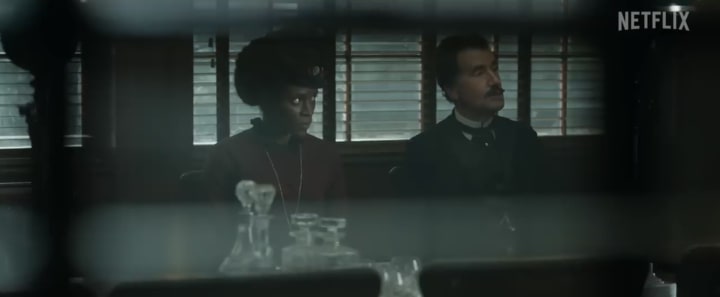 Embracing change
The fear of change is apparent throughout this movie. However, Sherlock starts working with people(as Enola said she likes this new version), and Enola asks for help while being vulnerable. Eudoria is worried as she felt she trained all her children to be too independent and therefore, lonely. Sherlock tells Enola not to be so desperate to prove herself after he deduces she might be involved in something dangerous. He increasingly became supportive of her. He is always so proud of her and it's endearing unlike misogynistic Mycroft (Sam Claflin)who's always appalled.
In Enola Holmes, The Dowager (Frances de la Tour)shot her grandson, Tewkesbury because she was afraid of change and the impact he would bring being sworn in as a lord. Tewkesbury continues doing his duties and impacting change. He's using his position actively as he grows in his position and she finally declares him a man "on occasion". It's lovely to see Tewksbury respecting her values and personality and offering help instead of belittling her ability to feel useful. They bond and grow in their relationship.
Sherlock asks if they could work as partners which Enola declines for her individuality but they arrange to meet later that week. They agree that they could check on each other and she says he needs a friend before seeing that Mira Troy escaped. However, instead of coming to hang out with Sherlock come Thursday at 4 pm, she sends over a man that would eventually become his best bud and partner, Dr.John Watson(Himesh Patel). It was a *wink wink* moment that showed promise for Sherlock's growth too.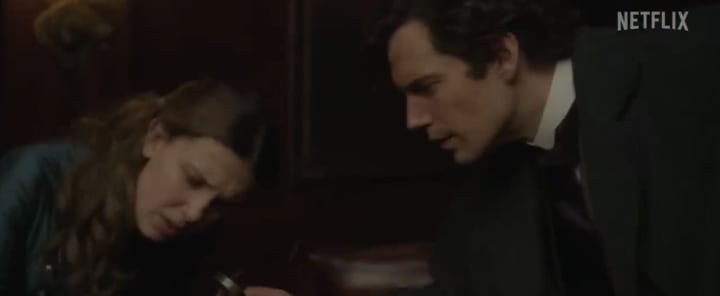 Mr. Crouch (Lee Boardman) said, "Can't anyone control these bloody women?" during their stance to protest working at the match factory. The phosphorous in the match sticks were changed and eventually killed many of them. Women are fighters and strivers. Mira Troy was arrested after she was identified, however, it is not the end for her as she says she'll see them on the dance floor again. In Enola Holmes, Edith told Sherlock he doesn't know what it's like to be without power. He said he has no interest in politics and Edith said that's because the world he's in works for him. The women had to work overtime while being mistreated but finally decided to stand up and strike despite the lack of evidence as Mcinterye(Tim McMullan) burned it. Eudoria and Edith watch Enola leading the strike out of the factory with pride. Their sisterhood reminds me of the sisterhood in Gunpowder Milkshake. It's great to see they have each other while still doing what's needed. I won't be surprised if Mira Troy was part of Edith's sisterhood for the training and all however, she may not have been aware. It's secretive and not something you shout aloud. I also felt that if she was in the sisterhood, she might not have meddled with Eudoria's kids. The Match Girls Strike is non-fiction as the movie ends with the statement saying, "The Match Girls Strike, Led by Sarah Chapman was the first ever industrial action taken by women for women. It improved their working conditions for ever." and "It only takes one flame to start a fire." with a picture as well.
Parts of this article were originally written in the "Mysteries and some movies" article.
If you enjoyed this, for more of my articles:
About the Creator
I write on various things: social issues, well-being, cinema and out of curiosity. For contact and all other things, click this. Inactive.
Reader insights
Be the first to share your insights about this piece.
Add your insights