The Pale Blue Eye is hauntingly justifiable?
"The air of concealed violence"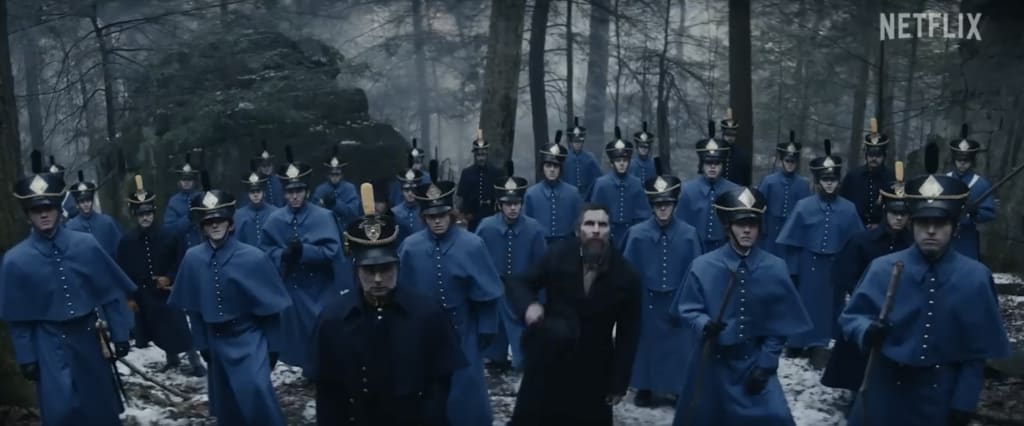 Image credit: Screenshot from Netflix on YouTube
The Pale Blue Eye is a 2022 movie with Christian Bale, Harry Melling, Simon McBurney, and, Timothy Spall as the main cast.
There is a spoiler warning and sensitive topics warning(including topics such as rape etc.) in effect! If you like this, you can get more of my articles when you follow my account.
Summary
Augustus Landor(Christian Bale), a retired detective is recruited to solve a murder that leads to a string of others in the U.S military academy. He enlists help from cadet, Edgar Allan Poe(Harry Melling) to infiltrate inner circles and assist his investigation as they both work to uncover the truth.
Takeaway
Captain Hitchcock(Simon McBurney) said, "Coincidence, is it?". There are barely any coincidences in a mystery, all things no matter how small are vital despite the degree of vitality. As Captain talked about the note given informing Landor about the incident of cow and sheep mutilation in the same manner as Leroy Fry(Steven Maier). The same manner builds a pattern and could lead to more questions that could help find this person.
Landor said, "We are closer. It's only a matter of time." when talking to Superintendent Thayer (Timothy Spall)about his progress and findings despite a second murder and mutilation. It often takes time but you eventually find out who you're looking for with everything you've found.
Side-note
Edgar//EAP said, "At times, I believe the dead haunt us because we love them too little. We forget them, you see. We don't mean to, but we do. I believe they feel most cruelly deserted and so they clamour for us.Perhaps it best we don't give that too much thought.".
"The air of concealed violence" is a remarkable way to describe a mystery, a murder mystery at that (by EAP).
Faves
Edgar Allan Poe (Harry Melling) and Mr.Huntoon(Brennan Keel Cook).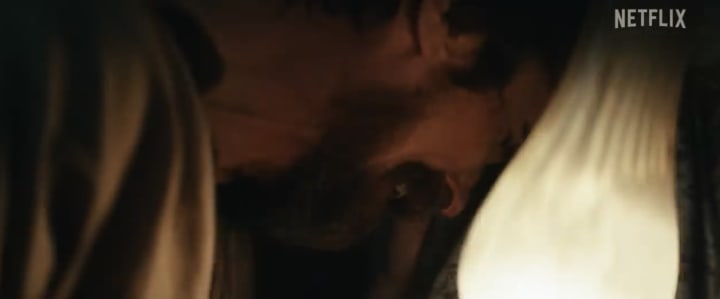 Motive
Patsy (Charlotte Gainsbourg)said to Landor, "You of all people know that the people we lost are always with us.". She says this as they talk about Poe saying his dead mother told him the words to write down when Fry died.
He knows this as his trauma haunts him and his memento Ribbon and clothes of his daughter do as well. His daughter, Mathilde or Mattie(Hadley Robinson) was brutally raped by three cadets after the ball. She could not recover from it despite her dad's encouragement and took her life falling from a cliff. He saw this fall to her death. His wife also passed away from a sudden illness after they moved to their new home.
He wanted revenge to avenge his daughter and maybe also to feel at peace. After Poe uncovered this truth he came to let him know and said, "He must think God himself was on his side. Being engaged to solve the very crimes that he himself committed.".
Usual suspects
EAP was attacked by Ballinger (Fred Hechinger)and said to Landor, "It's always been this way. People underestimating me. Friends, classmates, my very own benefactor. Everyone but my dear mother.". After his audible and flimsy threats to kill him if they fight again, he is a suspect in Ballinger's imminent murder.
He was antagonized by Landor thinking he kills anyone that crosses him including Leroy Fry whom he actually knew. However, Poe said, "Mr. Landor. If I were to kill every cadet who had abused me during my brief tenure here, I'm afraid you would find the Corp of cadets reduced to less than a dozen. Now, if you must know, I've been a figure of fun from my very first day here. My manner, my age, my person, my aesthetics. If I had a thousand lifetimes, I could not begin to address all the injuries that have been done to me." He says, "Yes, I am guilty of a great, great many things, but never that. Never murder." Superintendent Thayer and Captain Hitchcock conclude he's the one to be told to the president before his name is cleared.
…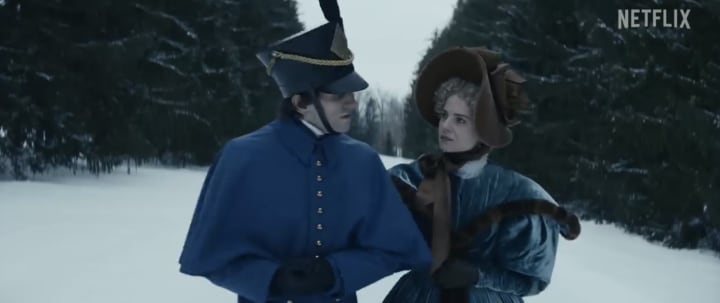 Patsy said, "Man will do most anything to cheat death, won't he?". This is evident with the struggles of some killed men and the Marquis family. This quote falls in line with Lea (Lucy Boynton) and her family's desperation to keep her alive so dearly that they did sacrifices to prolong her life and reduce her seizures. They communicate with the dead and lured men that claimed to love her to get their hearts for the ritual. There were no real consequences to the family except the death of Lea and Artemus(Harry Lawtey).
Augustus was a good actor because what? The scene where he was interrogating and shouting at EAP like he was fed-up with the case asking, "where are the facts? The simple facts. The truth!" knowing fully well he's the killer Ha! This explains his work for free and his stern opinions about the academy making the boys inhumane. This also explains how he could identify the signs of a struggle and the contusion at the back of Fry's head.
I understand Edgar was emotionally involved and thought to be in love with Lea but his statements saying he will not forget her and that she was to be a mother were intriguing actually. This is so because when did he expect to live that long or make her a mother if he was to die during his 'sacrifice is the ultimate expression of love' ceremony?
It's understandable that he's upset that Landor lied and played them, especially him but his statement asking why Landor did not tell him what happened to him concerning his daughter because he would have comforted him is not realistic. They have a friendship and are supportive of each other but this is not something that could just be comforted as Landor said he doesn't like to talk about it.
Landor said he didn't want them to confess but to die and despite Stoddard's(Joey Brooks) escape, he hopes he lives in fear. He is in SO much pain. He sobbed when Edgar burnt the evidence. He returns to the cliff of Mattie's death and follows suit (seemingly) after releasing her hair ribbon to rest.
Parts of this article were originally written in the "Mysteries and some movies" article.
If you enjoyed this, for more of my articles:
About the Creator
I write on various things: social issues, well-being, cinema and out of curiosity. For contact and all other things, click this. Inactive.
Reader insights
Be the first to share your insights about this piece.
Add your insights