Murder Mystery 2 is coming out soon!
"We're not gonna be invited anywhere ever again"-Audrey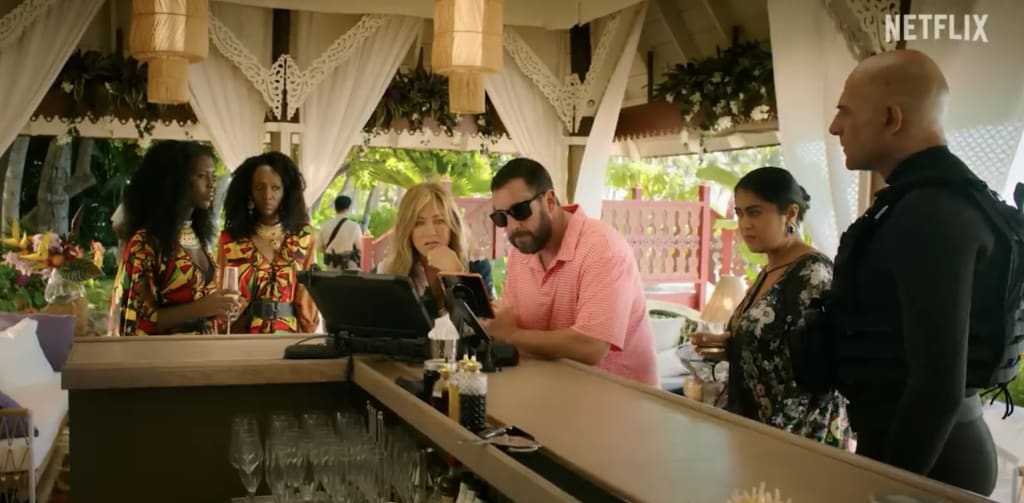 Image credit: Screenshot from Netflix on YouTube
Adam Sandler and Jennifer Aniston are the stars of the Murder Mystery film series. The first one came out in 2019 with the second to come out on Netflix by March 31st. From the trailer, the Spitz's are invited to the Maharajah's (Adeel Akhtar)wedding and attend with caution only to realize he's been kidnapped during the celebration. They work to uncover his disappearance with familiar characters involved such as the Colonel(John Kani), Inspector de la Croix(Dany Boon), and the Maharajah. Before Murder Mystery 2 comes out, I'm looking back at the first movie.
A spoiler warning is in effect! If you like this, you can get more of my articles when you subscribe to my account.
Summary
Nick(Adam Sandler), a police officer and aspiring detective made a promise to his wife Audrey (Jennifer Aniston)on their wedding day. With their forthcoming 15th-year wedding anniversary, she recalls this promise to go to Europe. They end up going but Audrey comes across an eccentric man called Charles (Luke Evans) who offers and succeeds to include them on his family boat. Taking this decision allows them to have numerous adventures as they strive to enjoy themselves, find the killer and clear their names.
Takeaway
Nick says, "Okay. Do you have the fingerprint testing kit? 'Cause I didn't pack mine. Is it in your bag?". He jokes about the classic detective ways of forensics as Audrey says they should check for fingerprints on the note slid under their hotel room door.
Audrey tells Suzi(Shioli Kutsuna), "No matter what you do, you're not gonna be safe. I'm telling you. One murderer always double crosses the other murderer.". She tells her thinking she's a co-conspirator and will eventually be crossed based on the mystery books Audrey has read.
Side-note
Grace(Gemma Arterton) said, "All women are actresses, dear. I'm just clever enough to get paid for it." which could lead to a bigger discussion about society and women's place in society but that aside.
Faves
Audrey(Jennifer Aniston), Charles (Luke Evans) and Juan Carlos(Luis Gerardo Méndez).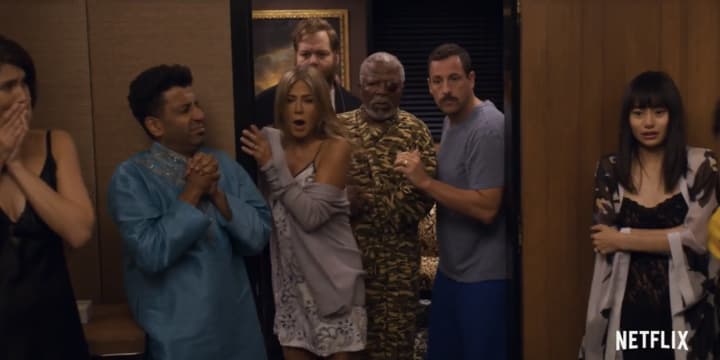 Usual suspects
"It's never the butler who did it.", Audrey says as Nick tries to conclude her reading by saying the familiar mystery trope that the butler did it. She says, "The most obvious suspect is never, never the killer." as she believes people are more complicated than that À la Gone girl.
She tells Charles Cavendish that his name sounds right out of a mystery novel and after he asks what type of character he'd be she said a bad guy with a name like that. His name and her immediate judgment, just like the immediate judgement of the butler, prove he is a red herring and will not be a significant suspect.
Juan Carlos using the stereotype of not being able to speak English ties into Mira Troy's belief, "It's remarkable what can be done when people underestimate you.". Being the true mastermind behind Malcolm's(Terence Stamp) murder, he's discovered before he said, "I've spoken English my whole life, you stupid idiots and a dozen other languages.".
Motives
In Murder Mystery, Nick said, "That's all three motives. Money, love, revenge.". Juan Carlos said he convinced Grace to tell Tobey (David Williams) to kill his dad and "destroy this sick family in the name of my father.". Vikram, the Maharajah lets us know early on that Juan Carlos's dad used to race for Malcolm but lost both his legs when his safety was overlooked. He wanted revenge and to avenge his father's name.
...
Marisol (Nicole Randall Johnson) said, "You know, you just have to tell him" but Audrey says she doesn't want to have to tell him, she just wants him to know about his promise to go to Europe. Lorraine(Molly McNearny) says, "You have to tell men everything." which at first I thought was harsh but ties into the plot because Nick was sent a text message to buy Claritin for Audrey. He gets to the store looks at both, says Claritin and still picks Allegra. Nick lies about being a detective for a while until it's revealed he isn't. Holly (Sufe Bradshaw) was not happy with Nick's lie and having to not tell Audrey. She calls him out for being an Amazon gift card type of guy after he tells Audrey he has something special for her due to her reaction to seeing the ring Jimmy (Erik Griffin) got Holly. They all toast at dinner to their fifteen wonderful years while Audrey just says "fifteen".
Feeling stuck and needing to do something grand, he lies about having the trip already planned as she asked him about it and this leads to their whirlwind of adventure coupled with the acceptance of Charles' offer. On the yacht, Audrey is reacting to something and asks for the Claritin he told her he packed. He gives it to her and says, "That's the same thing." but Allegra doesn't work for her despite acknowledging it all this time as Claritin. He intends to get the right Claritin for her later and she tells him to remember "the blue box". I was glad Audrey got to live her dream of being in a mystery and solving it while being in Europe. They got to bond as a couple during their adventure which exposed lies, skills and aspirations. The continuous use of ominous music, squinting, stares and jumps amplifies this experience. The movie ends as they leave on the orient express, home of one of the most famous murder mysteries.
Parts of this article were originally written in the "Mysteries and some movies" article.
Will you be watching it when it comes out?
Video credit: Netflix on YouTube
If you enjoyed this, for more of my articles:
About the Creator
I write on various things: social issues, well-being, cinema and out of curiosity. For contact and all other things, click this. Inactive.
Reader insights
Be the first to share your insights about this piece.
Add your insights