From Silent Movies to Disney Musicals: A Cinematic History of Lady Warrior Hua Mulan
The timeless tale of the legendary lady warrior from China dates as far back as the fourth century.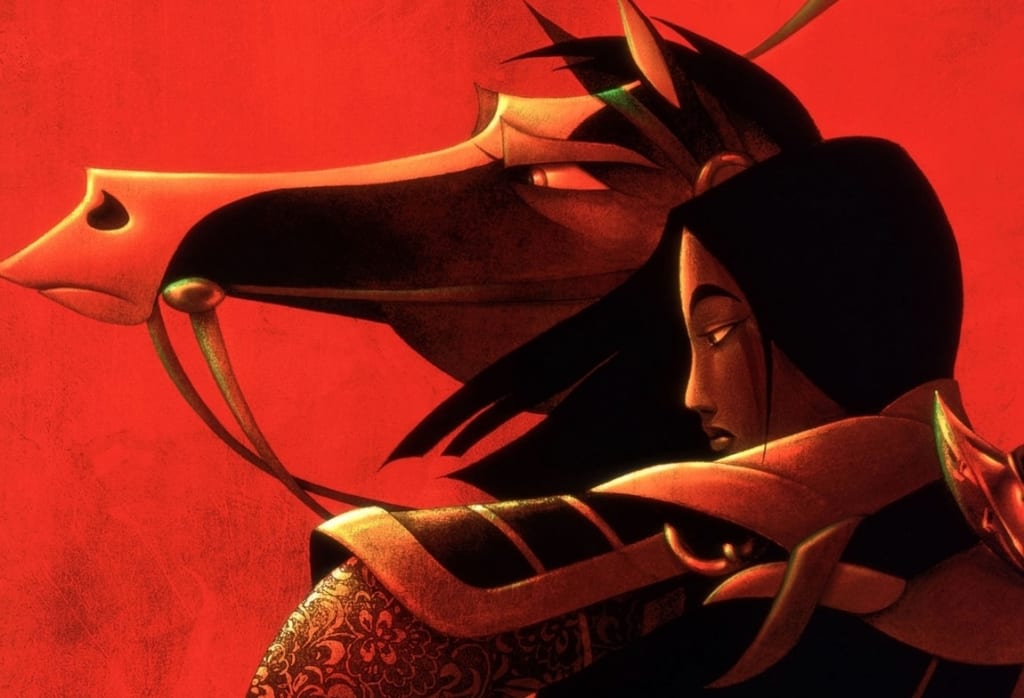 Poster for 1998's 'Mulan' [Credit: Disney]
It's a tale as old as time. No, we're not talking about Beauty and the Beast, but rather, the legend of Hua Mulan, the basis of Disney's classic 1998 animation Mulan and the studio's upcoming live-action epic.
The timeless tale of the legendary lady warrior from China dates as far back as the fourth century, when it first appeared as a folk song titled "The Ballad of Mulan."
Set in the era of the Northern Wei dynasty, which lasted from 386–534, the story tells of a young woman named Hua Mulan who disguises herself as a male soldier and enlists in the army in place of her elderly father and young brother when war arrives. Skilled in martial arts and swordplay, #Mulan fights on the battlefield for 12 years, garnering many heroic distinctions. When the war ends, she turns down an official military post, preferring instead to return home to take care of her family.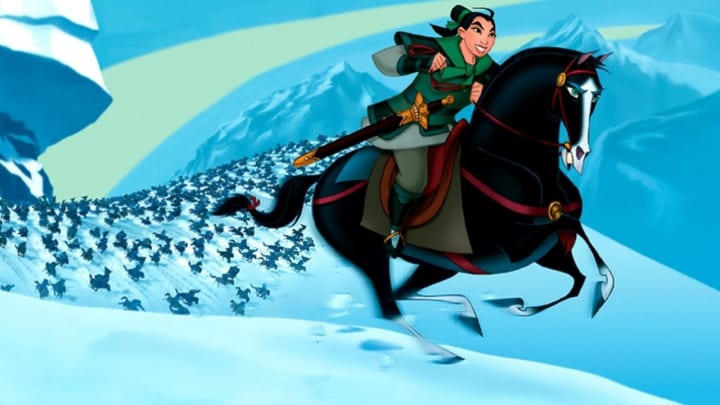 For centuries, the story of Hua Mulan became a popular folktale among Chinese people throughout the world, passed down from generation to generation in various media, from books and paintings to traditional Chinese opera.
When the Chinese motion picture industry grew in the 1930s, moviegoers had the chance to enjoy the legend on the big screen as well.
Before the live-action remake of Mulan is released in 2020, let's take a look at the cinematic history of the legendary Chinese lady warrior.
NB: Filmed productions of staged operas not included.
The Very First Film: Hua Mulan Cong Jun (1927)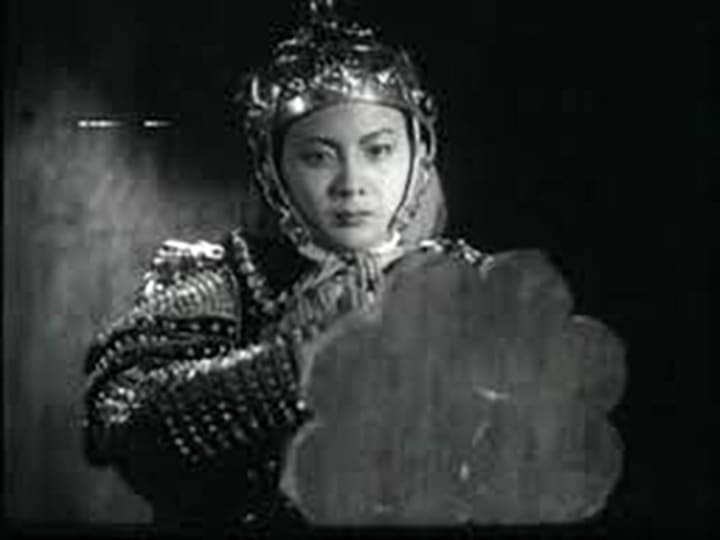 Produced by Shanghai's Tianyi Film Company, this silent film holds the distinction of being the first ever full-length feature film about Hua Mulan. Story-wise, it took liberties with the narrative, with Mulan betrothed to a young man when war arrives and their wedding ceremony having to be put on hold. As her fiancé enlists in the army, so too does the filial Mulan, disguised as a man in place of her ailing father. These new plot twists lead to comedic moments when Mulan encounters her fiancé during training and he does not recognize her.
The film was a hit, and lead actress Hu Shan became a household name — although she never achieved the same level of superstardom as her famous sister, actress Hu Die.
2. The Second Fiddle: Mulan Joins The Army (1928)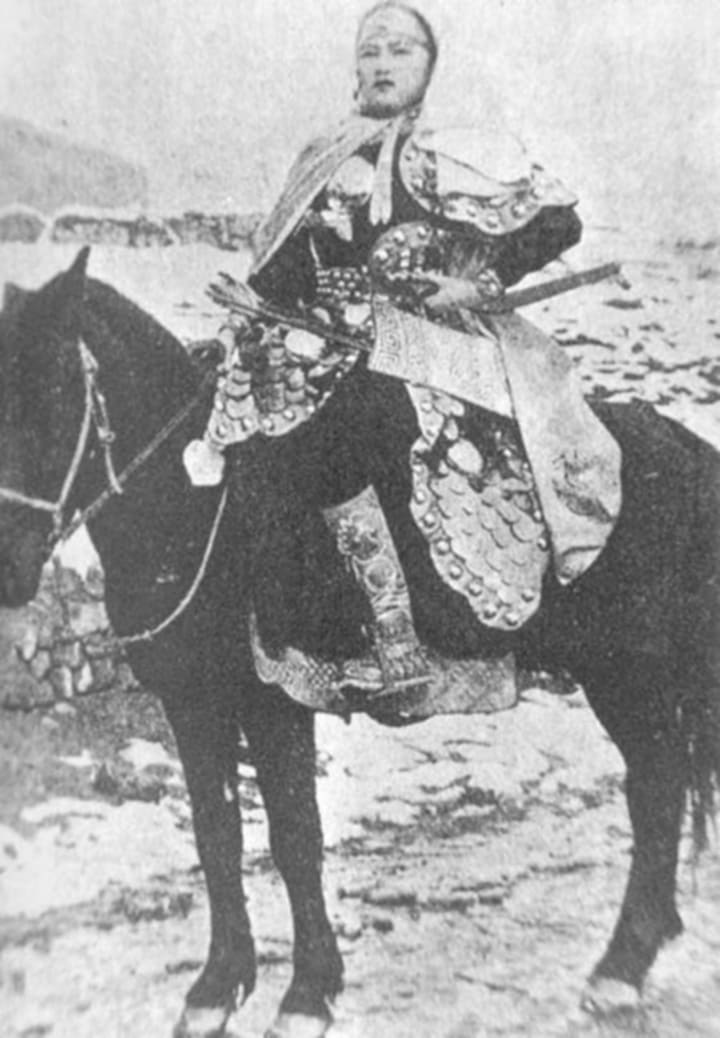 This big-budget production (relative to the time) by Minxin Film Company starred Li Dandan, one of China's most popular stars of the late 1920s. It was actually filmed two years before the Tianyi film, but was only released in 1928, seriously affecting its box office performance.
The film introduced a new subplot, whereby Mulan is captured by warring barbarians and forced to marry a local girl, which did not go down well with folk purists. Despite its high production values, the film was deemed a dud.
Fascinating fact: Li, who retired to Europe after marrying a diplomat, had a second successful career as China's first female airline pilot.
Produced by the Huacheng Film Company, the first movie with sound about Hua Mulan starred one of Hong Kong's hottest rising stars at the time, Chen Yunshang, who traveled north to mainland China to make this film.
Groundbreaking in many ways, this version was first filmed in Mandarin, and then redubbed in Cantonese to cater to audiences in China and Hong Kong. As Mulan, Chen also performed martial arts sequences in Chinese opera style and projected different tones of voice to distinguish her character when she's in and out of disguise. An added romantic subplot between Mulan and her fellow soldier Liu Yuandu also produced a duet that became a hit record — proving the evergreen point that every Mulan film should have at least one good song in it!
Released at the onset of World War II, the film was a huge hit and Chen went on to become a huge star on both sides of the conflict.
Fascinating fact: When the film was reissued for the Hong Kong market, the effectively bilingual Chen looped the film in Cantonese herself.
4. The Gold Standard: Lady General Hua Mu-Lan (1964)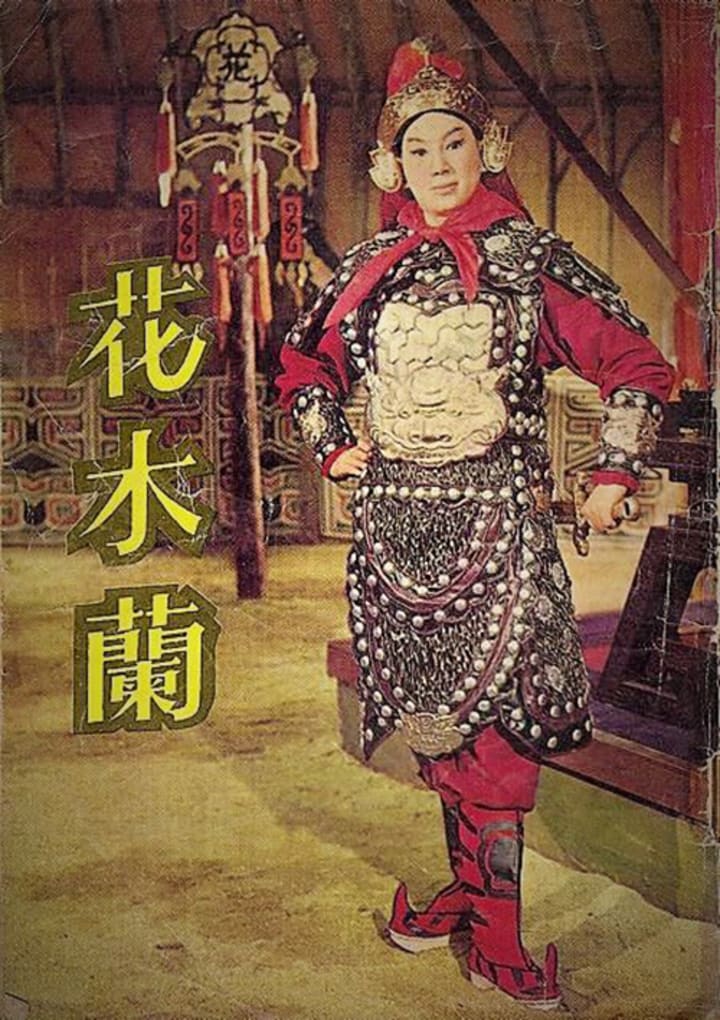 A handful of Mulan films were made in the '50s and '60s, which were mostly operatic interpretations in various dialects. But the one that really raised the bar was the 1964 Shaw Brothers Studio's rendition that starred Ivy Ling Po. Told as a Huangmei opera — a traditional Mandarin rural folksong — and filmed in vivid CinemaScope (panoramic view, stereophonic sound) with a stellar cast, the 106-minute feature was packed with intriguing drama, witty comedy, and catchy, melodious songs.
Highly instrumental to the phenomenal popularity of the film and its accompanying soundtrack was the casting of Ling Po, who had a star quality unmatched by any of her predecessors. Not only could she act and sing beautifully, she was also adept in cross-gender performances (something that is very common in Chinese operas), having shot to fame overnight with the 1963 Huangmei opera film The Love Eterne (based on the Chinese classic story Butterfly Lovers). In that movie she plays male scholar Liang Shanbo who, brilliant as he was, just couldn't tell that his classmate Zhu Yingtai was a woman disguised as a man (yes, Chinese audiences loved star-crossed-lover stories such as these).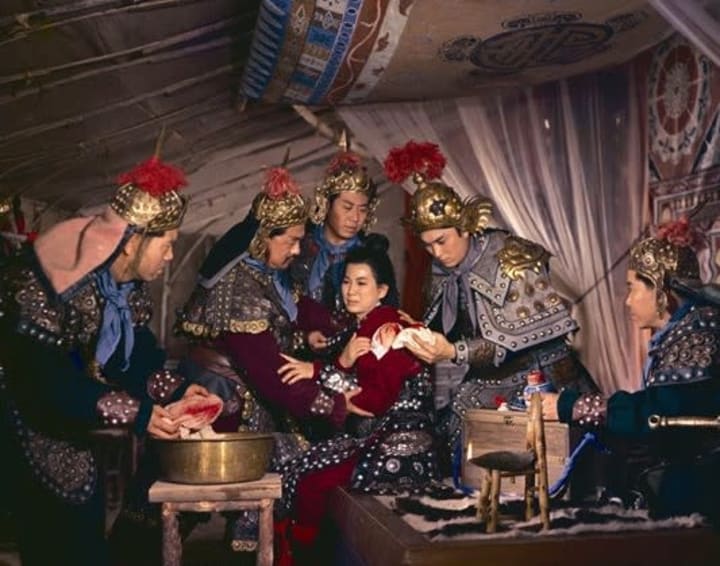 To say Lady General was tailor-made for Ling Po is an understatement. Her performance won her the Best Actress award at the Asia-Pacific Film Festival and steamrolled an illustrious career that spanned over five decades.
Fascinating fact: Life imitates art. Two years after falling for each other on set, Ling Po married her Lady General co-star Chin Han, who played fellow soldier and love interest Li Guang. The couple and their three sons now reside in Canada.
As Ivy Ling Po was highly regarded by many as the quintessential Hua Mulan, a cinematic remake was not considered for decades — until Disney's Mulan came along.
5. The Disney Magic: Mulan (1998)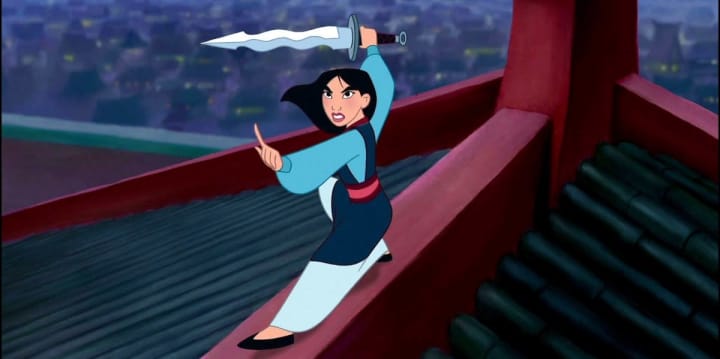 The Hua Mulan legend was given the Disney treatment in this highly lauded animated musical of the late-'90s. Set during the Han dynasty, the story tells of young maiden Fa Mulan who, in order to prevent her aging father from having to fight in a war against the Huns, steals his armor and enlists in the Imperial Army on his behalf.
The impressive voicing cast includes Ming-Na Wen and Eddie Murphy (who stands out as Mulan's guardian dragon, Mushu), and stellar singing from the likes of Lea Salonga, Christina Aguilera and Donny Osmond. Their talents made songs such as "Reflection," "I'll Make a Man Out of You" and "A Girl Worth Fighting For" stood the test of time.
A mega hit in more ways than one, Mulan earned Golden Globe, Grammy and Academy Award nominations.
6. The Sorry Sequel: Mulan II (2004)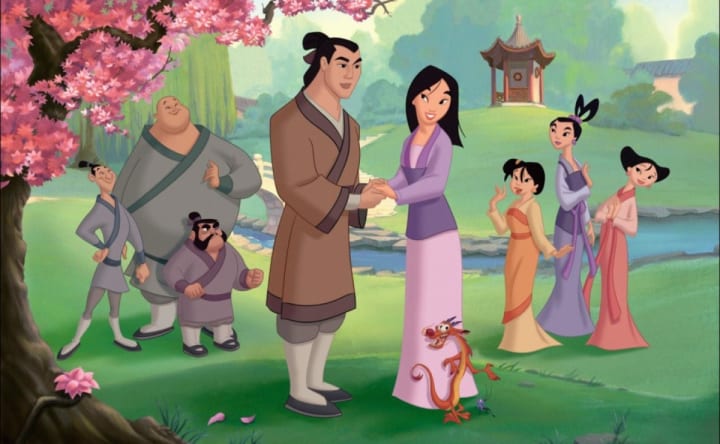 There was a Mulan sequel that, like many Disney sequels at the time, went straight to video. Despite retaining several of the original voice cast (although notably, not Eddie Murphy), it was panned by both fans and critics.
In Mulan II, Mulan and her new fiancé General Shang have to escort the emperor's three daughters across the country to meet their prospective husbands. According to reviewer Scott Gwin of CinemaBlend:
Mulan II is a direct-to-DVD disgrace that takes everything excellent about its predecessor film, rips it to shreds, and uses it for rat cage lining.
In other words, critics believed that the sequel dishonored the achievements of Mulan. Sad.
7. The Serious Contender: Mulan: Rise Of A Warrior (2009)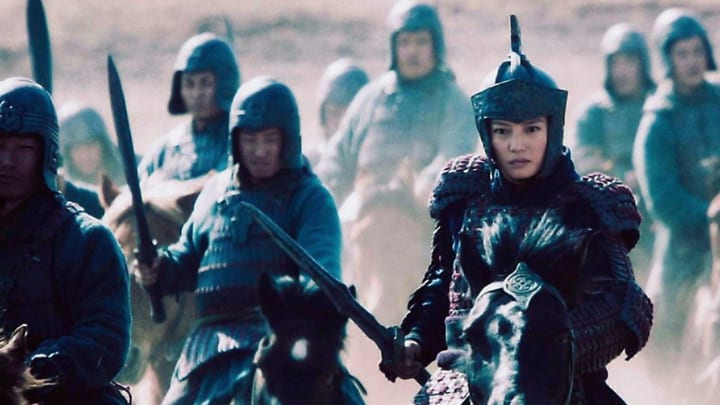 After the global success of Disney's Mulan, the world of Chinese cinema hastened to produce a live-action version of its own. Yet it still took a good decade before popular Chinese actress Vicki Zhao won the coveted role over the likes of international superstars such as Michelle Yeoh and Zhang Ziyi.
Directed by Hong Kong filmmaker Jingle Ma, Rise of a Warrior offers a more serious, in-depth look into the psyche of the lady warrior who has to fight amid men for 12 years, battle after battle, unable to reveal her true self. Compared to other Mulan renditions, Rise is much more somber, with comic moments and battle action kept at a minimal.
As for Zhao, who is equally adept in lighthearted and serious roles, she did enough to impress audiences and critics alike, garnering a slate of best actress nominations and awards for her performance.
8. Disney's Live-Action Remake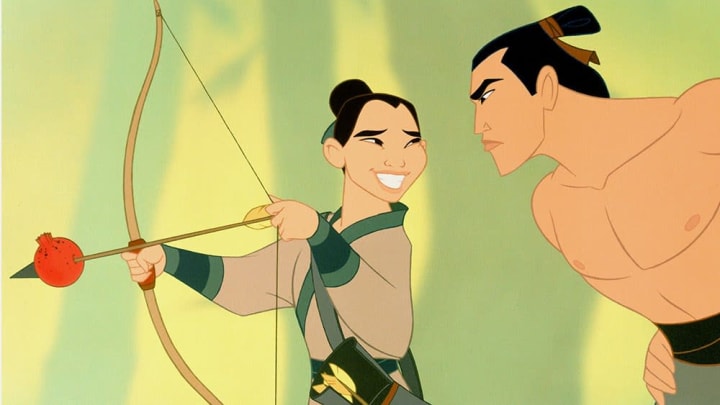 Disney's live-action Mulan remake was at first scheduled for a 2018 release to tie-in with its hit animated feature's 20th anniversary. In 2017, director Niki Caro (Whale Rider) caused a stir when she told ScreenCrush that her Mulan remake will be a "girly martial arts extravaganza," which upset some Mulan fans.
Caro continued to ruffle the feathers of Disney fans when she told Moviefone that there wouldn't be any songs in the new version. After an onslaught of negative feedback, Caro retracted her earlier statement, telling the Los Angeles Times that absolutely "no decision has been made" regarding the use of songs in the movie.
It wasn't till the end of 2017 did Disney finally announced that Chinese actress Liu Yifei has been cast as the live-action Mulan and that filming will only begin in the second half of 2018. Needless to say, the release date was also then postponed till 2020.
For an update on Disney's upcoming Mulan, read:Disney's Live-Action 'Mulan' - 6 Big Changes from the 1998 Animated Hit
Postscript: Mulan On The Small Screen
The Mulan legend has also been heralded on the small screen, and it would be a shame not to mention some of these productions.
A Tough Side of a Lady (1998): Hong Kong comedy-drama series, with starlet Mariane Chan as Mulan. Mainly played for laughs during the Lunar New Year season.
Hua Mulan (1999): Taiwanese drama serial that wasted the talents of Hong Kong star Anita Yuen as it focused more on the romantic subplots rather than on the character's valor.
Once Upon a Time (2012): In the ABC series about reality colliding with fairytales, Gotham's Jamie Chung as the warrior princess Mulan was featured in several episodes.
The Legend of Hua Mulan (2013): This 30-episode serial starring Taiwanese newcomer Hou Meng Yao and pop idol Dylan Kuo was too long-winded, considering that the Mulan story could easily be told in two hours.
Disney's live-action remake of Mulan is due on March 27, 2020.