Curse of the Dragon: The Shocking Coincidences That Led Fans to Believe Bruce Lee Was Cursed
In world cinema there has never been, and never will be, another martial arts star as iconic or charismatic as Bruce Lee.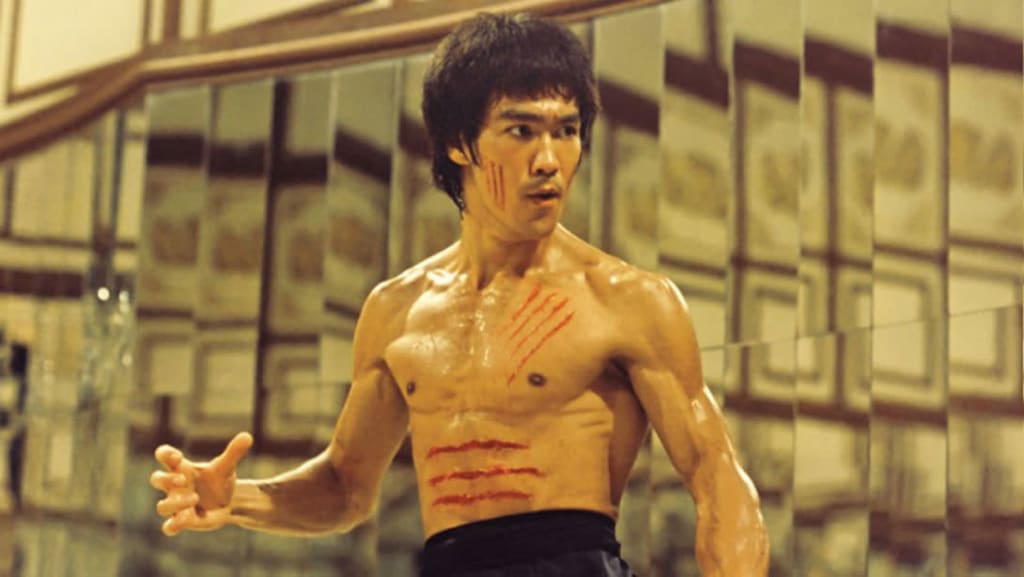 Bruce Lee in 'Enter The Dragon' [Credit: Golden Harvest]
In world cinema there has never been, and never will be, another martial arts star as iconic or charismatic as Bruce Lee. The Hong Kong kung fu idol — whose Chinese name "Xiao Long" literally means "Little Dragon" — shot to overnight fame in the early 1970s thanks to three successive box office hits that showcase his signature Jeet Kune Do moves — The Big Boss (1971), Fist of Fury (1972; a.k.a. The Chinese Connection), and Way of the Dragon (1972).
Sadly, the San Francisco-born actor-director's rapid rise to fame was drastically cut short with his untimely death from a brain edema in 1973. He was just 32 years old. The fact that Bruce has a brother who died before he was born was a catalyst for some fans to believe that Lee may have been cursed. Even some less superstitious fans began to suspect a family curse 20 years later when Lee's actor son Brandon tragically died due to a freak film set accident at the age of 28.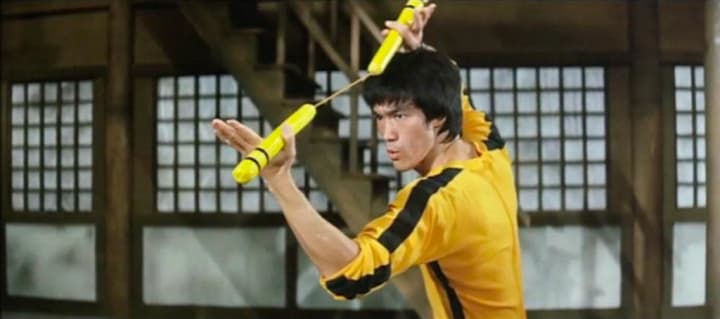 We take a look at the mystifying coincidences between Bruce and Brandon Lee's deaths that led fans to believe that a "Curse of the Dragon" exists.
Similarities Between Bruce And Brandon Lee's Deaths
Both Bruce and Brandon were born in the Year of the Dragon — the elder in 1940, the younger on Chinese New Year's Eve in 1965. Both died relatively young — Bruce was 32 when he died in Hong Kong on July 20, 1973, while Oakland-born Brandon was just 28 when he died on March 31, 1993 in Wilmington, North Carolina. Coincidentally, Brandon's mother Mrs Linda Lee (Cadwell), was 28 when her husband died.
Both Lees died while working on their fifth feature film. Bruce was in post-production work for Game of Death (filmed in 1972), while Brandon was eight days away from completing principal shooting for the 1994 horror thriller The Crow, in which he plays a rock musician who rises from the dead to take revenge on the men who brutally murdered both him and his fiancée.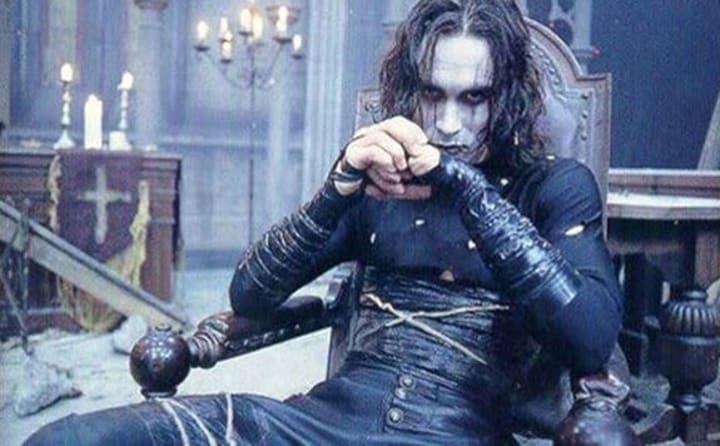 Neither actor lived to see the films that would have propelled them to international stardom. Released three weeks after his death, Enter The Dragon (1973) is widely regarded as Bruce's best film and it is his top-grossing film to date, while Brandon posthumously earned rave reviews for his performance in The Crow, which made $94 million worldwide.
Both father and son's deaths were also clouded with controversy. Bruce's death is officially stated as celebral edema, caused by a reaction to a painkiller he had taken for a headache while in actress Betty Ting Pei's apartment. But speculation was rife that his death was due to drugs; that the painkiller was planted by Hong Kong triads; or that he was suffering from a "Dim Mark" (Cantonese for "Death Stroke") that he couldn't recover from.
As for Brandon, he was accidentally killed after being shot by a prop gun that may have carried a live round besides blanks while filming The Crow, a production that was plagued by mishaps. The police's final statement, released after a lengthy investigation, was that no foul play was suspected.
Bruce's Last Film In 1973 "Predicted" Brandon's Death 20 Years Later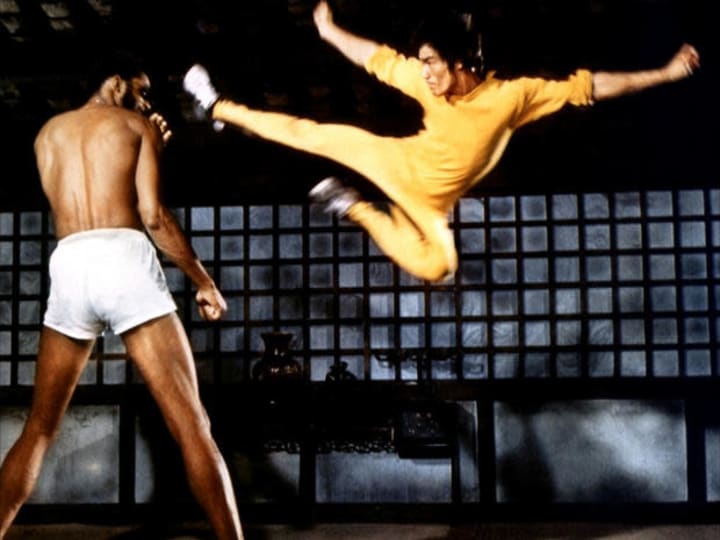 Bruce Lee died in 1973 while making Game of Death, for which he had filmed three major fight sequences including the standout duel where, clad in a yellow tracksuit (which Uma Thurman paid tribute to in Kill Bill: Volume 1), he goes one-on-one with NBA legend Kareem Abdul-Jabbar (who studied Jeet Kune Do under Lee).
The film was completed five years later in 1978 by Enter the Dragon director Robert Crouse using body doubles, cardboard cut-outs (no, really) and stock footage from Bruce's past films. Whereas the original storyline was about a martial arts champion who has to battle three top-notch pugilistic opponents stationed in a 5-level pagoda, the new plot in the final film delves into the life of a martial arts movie star who fakes his own death in order to take down an international crime syndicate.
Bar the three fight sequences which were directed by Lee himself before his demise, the badly edited and hastily pieced together film is now mainly remembered for the infamous scene in which Bruce's character (played by a lookalike) pretends to be dead after being shot by an assassin on a film set. The scene prior to that even shows a props master instructing the actors (for the movie within a movie) on how to use prop guns with the following line:
"Gentlemen, these are blanks. Only aim upward. There's a wad of paper that comes out that can injure someone."
Fifteen years later, Bruce's son Brandon would die in a North Carolina hospital after being shot in the stomach by a 44-caliber prop gun that was supposedly filled with blanks during his character's murder/death scene in The Crow. Needless to say, this spooky coincidence rekindled the stories of a "Bruce Lee curse."
A Bruce Lee Biopic In 1993 Reveals Bruce And Brandon Were Long 'Haunted' By A Demon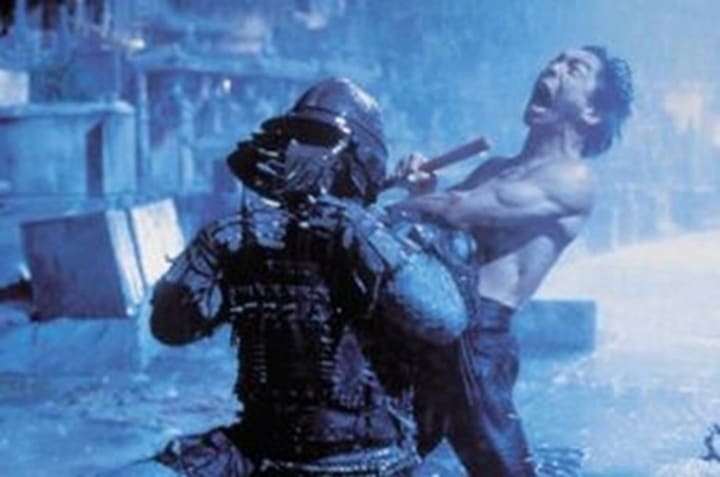 In 1993, there was a biopic, Dragon: The Bruce Lee Story, which detailed the life of the martial arts legend and featured a remarkable portrayal of Bruce by Jungle Book star Jason Scott Lee (no relation). The film was approved by the (then) surviving Lee family members — Linda Lee Cadwell, son Brandon and daughter Shannon. In fact, Brandon was offered the chance to play the role of his father in the movie but he declined, opting to star in The Crow instead.
In a particularly eerie dream sequence, Bruce is seen battling a samurai-like demon which has been haunting him since childhood. After showing Bruce what his tombstone would look like, the demon suddenly stopped fighting with the martial artist and make a beeline towards a terrified, pre-teen Brandon instead.
Brandon Bruce Lee died in March 1993, two months before Dragon was released. The film is dedicated to his memory.
'Curse Of The Dragon' Or Not, The Legend Of Bruce And Brandon Lee Lives On
Based on these mind-boggling coincidences, it's hard to fault fans who believed that Bruce Lee was cursed. Many people who didn't believe in a curse were certainly more open minded toward the idea after 1993.
In a 2012 Discovery Channel documentary entitled I Am Bruce Lee — and many interviews prior to that — Linda Lee Cadwell and Shannon Lee have come out time and time again to brush away conspiracy theories and notions that there is a Lee family curse (which only affects the men).
Whether fact or fiction, the reality is that the film world is much poorer with the loss of the charismatic father-and-son action movie stars who were taken away from us way too soon. Thankfully, the legacy of Bruce Lee and Brandon Lee lives on through their films, few as they may be. Meanwhile, fans and martial arts enthusiasts worldwide continue to pay their respects to father and son at their joint grave site at Capitol Hill's Lake View Cemetery in the Lee hometown of Seattle.
Watch the video below for one of Bruce Lee's most memorable on-screen fight sequences from 1972's Fist of Fury, that best showcase his Jeet Kune Do moves and his trademark nunchaku:
Read also:
* 4 Movies that Cement Bruce Lee's Status as a Martial Arts Icon
celebrities
About the author
A freelance writer who loves God, movies, music and TV; esp Star Wars, Animation/Anime, Games of Thrones, K-Dramas, and anything that's entertaining! Twitter/Instagram: @marfield49
Reader insights
Be the first to share your insights about this piece.
Add your insights