7 Reasons Why Chinese Animation Film 'Ne Zha' Deserves Its Phenomenal $700M-Plus Success
China's brand new take on the young Chinese mythology deity is a delightful fantasy adventure from start to finish.
China's 'Ne Zha' is funny, touching and a visual spectacular. [Credit: Well Go USA]
A visual spectacular filled with exhilarating action, funny antics, and heartfelt moments, it is easy to see why Chinese animation hit, Ne Zha, has propelled to become China's second highest-grossing film ever, and its highest-grossing animated film of all-time. To date, it has earned more than US $700 million in the Middle Kingdom alone.
Based on the Chinese mythology teen deity recognized by his fire-lit spear, iron rung, flowing red sash, and wheels of fire, Ne Zha tells the story of a boy born with unique powers, albeit with a demonic streak. Despite his loving mortal parents' best efforts, Ne Zha is feared and shunned by everyone else who thinks he is the devil incarnate. Eventually, the lad contends that he is the master of his own fate, and only he can decide whether to be good or evil.
Written and directed by Jiao Zi in his feature film debut, China's first 3D computer-generated IMAX film succeeds by combining rich Chinese traditions and folklore with familiar tropes seen in many a Disney and Dreamworks animated feature.
A thoroughly entertaining film that also tackles universal themes such as family love, friendship, and social discrimination, Ne Zha scores primarily on its young protagonist who, despite his rebellious nature, is a lovable righteous-at-heart underdog who fights injustice, and is willing to sacrifice himself for the greater good when the occasion arises.
Here are but seven reasons why Ne Zha deserves its phenomenal box-office success. (SPOILERS ahead if you have yet to see the film).
1. A New Mythical Hero for the New Millennium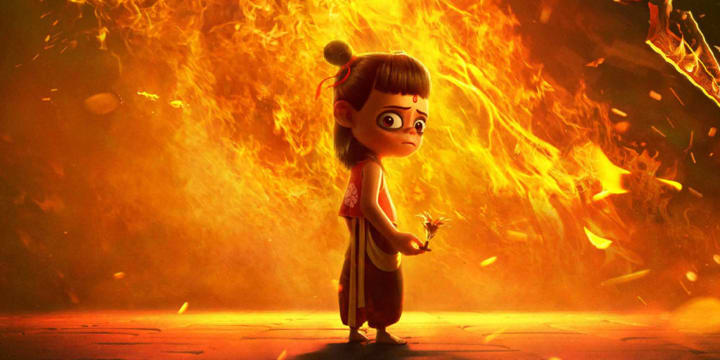 The new Ne Zha is not a teen, but much, much younger. Miraculously able to walk and talk since birth, he comes across as an offspring between Rugrats brat Angelica and Margo's emo beau Antonio in Despicable Me⁠ 2. Think Baby Boss with super powers, but with a lot more chips on his shoulders. Still, this Ne Zha oozes the right amount of earnestness, cuteness, and touching moments that ultimately makes audiences root for him. Most of all, he embodies the spirit of believing in oneself, and fighting fate to the end if fate isn't fair.
2. The Importance of Loving & Protective Parents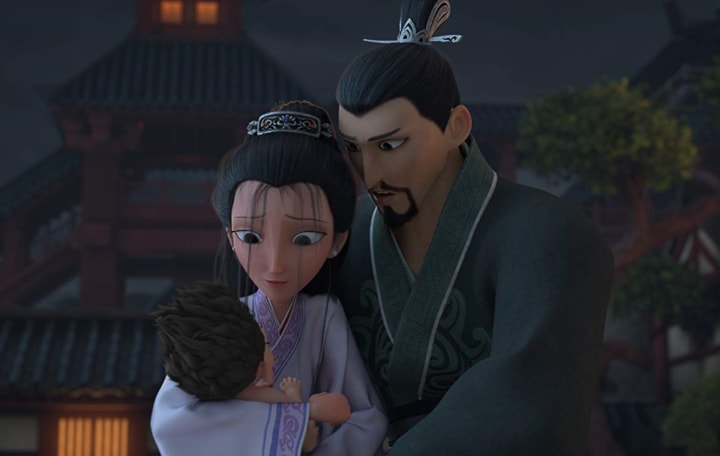 In the traditional folklore, Ne Zha has an estranged relationship with his mortal father, a strict army general (who even caused his son to commit suicide in some versions of the legend). In this film however, Ne Zha's father Li Jing goes to all lengths—all to the way to heaven even—to protect his son from a doomed life, while his mother Lady Yin—who radiates strong Mulan vibes—also does her best to alter her son's fate. With so much abuse and hate thrown at the troubled Ne Zha, it was good to see there is strong parental love he could fall back on.
3. A Traditional Foe Is Now an Unlikely Friend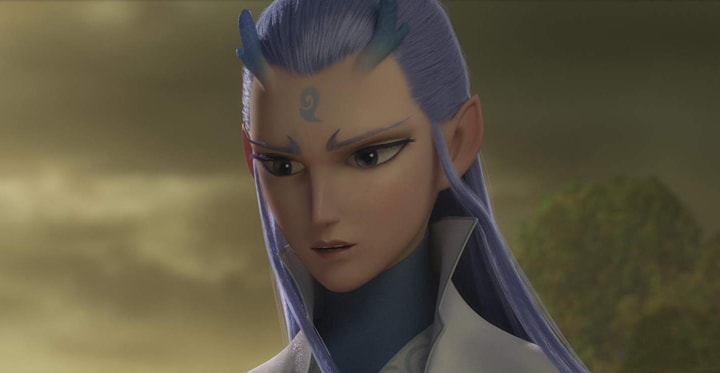 Battling the Dragon King and his favorite third son, Ao Bing, is one of the things that the legendary Ne Zha is famous for. In this film though, Ao Bing becomes an unlikely ally. As soft-spoken and well-mannered as Ne Zha is loud and temperamental, the Dragon Prince (who we first see in human form) forms a strange bond with the little rebel after they battle a water demon together, and then discover they share a love for a childhood game. Even though their bond soon faces a severe test, the film conveys the message that friendship can arise from unexpected places, and offer one hope and purpose.
4. Mesmerizing Action Sequences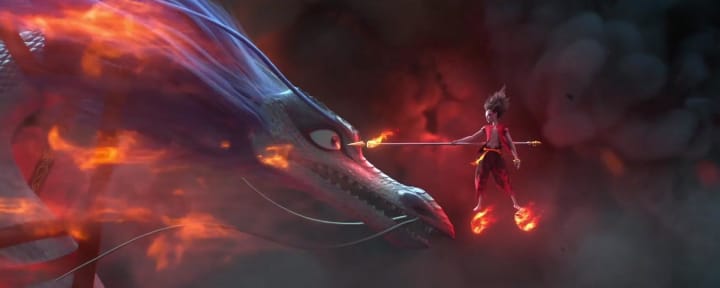 As with most Chinese mythology films, much martial arts action is expected and Ne Zha does not disappoint. Most of its action sequences are not only exhilarating, some are quite hilarious too. Ne Zha's mother having to adorn armor while playing with her powerful son is one; Ne Zha's fiery pursuit of a water demon, which is rather terrifyingly at the start before ending on a funny sequence (involving a fossilized Ao Bing) is another. Arguably the only truly heart-in-mouth action sequence is the epic showdown between Ne Zha and Ao Bing, before another laugh-out-loud caper comes to save the day in the climax.
5. Stunning Landscapes And Backdrops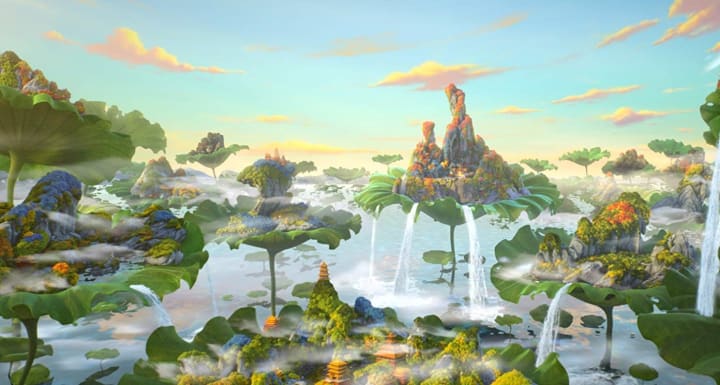 Set in a mythical universe, Ne Zha boasts a great number of landscapes and backdrops that are truly sights to behold. From the busy towns and sea villages of Chengtung Pass where Ne Zha and his family live, to the Dragon King's unworldly undersea palace, to the idyllic settings within a magical painting scroll where Ne Zha's mentor Taiyi Zhenren tries to train him in godly skills, the film is filled with many intricate details to enjoy.
6. Villains in Various Forms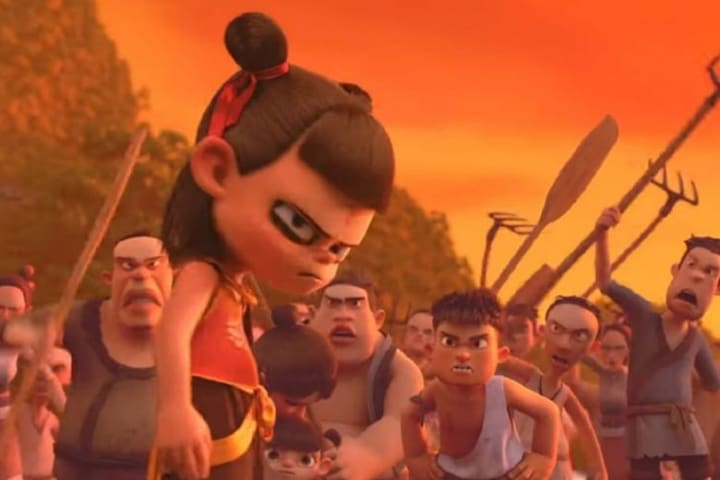 Two things that remain from the popular folklore are that the Dragon King and a scheming sage named Shen Gong-bao are still the key villains. The latter—who reminds one of Count Dracula from Hotel Transylvania—is responsible for Ne Zha being cursed by the Demon Pill from birth instead of being blessed by the hallowed Spirit Pearl. Bitter and devious as they are though, the duo are not half as upsetting or aggressive as the local villagers, both young and old, who have no tolerance for Ne Zha's attempts to do good. Yes, he is naughty and mischievous, but whether it's bullying, fear or hatred, there is only so much a kid can take, let alone an adult.
7. Fascinating After-Credits Sequences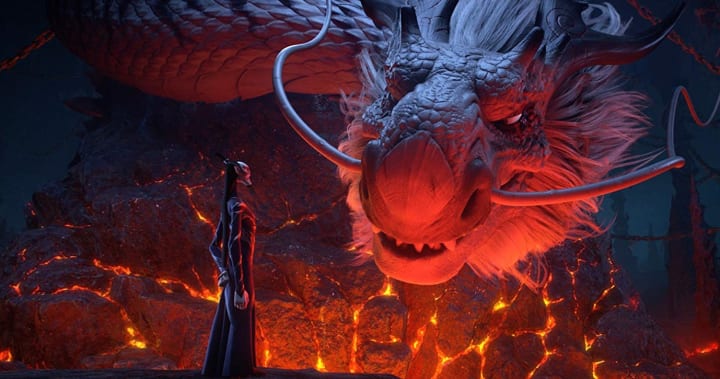 Taking a leaf from Marvel movies, Ne Zha has not one, but three after-credits sequences and the film amusingly placed notes in both English and Chinese within the credits, informing the audience to stay put for each upcoming clip! Without spoilers, the first scene features a final comical gag; the second scene shows the defeated Dragon King planning revenge, which seems to hint that there will be a possible Ne Zha sequel; and lastly, there is a trailer for a 2020 animated release, Jiang Ziya, which focuses on the Zhou Dynasty strategist (and which I doubt will be as funny as Ne Zha...)
Ne Zha is now playing in US theatres and worldwide.
Read also:
* 6 Great Fantasy Films That Studio Ponoc's 'Mary and the Witch's Flower' Will Lovingly Remind You Of
* 'Seoul Station': Animated 'Train to Busan' Prequel Is a Zombie Flick That Addresses Social Ills
* Why J.J. Abrams' 'Your Name' Adaptation Might Not Be Such a Great Idea
movie
About the author
A freelance writer who loves God, movies, music and TV; esp Star Wars, Animation/Anime, Games of Thrones, K-Dramas, and anything that's entertaining! Twitter/Instagram: @marfield49
Reader insights
Be the first to share your insights about this piece.
Add your insights