Classic Movie Review: 'Witness for the Prosecution'
The latest classic on the Everyone is a Critic Movie Review podcast is 'Witness for the Prosecution.'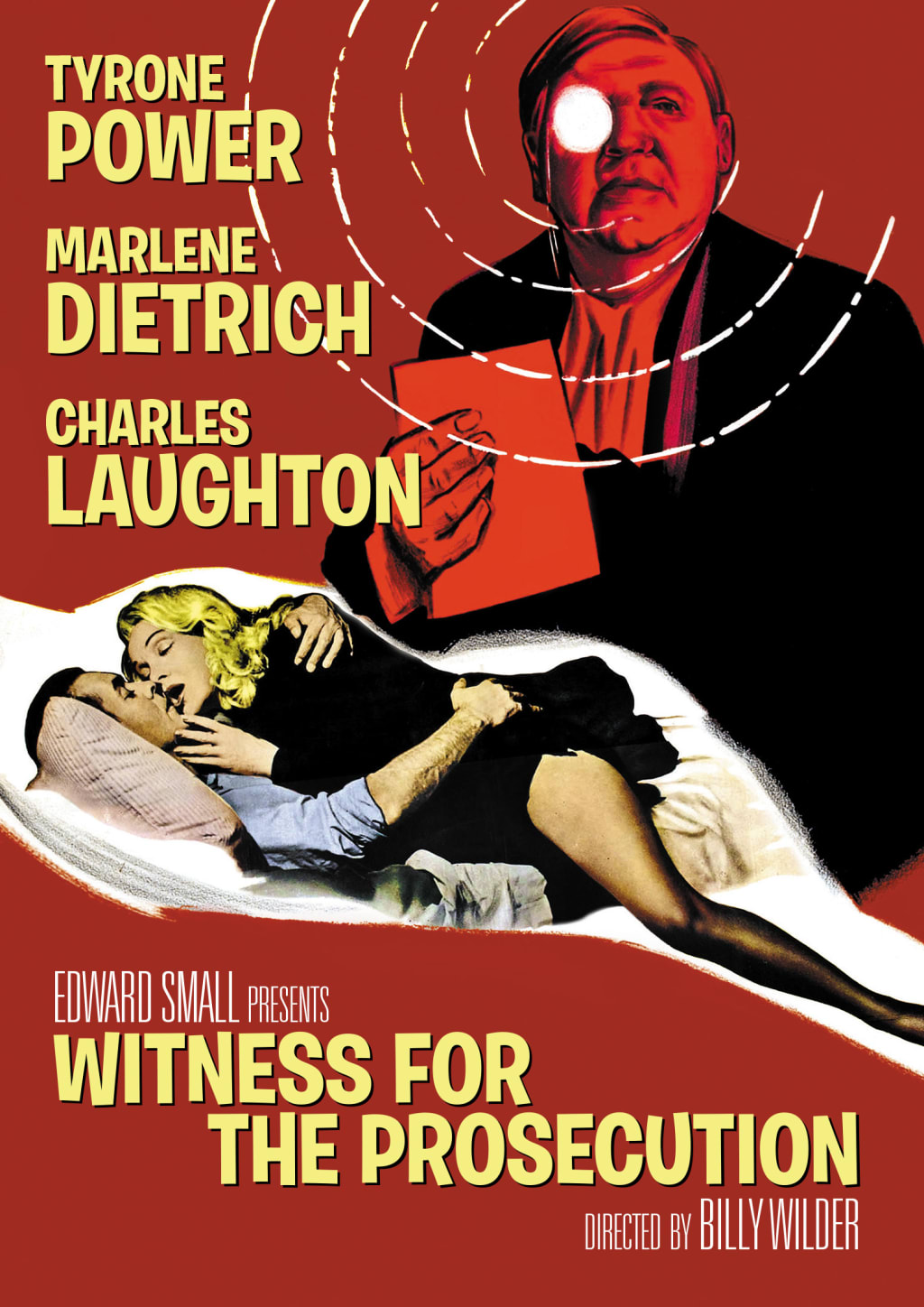 Witness for the Prosecution (1957)
Directed by Billy Wilder
Written by Larry Marcus, Billy Wilder, Harry Kumitz
Starring Charles Laughton, Tyrone Power, Marlene Dietrich, Elsa Lanchester
Release Date December 17th, 1957
Published September 16th, 2023
The opening moments of Billy Wilder's Witness for the Prosecution set the stage for where we will be spending a good portion of our story, an English courtroom located in the famed, Old Bailey, the name given to the English Criminal Court Building in London. This is important for setting the scene for American audiences as an English courtroom is quite different from American courtroom. Director Billy Wilder chooses specifically to open on this courtroom to disabuse audiences of the notion of an American court proceeding. It's a little thing, a subtle bit of audience manipulation, but a crafty choice by a very smart director.
Our first introduction to our main character, our true protagonist Sir Wilfrid (Charles Laughton), comes in a very charming scene. The comic dynamic of the cantankerous Sir Wilfrid and the bright-eyed optimism of his nurse Miss Plimsoll (Elsa Lanchester from The Bride of Frankenstein), establishes an unexpectedly comic tone for what we are expecting to be a courtroom drama. The colorful performances of Laughton and Lanchester and their unforced chemistry sets the tone for the rest of the movie, a tone that will deepen but never waver from being charming and only modestly mysterious. Our expectations are upended in the best way possible as we are treated to a wonderful comic dynamic.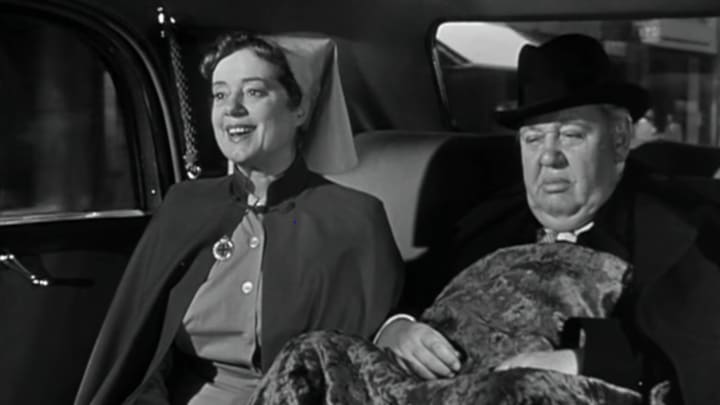 The idea that Charles Laughton was only 57 years old when he played the role of Sir Wilfrid is staggering. He looks to be in his 70s or perhaps early 80s. You might be thinking, young actors are often cast to play older characters but, by the timeline of Sir Wilfrid and his association with his assistant Mr. Carter (Ian Wolfe), the timeline has Sir Wilfrid the same age as Laughton, in his late 50s. And the mind reels. Regardless of how old anyone in this movie looks, Laughton is childlike in his enthusiasm. Specifically, Laughton as Sir Wilfrid delighting in his new chair lift in his office is a sight to behold. Laughton's pudgy face and gleaming eyes, so clearly delighting in this new toy that you can't help but giggle.
This character trait is rather typical of an Agatha Christie character and a Billy Wilder character. Both of these legends enjoyed adding quirky traits to their characters, giving them a depth of personality that extends beyond the story being told. These traits endear them to the audience, bring the audience around to their side with the kind of writing shorthand that too few filmmakers or storytellers take the time for, especially from the perspective of more than 66 years later. We fall for Laughton's charming gluttonous, enthusiastic, personality first and that draws us deeper into the mystery that he will work to uncover.
Then there is the matter of the enfeebling injury to Sir Wilfrid. Adding a bit of extra suspense and stakes to the movie is the fact that our hero is recovering from a heart attack. This is a more necessary detail than you might think. Having Laughton struggle with his heart attack, trying to be the old Sir Wilfrid while the world tries to tap dance around him is delightful in one way but when he struggles for breath or is clearly distressed by the courtroom bound mystery, we genuinely worry for our newly discovered friend, and we are drawn deeper into the mystery of it all.
And that's at the heart of Witness for the Prosecution. I could poke holes in the convoluted plotting of the husband and wife, played by Tyrone Power and Marlene Dietrich, but why would I? I may have come her for a mystery, but I stayed to watch Charles Laughton be quirky, funny, cantankerous or even downright rude for the right cause. Laughton is so charming and winning that anything else going on in this mystery plot doesn't seem to matter nearly as much. Laughton is not the mostly likely of leading men, he's older, he's not movie star handsome, he's a consummate character actor, as we view them today, and yet, with the spotlight on him, his bulldog face and grumpy but kind manner is impossible not to enjoy and root for.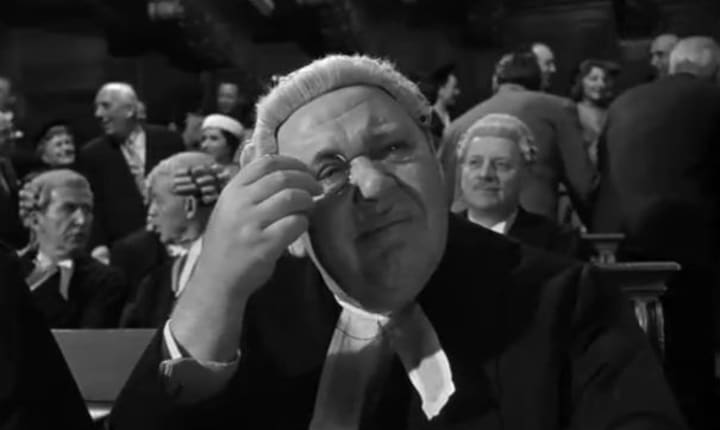 I think Billy Wilder saw that too. I think he knew that what would truly be the story of Witness for the Prosecution was not the plot, but the characters. The character choices, the quirky dialogue and comedic dynamics. The way Laughton is effortlessly funny but also brilliantly capable. He has the savvy of a man with nearly 40 years of court experience and the charm of an irascible grandpa who is impossible not to love. Many of Wilder's best characters share the trait of charm first and plot functionality second. His characters are interesting people first and then people who happen to be caught up in a movie plot.
Laughton is, perhaps, the thesis statement on Wilder's approach to writing memorable characters. Give them traits, let them be funny and charming, let them demonstrate their flaws and their quirks that we can recognize and identify with. Then, tell the story that they are in. It reads as very simple, but it most certainly isn't simple. If Wilder's approach wasn't innovative and unique, everyone would do it and not every filmmaker does this. In fact, very few directors have the confidence to approach characters this way. In this way, I love Witness for the Prosecution because I love Charles Laughton and the director with the vision to know that that is why we love his movie.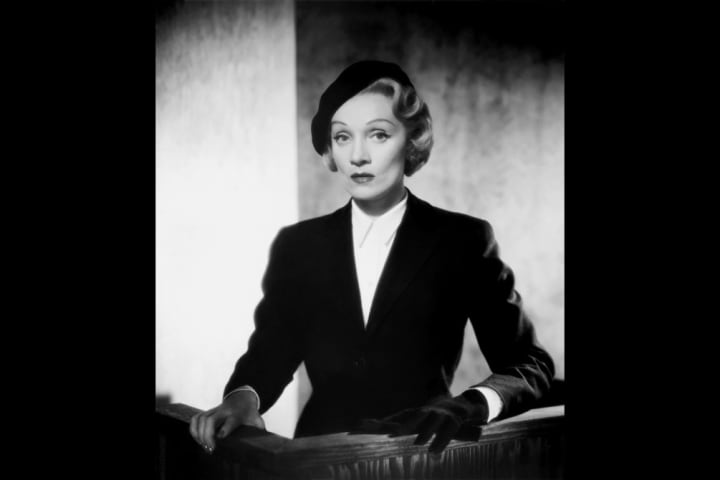 Yes, of course, there is still the rest of the movie and the cast. Tyrone Power co-stars as Leonard Vole, an American former army man living in London with his German born wife, Christine (Marlene Dietrich). According to his story, and it's not a particularly believable one, Leonard met and befriended an elderly woman, Miss Emily Jane French (Norma Varden). The two became friends according to Leonard though people in Miss Emily's life smelled a rat and assume he's hanging around to try and get Miss Emily's fortune.
Indeed, after Miss Emily is found murdered in her home, the finger of blame falls squarely upon Leonard who proclaims his innocence despite having had blood on his clothes and a clear motive from Miss Emily's recently altered will. The only thing that might keep Leonard from life in prison is the testimony of his wife, Christine, who claims that he was home at the time the murder was most likely committed. The case rests entirely upon Christine giving her husband this alibi. And yet, when Sir Wilfrid meets Christine for the first time, he can sense something off about her. She appears unpredictable and speaks cryptically of her intentions when it comes to testifying in court.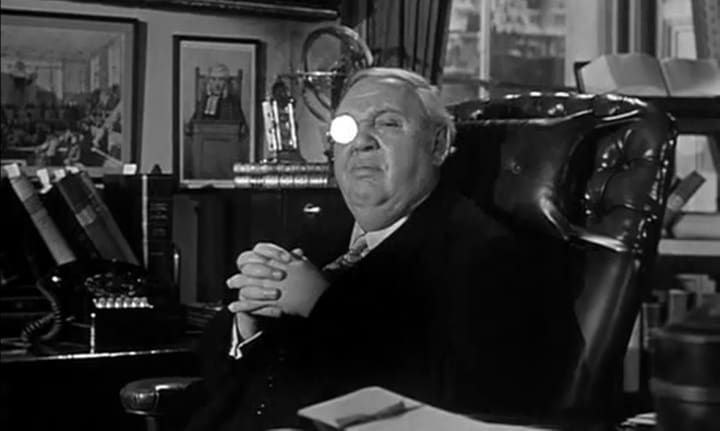 Indeed, she will testify but it won't be at the call of the defense. Christine is the titular Witness for the Prosecution, and her explosive testimony is at the heart of a mystery that only someone as clever at deduction as Sir Wilfrid can uncover. It is a convoluted mystery and one that holes can be poked in. And that's perfectly fine. The appeal of Witness for the Prosecution is the characters, it's the script, the wordplay and interplay. It's a vibe movie in many ways, one that establishes both a comic and competent tone. Sir Wilfrid is a very funny and winning character and he's a competent, smart, and capable character and these two aspects of the character are the true heart and appeal of Witness for the Prosecution,
Witness for the Prosecution is the classic on September 17th week episode of the Everyone is a Critic Movie Review Podcast. It was chosen because I have always wanted to see it and because the new movie of the week is the latest Kenneth Branagh adaptation of an Agatha Christie mystery, A Haunting in Venice. You can hear the Everyone's a Critic Movie Review Podcast wherever you listen to podcasts including on our YouTube Channel, linked here.
Find my archive of more than 20 years and nearly 2000 movie reviews at SeanattheMovies.blogspot.com. Find my modern review archive on my Vocal Profile, linked here. Follow me on Twitter at PodcastSean. Follow the archive blog on Twitter at SeanattheMovies. Listen to me talk about movies on the Everyone is a Critic Movie Review Podcast. If you have enjoyed what you have read, consider subscribing to my writing on Vocal. If you would like to support my writing, you can do so by making a monthly pledge or by leaving a one time tip. Thanks!
About the Creator
Hello, my name is Sean Patrick He/Him, and I am a film critic and podcast host for Everyone's a Critic Movie Review Podcast. I am a voting member of the Broadcast Film Critics Association, the group behind the annual Critics Choice Awards.
Reader insights
Be the first to share your insights about this piece.
Add your insights