Classic Movie Review: 'True Romance'
True Romance is the subject of the latest Everyone is a Critic 1993 podcast.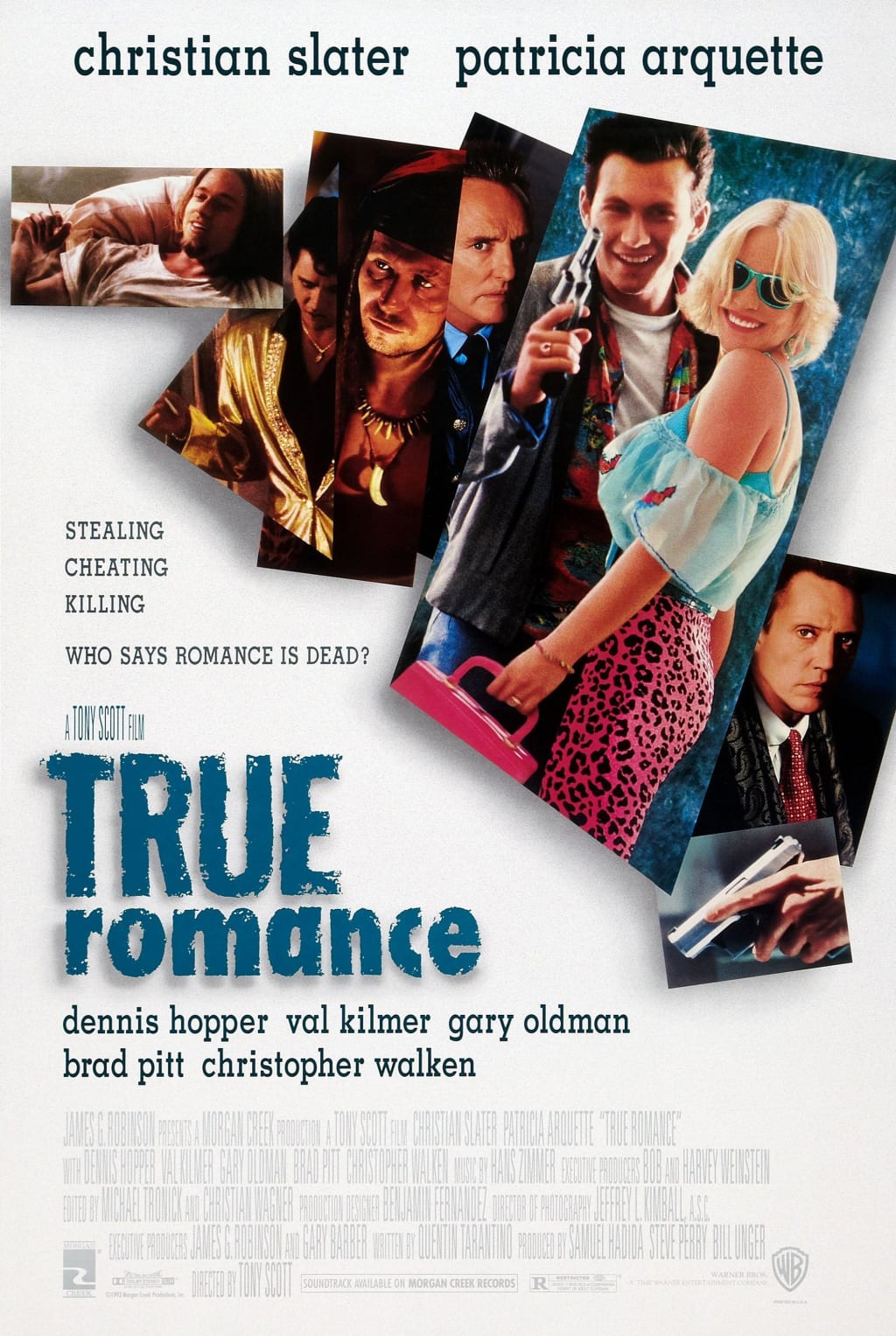 True Romance (1993)
Directed by Tony Scott
Written by Quentin Tarentino
Starring Christian Slater, Patricia Arquette, Gary Oldman, Samuel L. Jackson, Christopher Wallker, Dennis Hopper
Release Date September 10th, 1993
Published September 13th, 2023
True Romance is a mixed bag. On one hand, it's an entertaining crime thriller. On the other hand, 30 years after its release, and despite coming out before Quentin Tarantino became one of the most iconic and influential writer-directors of all time, it has the feel of off-brand Tarantino. True Romance, 30 years later plays like one of several hundred movies that tried to be a Tarantino movie and failed. This is despite having Tarantino as the film's screenwriter of True Romance. Something about Tarantino's unique way with words coming out of characters being shaped by another director, makes everything feel just a little... off.
True Romance stars Christian Slater and Patricia Arquette as a most unlikely pair of lovers. Alabama (Arquette) is a sex worker who has been hired to seduce Clarence (Slater) as a birthday present from Clarence's boss. It's clear to us, if not to Clarence, that she's too good to be true. She meet cutes with Clarence at a Sonny Chiba triple feature at a sleazy Detroit theater. She's the only woman in the theater and is clearly going out of her way to meet Clarence. She flirts with the intensity of someone learning to be an actor in a bad romantic comedy. She even seems to listen intently as Clarence tells her about his favorite comic book.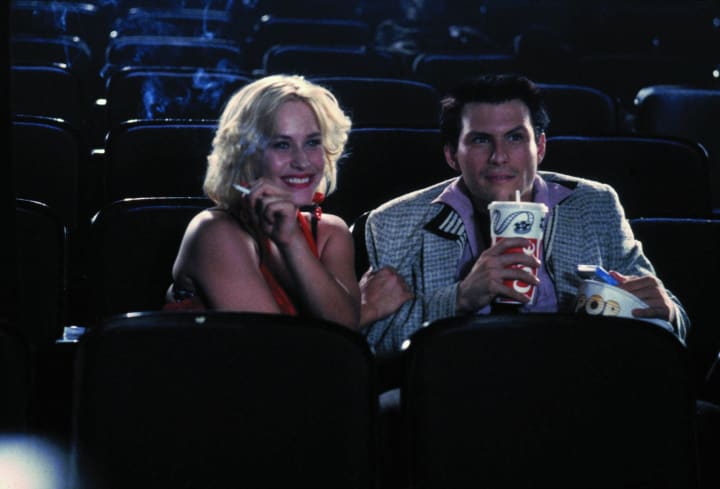 Nevertheless, the ruse works on Clarence and the two have a great time together. Alabama actually had fun on this little date, even as she was faking just about everything. This leads her to guiltily confess that she was hired to be his date and show him a good time. When Clarence says he's not bothered by this revelation at all, Alabama tells him that she's in love with him and he responds in kind. Thus is born a marriage proposal as these two unlikely souls tie the knot and set about a life together. Nagging at Clarence however, is Alabama's past, which includes an abusive pimp that Clarence feels he must confront in a misguided attempt to defend her honor.
Said pimp is a vicious killer named Drexl Spivey (Gary Oldman). Drexl is introduced having a deeply lascivious conversation about oral sex before he murders two of the men he's been chatting with, including a well-dressed Samuel L. Jackson in less than a cameo appearance. Drexl is not a man who plays nice, and Clarence appears completely out of his depth in confronting him. Nevertheless, Clarence manages to not only kill Drexl but also steal more than a million dollars worth of cocaine in the process. Rather than be put off by Clarence's multiple murders, Alabama says the act is the most romantic thing anyone has ever done for her and their fates are sealed.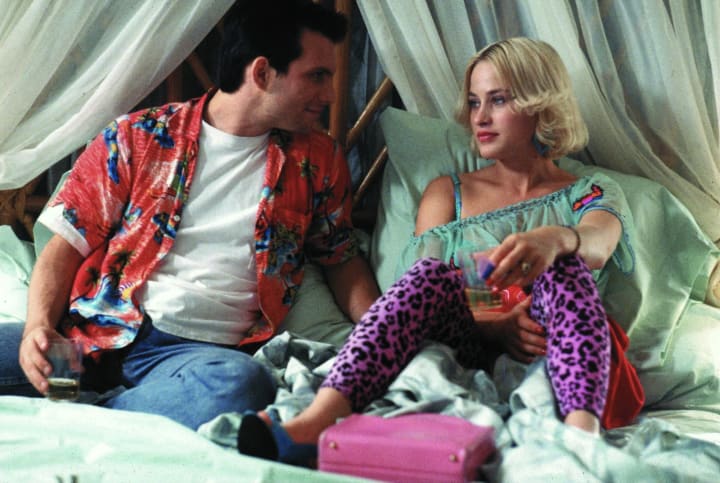 The remaining plot of True Romance shifts to Los Angeles where Clarence and Alabama hook up with an old friend of Clarence's, an actor named Dick (Michael Rappaport). Clarence assumes that because his old friend is an actor that he will know who in Hollywood will buy more than a million dollars in cocaine for a fraction of the price. That Dick turns out to actually have that connection in Hollywood is a very funny circumstance, one symbolic of the tone that Tarantino's script is going for, though not exactly in line with the strengths of director Tony Scott who seems to miss just how funny this coincidence is.
Where Quentin Tarantino has an innate sense of the absurd in his movie universe, Tony Scott is an intensely literal director and the clash between the two is never resolved in True Romance. Scott directs the film with a sledgehammer level of subtlety, lacking entirely the precise details and crisp observation of Tarantino's work. Scott knows the words but not the music of Tarantino and thus True Romance is a rather unsatisfying piece of work for people who love Quentin Tarantino. It's not a bad movie, but it isn't a Tarantino movie and that lack renders the film only moderately appealing.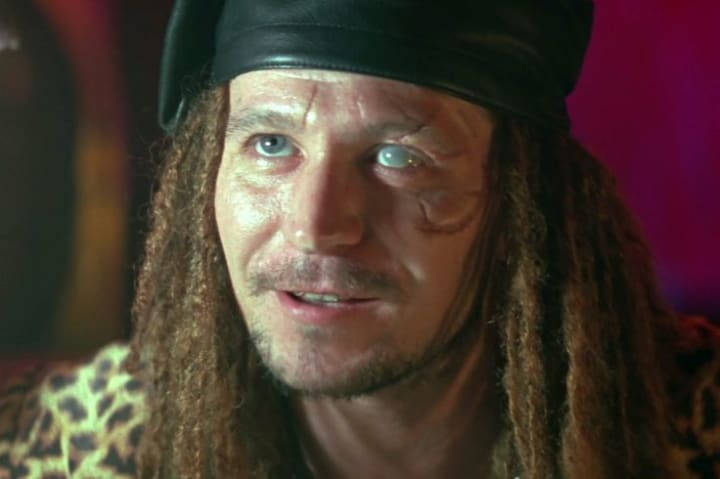 Take for instance the performance of Gary Oldman as Drexl. In the hands of Tony Scott, Drexl borders on a genuine hate crime. The character speaks with a stereotypical, deeply racist accent and liberally uses slurs in a way that is similar to the way Tarantino characters talk. But where it feels like a natural extension of Tarantino's work, something intended to make you wince or cringe, it's played straight here, and the offensiveness of the character becomes unironically awful. Oldman is distractingly bad in True Romance, and the movie is better for him getting killed early on.
That said, some things about True Romance are undeniably good. Specifically, the performance of Saul Rubinek as a corrupt movie producer. Rubinek gets the assignment. He understands the character on a cellular level and amps up the slimy, arrogant, narcissistic qualities to comic heights. It's a goldmine of a Hollywood parody, one that several Hollywood executives took offense to on the assumption that it was them that Rubinek had based the performance on. Hollywood lore tells us that Joel Silver, the famed producer of the Lethal Weapon franchise was the actual inspiration though Top Gun producer Don Simpson is also somewhere in the character's DNA.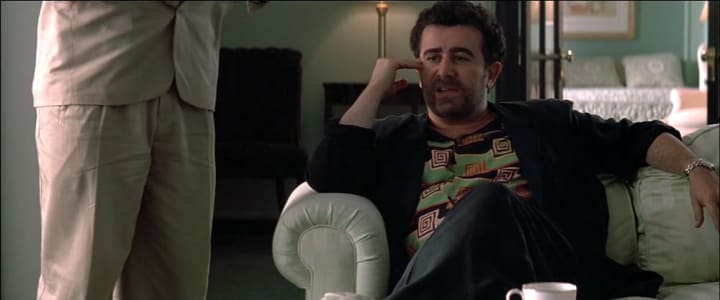 Rubinek is alive in this role and in the final showdown scene, when he's wheeling and dealing just to get some cocaine on the cheap, Rubinek is absolutely on fire. It's the best performance in a movie that features some of the great scene stealers of all time including Dennis Hopper, Christopher Walken, James Gandolfini, and Brad Pitt. Yes, though it's easy to forget, Brad Pitt has a small supporting role in True Romance as a drugged out nice guy who shares an apartment with Rappaport's Dick. Lloyd, Pitt's character, is essential to the plot in the most Tarantino of fashions, though, again, I am not sure if director Tony Scott is in on the joke or merely presenting it.
And that's the major issue of True Romance. The disconnect between Tony Scott's literalism and Tarantino's highly specific and precise prose and plotting. The construction of True Romance is wrong. Tarantino's wit is missing, his style is missing. We can see the things that Quentin Tarantino is trying to do with the script, but we can also see where not having Tarantino behind the camera renders these same elements inert. Thus, we get the sound of Tarantino dialogue feeling desperately out of place in a conventionally directed action movie.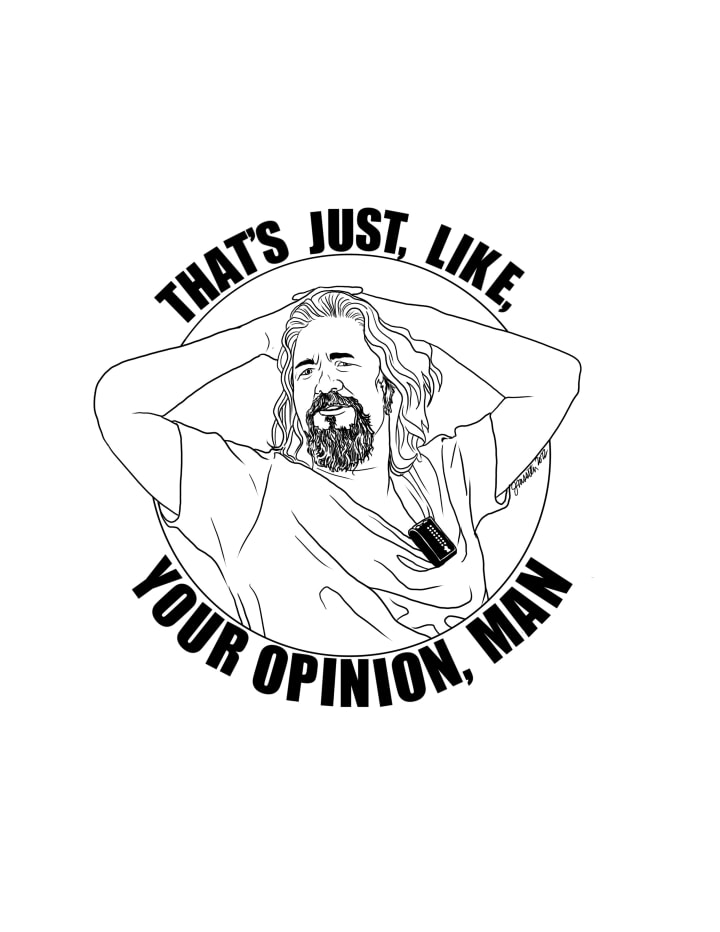 True Romance was the subject of the newest episode of the Everyone is a Critic Movie Review Podcast spinoff, Everyone is a Critic 1993. On this show, myself, along with Gen-Z'er M.J, and Gen-X'er Amy, talk about the movies that came out 30 years ago to see which ones have left a lasting legacy and which ones deserve to be forgotten. We also talk about how movies and culture have changed and reshaped how we see these movies today. It's a fun experience and you can follow along by listening to the show, wherever you listen to podcasts. It's available on the Everyone is a Critic Movie Review Podcast Feed and on the Everyone Is a Critic Movie Review Podcast YouTube channel.
Find my archive of more than 20 years and nearly 2000 movie reviews at SeanattheMovies.blogspot.com. Find my modern review archive on my Vocal Profile, linked here. Follow me on Twitter at PodcastSean. Follow the archive blog on Twitter at SeanattheMovies. Listen to me talk about movies on the Everyone is a Critic Movie Review Podcast, wherever you listen to podcasts. If you have enjoyed what you have read, consider subscribing to my writing on Vocal. If you'd like to support my writing, you can do so by making a monthly pledge or by leaving a one time tip. Thanks!
About the Creator
Hello, my name is Sean Patrick He/Him, and I am a film critic and podcast host for Everyone's a Critic Movie Review Podcast. I am a voting member of the Broadcast Film Critics Association, the group behind the annual Critics Choice Awards.
Reader insights
Be the first to share your insights about this piece.
Add your insights