Book Review: "The Unconsoled" by Kazuo Ishiguro
5/5 - an underrated masterpiece.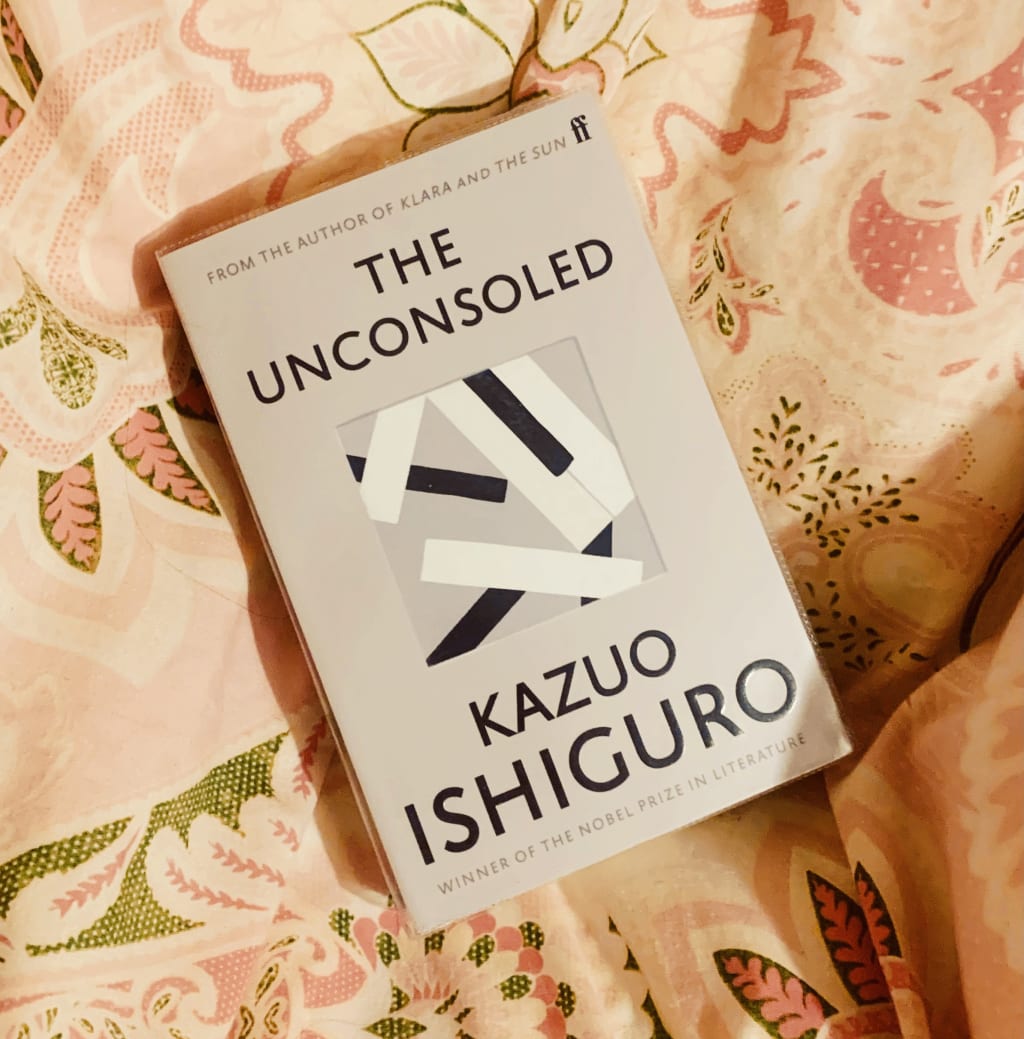 Kazuo Ishiguro is an amazing writer. When I was younger, I read books by him including Never Let Me Go, Remains of the Day and The Buried Giant. - I've loved reading Ishiguro's books because of his presentation of human nature both good and bad. He has a way of giving each character he creates and insane amount of goodness in order to create a connection with the reader, but then again they can also go to the darker, deeper aspects of humanity that are not such good attributes to have. His last book to do this, I would say was Klara and the Sun in which he demonstrated the good and bad in the responses from human to AI. Ishiguro went above and beyond in order to give us a window to what our own humanity could possibly become. In An Artist of the Floating World he does this once again - the light and the dark both come through the characters and their actions. In The Unconsoled, Ishiguro repeats this once again, but with a discomfort that some critics have still not been able to shake because of the madness of the writing style.
Ryder is a famous pianist and has just arrived in a European city - he is going to perform a concert. The only problem he has is that he cannot seem to recognise the city and he does not remember agreeing to give the concert. Over the three days the novel is set in, Ryder must attend lots of different appointments with lots of different people - characters that showcase the good and the bad, each of them with their own distinct personality. He has made promises to some of these people - again, promises he cannot remember. As the concert seemingly approaches, he becomes agitated, frustrated and angry at the fact that he simply cannot remember who, what or where about anything. As we see Ryder slowly lose control of the situation, we also see his character unfold into a man who is anxious about absolutely everything. The idea of a lost identity prevails throughout the book and distinct scenes stick out to reader who is trying to understand Ryder's position.
The one scene I enjoyed was about watching a movie with a man Ryder was at an appointment with. Again, here he still seems agitated and somewhat eager to leave. Ultimately, you keep reading and you find out they are watching 2001: A Space Odyssey, a film about being lost in space - a place where metaphorically, Ryder seems to be. It is a beautifully woven piece of symbolism and has very intense dialogue at times. This short back and forth that happens represents the agitation of Ryder. As we move through the book, this becomes a common trope and the reader understands more and more. As Ryder becomes more agitated, the writing style shifts from Ishiguro's normal poetic nature, to something quite quick and more metaphysical, existential and symbolic. I thought the movie scene really stuck out because of Ishiguro's nature to put in a detail that, if you're not really paying attention to why they are watching that particular movie then you won't understand what is actually happening to Ryder at all. It is part of the descent.
In conclusion, I think that this is an important book to read if you want to understand how the writing of Kazuo Ishiguro evolves. It was written in the 90s and was immediately criticised for not being like his other books. But, this piece of slightly experimental literature is quite possibly one of the best things he has ever written.
About the Creator
Film and Writing (M.A)
150K+ Reads on Vocal
IG: @AnnieApproximately
Pronouns: (she/her/hers)
Reader insights
Be the first to share your insights about this piece.
Add your insights