8 Hidden Clues That Foreshadowed the Big Twists in 'Searching!'
Damn, this movie was good.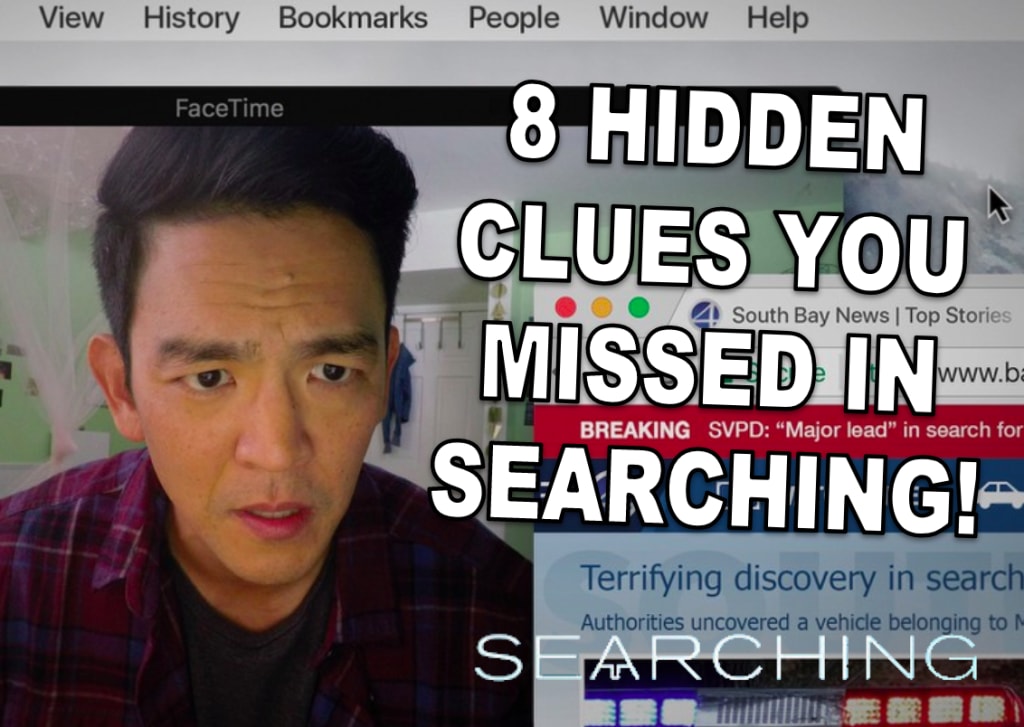 One of the best movies to come out this summer is the crime thriller, Searching, made by up-and-coming filmmaker Aneesh Chaganty. The film follows a man whose daughter goes missing and he must work with the police to find out what happened to her.
And this movie is fantastic. It's an edge-of-your-seat thriller that keeps you guessing until the end. And if you want to read my in-depth, spoiler-free review of the film, you can click here.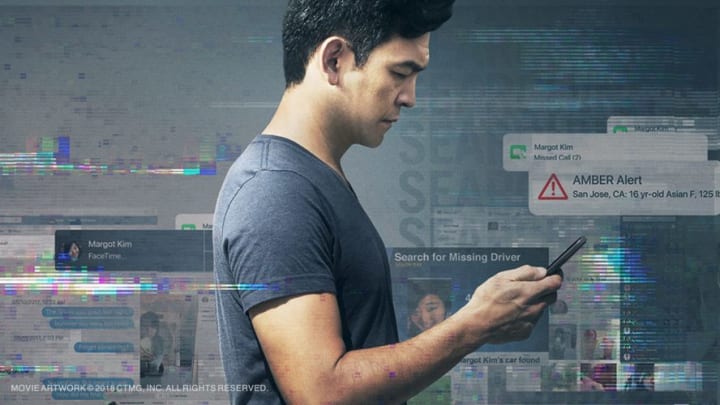 Now, I just recently watched the film for a second time, because I felt it deserved a second viewing. And this time, I had a notebook with me and I jotted down some sloppy notes of everything I caught the second time.
I mainly wrote down little details that foreshadowed the big twist at the end. And if you missed them during the film, then here they are. MAJOR SPOILERS ARE AHEAD FOR ALL THOSE WHO HAVEN'T SEEN THE FILM. YOU HAVE BEEN WARNED.
1. Home of the Catfish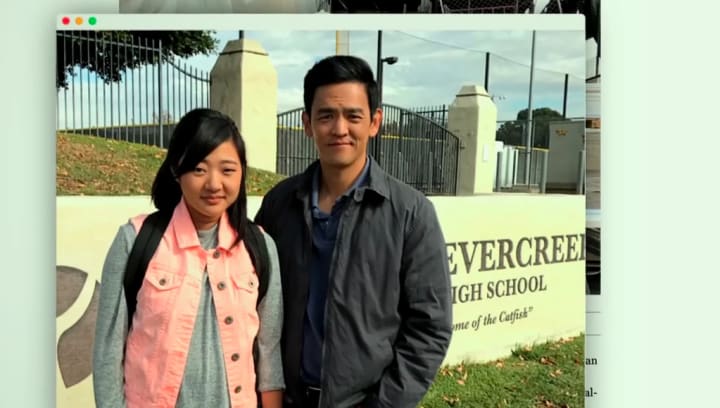 The film begins with a montage of Margot growing up, and it ends with a picture of David and Margot on her first day of high school. If you look behind them, you can see she goes to Evercreek High School, which is "Home of the Catfish."
If you're familiar with the term, "catfish," then you would know this foreshadows the end when we discover that fish_n_chips, the user that Margot communicated with on YouCast, was actually a teenage boy catfishing a stock photo model in order to become friendly with Margot.
2. News Article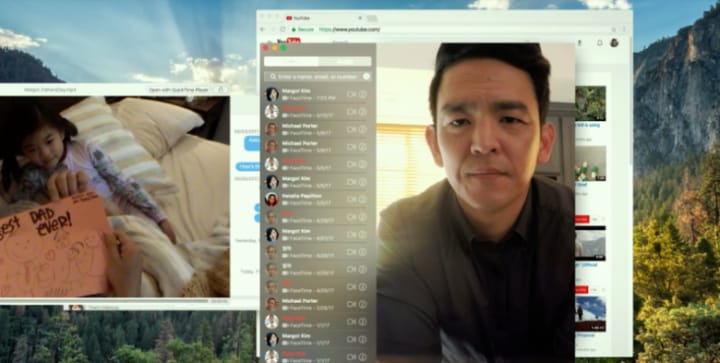 Early in the film, David is online and texting Margot on his computer. And during the scene, you can see on his web browser a news article with the headline, "Trapped hiker survives 9 days in Sierras."
This foreshadows the end of the film, when Margot is able to survive five days at the bottom of Barbosa Ravine, when many presumed she was dead.
3. Gumbo with Weed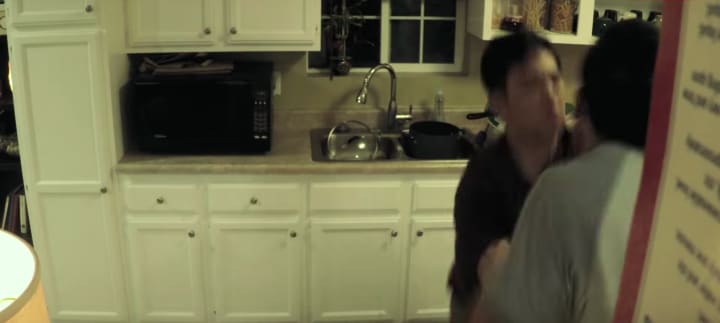 During the movie, there are multiple times where David watches a video of Pam and Margot making gumbo. And in the first act, David's brother, Peter, asks David for Pam's gumbo recipe, and David notices that he intends to put weed in with it.
Later, we find out that Margot would go over to Peter's house and smoke weed. He was gonna mix her weed with gumbo the night she went missing.
In fact, Peter gets confused when David says Margot would be in an all-night study group and right then, the doorbell rings and Peter hangs up. Margot was at the door.
4. Middle School Friends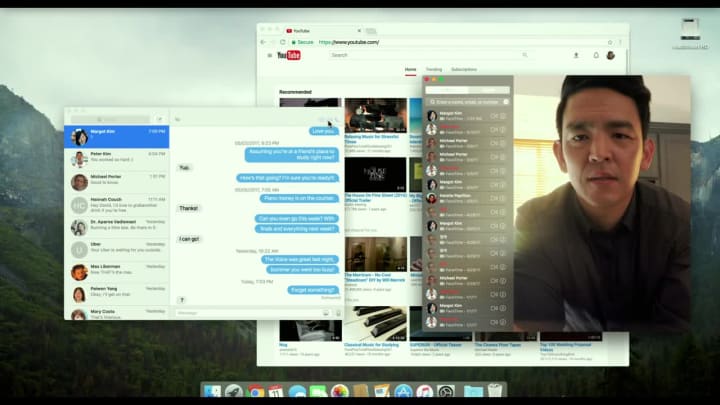 When David is looking through an old Windows computer for some of Margot's middle school friends, he sees that one of the names is "Robbie Abolt," who had a crush on Margot.
Robbie Abolt turns out to be Robert, the catfish who accidentally pushed Margot in the ravine. The reason it says Robbie Abolt instead of Robbie Vick is because Detective Rosemary Vick uses her maiden name.
5. Favorite Pokémon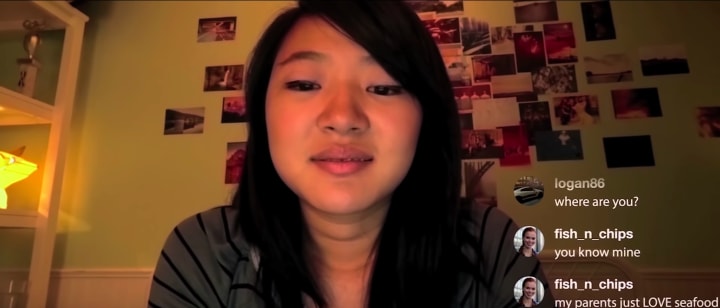 When Margot first begins streaming onto YouCast, you can see that one of the users, fish_n_chips, nearly immediately asks what her favorite Pokémon is and why. Margot asks how they knew she liked Pokémon, and fish_n_chips responded, "Who doesn't?"
Margot responds, "A lot of people, actually." And this should have been a BIG hint that fish_n_chips was a suspect. Margot was initially suspicious, but ended up befriending fish_n_chips. And we were led to not suspect fish_n_chips by Vick later in the film.
6. Vick's Facebook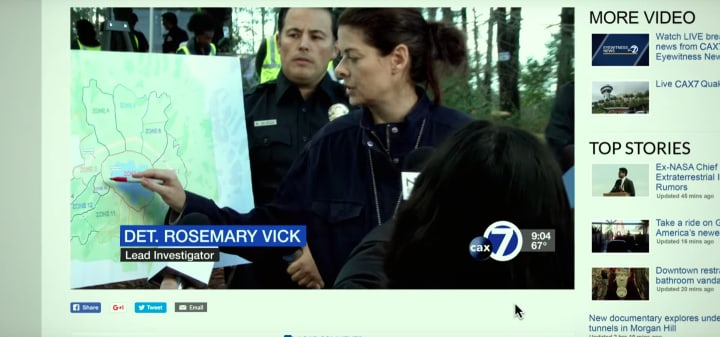 We eventually discover that Detective Vick was covering up for her son, who was responsible. And when David first looks her up, her Facebook profile header photo reads, "A mother's love for her child is like nothing else in the world."
This says a little bit about her character right from the start, and the next one does it even more.
7. Fake Charity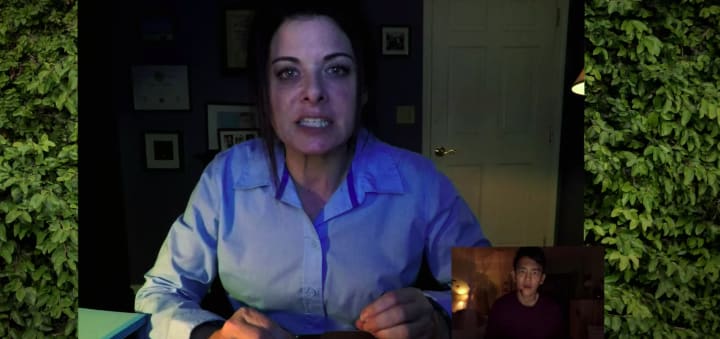 During a Facetime between David and Vick, Vick tells David about how once, her son, Robert, went from door to door collecting money for a fictional police charity he created called "Moms and Dads in Blue."
When a neighbor found out and asked Vick for their money back, Vick said that she had founded the charity and kept the money in order to keep Robert from getting in trouble. This story shows that she would willingly cover up for her son, even if he committed a crime.
8. Another News Article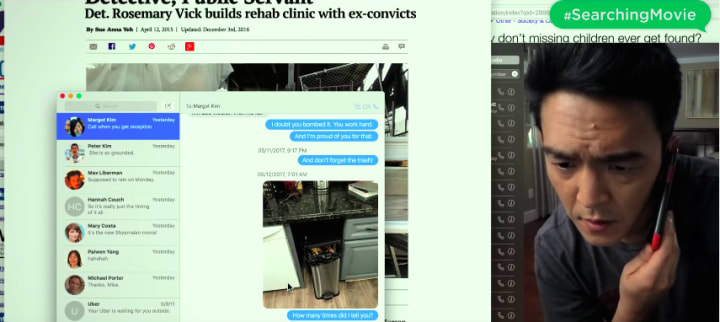 At the end of the film, David ties Vick to the crime when he discovers she had volunteered for the case and sees her standing in a picture with the man who supposedly killed Margot.
However, on the second time, I noticed that the first time he heard Vick's name and looked her up, one of the articles that he opens up is the same one he sees at the end which incriminates Vick.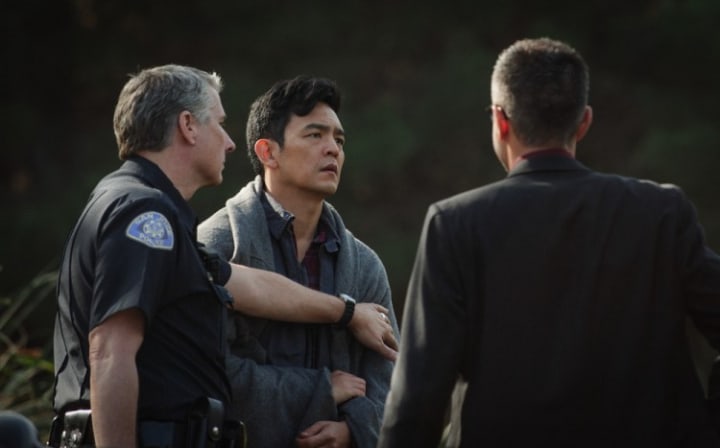 And those were eight foreshadowing uses I noticed the second time I watched Searching.
Once again, this movie was fantastic. I liked it more than Crazy Rich Asians, and with filmmaking skills like this, I honestly believe that Chaganty could become the next M. Night Shyamalan. And hopefully, without the career decline.
movie
About the author
Film critic. Lover of Pixar, Harry Potter, Star Wars, Marvel, DC, Back to the Future, and Lord of the Rings.
For business inquiries: [email protected]