Doctor Who Series 9 News Brought Straight To You - Spoilers
So what are we expecting so far for Doctor Who Series 9?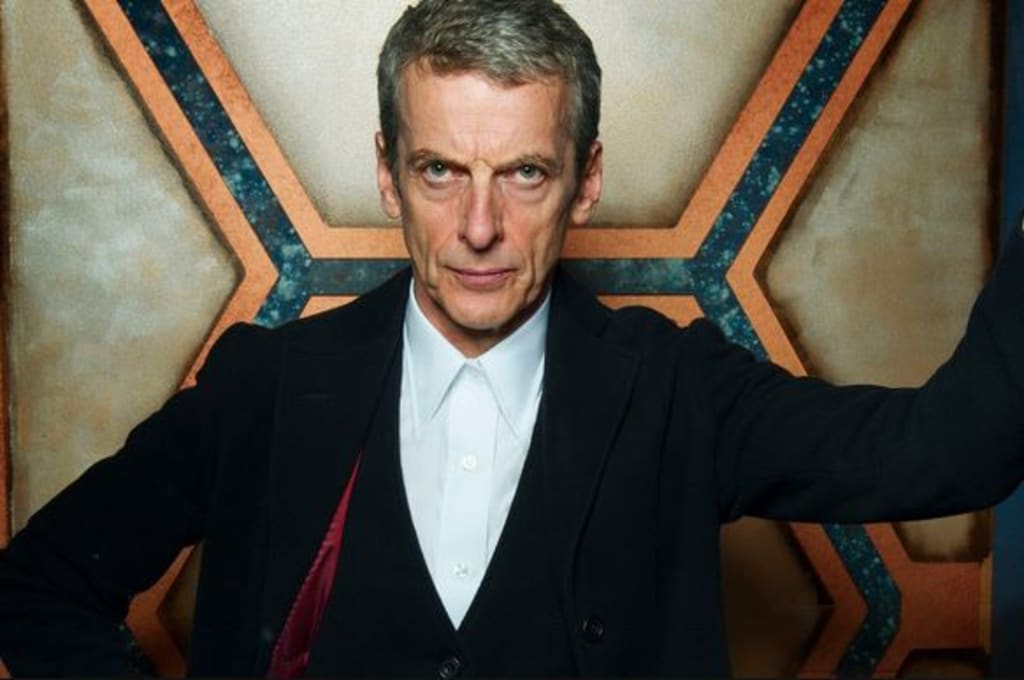 Series 8 flew by and what an adventure it was. A newly regenerated Doctor and a Female Master. Then came along Christmas. The 2014 Christmas Special must have been one of the scariest yet. But yet very confusing. It was all "Dreamy-Weamy" and imaginative. The big thing at the end was, we saw Clara sticking with the Doctor. So what are we expecting so far?
Series 9 - Episode 1- The Magician's Apprentice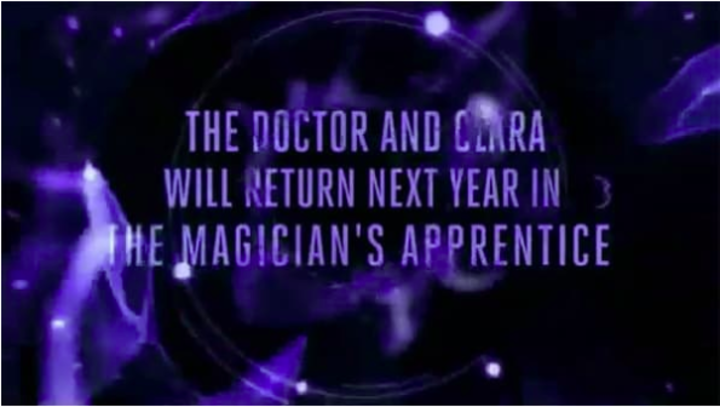 Over the past couple of weeks Doctor Who revealed the title of Episode 1. It is to be called "The Magician's Apprentice". Steven Moffat (Doctor Who Head-Writer) claims he revealed it for a reason. Is this because Shona said the Doctor was like a Magician in the 2014 Christmas Special? The Magician's Apprentice is to air in 2015.
Series 9 - Episode 2- The Witch's Familiar
The Witch's Familiar is the 2nd Part to the opening 2 part Story. This Episode will also include Missy. Nothing else has been said yet.
What Is Confirmed?
So far all we know is that Peter Capaldi (12th Doctor), Jenna Coleman (Clara Oswald) and Michelle Gomez (Missy/ The Master) are confirmed to return. Jenna Coleman has said she will be sticking with Doctor Who for all of Series 9. The Daily Mirror claims:
"Jenna Coleman had a change of heart".
The Daily Mirror is the source that started off the rumour of Jenna Coleman leaving and we can now safely say it has come to a close. As we saw Clara Oswald jump back in the TARDIS with the Doctor.
The Rumours...
It is rumoured that River Song (Alex Kingston) and Captain Jack Harkness (John Barrowman) could be making a return. But Steven Moffat has said
"I haven't closed the doors on River Song and Captain Jack"
River Song is also known as Melody Pond who is Amy and Rory's Daughter. River is the Doctors Wife as well. Captain Jack Harkness was first seen in 2005 in "The Empty Child". Jack left the TARDIS and went to work for Torchwood. Torchwood had it's own Spin Off Show and ran for 4 Series. Series 1, 2, 3 (Children of Earth) and Series 4 (Miracle Day).
Is this a sign that they will appear in Series 9? We shall have to wait and see.
That is all we know so far, but once information comes out I shall update this article.
"Creepy 2 parter" for Series 9
A creepy 2 part story is confirmed for Series now. It is set to be based in a Russian Army Base. The story is written by Toby Whithouse. A filming photo has been released showing Peter Capaldi with a Rifles soldier. The Soldier was training at the Russian Camp when filming. This story is to Episode 3 and 4 of Series 9.
UPDATE: 12th April 2015
Costume Change For Capaldi!
Looks like the Doctor is having a makeover in costume in Series 9. Twitter user Amberlabamba snapped the images below which were taken in-between recent filming:
Game Of Thrones Star, Maisie Williams To Be In Series 9!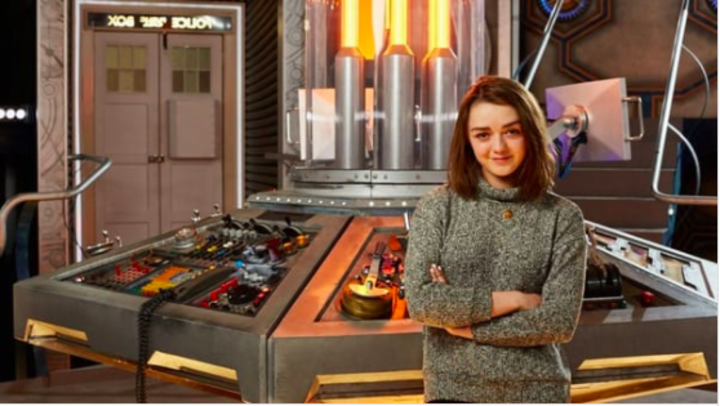 Game Of Thrones star Maisie Williams will be joining the Doctor and Clara in this story. Maisie will appear in Episode 5 and 6. These Episodes are titled "The Girl Who Died" and "The Woman Who Lived". We don't know what enemy the Doctor is up against yet in this 2 part story. Is Maisie the enemy? Who knows? We shall have to wait and see! Eeek!
Episode 5: "The Girl Who Died"
Episode 6: "The Woman Who Lived"
As of 30th March 2015, it was announced that the titles to Episode 5 and 6 were a 2 part story. These titles are; "The Girl Who Died" and "The Woman Who Lived". What springs to mind here? Does the girl die then regenerate and turn into a woman like what River Song did? We practically know nothing about these Episodes yet. Apart from this, Game Of Thrones star Maisie Williams will be joining the Doctor and Clara in this story.
UPDATE: 19th April 2015
Doctor Who Instagram have released a brand new Spoiler Photo for Series 9.
They posted this caption to the Instagram photo below:
Scrolls have been written. But by who and why? Is this to do with Magic? The first episode of Series 9 is called "The Magician's Apprentice". Could these scrolls link up with the episode? Missy has been confirmed for the Series 9 opener. Did Misyy write these? Another theory is that River Song has written these for the Doctor! Maybe. An exciting rumour shows that these scrolls are used in a Viking Story. There has been no confirmation on a Viking Story. But that doesn't stop it from being true.
Ahhhh, if only the cameraman focused. Of course he wasn't going to. What theories are put in place for this? Ood? Sycorax? Who knows!?
UPDATE: 21st April 2015
As of today the Doctor Who team revealed that there is to be a brand new monster to appear this Series! It is brand new and the team revealed a photo. See below.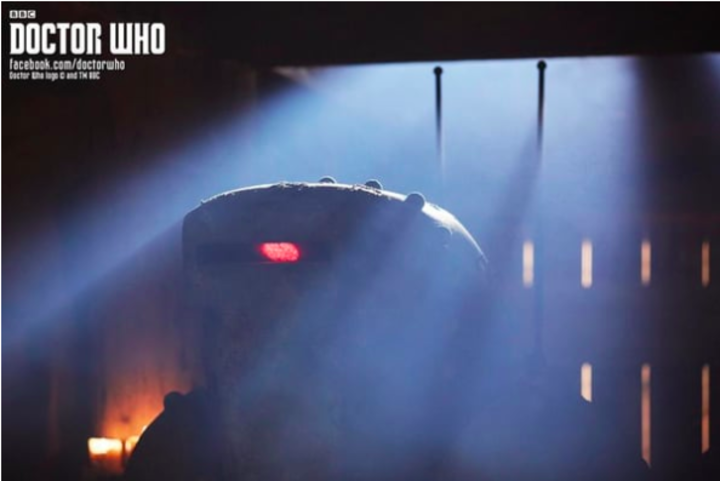 Is it a living creature? Or is it a robot? What are your theories? So far all we know is that it is new. If you notice, it has the same lighting as the the picture of Missy from "The Magician's Apprentice". Is this thing part of Missy? We shall have to wait and see!
UPDATE: 10th May 2015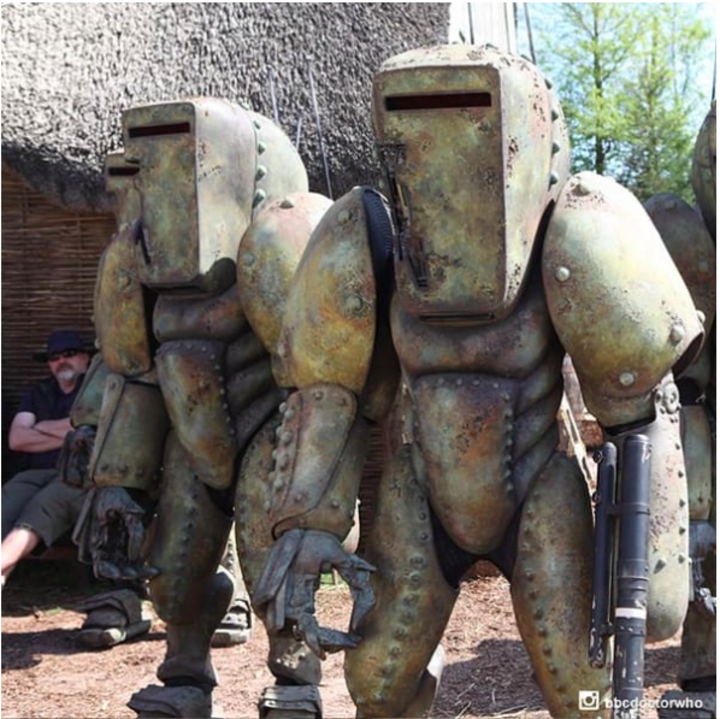 This monster thing as seen above has been said that it is brand new and has never been seen before. They currently have no name but a more detailed photo has been released.
She's Back!
Remember Osgood was horribly murdered by Missy in "Death in Heaven"? Well the BBC have confirmed that she is back for Episode 7 and 8 written by Peter Harness. Not only that, the Zygons are back too. This will be their first proper episode in New Who.
Medieval Filming!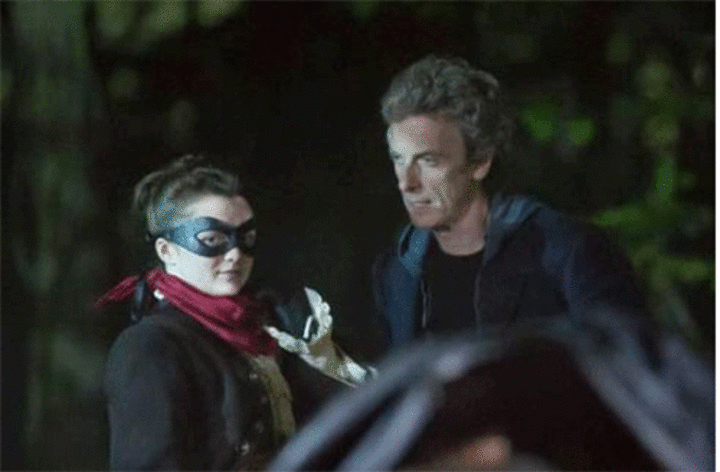 Recent filming photos are showing mysterious Medieval/viking houses. Have we finally got ourselves a Viking story? In this story Game of Thrones star, Maisie Williams will appear. She has been spotted on set too! Take a look.
Whovians were pretty excited when they hear the news about all of this.
Series 9 is set to air this Autumn on BBC One.
scifi tv