15 Sci-Fi Shows To Satisfy Different Interests
And the spoiler-free reasons why you should watch them!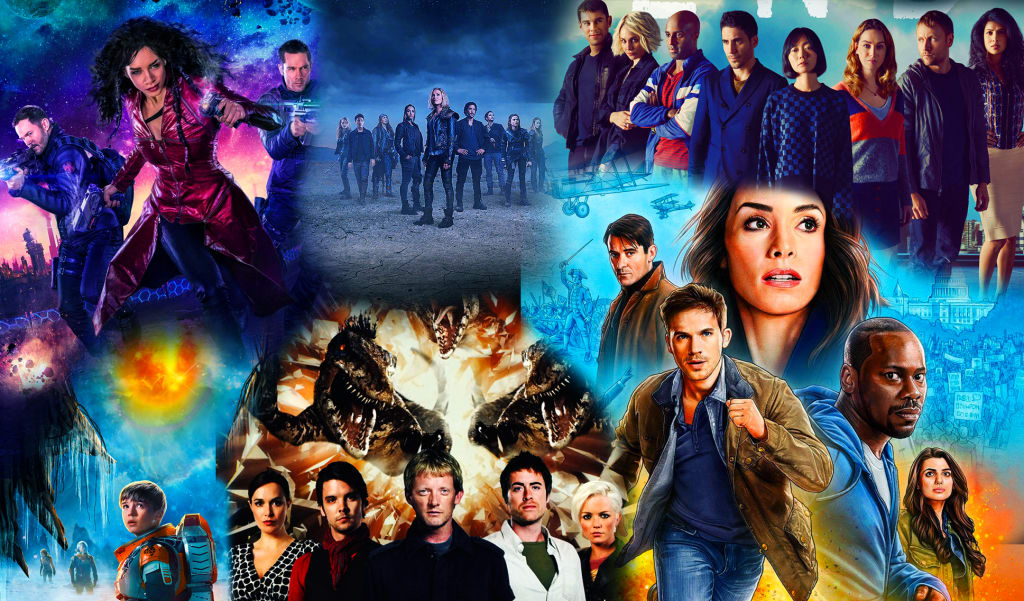 As of late, I've been thinking a lot about the various science fiction shows I've seen. Some are have been favourites for a long time and others are relatively new. Still, they're all vastly entertaining and with so much variety out there, I decided to put together a list of 15 sci-fi shows that each provide and/or tackle something unique.
Now, there are bound to be some fantastic shows missing from this list. However, I'd recommend simply thinking of this list as a starting point to expand what you're already watching.
Now, with that being said, this is in no particular order and is spoiler-free.
If you want a family-orientated, stranded-on-an-alien-planet kind of series then try… Lost in Space.
"After crash-landing on an alien planet, the Robinson family fight against all odds to survive and escape, but they're surrounded by hidden dangers." - IMDb
This was one of those cases of seeing a trailer and instantly falling in love. It is a reimagining of the 60s TV series of the same name which in itself was a reimagining of the book, Swiss Family Robinson. None of that matters though — unless you want to draw comparisons — as you can jump right into this 2018 version and simply lose yourself in the wonders and adventure it brings. While there is a lot of heavy focus on family and togetherness there are also robots, interesting planets, pretty scenery, cool action sequences, a good amount of science (that's fun and interesting!), and a lot of content that will make you laugh, cry, and everything in between.
Lost in Space has already been renewed for a third and final season. Based on how the first two seasons have gone, it's looking like this series is going to wrap up in a satisfying way.
If a show set in space with characters working together is still your thing but you prefer it to be with strangers who have no memories try… Dark Matter.
"In the dystopian 27th century, six people wake up on a deserted spaceship with no memory of who they are or what they're doing there. They reluctantly team up and set off to find answers with the help of a female android." - IMDb
Despite being cancelled, this one is still absolutely worth the watch! Although they have no memories, each character still has a distinct personality and there are varied and entertaining dynamics amongst them. Whether it be the plot, the overall aesthetic, the varied characters, the simple but wonderful setup, or anything in-between, this show is an absolute delight if you want to watch something that's hilarious, dramatic, and just generally packs a pretty hefty emotional punch.
Maybe stranded characters who are (mostly) strangers is your thing but you want something set on Earth, in that case, try... Lost.
"The survivors of a plane crash are forced to work together in order to survive on a seemingly deserted tropical island." - IMDb
This one is bizarre, a mix of emotions, and generally just a good time. I feel like everyone has heard of this series even if they haven't watched it. While it was on the air, I only ever saw a handful of episodes — random ones at that — and it was after the series was complete that I finally sat down to watch it and oh boy, it was definitely worth the watch. It has so much packed into it that simply works and while most would call the ending controversial (and some, just straight-up bad), I would say it's actually one of the best endings I've ever seen. At the very least, this series offers so much that it's definitely worth checking out and forming your own opinions around.
If you like supernatural beings and want to see kids (and their parents) fighting them during the 1980s then try… Stranger Things
"When a young boy disappears, his mother, a police chief and his friends must confront terrifying supernatural forces in order to get him back." - IMDb
This has that beautiful 80s aesthetic (the clothes! The hair! The music! The decor! And more!) to go with a plot that's spooky, joyful, and dramatic with really great cinematography and filming choices that help to emphasis those supernatural twists that are evident throughout.
If you like the fighting aspect but want more of a post-apocalyptic vibe, try... Falling Skies.
"Survivors of an alien attack on earth gather together to fight for their lives and fight back." - IMDb
This series was a wild time and one I admittedly was not expecting to enjoy so much. This is another example of a show I watched after it was done and while binging it is really fun to do, I'm a little angry at myself that it took so long to get to. Falling Skies is dark and dramatic but still manages to slow down enough to let you get to know and care about the characters and their relationships as well as having a few laughs amongst the pain the series might cause. It's all worth it though. From start to end this was such a satisfying watch, especially if you love stories surrounding humans VS aliens.
Or perhaps you want humans and aliens co-existing on Earth if so, try… Defiance
"Life in the city of Defiance, in a near future after the arrival of different alien lifeforms to Earth." - IMDb
Doesn't sound like much of a plot, right? It is a really great watch though and is much more than it might appear. With such a varied group of characters and a world that shows a new take on a familiar world, this one is anything but boring. There's a lot of action amongst the various dramas brought about by the residents of Defiance that help to keep the plot moving along and the overall story interesting to watch.
For those who want to be able to just enjoy humans and aliens coexisting with a good amount of drama sprinkled throughout, this one is for you.
Maybe you want one (main) alien Queen to fight with bounty hunters on top to boot, well, in that case, try… Killjoys.
"In the Quad, a planetary system on the brink of a bloody interplanetary class war, a fun loving trio of bounty hunters attempt to remain impartial as they chase deadly warrants." - IMDb
This series is such a beloved one for me. I mean, who doesn't like the idea of bounty hunters in space? It's not just that though. There is a plot that runs across all 5 seasons with smaller ones along the way to provide variety and to keep things moving along at an enjoyable pace. Killjoys has such wonderful and satisfying ending. While I'm sad there's no new content, I can't help but be thrilled that it got the ending it deserved.
Be prepared to sign yourself over to a lifetime of loving these characters and the worlds they inhabit because there's no way you're getting through this one without falling head over heels. (Not that you'll mind, it's all worth it).
If you do like creatures (prehistoric-like ones to be exact) and you like a monster-of-the-week kind of vibes, try… Primeval.
"When strange anomalies start to appear all over England, Professor Cutter and his team must track down and capture all sorts of dangerous prehistoric creatures from Earth's distant past and near future." - IMDb
I spent most of my teenage years watching this series and I loved every minute of it. It has a really good mix of humour and drama. The special effects are by no means the best — in fact, they're pretty awful in places — but that's really part of it's charm and it adds to how bizarre but wonderful this entire series is. If you're just looking for a good time and something that you don't have to really think that hard about, this one is for you!
Or, perhaps you want something a little more serious that's also happens to be cyberpunk? Try... Altered Carbon.
"Set in a future where consciousness is digitized and stored, a prisoner returns to life in a new body and must solve a mind-bending murder to win his freedom." - IMDb
I'll be honest, at the time of writing this I've only seen the first season but it was so good that I had to include the show on this list! While I might not be able to recommend the second season right now, the first is absolutely worth the watch. It's such an intricate and exciting plot with interesting characters and to top it off, it looks phenomenal. This one doesn't hold its punches when it comes to violence (or its other adult themes) but every part of this series (or at least the first season) seems deliberate and therefore, never seems overused or unnecessary.
If you want something that's also beautifully filmed but is set in today's world and focuses on human connection, try… Sense8.
"A group of people around the world are suddenly linked mentally, and must find a way to survive being hunted by those who see them as a threat to the world's order." - IMDb
I'll admit, this is one I didn't expect to love to the levels that I do. There is a really great storyline and an exploration of human connection that packs such a powerful punch and to top it all off, it's filmed so beautifully. Not only does this series look and sound phenomenal, it's also so intricate and there are some great sequences where the 8 characters can switch places in a flash. It's all so seamless and satisfying to watch, especially in action scenes. Sense8 is a series that never gets boring and despite it's depth, it's easy to binge or take your time with.
Want something that's set in today's world and allows for time travel, well, check out... Timeless
"An unlikely trio travel through time in order to battle unknown criminals and protect history as we know it." - IMDb
A show that was sorely under appreciated. If you love historical TV shows but can never settle on a particular period of time, this one is definitely for you. While we do spend a good chunk of the story in present day, we're often being thrown back to various different times with our trio. There's a lot of mystery and drama that often ramps up when you least expect it but on top of that, there's a whole lot of humour sprinkled throughout. It's so easy to become invested in these characters (and their relationship with one another) and it's even better that there's such a fantastic story to enjoy along the way as you follow their journey.
If you want the time travel to be a one-way ticket as humans try to re-start civilisation in a parallel timeline set 85 million years ago, try… Terra Nova.
"Centers on the Shannons, an ordinary family from 2149 when the planet is dying, who are transported back 85 million years to prehistoric Earth where they join Terra Nova, a colony of humans with a second chance to build a civilization." - IMDb
This series deserved so much more than it got. While it was cancelled, it's still definitely worth checking out. I saw this when it first came out and to this day, I still want to experience the world of Terra Nova so bad. As short as this one is, it's wildly entertaining and it's questionable special effects really add to that. There's a strong family unit, an interesting world, and some adventure and mystery that mean you'll never get bored but instead, will be eager to watch the next episode. If you're still not sure... there's dinosaurs!
If you like the idea of characters trying to start fresh but you prefer it to happen in our timeline 97 years after a nuclear war, how about… The 100.
"Set ninety-seven years after a nuclear war has destroyed civilization, when a spaceship housing humanity's lone survivors sends one hundred juvenile delinquents back to Earth, in hopes of possibly re-populating the planet." - IMDb
It took me forever to start watching this but once I did, I was hooked. While it might be a little predictable in places, it's always entertaining and definitely one of those shows you can either become heavily invested in or throw it on just as something to pass the time. There's a whole ray of characters and across 7 seasons, it's got some variety in its storylines as well. It might have its downs but there are definitely a lot of ups that make this one worthwhile.
Or perhaps you want to see the natural disaster while it's happening and prefer "let's save the world" types, then you want… Salvation.
"An MIT grad student and a tech superstar bring a low-level Pentagon official a staggering discovery--that an asteroid is just six months away from colliding with Earth." - IMDb
I'll admit, I weep for this show sometimes. It manages to amp up the drama pretty effectively and things are relatively intense but it's also a good one to just stick on and enjoy. The characters are easy to fall in love with, the pacing is wonderful throughout, and for such a small idea, it makes the most of it over the two seasons it got.
If you like seeing scientists (and other characters) take preemptive actions but prefer it to be set in space in the form of a high-risk mission and journey to discovery, check out… Another Life.
"Astronaut Niko Breckenridge and her young crew face unimaginable danger as they go on a high-risk mission to explore the genesis of an alien artefact." - IMDb
Perhaps not the strongest choice on this list but one that definitely has a lot of potential. Being in its first season, it sets things up rather well and leaves you wanting a whole lot more. The journey these characters go on isn't anything mind blowing but the hurdles they come across along the way certainly make up for that fact. This one is exciting and unique even if it's only just the beginning.
There we have it! 15 sci-fi shows to satisfying different interests. And that's not all, below are 5 honorary mentions.
All of the ones listed below are still worth the watch but for one reason or another, they just didn't quite make it onto the final list.
Doctor Who (2005+) — Time travel! Fun characters! Aliens! Supernatural threats! Comedy! Drama! It has a lot to enjoy and it's family friendly to boot.
Torchwood — A lot of the same fun stuff as Doctor Who (it's the same universe after all) but with a little less time travel, a bit more pain, and content that's generally aimed at a slightly older audience.
The OA — Like most people, you probably won't understand what is going on with this one half the time but that doesn't make it any less interesting and easy to watch. It's just a beautifully filmed piece of television with a unique and wonderful story to go with it.
Under the Dome — Basically a town is trapped underneath a mysterious glass dome and its residents are forced to live in close quarters and work together to find out why (and how to get rid of it). It's ridiculous and bizarre and entertaining from start to finish.
Ascension — I'm not going to say anything about this one. It's only 3 episodes long and I really don't want to spoil it for you. Trust me. It's relatively unique and with such a beautiful aesthetic, this one is worth checking out.
Reader insights
Be the first to share your insights about this piece.
Add your insights