Why the Orgasm Gap Is Actually Great News for Straight Women
Remember where we came from. Or rather, where we're cumming from.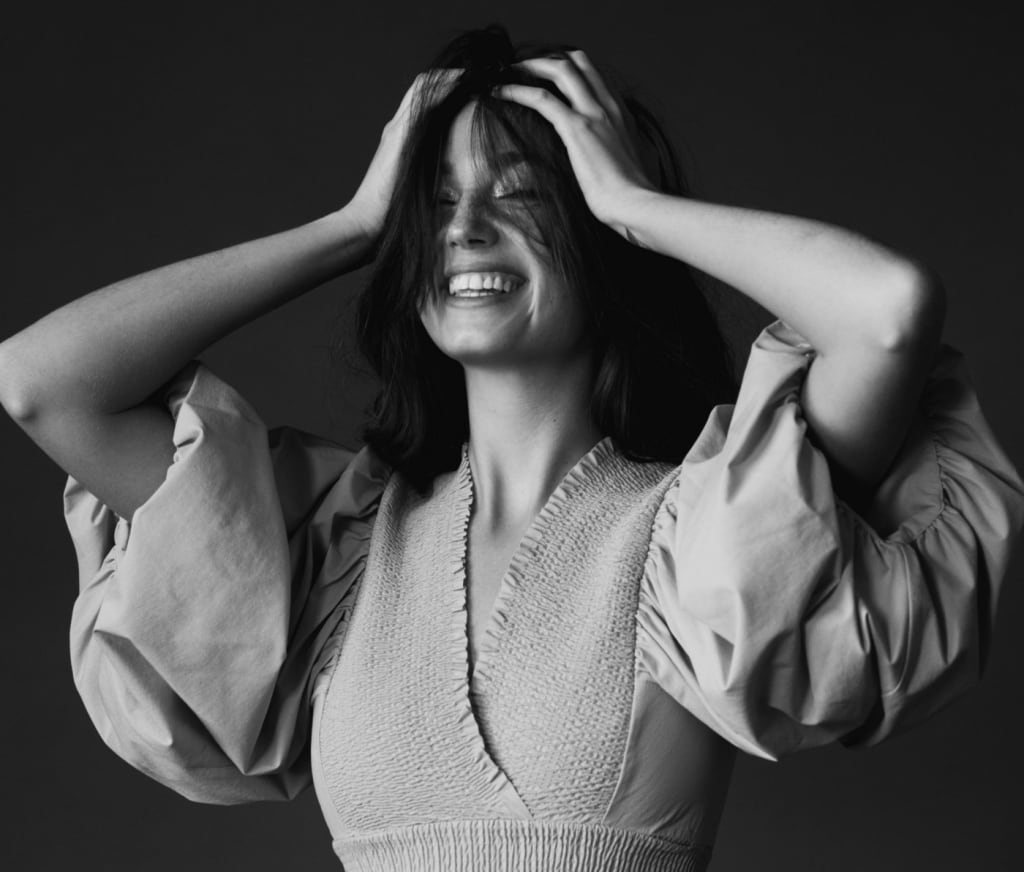 Photo by Maria Orlova from Pexels
We don't have orgasm equality. The plight of the straight woman reaching climax is a tale as old as time itself. At least as old as social media itself. The discourse surrounding the elusive woman's orgasm usually landed on gay women. Women who sleep with other women have been the gatekeepers of women's sexual pleasure for a long time.
In the early days of social media, discourse surrounding women's sexual experiences with men was largely negative. Outside of the orgasm gap, there's a general fear and negativity women are surrounded with when it comes to sleeping with men. This is why the most recent chart I've seen about the Orgasm Gap made me feel more hopeful than any statistic regarding straight women's sex ever has. Depending on how long you've been seeing charts like this things are getting so much better.
Let's remember where we came from. Or rather, where we're not cumming from.
The gap has always existed. And unless you're too young to remember, or simply weren't online at the time, it used to be much wider. Things used to be significantly worst for women who sleep with men.
As recently as five years ago, statistics showed that 75% of women were not finishing with their male partners. The general tone of articles like this describes women taking ownership of their lack of ability to finish. When it came to women's orgasms via men, the conversation was largely about women's inability, rather than a lack of understanding.
Articles and Twitter think pieces alike would call women's orgasm "elusive", while also acknowledging that gay women orgasm during a majority of their sexual encounters. Studies also show that during masturbation women finish 95% of the time.
Men weren't a central part of articles or think pieces like this at the time, despite being the common denominator to women's inability to finish. When men weren't involved orgasms were achieved.
However, these numbers and charts have had some major updates.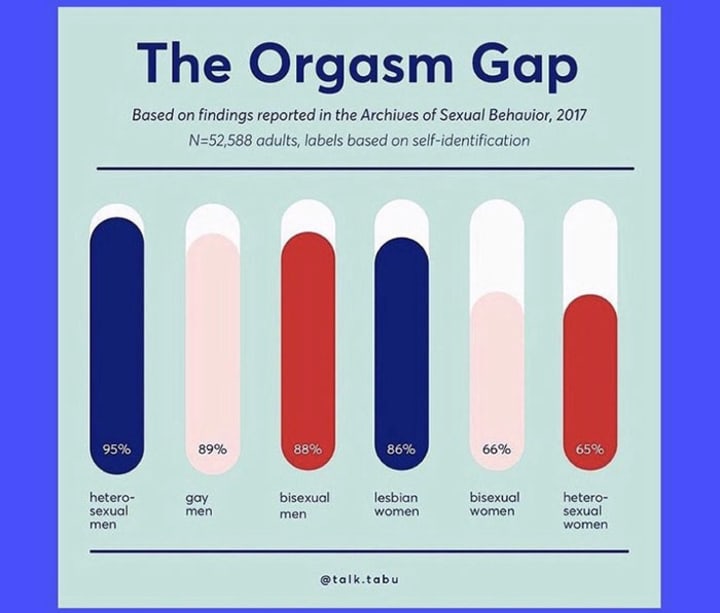 As frightening as this chart may seem, we can acknowledge that the numbers are up. From a saddening 15–25% of straight women finishing to 65%. That's a majority.
When I first came across this updated charge in early January, the general feeling was disappointment. Straight women didn't feel great about the numbers. And that makes sense. They're still not great. However, many of them are probably too young to remember how bad it was. This number tells me that for the first time, potentially ever, women's complaints have had some real-time results. Things are better and it would appear men have made some improvements.
It wouldn't be prudent to ignore that straight women's number is still the lowest one there. And, it may always be. However, it's still worth exploring how and why the orgasm gap exists, and what's being done to close it.
Things don't have to be great for them to be better.
I credit much of the progress we've made to the online discourse that existed in the early 2000s. The normalization of recognizing a shortcoming, and how to fix it. It's always been an ongoing joke that men can't find the clit, but all the joking and memes presumably taught a lot of them where it is.
There's always been an element of shame associated with not being able to finish. Whether it's women's embarrassment or men's inability to figure it out. Regardless, for a certain group of men, the cries of women around the world were heard.
We're finally able to fix an issue that we pretended didn't exist. Do we believe our great grandparents were sharing their orgasms, or lack thereof with strangers, or even those closest to them? Probably not. Maybe even not with their husbands. It also means that varying methods of how to achieve orgasm are discussed.
It relieved the tension around toys. Many men, and women, saw needing a toy as a sign of personal failure. But this came from a lack of understanding of how women's orgasms are usually achieved. People felt defeated by the vibrator. Now, toys are teammates rather than competitors.
Women's existence has long been created under the male gaze. It's not unusual that in a patriarchal society, men are made a priority in every sector of our lives. Once they're centered, others are forgotten at best, discriminated against at worst.
As society starts to view sex as something done together, versus something done to women, we're able to focus on women's pleasure more.
It's crucial not to become cynical. And give notice of the improvement we're seeing and be hopeful about it. It truly illustrates how conversations like this work. It's not too often we see the tangible results of online discourse in real-time.
Though many women saw this chart and got discouraged, to me it says there's at least 65% of men out there that have figured it out. Focus your energy where it's deserved.
Reader insights
Nice work
Very well written. Keep up the good work!
Top insights
Excellent storytelling

Original narrative & well developed characters

Expert insights and opinions

Arguments were carefully researched and presented

Eye opening

Niche topic & fresh perspectives
Easy to read and follow

Well-structured & engaging content

Heartfelt and relatable

The story invoked strong personal emotions

On-point and relevant

Writing reflected the title & theme
Add your insights