What is sex therapy and how does it helps couples
sex therapy help during sex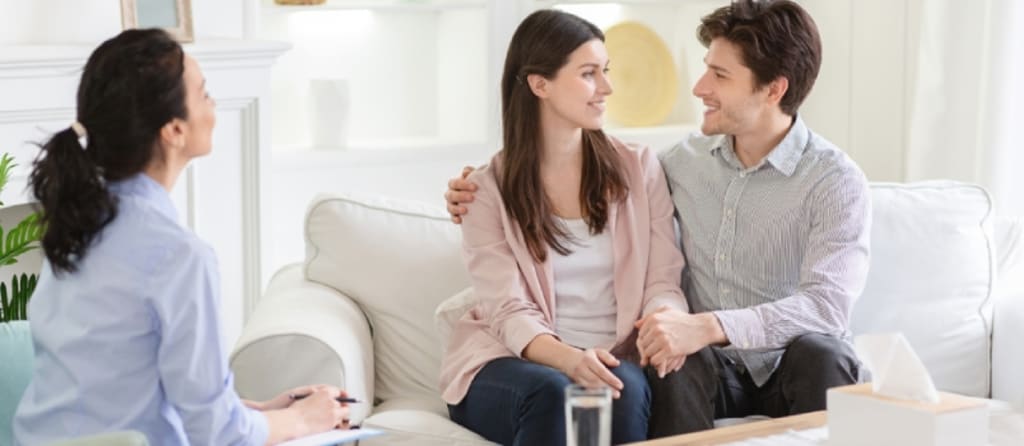 Have you ever considered visiting a sex therapist to get assistance for a sexual issue?
If this question arises discomfort in you, you're surely not alone. The approach of addressing the complexities of someone's sex life to a stranger can feel uncomfortable, particularly if you find it difficult to communicate about sex. Also, sex therapy seems to have a space of strangeness around it.
So, what exactly happens during the sessions?
In simple and clear words, sex therapy is a kind of psychotherapy formed to discuss sexual problems faced by individuals or couples. For numerous people, it proves to be a safe and structured approach to cope with sexual issues. Therapy might enable you to see your position in a more wholesome way and teach new skills that can help you at home.
To get the maximum from sex therapy, it is important to recognize the elements that work collectively. Your reasons behind seeking therapy, the therapist you're seeing, your relationship with your partner, and your dedication to the processes of therapy are all essential.
Before beginning sex therapy, you must visit your doctor for a complete medical checkup. Several sexual problems arise from physical causes. For example, erectile dysfunction (ED) can sometimes be an early indication of diabetes or heart disease. For women, painful sex can occur from endometriosis or hormonal fluctuations during menopause.
Now, let's have a clearer look.
Your reasons
Why should you consider seeking sex therapy? There can be many reasons.
Therapists can assist clients:
● discover new things about their sexuality, involving the anatomical features of the sex
● develop communication abilities so couples can talk openly about sex
● adopt new approaches and ways to enhance a couple's sexual relationship
● deal with a history of sexual trauma or abuse
● learn to control undesired sexual behaviors
Your therapist
Sex therapists are qualified and well-trained professional experts. They can be psychologists, doctors, social workers, or clinicians. Normally, they own graduate degrees and specialized training regarding sexual issues and patient counseling. Inquire about their license and credentials before you begin taking therapy. Your physician can likewise refer you to someone or help you select a therapist who has specialized in your particular situation.
For sex therapy to prove helpful, it's essential to feel relaxed around your therapist. Most therapists recognize that discussing sex can be embarrassing and intimidating so, they are particularly trained to put their clients at ease by questioning them gently and letting them open up.
Sadly, not every client/therapist connection works this way. In case you are not satisfied with your therapist, it is suggested to move on and consult another provider. Don't get intimidated if the process takes some time. You will surely find the right therapist for you.
Your partner
If you are taking therapy individually, you can decide to bring or not to bring your partner to the sessions. That choice is completely yours.
But, understand that sexual issues are usually a couple's problem. One partner's sexual dysfunction can intensely influence the other partner and this can impact relationship dynamics. For instance, if one companion loses interest in sex or becomes physically distant, the other partner might start to worry about the relationship. Or, in case one encounters pain during penetration, the other might feel frustrated or afraid of giving any physical pain.
Talking about sex is complicated, and even partners who are together for a long time might need to practice their communication skills in order to nurture their bond. A therapist can assist each partner to comprehend the other's viewpoint so that they can work as a team.
The environment
Sessions are often carried out in the therapist's office. Countless therapists fashion their consultation areas to appear welcoming, relaxing, and secure. You can also take your therapy sessions online through a safe video chat. This approach is particularly suitable for individuals who are not able to travel to their location of appointments or feel awkward communicating about sexual issues face to face.
The sessions
So how does the session start? Some common themes include:
● Sex therapy is basically talking therapy. Your sessions do not cover any physical connection or sexual associations, between the couple or with the therapist.
● There can be challenging, personal inquiries. Your therapist will possibly ask about your health, your connection with your partner, your childhood and sex education, and your sex views. You may also get questioned about your gender identity, your sexual orientation, and any history of sexual trauma or violence. It's necessary to clarify your answers honestly. Recognize that you are in a secure place, and your therapist definitely understands that you can feel hesitant or embarrassed to open up. Take time if you need to. If it appears to you that you can't talk to your therapist openly, consider visiting a different one.
● You might be given exercises or "homework." Some therapists make use of role-playing exercises to encourage partners to communicate. Or they may educate you about ways to handle sexual dysfunction or relax in the bedroom. For instance, a man with early ejaculation may discover methods of delaying orgasm.
These days, several therapists try exploring mindfulness with their patients. This practice allows you to concentrate on the present moment. You may be directed to try mindfulness activities during sex, to keep your focus on joy and intimacy instead of the issues you're coping with.
Sensate focus is also a common type of sex therapy. This method, exercised at home, proceeds from non-sexual to sexually intimate touching intending to foster confidence and closeness between companions. Other "homework" tasks may be studying or watching informative materials regarding the physical, passionate, and emotional aspects of sexuality.
About the Creator
Harbor Compounding Pharmacy in California to provide better health solutions. The aim of this health pharmacy is to provide solutions to all health-related issues. It provides treatment for all diseases and health counseling.
Reader insights
Be the first to share your insights about this piece.
Add your insights