What blowjob he will never forget ?
You want to drive your loved one crazy? Before this is about the eternal permanent sex dream of probably most human males, two things in advance. First, if you don't feel like getting a blowjob, don't. Period. You wouldn't be the first woman to feel this way, you're not the only one. And: other relationships have survived this before. We don't want to persuade you to do anything you don't want to do. And he shouldn't do that either.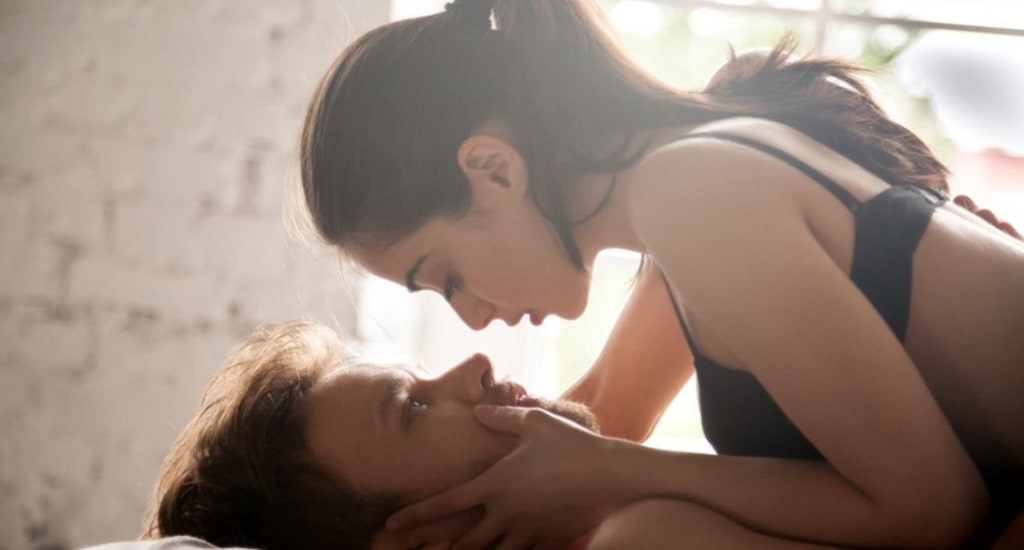 Secondly, if you don't feel like letting men tell you how to blow them, then we have to warn you: Only men are talking in this article. Because one thing is clear: they're the only ones who can really tell you what feels best from a male perspective.
That's the idea and purpose of this story: We asked 22 of our male friends, buddies and acquaintances to reveal to us THE oral sex of their lives. Equipped with this knowledge, you can drive any man sheer insane during a blowjob. Just pick out the tips that make you curious. The guy won't last all 22 anyway….
What do men like about blowjob?
There is a simple and a complicated answer. The simple one is: Just about everything. Guys just love it when you give them a blowjob.
The complicated answer is so complicated because every man has his own special preferences and dreams. You'll have to find your way together. Our 22 tips are sure to help you try it out!
Why do men love oral sex?
The reason is probably similar to that of women: It's this mixture of being pampered and giving up control that makes the kick.
Also, the fact that it feels sensationally good. And of course this incredible attention and pleasure that you give him. But maybe he has other reasons as well. Just ask him!
What do I have to do? 22 Blowjob Tips:
You don't HAVE to do anything. You only do what you feel like doing. Basically, that can be anything: sucking, licking, sucking, etc. And if you feel like doing even more, and also your nice day, then ask him if he wants something. Or you try one of the following tips. They come namely also from men!
1. grab also sometimes courageously!
"I love it when my girlfriend grips my testicles while she sucks on my penis. She holds them in one hand and squeezes gently every now and then. Pleasuring testicles and penis at the same time — it makes the whole thing so much more intense for me. I almost come at the thought!" (Ben, 30)
2. try a butt massage!
"One of the best feelings in the world for me is when my girlfriend massages my butt. When she goes down in bed, she occasionally runs her hands under my butt and massages it very gently. At the same time she takes my penis in her mouth or licks my testicles. Honestly, there is absolutely nothing better for me!" (Mike, 28)
3. increase the tension!
"The woman I'm dating loves to get me hot before she orally pleasures me. One time I was lying on my back while she squatted between my knees and calmly looked at my penis. She must have just knelt there for 30 seconds until she bent down further to very lightly blow on my penis and testicles. Without touching it! The tension almost killed me. It was fantastic when she finally started, much more arousing!" (David, 27)
4. put your own hands on it!
"One of the women I've been in bed with was into touching herself while she gave me a blowjob. Seeing her get an orgasm turned me on a lot more than if she had just taken care of me. The combination of watching her masturbate and feeling her touch me at the same time — it was almost too much for me. The complete sensory overload!" (Andy, 30)
5. plan a spontaneous trip!
"For my last birthday, my girlfriend surprised me with a short trip. She picked out a super-romantic hotel with a fireplace and cozy bedding and set up masses of candles in the room. I had to lie down on the bed and she came to me. Knowing how much thought she put into this gift made the blowjob very intimate and special. I will never forget that night!" (Daniel, 31)
6. surprise him with the blowjob!
"I live with my girlfriend. Once when I came back home from work, she was already at the door, just jumped on me, pulled me to the sofa and pulled down my pants. Then, without saying a word, she gave me a blowjob. That was definitely one of my best experiences." (Stefan, 32)
7. cool it down good!
"My girlfriend and I are always trying new things in bed. A few days ago, she brought a cup of ice-cold water to the bed and put an ice cube in her mouth before orally pleasuring me. This ice-cold situation felt insanely good!" (Heiko, 29)
8. smile at him while doing it!
"Even though I know that a blowjob is totally about me, I feel better about it when I have the feeling that she also enjoys it or gets turned on somehow. That's why it gives me an extra kick when she smiles at me briefly in between!" (Patrick, 35)
9. find his 'magic spot'!
"There's one thing that really blows my mind every time my girlfriend does me with her mouth. There's this one spot between my testicles and anus [editor's note: referring to the perineum] where I'm super sensitive. She lays down on her stomach and starts to lick this spot very slowly with her tongue before she takes care of my penis. I can't control myself during this, my whole body starts to shake. This is madness!" (Tom, 31)
10. move in circles!
"I love it when my wife takes her time and licks the whole area around the penis. She does a whole round several times and her tongue feels soooo good doing it. It builds up lust just thinking about it." (Robert, 28)
11. check his needs!
"Sometimes my girlfriend stops in the middle of a blowjob and asks me what she should do next. The thing is, she actually knows exactly how I like it best. Still, she wants to make sure if I want something specific or if she can do something else. Just knowing that she wants to satisfy me so much turns me on — and, conversely, causes me to want to pamper her even more intensely when she's done." (Matze, 33) What always turns him on: How you are coiffed "down below".
12. lick it like a lollipop!
"My girlfriend waits until my penis is fully erect, takes it in her hand and licks it from bottom to top — just like she's licking a lollipop with pleasure. I love that!" (Basti, 29)
13. make noises while doing it!
"My girlfriend sometimes hums while she has my penis in her mouth. Yeah, sounds weird, I know. But it totally turns me on and makes oral sex more dynamic. Plus, it's funny because we do yoga together — whenever we say 'Ommm' at the end of class, my head cinema goes off." (Jens, 32)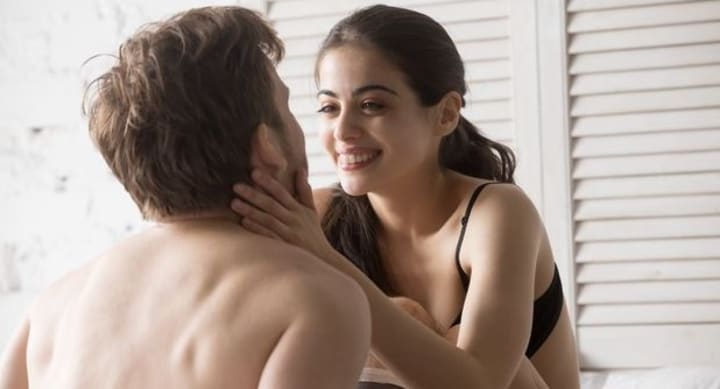 14. show him your teeth!
"Actually, I hate it when women put their teeth in during oral sex. It hurts. But when she does it in a totally gentle way, it can be really good. One woman once very gently slid her teeth along my shaft while licking it over and over with her tongue. That was surprisingly good!" (Nick, 33)
15. choose unusual places!
"My wife and I went out for sushi and it took half an eternity to be served. Suddenly she nudged me and whispered to meet her outside the restrooms. I didn't know if she was serious, but she got up and left, so I followed her. We locked ourselves in the restroom and she knelt in front of me to give me a blowjob. That was by far the best blowjob of my life — precisely because it was so spontaneous and so forbidden!" (Jasper, 29)
16 Wake him up with this!
"I had a super important meeting at the office last week and told my girlfriend about it the night before. Early in the morning she woke me up with a surprise: with a blowjob. So my day started great and I was in a great mood. I rocked the meeting!" (Chris, 31)
17. grab his thighs!
"I'm super sensitive on the insides of my thighs, and it feels great when my girlfriend massages them. When I came home from running recently, we started making out. In the middle of the blowjob, she suddenly paused to kiss and massage the inside of my thighs. Then she turned her attention back to my penis. That turned me on so much that I had an orgasm a few seconds after that." (Paul, 26)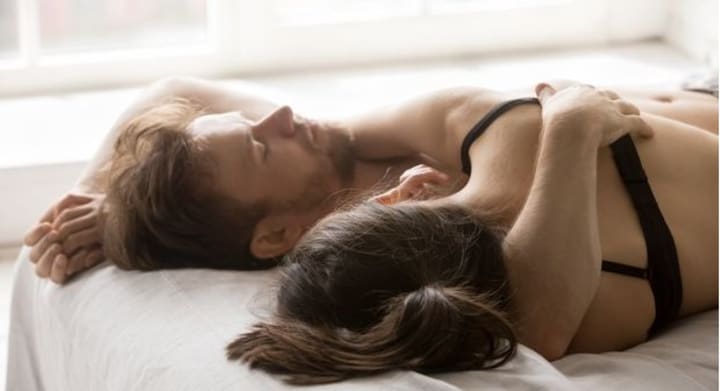 18. stroke yourself with it!
"Granted, it sounds weird, but one time my girlfriend took my penis in her hand and slowly guided it to her lips and along them, like she was putting on lipstick. The whole thing was a damn hot affair and got me insanely excited." (Martin, 25)
19 Put him on the spot!
"I love it when my girlfriend pulls lightly on my testicles before I come. No idea why, but the orgasm feels much more intense afterwards." (Michel, 28)
20. stick your tongue in him!
"Once a woman pushed her tongue into the opening on my penis shaft. No one had ever done that to me before, and I didn't know at all that you could do that. Honestly? The pressure felt great!" (Andy, 26)
21. put your hands to work!
"The best thing a woman can do in my opinion: Use both hands and mouth at the same time during oral sex. My ex-girlfriend was a pro at this. She spoiled my penis with her tongue while using her hands to turn my testicles alternately in both directions. That was insane because it sort of doubled the effect!" (Daniel, 28)
22. oil up a little!
"Blowjobs feel so much better when my penis is wet during them. Otherwise, it can get really uncomfortable sometimes. I totally like it when my wife spits on my penis and spreads the spit all over with her tongue. It's even better when we use flavored lube. She spreads it all over my penis and the feeling afterwards is just insane." (Nils, 33) By the way: This is what you need to know about lube
Whether and how you incorporate oral sex into your erotic games is of course — haha — a matter of taste. He'll be mighty pleased, of course. And with the tips of our 22 men you have many possibilities to make the blowjob an unforgettable experience.