Stephen Letoo promotes polygamy & cheating when Super Gonorrhea HIV - 1 husband killed another lost his penis for cheating
Teenaged pregnancy in Kenya is alarmingly high & gender equality is moving at a snails pace
Kenyans haven't been using condoms as citizens claim there is a condom shortage in Kenya. The government made contradictory statements that there wasn't a shortage.
As sex workers in the country have told reporters that they've been reusing condoms.
President William Ruto decries his beloved country as a Christian nation hough they practice polygamy and have hatred for homosexuals. Because that is what Jesus would recommend, having multiple women while being cruel to other humans.
Clearly William Ruto, his wife and DP are the only Christians in the country. As not only divorce is on the rise in Kenya, HIV rates were higher last year (2022) than the prior year.
Now the capital city Nairobi, is dealing with Super Gonorrhea a form of drug resistant incurable gonorrhea.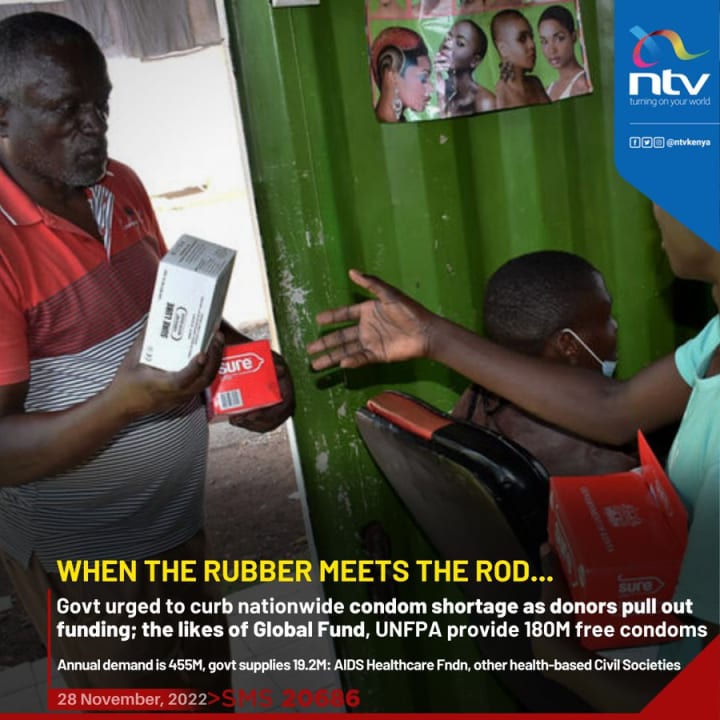 Who is Stephen Letoo? He's a political analyst for Citizens Tv News in Kenya. He has a history of promoting polygamy, sadly many Kenyan men comment under his social media posts telling of how badly their childhoods were growing up with fathers who practiced polygamy.
Others find him to be a hero even though he promotes a practice that degrades women. Kenyan women have no choice in knowing if their husbands have other wives.
The Kenyan media has recently featured many stories of Kenyan women with foreign and white husbands. Not only that but women injuring and killing cheating husbands.
Kenyan women or any woman who marries a Kenyan man have no control over their husband marrying another women. As the Marriage Act of 2014 was changed by former President Uhuru Kenyatta and current President William Ruto.
A Kenyan man can take as many wives as he wants without any of his other wives knowledge. Even Kenyans living abroad in the United States and other countries can and have married other wives in Kenya. One Kenyan man obtaining citizenship in the US with a Kenyan wife and an American wife.
This is from a recent post from Letto:
Taking to his social media account, the self-declared polygamy chair listed the discussion topics during the material day.

The agendas include mental health in men, stress management, drug and substance abuse, and financial management, among other topical issues cited as impacting men.

"Preps (preparation) for the Men's conference on top gear. Guest Speakers to dwell on: 1. Mental Health among men. 2.Stress Management 3. Family Law 4. Financial Management 5. Drugs/Substance abuse 6. Women/wives Empowerment," Letoo wrote on his official Facebook page.
Cheating, polygamy, teenaged pregnancy, super gonorrhea and higher HIV rates all while William Ruto is trying to entice investors to Kenya. After a trip to South Korea where his wife asked Christian missionaries to come to Kenya during a church service.
Another tweet shows the use of FGM (Female Genital Mutilation) an outlawed practice still taking place in many areas of Kenya. Parents are refusing to stop this vile, cruel and evil practice.
Stephen Letoo refuses to 'read the room' as Kenyans are hurting due to sexual practices in the country. His openly misogynistic behavior is disgusting, sadly many Kenyan men feel the same way as him.
Their mentality towards women and girls is outdated and leading to a decline in the overall well being of those born female in the country.
Such as sad and disgusting state of affairs to see in the year 2023. Letoo advised a cheating man with a side chick what to do after public fight in Dubai.
Some Kenyans are now calling a side chick or woman they cheat with a wife or second wife. This is how far polygamy has come men aren't getting married just claiming women as their second or third wives.
Citizen TV journalist Stephen Letoo has condemned the drama that ensued between Mugithi star Samidoh((born Samuel Muchoki), his wife Edday Nderitu and mistress, nominated Senator Karen Nyamu in Dubai.

"The polygamy association notes with bitterness the manner in which our member is not taming his wives. He should ensure harmonious co-existence and respect between the two wives."

"No wife should be undermined. If he goes with Wife A (Edday) to Dubai let him take Wife B (Karen) to the Maldives, failure to which the consequences should be better imagined than felt," he said.

In a seven-point thread advice, Letoo added that every wife must know her time, to avoid such embarrassment.
Statistics have shown several times that polygamy in Sub-Saharan African countries causes extreme poverty. Households that practice polygamy are more likely to live in poverty.
Thank you for reading 🙏🏽 Please consider buying a coffee for Lacey's House efforts in Gender Equality & Children's Rights as it tries to move international.
©️TB Obwoge 2023 All Rights Reserved
About the Creator
I'm the president of a nonprofit. I've lived in 3 countries, I love to travel, take photos and help children and women around the world! One day I pray an end to Child Marriages, Rape and a start to equal Education for ALL children 🙏🏽
Reader insights
Be the first to share your insights about this piece.
Add your insights