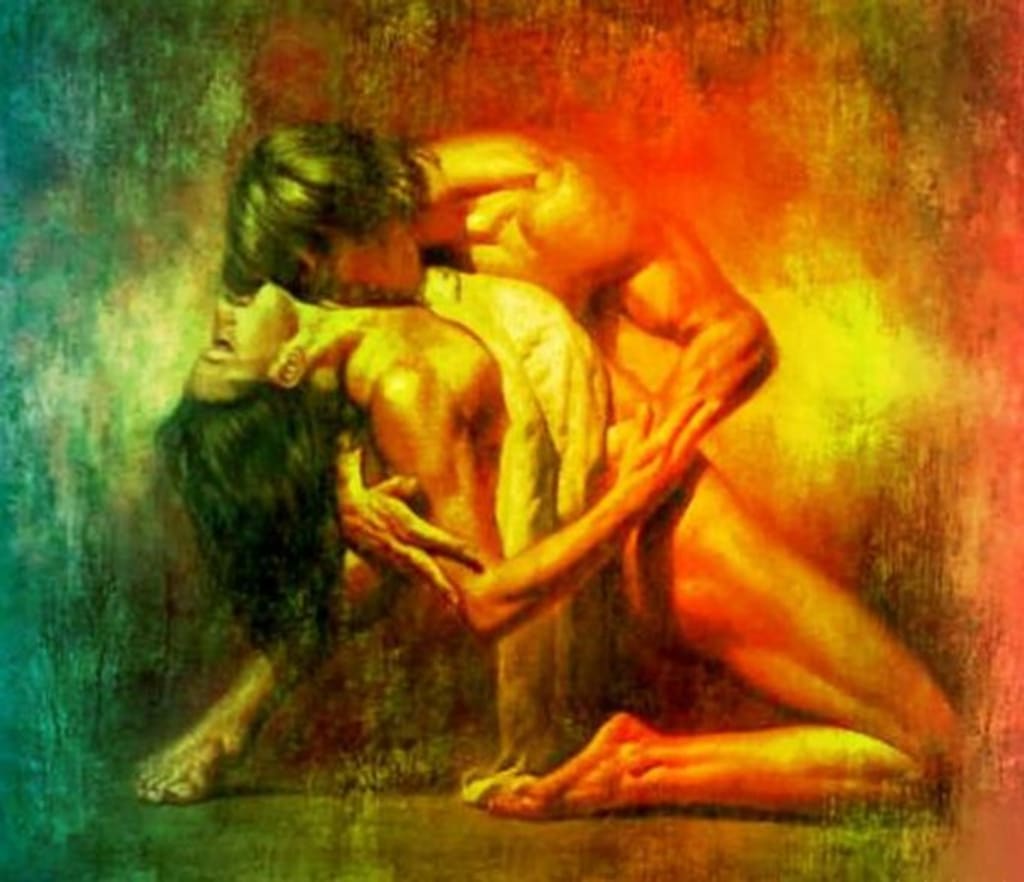 When I think of wasted moments- they are moments without you. We both have lives that demand our attention, jobs and obligations, things that have to come first. They are things we have to do but they are moments away from you. Tu me manques..I am missing from you, you are missing from me.
There is this unexplained bond I feel with you, something chemical that draws me to you, to your body, to your heart ..to your voice. Even apart from you, so many miles you make me want to stop hiding, to stop running away from everyone and stop hiding to protect myself when I should have been protected by everyone. He made the nightmare, that you turn into something else. I crave your voice and every dirty thing we have talked about. Actions not just the words. Somewhere between the flirty texts and dirty thoughts there is actually a feeling. It courses through my veins and begs to be satisfied.
I have only felt it once, very long ago. I wasn't afraid of it then. Then it simply just was. It is a weird feeling of lust entwined with what could be something more. A constant need to be satiated. To be consumed by you and you by me. A thirst that can't be quenched but for the fulfillment of every word spoken between us. A need beyond words and all too real. A desire to fall before you willingly, with no fear, but to give you everything you desire from my body.
You make me better, make me believe that there is a white knight. The heroine in me craves to make you King to my Queen. Makes me want to kneel for you and let you feel the power of my submission. Given to the most worthy, who knows little of what he does to me. The one who could rule along side of me, in the Kingdom by day and by night turn the torrid fantasies into reality. There is a reason to the quest again.
The anticipation of your voice on the other end of the line, the want of the feel of your skin on mine, the feeling of imaging what it feels like to lay with you wrapped around my body, protected from ever being hurt again. Wondering what you think of me..just a play toy or something more.
We are as uncomplicated as it gets, despite the distance and the complicated world. Simply being us, no pretending, no ulterior motive, nothing but the beginnings of what could be a future if it is in fates plan. A serendipity of a sorts, drawing us closer and further from the dragons. A safe place to both lay down our armor, and rest in the peace of each other. A place where there is no unfulfilled, unexplored fantasy. The place where you are adored and needed, and I am wanted. A place far away from what the world sees and a private bubble of perfect..where every want, and desire is fulfilled. A symbiotic addiction to each other. A place where there is uncharted ecstacy.. Where there is no judgement, but your hands wrapped around my hair, and surrender to your desires. Every whim met, every desire quenched without a single word. The intersection of perfection and never ending bliss. The meeting of intellectual minds and action that erases the scars of the past, and transforms us both. The unbridled discovery of every trace of each other, over and over again. The completion of the search for the perfect cure, the perfect drug- each other.
About the Creator
"Justice delayed, is justice denied" "Injustice anywhere is a threat to justice everywhere."
Tattooed, Employed and has a Psych degree..Always on the look out for a group of Avengers.
Reader insights
Be the first to share your insights about this piece.
Add your insights