Sex Ed
Should You Have a Clean Up Towel
Sex Clean-Up Considerations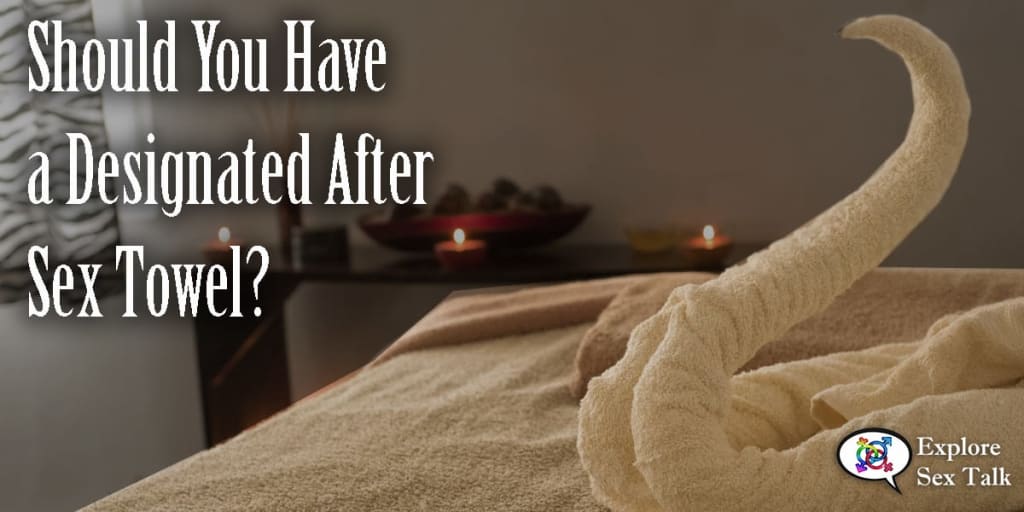 Do you put any thought into what you grab to clean up after sex or masturbating? Or do you just grab the first thing that comes to hand? Selecting the right material to clean up afterward does actually make a difference. Certain types of material are better for absorbing moisture as well as reducing the risks of any bacterial infections. You shouldn't just be rubbing any old thing onto your genitals. The skin in this area is particularly sensitive. Vulvas can be particularly sensitive to bacteria and could end up developing an infection.
What Clean Up Items Should be Avoided?
So what kinds of items should you avoid reaching for to clean up? Well, there are obvious types of fabrics that don't absorb well and tend to be too coarse, such as any heavy canvas, jean, or khaki materials. Typically most fabrics used to make pants are going to feel too coarse when rubbed against the sensitive skin of the genitals. You'll want to use a softer material.
It can be common for people to grab an item of clothing, such as a t-shirt or sock, to clean up. This tends to be most common when people are cleaning up after finishing masturbating. While this may seem like a good material to go with and do tend to be soft, they may not be the best choice. Clothing fabric can retain micro-bacteria that gets caught in the fabric, particularly any fabrics that contain polyester. Clothing can retain this bacteria, even after they've been washed.
Socks can get exposed to more bacteria than other types of clothing and definitely should be avoided. Whether you are in the habit of walking around in your socks or even if you wear shoes most of the time, socks get exposed to a wider range of bacteria and are at a greater risk of retaining germs you wouldn't want to be rubbing on your genitals.
What Should You Use?
So if you shouldn't use articles of clothing, what should you use? A good recommendation is a soft cotton towel. It's better to choose a towel brand that is 100% cotton or a blend that is mostly cotton. This ensures that the towel fabric will breathe properly and less likely to be a breeding ground for germs.
It's also recommended to mark this towel in some way. Perhaps choose a color different and unique from your other towels or a towel with an embroidered design. Keep this towel separate and used exclusively for this purpose. Doing this isn't entirely necessary as long as you are usually diligent about keeping all your towels clean but it's more about mindset. If you set a specific towel aside as used for cleaning up after sex you are automatically more likely to be more careful with keeping it clean. You are also significantly less likely to end up using this towel for any other purpose that might give you second thoughts about rubbing it on your sensitive body parts.
The size of the towel can vary based on your needs. You may choose something more of hand towel size which is fine for yourself after masturbating. If you are in a committed relationship where you and your partner are fluid bonded, you may want to have a larger cleanup towel if you are sharing. You and your partner may find a hand towel too small and most people are going to want to touch dry towel if they are not the first person using it.
Be Smart, Be Sex Smart!
In sex, like so many other things in life, the small things can make a big difference. We can make little choices and changes that can do a lot to avoid pain and discomfort. Part of being sex smart is making smart choices to protect your overall health.