Sexiest Porn Stars with Tattoos
Love a little ink? Who doesn't? This list of the sexiest porn stars with tattoos will have you getting in touch with your inner rebel.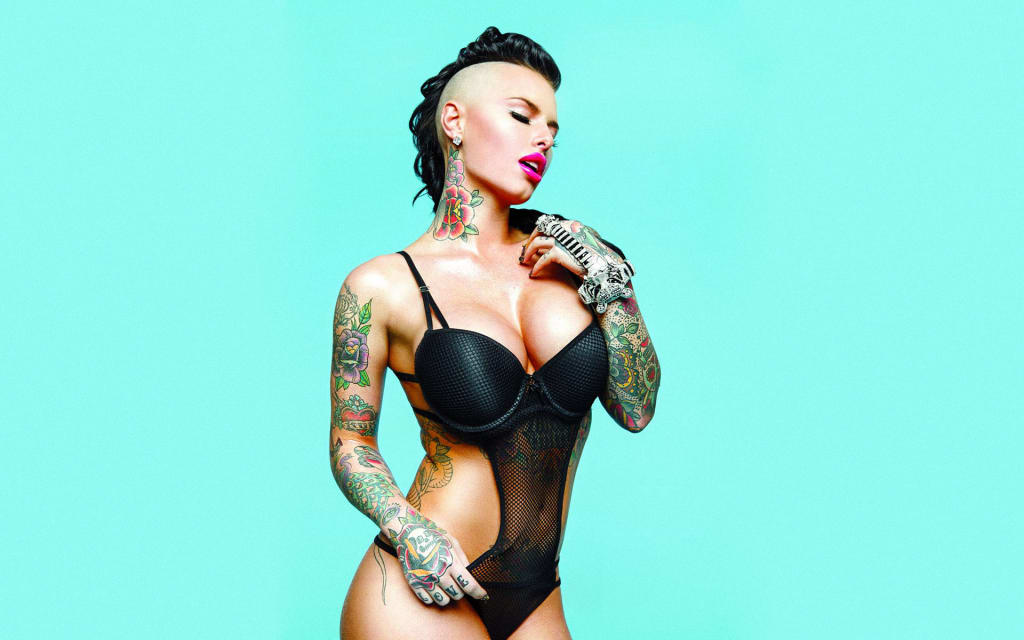 Tattoos were once the most taboo thing a girl could get, and truth be told, not all tattoos are a good idea. Some folks simply can't rock a tattoo the right way, or may have made the mistake of getting a regrettable name tatted on themselves.
It takes a certain type of person to really own a tattoo and rock it. That's part of the reason why hot tattoo models tend to make so many people weak in the knees. A girl who can show off her style with tats is a girl who looks rebellious, sexy, and powerful. It's an irresistable look.
Today, we're going to show a list of the sexiest porn stars with tattoos currently making skin flicks. If you love inked ladies, you'll adore these hotties!
Krysta Kaos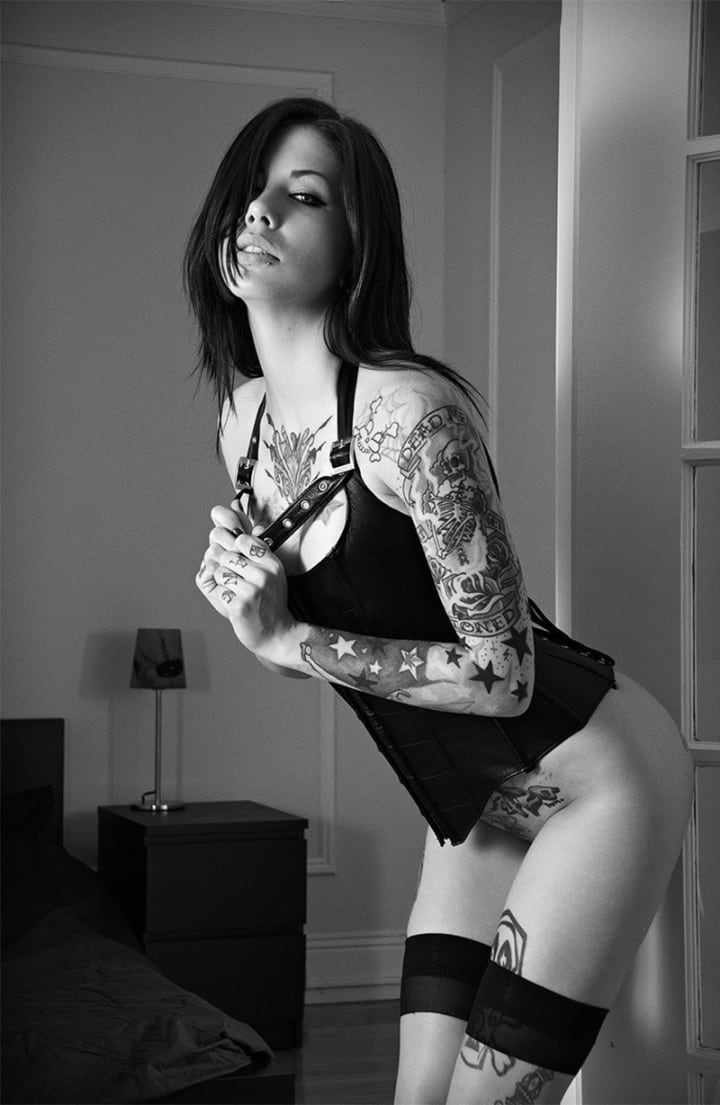 If you ask most fans of good ink, they'll probably mention Krysta Kaos as one of the sexiest porn stars with tattoos out in the scene. The slender adult film star is known for her extremely brightly colored ink, her love of BDSM, and for really rocking the cover of Bizarre magazine.
Though she has retired from adult performances, she still does nude modeling from time to time and regularly offers advice for those who are new to BDSM relationships. Her online personality is what makes most people fall in love with her, so definitely check her out.
Follow Krysta on Twitter: @KrystaKaos
Follow Krysta on Instagram: @KrystaKaos
Bonnie Rotten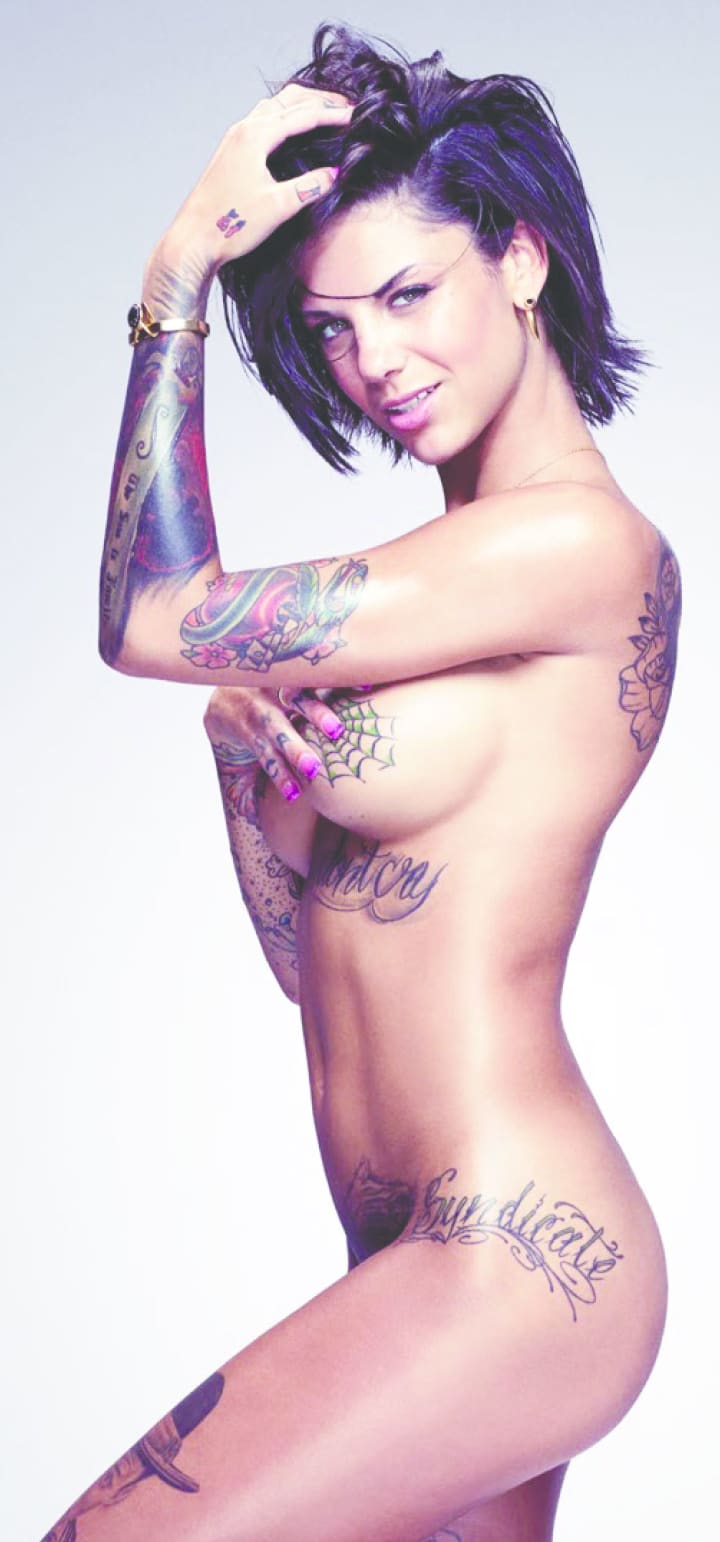 Bonnie Rotten has become legendary for her toned body, her badass attitude, and for being one of the sexiest porn stars with tattoos to ever make a nude film. Her long legs, beautiful hair, and sultry eyes captivate everyone—even the conservative crowd.
Though she still does some cam work from time to time, Bonnie Rotten has become more into fitness modeling and being a NYC tattoo shop owner. So, if you love her ink, you can actually ask her to help you get a tat, too!
Follow Bonnie on Twitter: @thebonnierotten
Follow Bonnie on Instagram: @officialbonnierotten
Juelz Ventura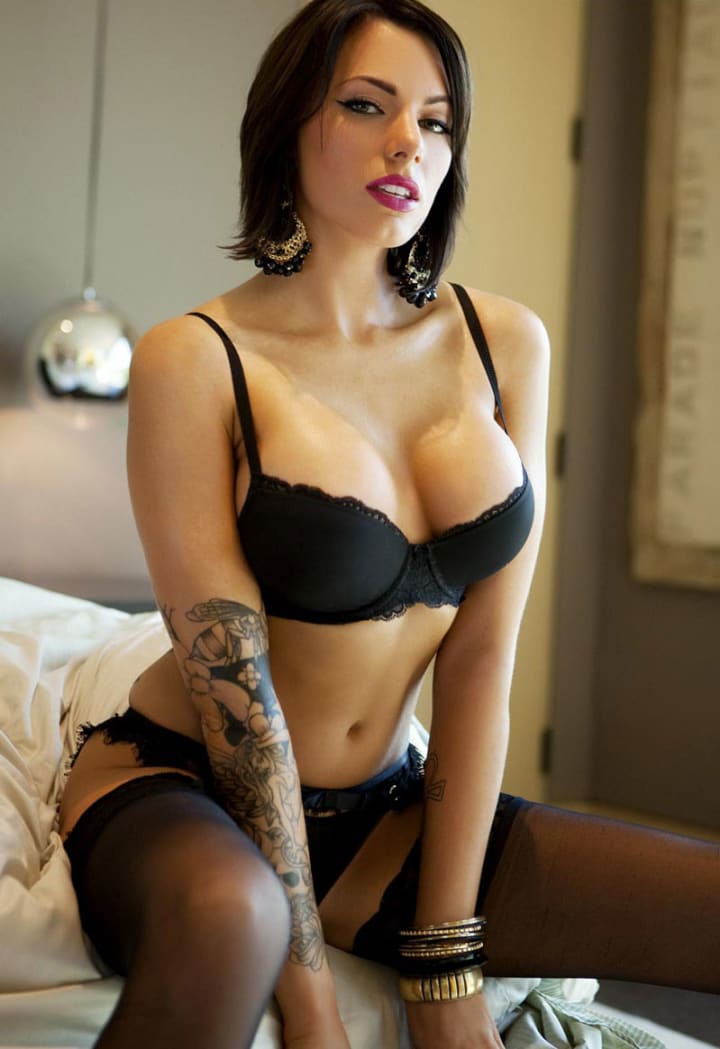 Without a doubt, one of the hottest Latina porn stars in the biz has to be the slender-but-curvy Juelz Ventura. She's the beautifully tattooed beach babe that you've always wanted to approach, but never got the chance to speak to.
She's beautiful, slender, and known for having piercing brown eyes that could make anyone get butterflies in their stomach. Once you check out her work, you'll understand why she's such a popular hottie.
Follow Juelz on Twitter: @JuelzVentura
Follow Juelz on Instagram: @juelzventura
Kleio Valentien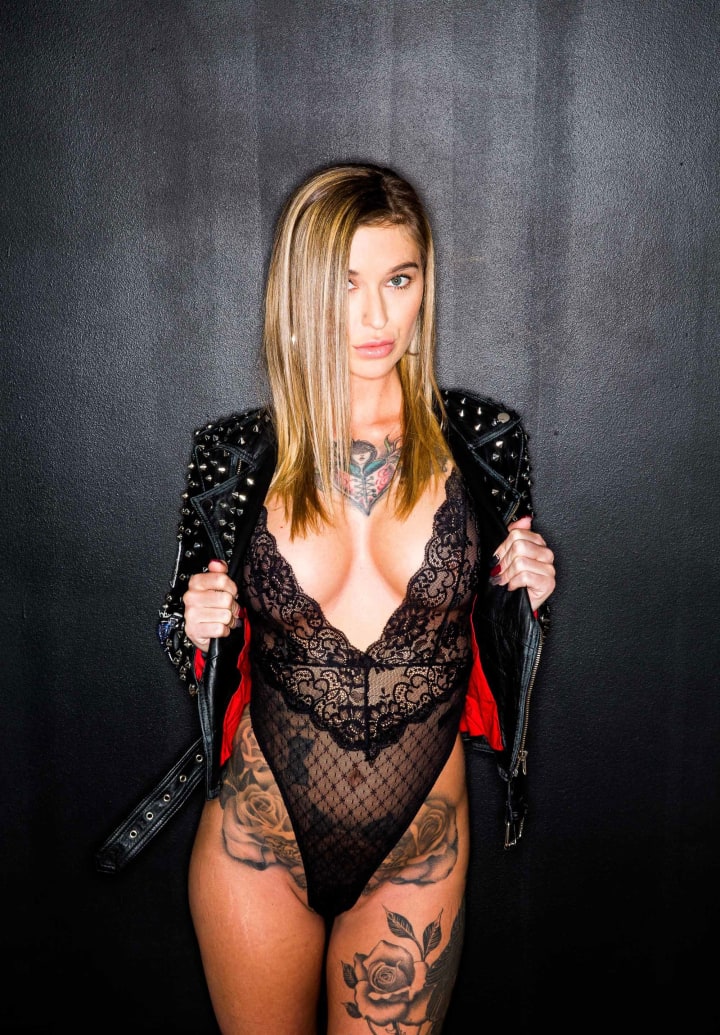 Few porn stars who have a lot of ink will find themselves landing contracts like Kleio Valentien can. She's known as one of the hottest blonde porn stars to sport ink and grab AVN awards by the armful.
She's featured on major sites like Blacked and Elegant Angel, and while her standard boy-girl fare is pretty great, we're really enjoying her bondage photosets. She even does pretty sexy cosplay shoots, too. No matter what she's doing, this pretty blonde babe kills it—and that's why she's awesome!
Follow Kleio on Twitter: @KleioValentien
Follow Kleio on Instagram: @kleiovalentien
Indigo Augustine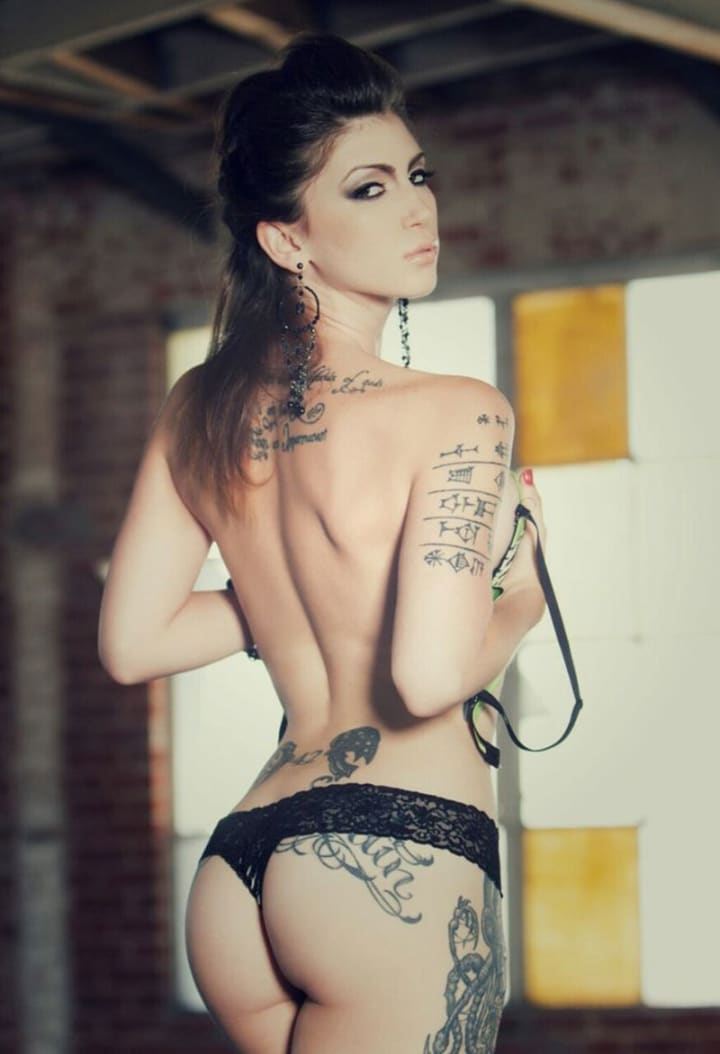 Petite, blonde, and beautifully innocent-looking Indigo Augustine has the kind of vibe that you'd expect to see in a girl cast in an indie film as the Manic Pixie Dream Girl. But, surprise, she's actually one of the sexiest porn stars with tattoos right now.
She's got this gorgeous wide-eyed look to her that makes her look incredible when she's in action on camera. Her tattoos almost seem to glow off her body, she's great in fetish work, and her performances are always on point.
Follow Indigo on Twitter: @IndigoAugust
Follow Indigo on Instagram: @IndigoAugust
Bella Bellz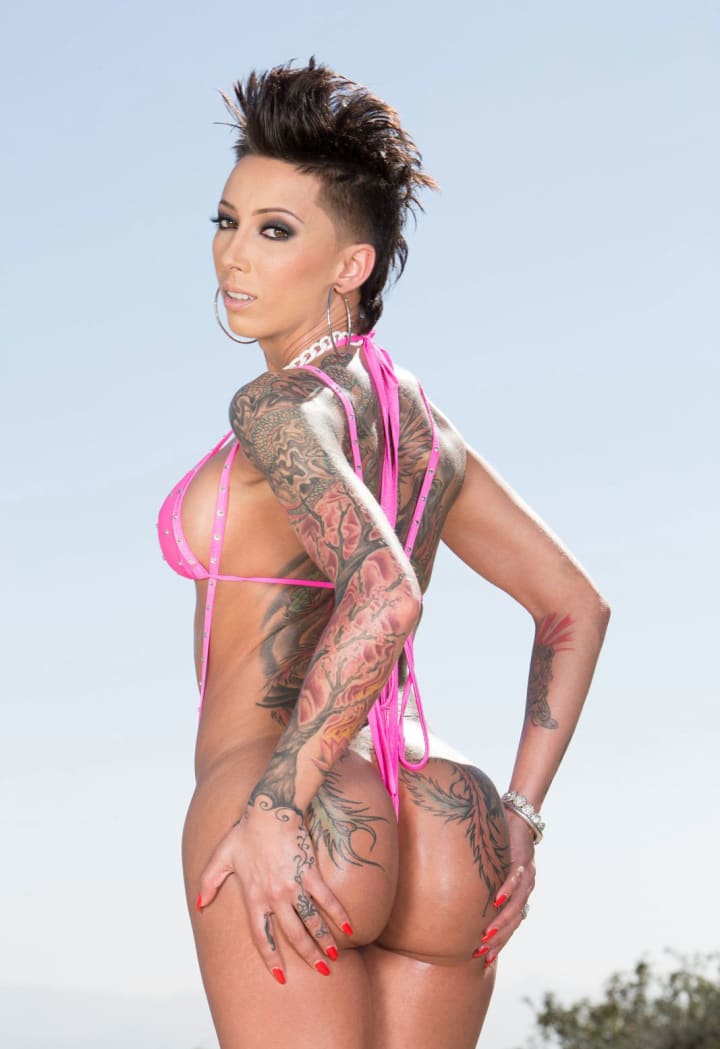 Ink-loving Bella Bellz is one of the prettiest porn stars you'll watch these days, and it's not only because she's got impressively beautiful ink, either. She's known for having one of the most epic asses in porn, and for being one of the most popular short haired porn stars in recent years.
Few ladies out there send out the badass vibes that Bella Bellz does, and if you're a fan of vixens with ink, those vibes will make you weak in the knees. She knows how to tease and please, and that's why she's amazing on camera.
Follow Bella on Twitter: @InkyBellaBellz
Follow Bella on Instagram: @lizzabellz
Joanna Angel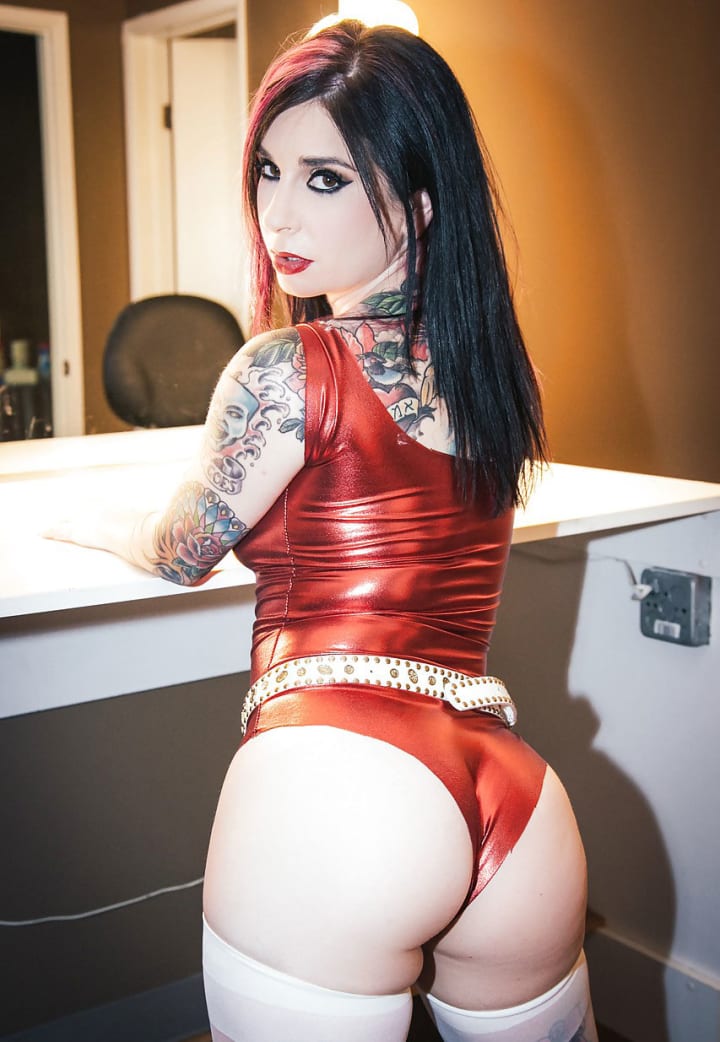 Joanna Angel has become legendary among tattooed porn stars. The AVN and XRCO Hall of Famer is known for her wildchild ways, her beautiful raven hair, and for having lots of tattoos when at a time when it'd get you banned from most production companies.
She entered porn and made a name for herself—and helped bring about alt porn. These days, she's still making lots of porn, as the owner of Burning Angel. If you love tattoos, thank Joanna for making tattooed girls a mainstream thing.
Follow Joanna on Twitter: @JoannaAngel
Follow Joanna on Instagram: @JoannaAngel
Jessie Lee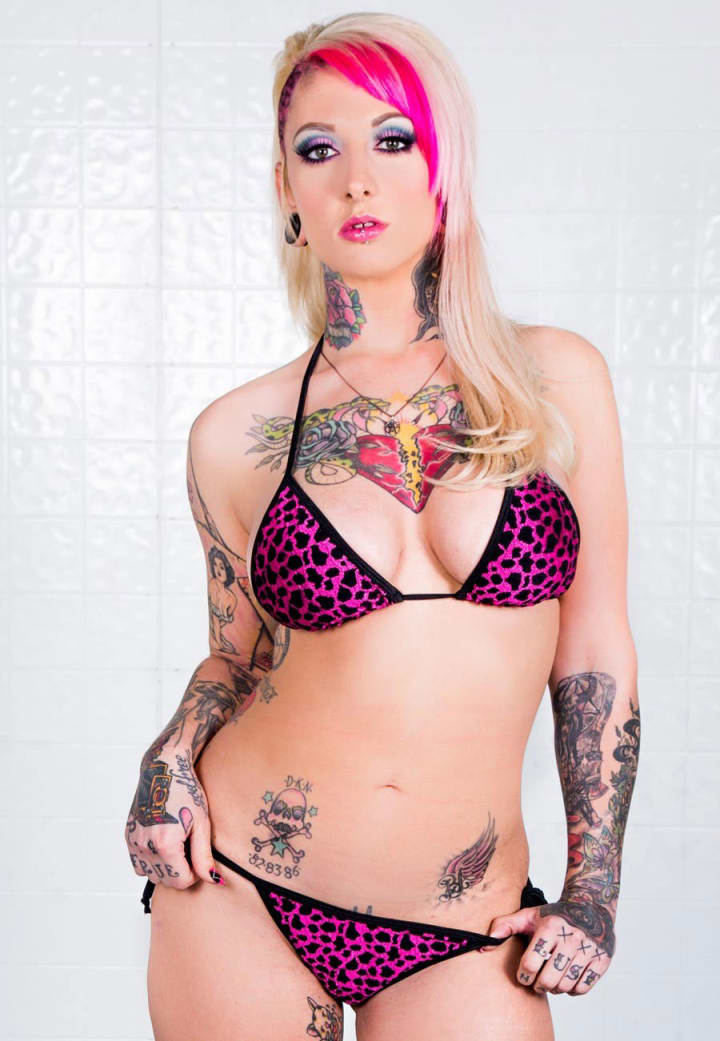 Rockabilly queen, pinup model, and overall sexy vixen Jessie Lee definitely deserves her title as one of the sexiest porn stars with tattoos to hit the adult film industry. She's got a beautiful pout, spectacular boobs, and amazing skills on cam.
Jessie Lee also happens to have a great online personality worth following, and she's also one of the hottest porn stars to occasionally do cosplay. So, there's ample reason to check her out.
Follow Jessie on Twitter: @OMGitsJessieLee
Follow Jessie on Instagram: @jessiexlee
Emma Mae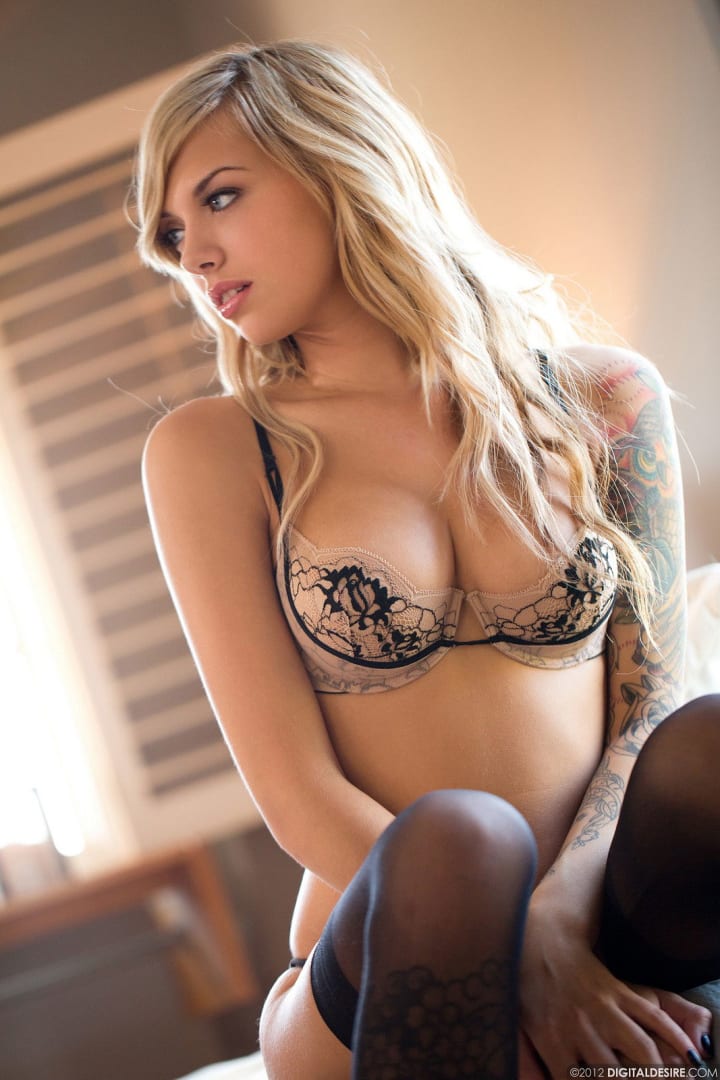 Emma Mae's claim to fame definitely has to be her epic figure and her amazing inkwork—but we're also going to point out her sparkling blue eyes, elegant hair style, and overall seductive vibe, too. Simply put, she knows she's one of the sexiest porn stars with tattoos, and she works it beautifully.
Along with being a total stunner in the porn world, Emma Mae is a wonderful girl to follow on social media and always provides really fascinating shots of what it's like to live as a porn star.
Follow Emma on Twitter: @EmmaMaeXXX
Leigh Raven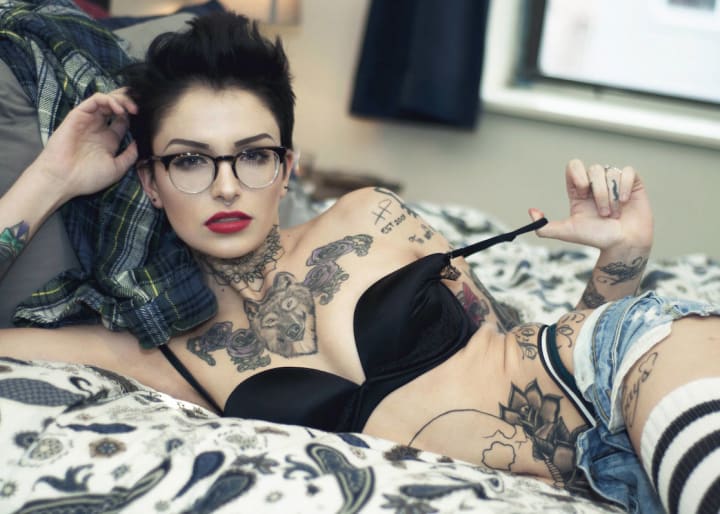 Leigh Raven is all about showing how sexy new school tattoos can be, especially when combined with an epic ass. She's one of the hottest new porn stars to watch, and also knows how to rock a totally Brooklynite style.
If you're tired of seeing tattooed porn stars who don't have their own style, you need to check her out. She's unique. She's got an amazing booty, awesome style, and a lot of sexy attitude—and that's why she's one of the sexiest porn stars with tattoos out there. Give her stuff a look, and you'll love her.
Follow Leigh on Twitter: @leighravenx
Follow Leigh on Instagram: @leighravenx
Christy Mack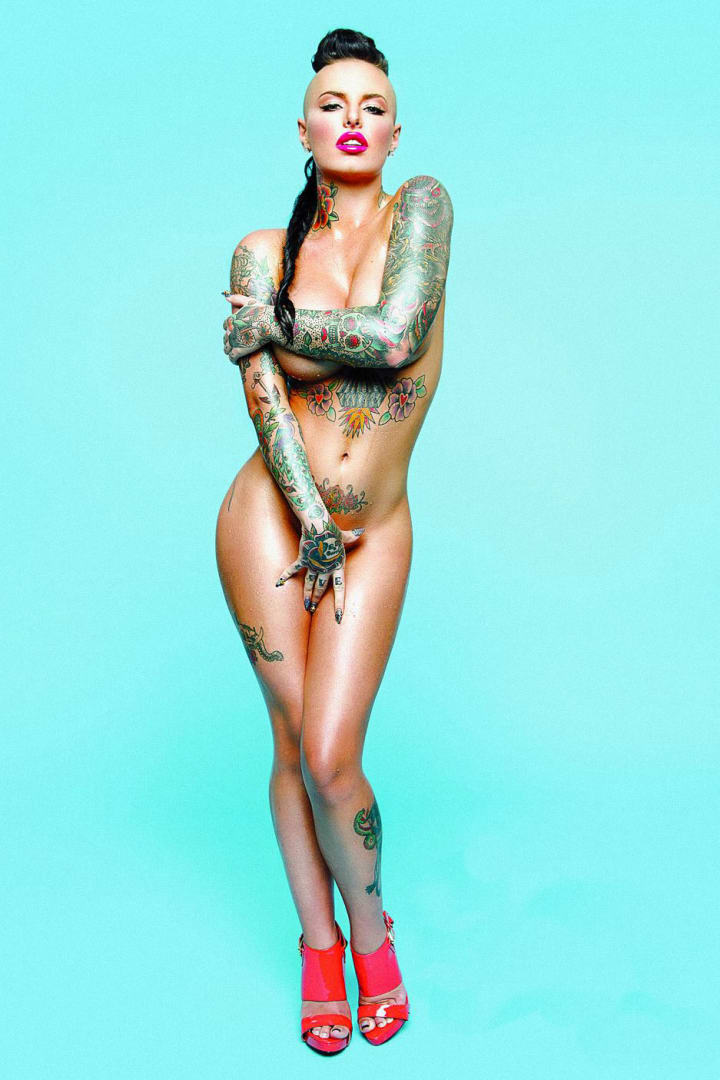 For the longest time, Christie Mack reigned supreme among the sexiest porn stars with tattoos—and to be honest, she still does. She's still the wild, sex-positive feminist porn star we've come to know and love. Her work has made her both a feminist icon and a legend in adult films.
Along with tons of awards, she also boasts one of the sexiest porn star Snapchats out there. This is because Christy knows how to show off her body in ways few can, and because she's naturally sexy. She's the dream girl of anyone who enjoys alt girls, and that's why she'll always be a legend.
Follow Christie on Twitter: @ChristyMack
Follow Christie on Instagram: @ChristyMack