Hottest Tattoo Models
We know you want to stick and poke these sexy tattoo models.
Ink was once forbidden by parents of the middle and upper class, across a country deeply divided by wealth and politics. As a generation has turned over since the more conservative later 20th century, there is renewed interest in self assertion, self actualization and self expression. An era of tattoo models, once allocated to a small sub niche culture has gained significant momentum since the turn of the century. The hottest models have evolved into commercial brands and hot hosts of tattoo culture. The millennials were born to parents who were once denied the privilege of ink. They turn a blind eye and live vicariously through a generation more tatted than any that came before them. Women were once second class citizens in the tattoo community. As much as the previous century did for women's political rights, and equality in the work force, the 21st century is responsible for equality in the tattoo parlors and biker clubs. Todays women where their tattoos proudly, baring public messages on private parts.
Mary-Leigh Maxwell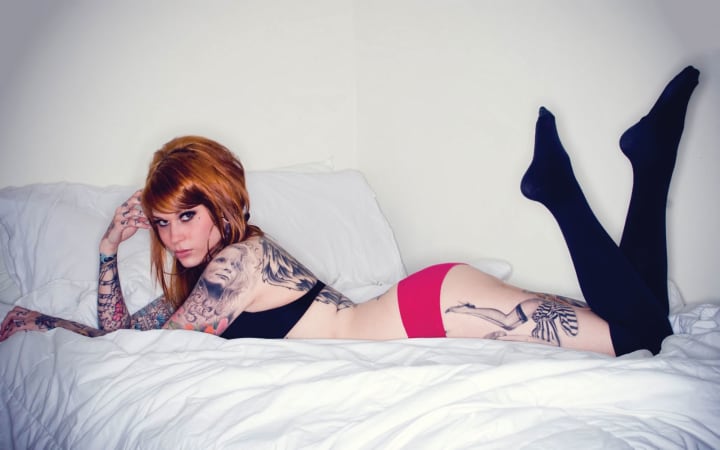 Internationally published tattoo model, Cover Girl, and spokesmodel, this New Jersey native is no stranger when it comes to being in front of the camera. Mary-Leigh has modeled for multiple clothing companies and has been featured on the cover of 18 tattoo magazines. She is a vegetarian, a skilled artist, and a licensed hair stylist who prefers to do her own hair and make-up for shoots. While she refuses to take nudes, she is open to exposing as much skin as needed to show off her tattoos. Sultry, sexy and full of attitude but devoid of ego, Mary-Leigh describes herself as a "girlie tattooed model, dog adoption enthusiast, a romantic and food and coffee loving- sensitive-girl."
Lusy Logan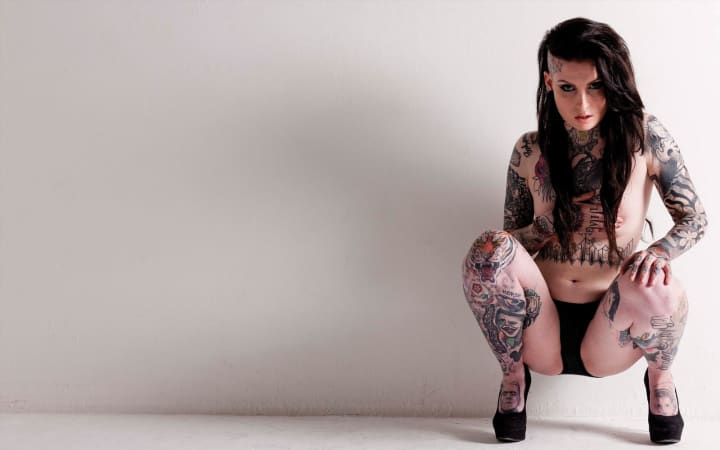 Scottish born and raised tattoo model, Lusy Logan, got her first tattoo at the age of 16. Since then, she has appeared in major alternative lifestyle and tattoo publications. She made headlines when a photo shoot consisted of her posing with a real life cheetah, provoking controversy. Logan, who has a cheetah inked across her temple, posed for a series of pictures with big cats at the Wildlife Heritage Foundation in Smarden, Kentucky. While many humanitarians called this photo shoot unethical, the sanctuary said neither the safety of the animals nor model were at risk. When asked about this artistic and wild photo shoot, Logan explained her philosophy on tattoo modeling, "I don't take tattoos too seriously, I admire the dedication and the talent of some artists, it is an art form but I'm very laid back."
Krysta Kaos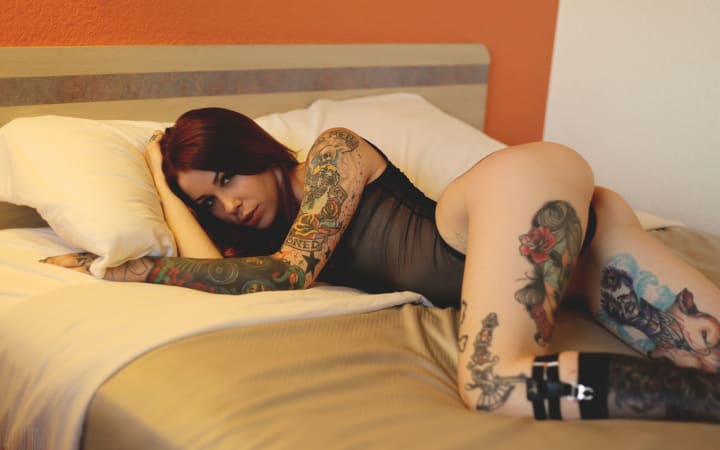 Krysta Kaos, describes herself in her Twitter profile as an alternative deviant, fetish lover, bondage freak, eccentric, metaphysical, mindfuck, soul stealer, and kinkster model. Having performed in dozens of BDSM based porn movies, this star has a darker side than what most people would originally think of when they see her brightly colored tattoos. This dual image identity can be linked to Kaos's past, "I did belly dancing, was a straight A student and graduated a year early. I was a big over achiever. I played soccer and always stuck to my guns, right or wrong. I was popular, but I was a rebel. Lost my virginity when I was eleven years old. Didn't drink much, but loved my weed."
Airica Michelle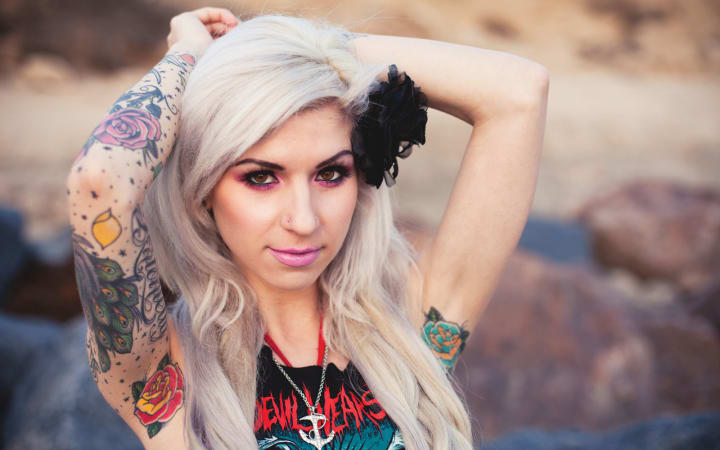 Airica Michelle has been modeling since November 2007. While modeling is not her primary profession, she uses it as a creative outlet. She does her own styling and makeup, and enjoys seeing what types of images she can create. She is majoring in Psychology at California State University, Long Beach, and plans to attend grad school for Human Factors Psychology.
Carrie Jo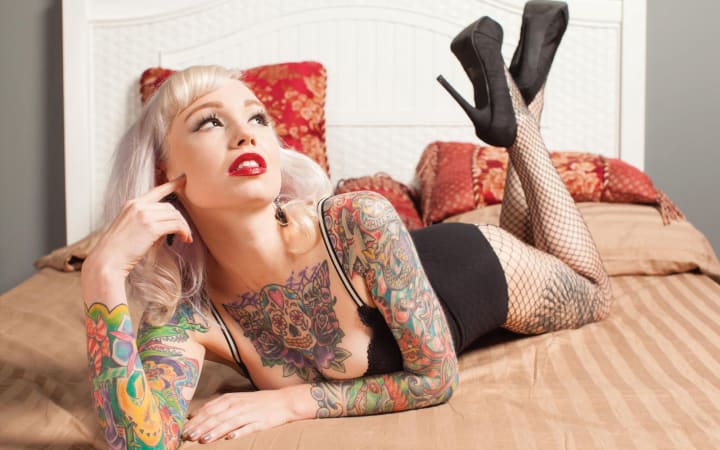 Former child ballet dancer, Carrie Jo has a long history of knowing how to express herself with her body. In regards to tattoos, Carrie Jo had this to say, "I love that they are beautiful adornments. I also feel like I am making a positive social statement as a woman with tattoos. Having tattoos asserts ownership over my own body. I consciously made the decision to adorn myself knowing fully that it's not yet completely socially acceptable, but promiscuous. It's a positive move forward in changing beauty paradigms. My tattoos are so colorful on their own an outfit with too much going on often gets lost on me. Simpler outfits are more striking."
Amanda Jean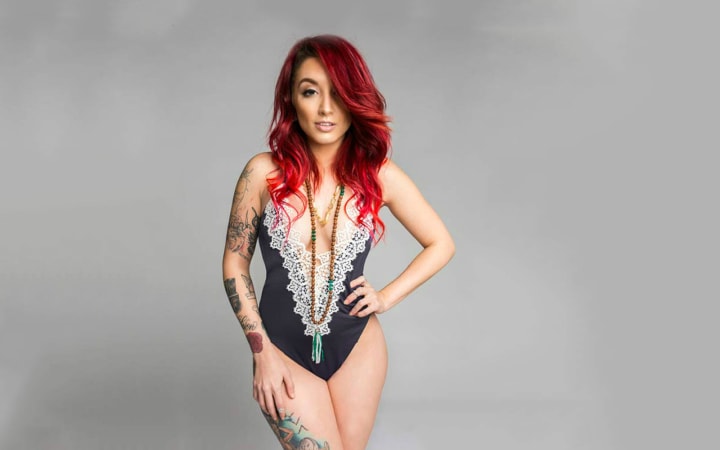 As one of the stars of MTV's House of Food, where culinary students are made to compete against each other, Amanda was a memorable tattooed fashionista rebel with a passion for cooking. Growing up, Jean admits to being introverted but always felt comfortable doing what she loved, especially cooking with her family. As for venturing into becoming a tattoo model, Jean started early, "I started modeling because of my mom. She was a hair stylist when I was little and would take me to all kinds of fashion shows. From then on, I was hooked."
Sarah Ve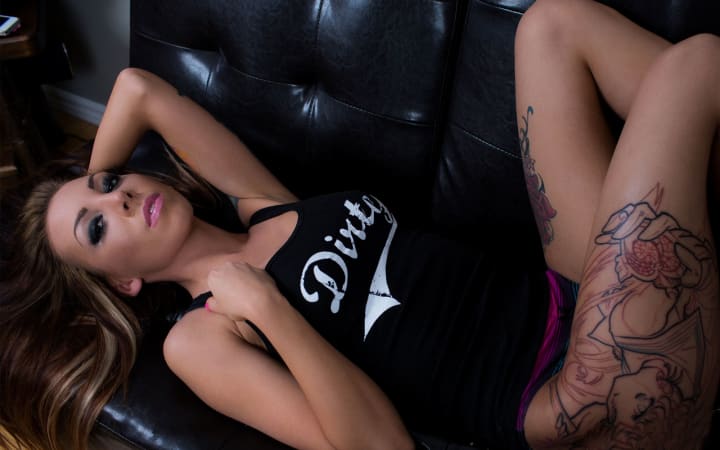 Sarah Ve is a born and raised Canadian. At 14, she started her celebration of ink by giving herself her first tattoo, three stars, on her ankle. Although this tattoo represents the start of her life as a tattoo model, her favorite piece is the wolf tattoo on her chest, "It is my spirit animal. I'm hungry like a wolf; hungry for success. I have several clothing companies that I work with, as well as a few calendars and magazines! As for my makeup artistry, I have an upcoming movie I will be working on, and I'm discussing the possibility of doing makeup for a few famous celebrities for all the upcoming photo shoots they have!"
Gogo Blackwater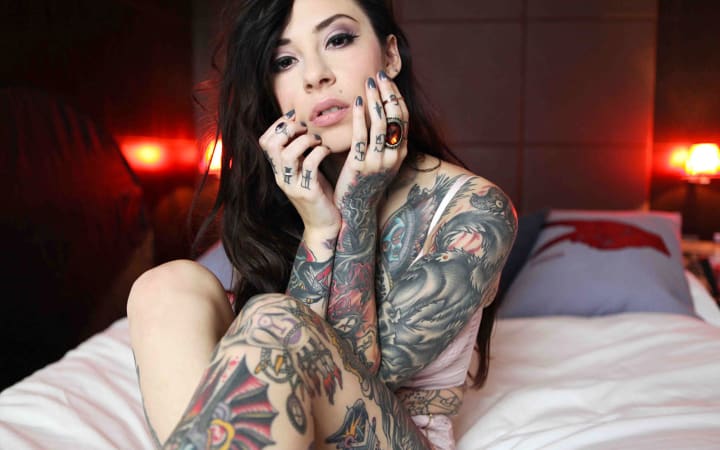 One fan explained, "Gogo manages to combine the smoldering 'come hither' look of a porn star with the dangerous 'come hither so I can eat you' look of a dire wolf. There's no escape." This seems to be the perfect description for this tattoo-laden hottie. Gogo Blackwater is a model living in Milan, Italy, where the summers can be a bit warm for outdoor photo shoots. She enjoys keeping her photo shoots non-traditional, working with post-apocalyptic looking scenery and steampunk themes during her modeling.
Riae Suicide
With her striking blue hair, ample curves and gorgeous tattoos, Riae Suicide is unique and exotic. Getting her start as an alternative model in 2007, Italy-based Riae has been published in several magazines, the majority of them consisting of her being a cover model. When asked about her interesting style, Riae said, "I can't say I have a specific style, as anyone can see when they look in my portfolio. I'm always prepared for a photo shoot because I own several different clothing genres: burlesque, latex, fetish, nice lingerie, sports and all kinds of shoes."
Hattie Watson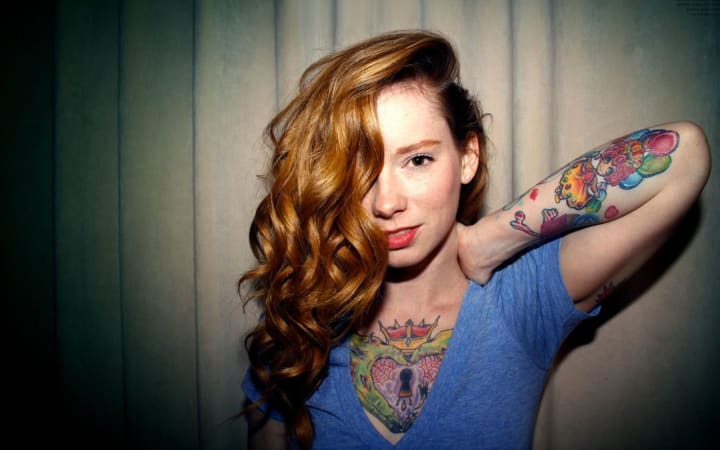 Standing at only 5'3" with flaming red hair, shapely body, prominent tattoos and a freckled face, Hattie Watson has no trouble standing out from the rest of society. Texas native and self-proclaimed dreamer, Watson has always had a fascination with the beauty of tattoos, "I've just always wanted tattoos of some sort. Seeing old school photos of tattooed women and men were of course always inspiring." However, this sexy tattooed redhead hates to be called an alternative model, "I understand I am a different form of model, but I prefer indie fashion model or something. I have worked really hard to keep myself out of the pinup/alt/suicidegirl culture."