René Rofé Lingerie Favorites
Sexy René Rofé lingerie offers the best quality at prices you can afford and she will love.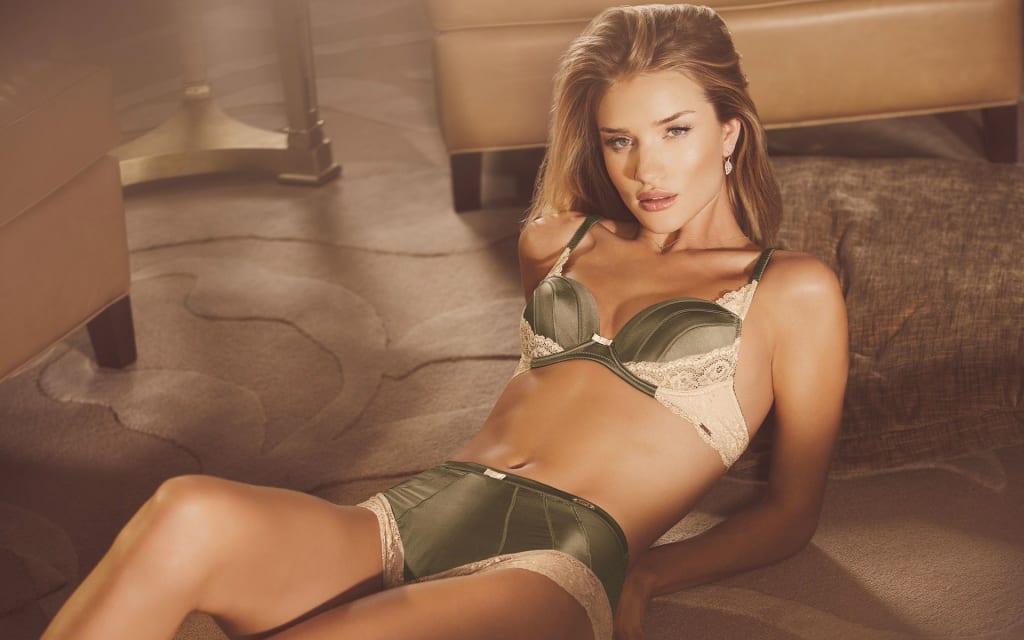 Why spend so much for something that will come off so soon? René Rofé Lingerie's mission is to provide their customers with the sexiest intimate apparel—from teddies and camisoles to your standard bra and panties—at the most affordable price. From the Crotchless Lace Bow-Back Panty to the Black Magic Crotchless Open Back Panty, these pieces are bold, exciting, fun, and flirty with a lot of lace, bows, and open design techniques. Many of them are meant to be worn while playing, so you and your lover can enjoy them instead of the floor. Some of them emphasize your breasts; others, your back assets, so there's something for women of every body type. Rene Rofe Lingerie will have your man dying to get your clothes off, time and time again!
Lace. Bows. This Crotchless Lace Bow-Back Panty is as sexy for you as it is for him. The black floral sheer lace pattern exposes hints of skin, and the curve-hugging elastic band tying into a bow around the back is sure to make him feel like the holidays have come early. With a satin keyhole around back, it's probably best to let him peek early. Best of all, you get to be the prettiest present that can stay wrapped and still have fun. These panties are crotchless for easy access, so you can pretend it's Christmas O-ver and O-ver again.
Red is a power color; it's bold, it's hot, it's on fire, and you can be too in this Romantic Lace Garter Chemise Set. This sexy two-piece chemise set has a soft lace bra that travels down to an ass-hugging skirt. It includes a matching g-string and detachable garters, so you can wear it with stockings or without. Whatever best suits your man's most delightfully devilish fantasy.
This sheer Off The Hook Lace Dress hugs all your splendid curves, leaving him aching to touch you. The front of the dress has a strappy shoulder design and crisscross infinity holes exposing hints of ample bosom. The back of the dress has a three-hole crisscross pattern from mid- to lower back, ending just a few inches from the top of your booty. The lace pattern exposes your skin, leaving very little to the imagination. The only thing he'll be left wondering is where he wants to explore first.
The Crotchless Cage Back Boyshort sports the slogan "It's like presenting your buns on a silver platter!" His eyes will pop. His mouth with water. He'll be the starving drifter and you, his island prison. These boyshorts may look simple from the front, but around back they're one cheeky party. The nylon and spandex material hugs your booty, presenting it in all its magnificent glory and tying it off in the most adorable little black bow. Because they're crotchless, you don't even have to take them off, and we can guarantee he won't want to!
The only thing sexier than a babydoll dress is this Cupless Bowtie Babydoll dress. This gorgeous sheer dress has a sexy cupless design, so you can feel free to bare all, boldly. Adjustable shoulder straps maximize support for your breasts, making your muffins look perfectly perky and delectable. The sheer black shirt exposes your figure and the matching g-string panty, while the satin ruffle adds a dash of pure elegance. It's sophisticated, but also super soft and stretchy, so you'll enjoy wearing it as much as he'll enjoy watching you in it.
Now for something classic. This 3-piece Intimacy Bra and Garter Set has a lace and mesh-design top that reveals just a hint of nipple. It's trimmed in mesh ruffles and ties around the back and neck. The bottom is a one-piece skirtini—a mini-skirt combined with a built-in bikini bottom—that hugs your rear. The front of the skirt is short enough to show the panty part of the matching g-string thong. Adjustable garter straps connect to lace top fishnet stockings that make your legs look slim and smooth, and oh-so-touchable. Classic never looked this good.
This Crotchless All Strapped Up Lace Panty is red hot cinnamon spice tantalizingly yummy! These panties sit low on your hips while the scalloped elastic straps sit high enough to peak over your jeans or skirt to tease your lover. The straps expand outward in the back like a spider web wrapping around your lower back, creating an irresistibly sexy effect that's sure to ensnare him. The lower half of the panty is trimmed with ruffled lace to create a skirt-like flair, and of course, they're crotchless so you can wear them during your wild sexcapades.
Who can resist your siren's song? Certainly not your man. He'll be as helpless as Odysseus tied to the bow of his ship, begging for release. And in this Deep V Long Sleeve Fishnet Bodystocking, you'll be as seductive as a mermaid. The bodystocking's plunging neckline will be sure to drown your lover in lust as it shows off your cleavage for maximum sex appeal. The body suit's open crotch leaves you open for all sorts of playtime, while the suit itself stretches itself to fit over your body's curves. Also, the fishnet itself is super relaxing and comfortable, so neither one of you will tire of you wearing it.
Put a spell on your lover with the Black Magic Crotchless Open Back Panty. Your assets are fully visible from the back, as the lace accents "add flair to your derriere!" This style is bold and shockingly open, like your legs. Of course, they're crotchless, so you can keep them on while engaging in your tryst. These are the perfect panties for your wicked and wild side, and can be paired with your favorite black bra and garter belt for maximum style, or worn underneath everyday clothes for secret sex appeal.
This Strappy Lace Teddy is reminiscent of Princess Leia's slave costume, except with a red fabric tongue in front instead of a chain. This sexy teddy is comprised of a black sheer lace bra connecting down to the crotch, overlaid by vibrant red lace like crushed rose petals. Artfully-constructed black straps tie the teddy around your waist and back, but that's about it. Your bare curves speak for themselves. Keep him enslaved by desire as you tease him mercilessly in this before finally taking it off.
The Crave Me Bra, Garter and G-String Set is made from a blend of lace, nylon, spandex, mesh, polyester, and spandex, creating a fabric that is soft on the skin but hardy enough to last in the throes of passion. All three pieces of the set are fully adjustable, making for a perfect fit any time. The strappy look is sure to grab your lover's attention, and is flattering on a wide variety of body types.
lingerie
erotic
list