Playtime with Toy part 1
A Toy Tale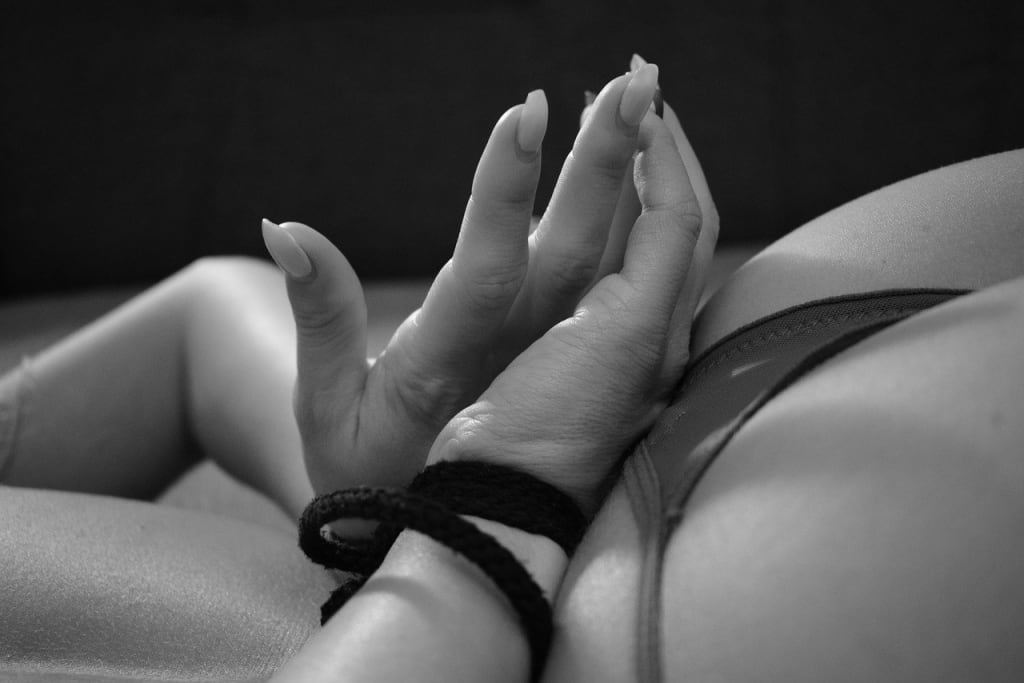 Once or twice during my sleep, I felt His fingers running through my curls, lightly caressing my body, or tracing over then adding more cream to the fading welts on my behind. Then I opened my eyes and saw Daddy smiling down at me before dropping a quick heated kiss on my forehead then my soft lush lips. I felt my body respond as always to that kiss moaning and squirming a little as I lay under the pile of blankets.
Daddy moved most of the blankets aside and started to tease and play with my body with His fingers watching as my pierced nipples hardened and became stiff while my thighs and slit began to glisten. He took one finger and gilded it along my slit till it was coated with my juices then rubbed it across my lips before telling me that I would be spending the day with Miss Danielle and Miss Margaret. He explained that I was to be a good girl for them and that He would see me later that evening at the club. I nodded and squirmed some more as Daddy continued to tease ramping up my need to orgasm.
Finally I started begging " please Daddy can i cum? Pls let your girl cum? " Daddy just laughed and removed his hands from my body then smeared His wet fingers across my lips saying " baby girl, no coming for you right now and your clothes are laid out in the bathroom." I flicked my tongue over my lips tasting my sweet juices then gave Daddy a small pout before mewling as I slid off the bed causing every nerve in my body to twitch.
Just as I was about to close the bathroom door, Daddy shot me a look then said "shower but no touching my cunt more than necessary, right baby girl?" I nodded then blushed as I let go of the door leaving it open. Walking further into the bathroom I shook out my curls then pulled them into a messy bun before stepping into the warm shower. As I washed , I heard laughter coming from the bedroom. Rinsing and smoothing on Daddy's favorite after shower scent, I wrapped a towel around my hair before stepping into a sundress with a built-in bra. Quickly removing the towel I walked out into the bedroom seeing Misses Danielle and Margaret waiting as they finished talking to Daddy.
Dropping my gaze away from the ladies, I quickly made my way over to Daddy for inspection. He smiled and brushed my curls back into a ponytail then exchanged my regular collar for a day one to match the red in my dress allowing me to slip on a pair of kitten heels. The ladies watched then smiled as I finally wished them a good morning with Miss Danielle taking the lead of the conversation.
Daddy and the ladies walked into the kitchen and sat watching while I stood and ate my breakfast. Empty plate in hand, I showed it to Daddy before washing it off and putting it away then stood with my arms locked behind me and head down as my leash was attached to the D ring of my collar. Peeking up under my lashes, I saw Miss Danielle take my leash from Daddy in one hand while shooting an irritated look at Margaret before smacking her with the other hand. Miss Margaret uttered a soft "oww'' before dropping her gaze to the floor and walking out to the car. Miss Danielle pulled me behind her after Daddy kissed my cheek and whispered for me to be a good slut for them.
Miss told me that I could call Margaret "margie" since she was acting naughty today and was in subform as we walked to the car. The drive was short and swift to the club as Miss teased and played with me keeping my arousal levels high and causing me to squirm begging to cum. Margie giggled hearing my pleas and seeing my body writhe from Miss Danielle's touches then with one last giggle at my plight, she pulled into the parking lot of the massive club where Miss Danielle pulled me out of the car by my leash before leading me in the main entrance for the regulars. Margaret signed us in and requested one of the private rooms for later.
My dress was removed and stored in Daddy's locker for retrieval later and I was left in just my day collar and heels. Hands still locked behind my back as we walked through the club taking in some of the various scenes already taking place. All around us came the sounds of moans of both pleasure and pain as we watched Mistresses and Masters use their subs. Carefully keeping my eyes down even while non verbally acknowledging the greetings sent my way since Daddy and I were somewhat popular at the club. Finally, stopping at a station where one of Daddy's friends was punishing His sub , Misses Danielle and Margie took seats on a low slung couch while I kneeled on a cushion at their feet. Their hands caressed and teased my bare flesh while watching the punishment and chatted with the other Dommes, Sirs and switches.
Ever so often, my moans became loud as my body twitched with need and lust. After the sixth time of doing this, I felt a hand tug my head back hard while a voice whispered in my ear that if I couldn't be a good girl then I would be gagged. I nodded, biting my lip as I tried to be quiet again. My eyes closed for a minute when I felt nails pinch across my hard nipples pulling them away from my body causing me to moan and gasp. Another tug of my head caused me to look up into the amused stern face of Miss Dani while margie continued to play and with my nipples with one hand while the other slid down between my spread glistening thighs to tease my slit with a single finger.
A soft moan escaped my lips as my hips arched up trying to force margie's fingers to slip between my labia. Both ladies laughed watching me then margie grabbed a pair of clover clamps and attached them to my stiffened nipples. Miss Dani smiled then pulled my head back even further whispering that my Daddy was almost finished with His business and that then the real fun could start. Seeing the smile appearing in my eyes, She kissed my forehead before standing and slipping out of her panties. I moaned then yelped as I felt margie attach another clamp to my clit, the teeth biting into the swollen bud. Their laughter sounded in my ears again as their fingers proceeded to pull and tug on the clamps causing me to squirm and hiss. This continued till I heard Daddy's voice saying " I see the slut has enjoyed the beginnings of her playtime" as I panted and trembled. A tug on my leash brought me to my knees as the ladies stood and followed Daddy, I crawled beside them to a room that he had requested for more playtime.
fetishes
About the author
Writer, poet, author. submissive to my Daddy Don. Mom of three wonderful human beings.
Reader insights
Be the first to share your insights about this piece.
Add your insights